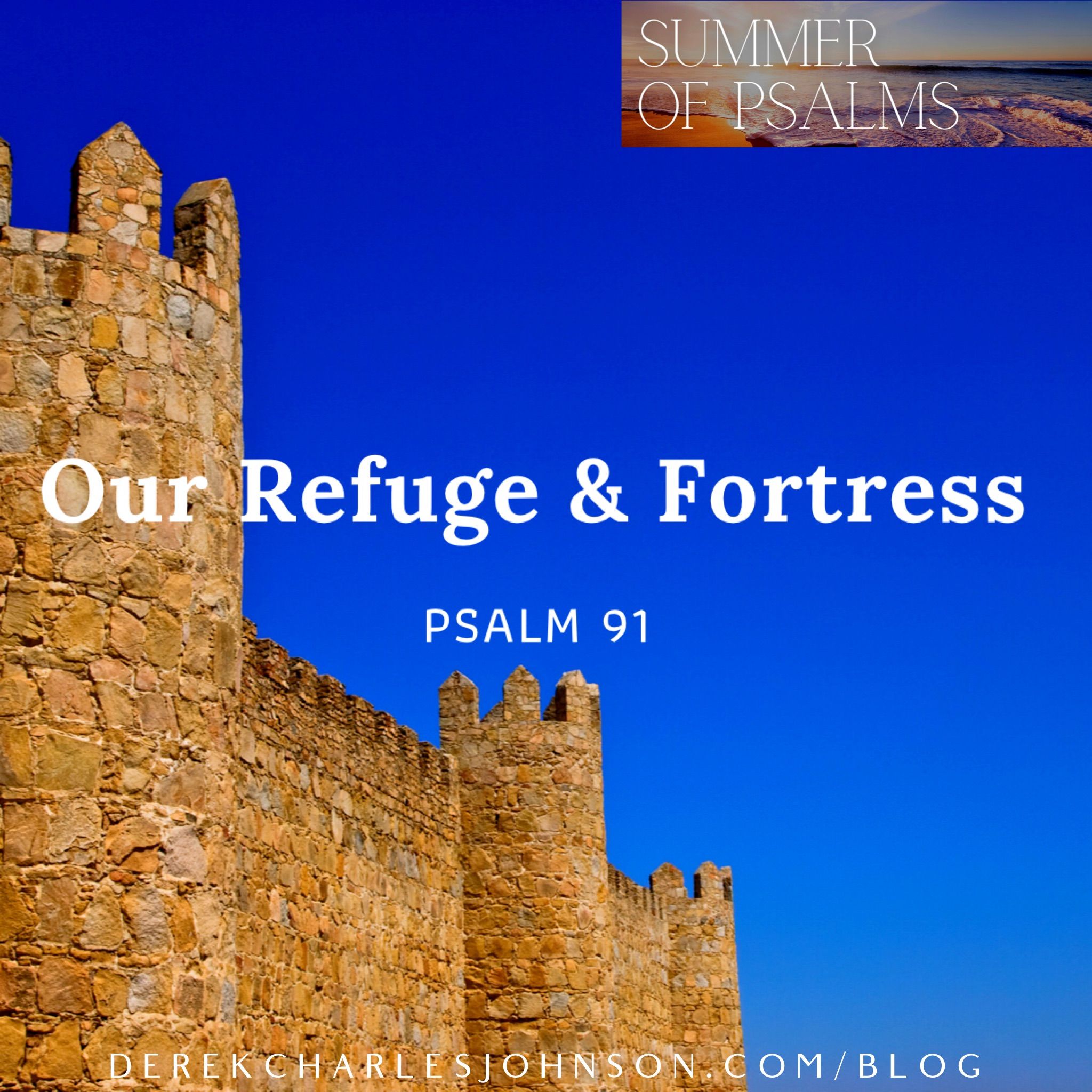 Psalm 91 
1 
He who dwells in the shelter of the Most High 
    will abide in the shadow of the Almighty. 
2 
I will say to the Lord, "My refuge and my fortress, 
    my God, in whom I trust." 
3 
For he will deliver you from the snare of the fowler 
    and from the deadly pestilence. 
4 
He will cover you with his pinions, 
    and under his wings you will find refuge; 
    his faithfulness is a shield and buckler. 
5 
You will not fear the terror of the night, 
    nor the arrow that flies by day, 
6 
nor the pestilence that stalks in darkness, 
    nor the destruction that wastes at noonday. 
7 
A thousand may fall at your side, 
    ten thousand at your right hand, 
    but it will not come near you. 
8 
You will only look with your eyes 
    and see the recompense of the wicked. 
9 
Because you have made the Lord your dwelling place— 
    the Most High, who is my refuge— 
10 
no evil shall be allowed to befall you, 
    no plague come near your tent. 
11 
For he will command his angels concerning you 
    to guard you in all your ways. 
12 
On their hands they will bear you up, 
    lest you strike your foot against a stone. 
13 
You will tread on the lion and the adder; 
    the young lion and the serpent you will trample underfoot. 
14 
"Because he holds fast to me in love, I will deliver him; 
    I will protect him, because he knows my name. 
15 
When he calls to me, I will answer him; 
    I will be with him in trouble; 
    I will rescue him and honor him. 
16 
With long life I will satisfy him 
    and show him my salvation." 
Psalm 91 is known as the "Soldier's Psalm" or "Soldier's Prayer" and a quick read-through helps us understand why.  It is a plea for protection and safety.  It is a request for victory in the battle.  This Psalm was important for me to include in this series because I believe it is a reminder we need as Christians right now.  The world brings with it so much opposition.  Our faith is under attack.  The enemy is upon us.  For many, the evil we have seen is unprecedented.  And like a good solider, we want to stay in the fight and we want the good guys to win! 
There is some overlap often in the Psalms and as we've looked at others (Psalm 23 especially), there is a theme of drawing near to the Lord; finding His rest and seeking His protection.  Psalm 91 leans even further in this direction.  As Psalm 23 states Even though I walk through the valley of the shadow of death (Psalm 23:4), this Psalm walks further into the valley.  We think of Christians who faced severe persecution over the not-so-distant past (Nazi Germany, Communist China) and we realize Satan hates and absolutely despises those who profess the name of Jesus.  But if we are soldiers in the Lord's army, we must stand firmly and confidently in the battle.  God is not done! 
Once again I want to hit the high points today and leave you with some themes you can grab onto.  There is certainly more beyond our discussion here and I urge you to go deeper into this passage at your leisure.  I hope a renewal of your own fire and passion to read God's word is a by-product of these blogs…and I'm not assuming you're not there already!  But sometimes we just need a little nudge in the right direction.  So that being said, let's dive in and see what God has for us as we unpack this amazing Psalm. 
1.Those who dwell will be delivered 
These words "dwell" and "abide" really stand out to me in these first couple verses.  They are synonyms of each other and they both mean "to live, to stay, to reside" etc.  In understanding their meaning, we realize serving the Lord isn't just a Sunday-thing or a once-in-awhile, off-and-on-again thing.  It's a lifestyle.  It's a place we camp out.  We don't leave.  We stay, we reside, we abide.  And what's the promise of a life lived this way?  Deliverance and protection.  We live in the shadow of the Almighty.  Look at these words/phrases and consider the privilege we lay claim to:  He will cover you, [He is our] refuge, shield and buckler.  Those who choose to make the Lord their God will find themselves taken care of and watched over.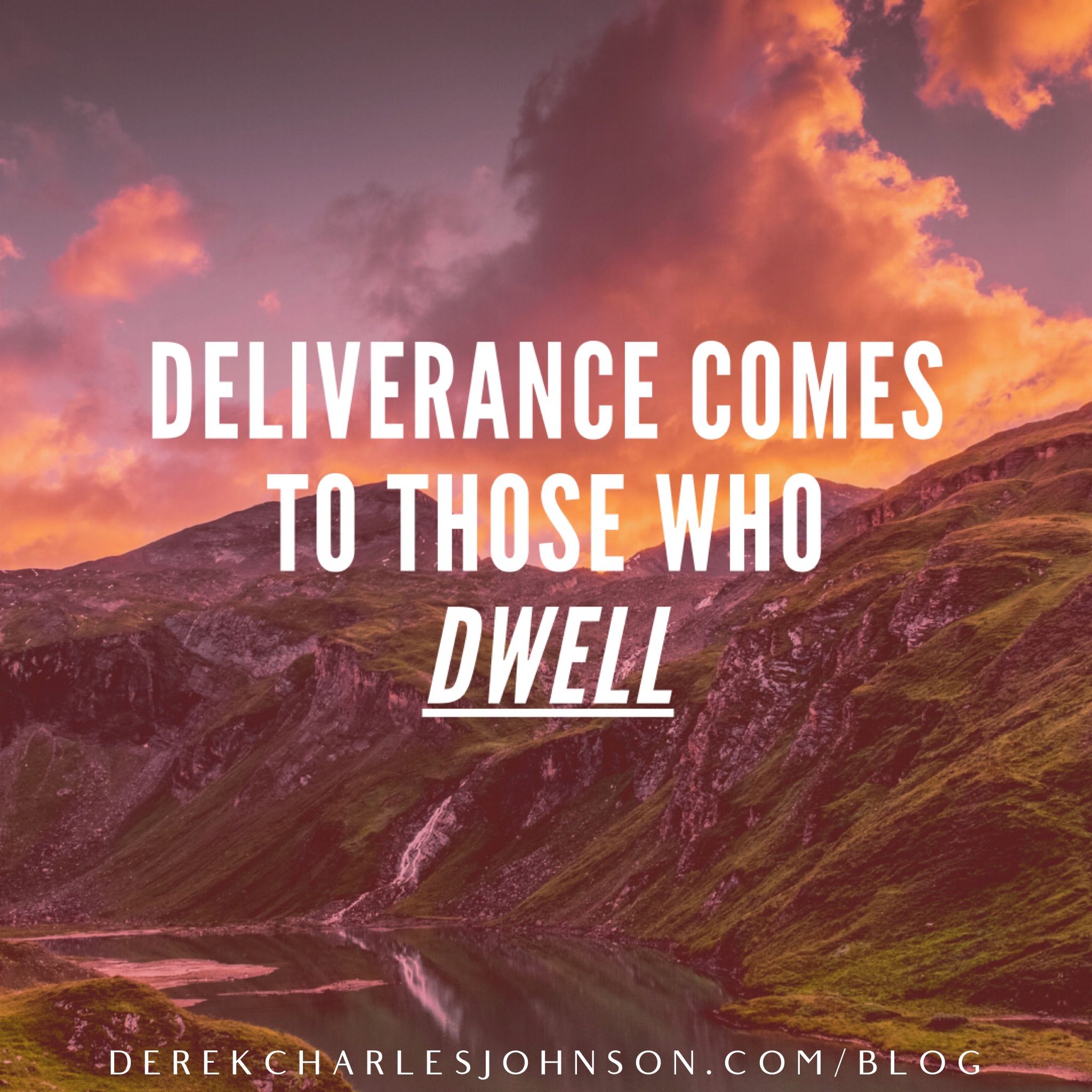 2.Because of God's protection, we need not fear 
The enemy is real.  The Psalmist doesn't sugarcoat it or try and pretend there's no foe.  The foe is real.  The battle is real.  But the protection we lay claim to in the Lord gives us a posture where fear is abated.  I love these verses and imagine what goes on in the spiritual realm as we walk through "the valley":  A thousand may fall at your side, ten thousand at your right hand, but it will not come near you.  The protection as we stand in the battle really is amazing.  Verse 8 is a bit heady in the English Standard Version (see above), but here's another look from the New Living Translation:  You will only watch and see the wicked punished.  Short, simple, and to the point.  Stand firm and see the deliverance of the Lord when faced with the onslaught of the wicked.  And fear not!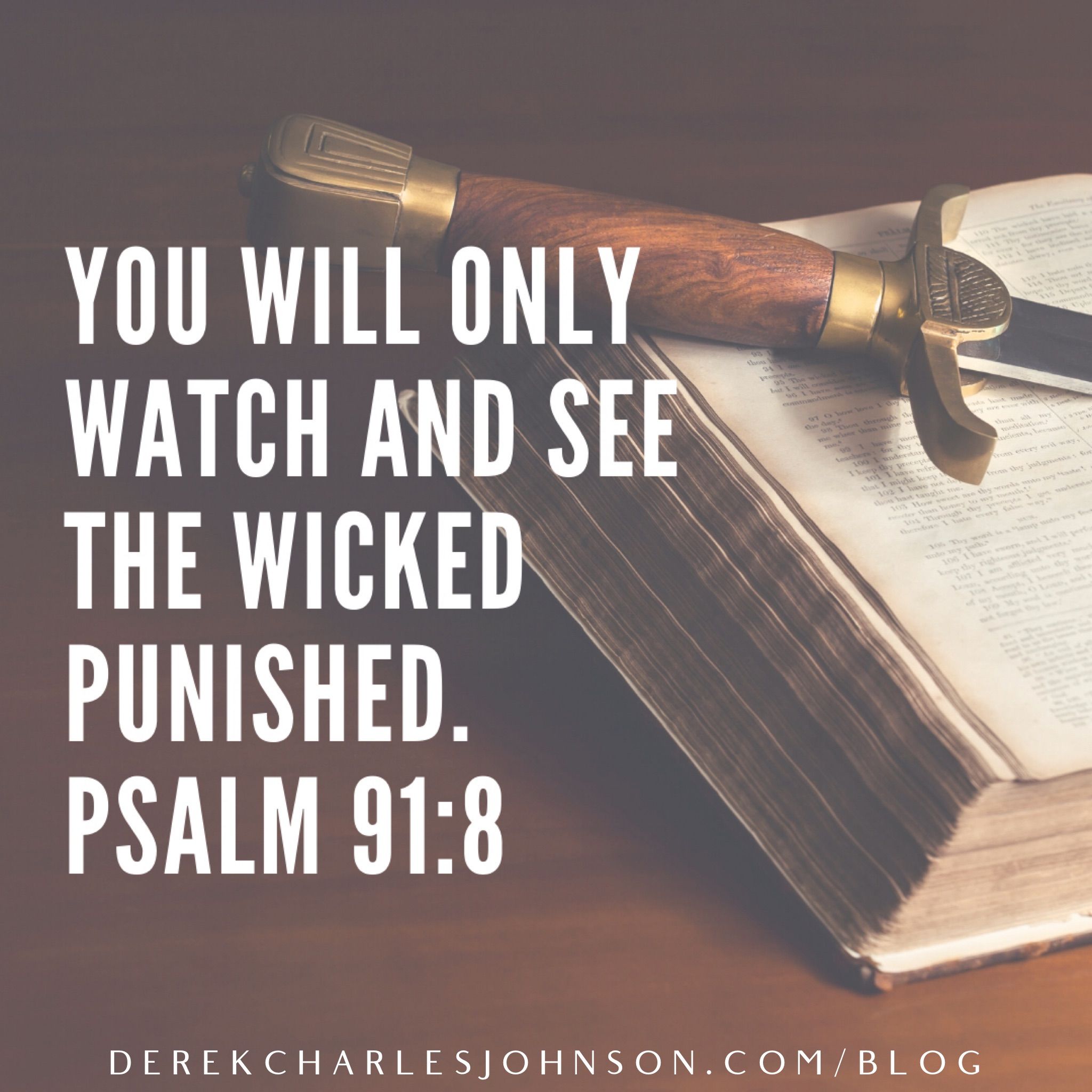 3.We experience victory as we step out 
If fear is removed, what is left that keeps us from moving forward?  What then shall we say to these things? If God is for us, who can be against us?  Romans 8:31  The Psalmist continues to lay out this theme of protection which comes as we dwell in the presence of the Lord.  As we abide in that place, we are in the center of His will.  He calls us out into deeper places of authority and power, resting on His capabilities and not our own:  You will tread on the lion and the adder; the young lion and the serpent you will trample underfoot.  We must acknowledge that God is sovereign and all-powerful.  We must live in an expectation that we take the land under the authority He has granted us.  Psalm 91 is almost a dare to say "How much do we believe God for and how much are we willing to ask?"  There is nothing impossible with Him.  Christ has already obtained the victory over sin and death at the cross.  We stand in that victory and lay claim to it each and every time we move forward in faith.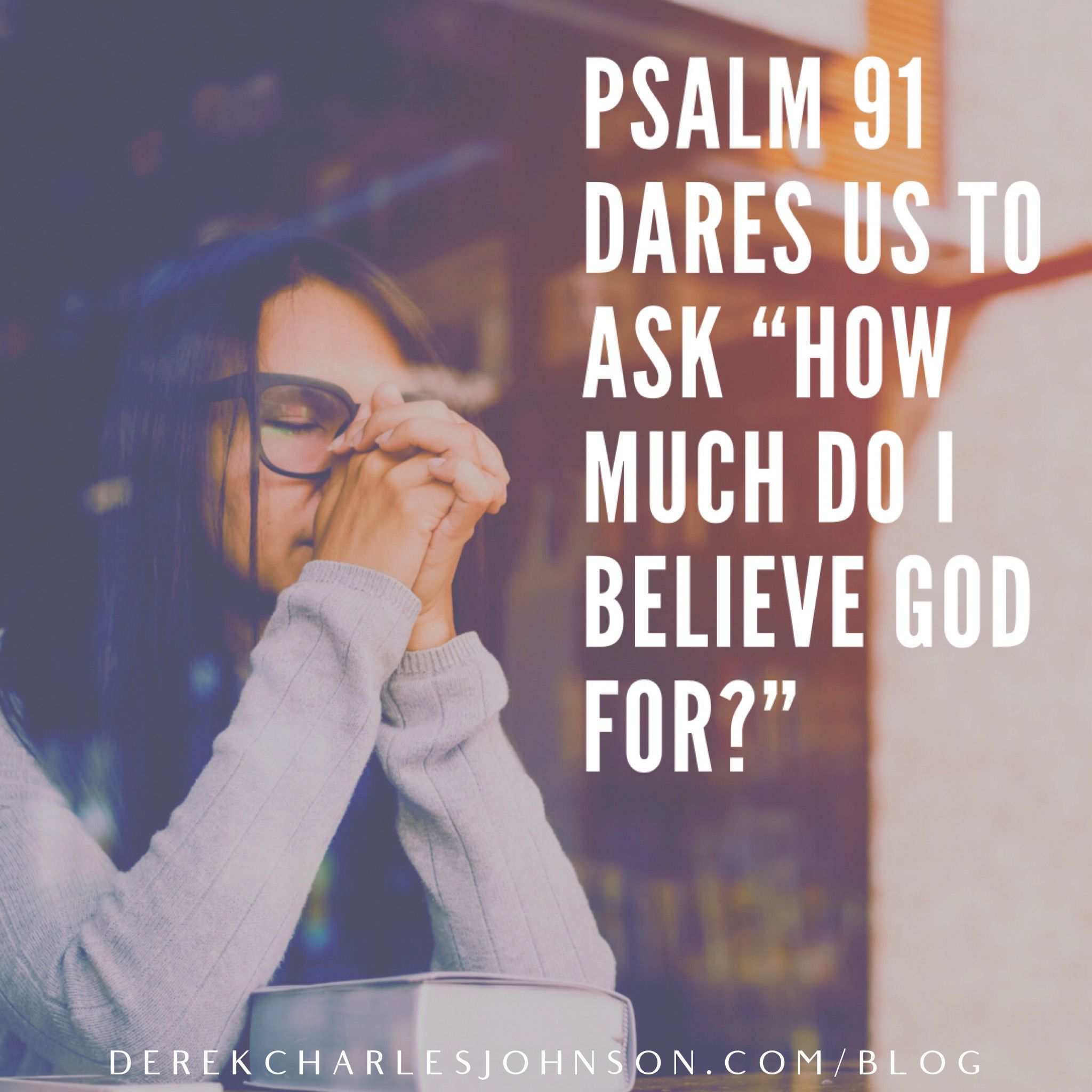 4.God will answer when we call 
Psalm 91 ends with this great promise:  When he calls to me, I will answer him; I will be with him in trouble; I will rescue him and honor him.  With long life I will satisfy him and show him my salvation.  If you are a person who circles the promises of God in your Bible, this would be one verse to circle and put stars around, highlight, etc.  God answers us when we call upon Him.  He is with us in our time of need.  He grants life and salvation.  These verses cap off this Psalm and again, reassure our minds.  It is clear that the writer has come to know the Lord in this way.  He has seen Him answer when he's been in distress.  He's seen His hand of salvation.  And we come to know these things as well as we step out and call upon His name.  We must take assurance from these verses and be of good cheer.  God hears our call! 
---
This "Soldier's Psalm" is timely because I believe we are a church starting to wake up.  We are a people of faith, starting to actually move in faith.  We are tired of seeing the enemy win and push us back.  We are tired of seeing our friends and family members picked off and taken by lies and deception.  And we've felt for a long time that we are small in number, too weak and outnumbered to do much of any good against the "Goliath" we have seen. 
But God is not done!  I believe when we recognize Him as our refuge and fortress, we get fired up.  What can man do to me?  What can the evil one destroy?  I've already been redeemed in Christ.  "To live is Christ,to die is gain" as Paul would say (Philippians 1:21).  To truly understand the mindset of that verse, we must understand Who God is and who we are — in Him.  When we do, the world has no authority over us.  There's no fear too great looming upon the horizon.  Bring on famine.  Bring on pestilence.  Bring on pandemics and plagues.  None of it can shake us if we understand all of Psalm 91 and how God treats and cares for His own. 
I love you guys and can't wait for one more blog to finish up this series!  See you next time. 
Sign up to get these blogs delivered to your email inbox!  Visit http://derekcharlesjohnson.com/as-bold-as-lions 
Let's connect: 
Email:  info@derekcharlesjohnson.com 
Facebook:  https://www.facebook.com/derekcharlesjohnson1/ 
Instagram:  http://instagram.com/derekcharlesjohnson 
MeWe:  https://mewe.com/p/derekcharlesjohnson 
Be very careful, then, how you live—not as unwise but as wise, making the most of every opportunity, because the days are evil.  Therefore do not be foolish, but understand what the Lord's will is.  Ephesians 5:15-17