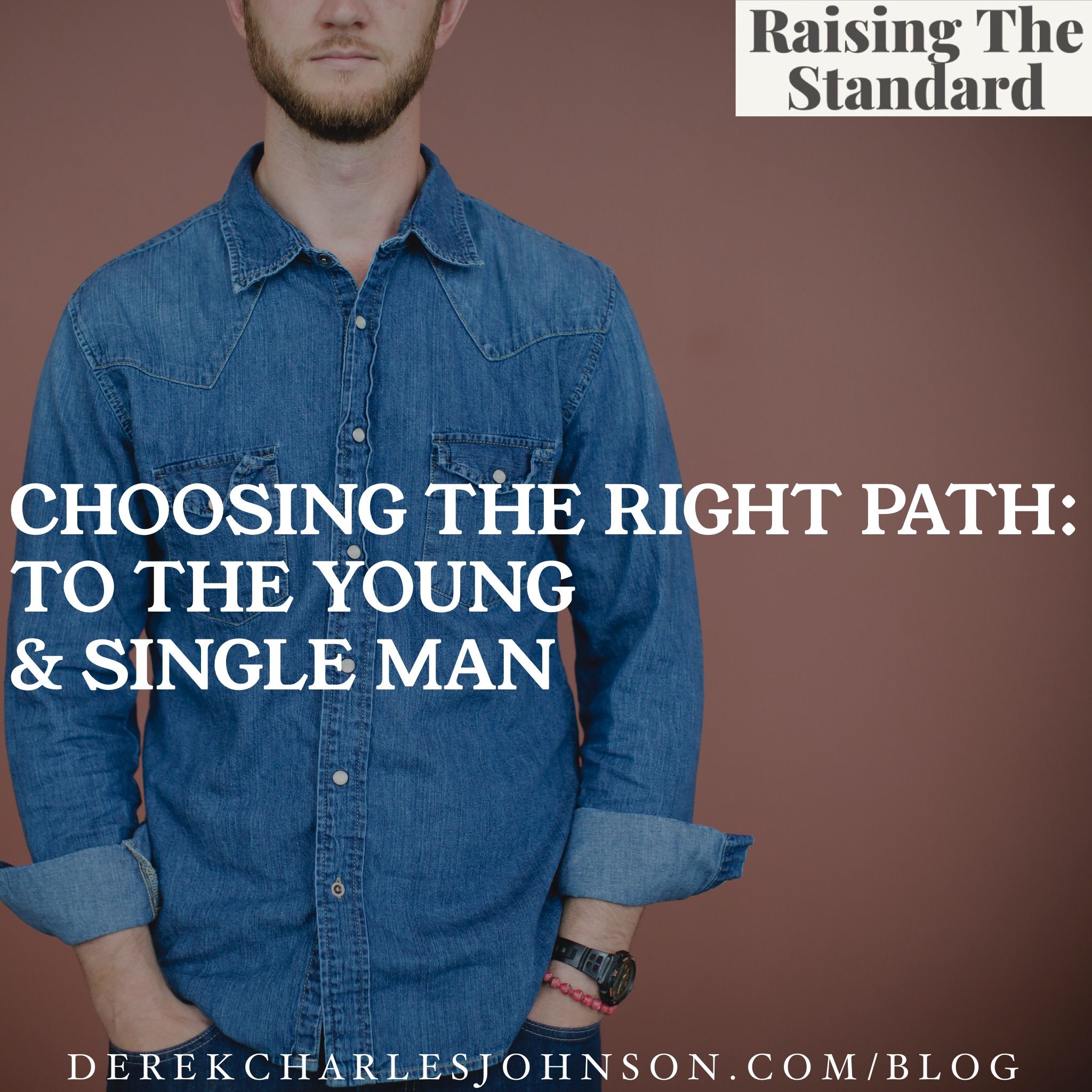 "Do not pray for easy lives. Pray to be stronger men."  John F. Kennedy 
When I started brainstorming this series and outlining some key thoughts, I had the natural tendency to think about my life as a teenage and young adult man.  Being I'm now in my 40s, it's still not too hard to go back to those days.  I can remember sights, smells, and sounds around the halls of my high school.  I can remember my years in the dorms during my college days.  And I can remember some of the jobs I held during those years, the friends made, and many of the fun (and not-so-fun) experiences that shaped my life for years to come.  It's easy to go back and sometimes there's honestly a nostalgia that comes from simpler times.  Days in which the world seemed not so crazy and complex as it does for a man now responsible for a wife and 5 kids!  But I wouldn't trade it for anything. 
In going back to those "care-free" days, I realize that much of my own outlook on life was shaped by my upbringing.  By two parents who loved God and brought me to church.  By my youth pastor and youth group friends who I spent many hours rubbing shoulders with and framing a worldview.  By an on-campus Christian organization that gave me the opportunity to lead a Bible study and lead worship (and the patience to fail at times at both).  All of these things and more brought me to the place where one day I was ready to graduate, start a job, get married, and yes, have kids.  I know it's cliche to say it, but it really is hard to believe how fast life can change.  When I look back, it seems like it all happened within the blink of an eye. 
When I address an entire blog to just this one segment of life (say 13ish to 20+), I'm using a fairly wide brush to say the least.  So much changes for a guy within these years and it can be said that even before the teenage years, much of person's outlook has already been established.  But I challenge that idea with the thought that in the teenage years into the early 20's, a man truly starts to grow up (some slower than others).  A man starts to realize his place in the world; his dreams, ambitions, and longings.  But in the midst of all of this, how does he find the right path?  Today's blog seeks to scratch the surface and pull back the veil on that very question. 
Trust in the Lord with all your heart, and do not lean on your own understanding.  In all your ways acknowledge him, and he will make straight your paths.  Proverbs 3:5,6 
1. Lay the foundation firm 
Let no one despise you for your youth, but set the believers an example in speech, in conduct, in love, in faith, in purity.  1 Timothy 4:12 
If I can offer any advice today to a young man, unmarried and trying to figure out life, it would be this:  seek the Lord above all else.  I believe that God will put into your path the right woman, the right job, and the right use of your gifts and talents if you are willing to seek Him first.  To seek someone else out is a humbling thing even for a teenager because we tend to resist and buck authority.  We are guys after all.  We like to think we've figured out a thing or two.  When we ask for help or seek someone else's advice, it signifies weakness or a lack of "having it all together."  But a young man after God's heart knows he needs daily guidance and direction.  He knows where it must be found—in God's presence, through His word and through prayer.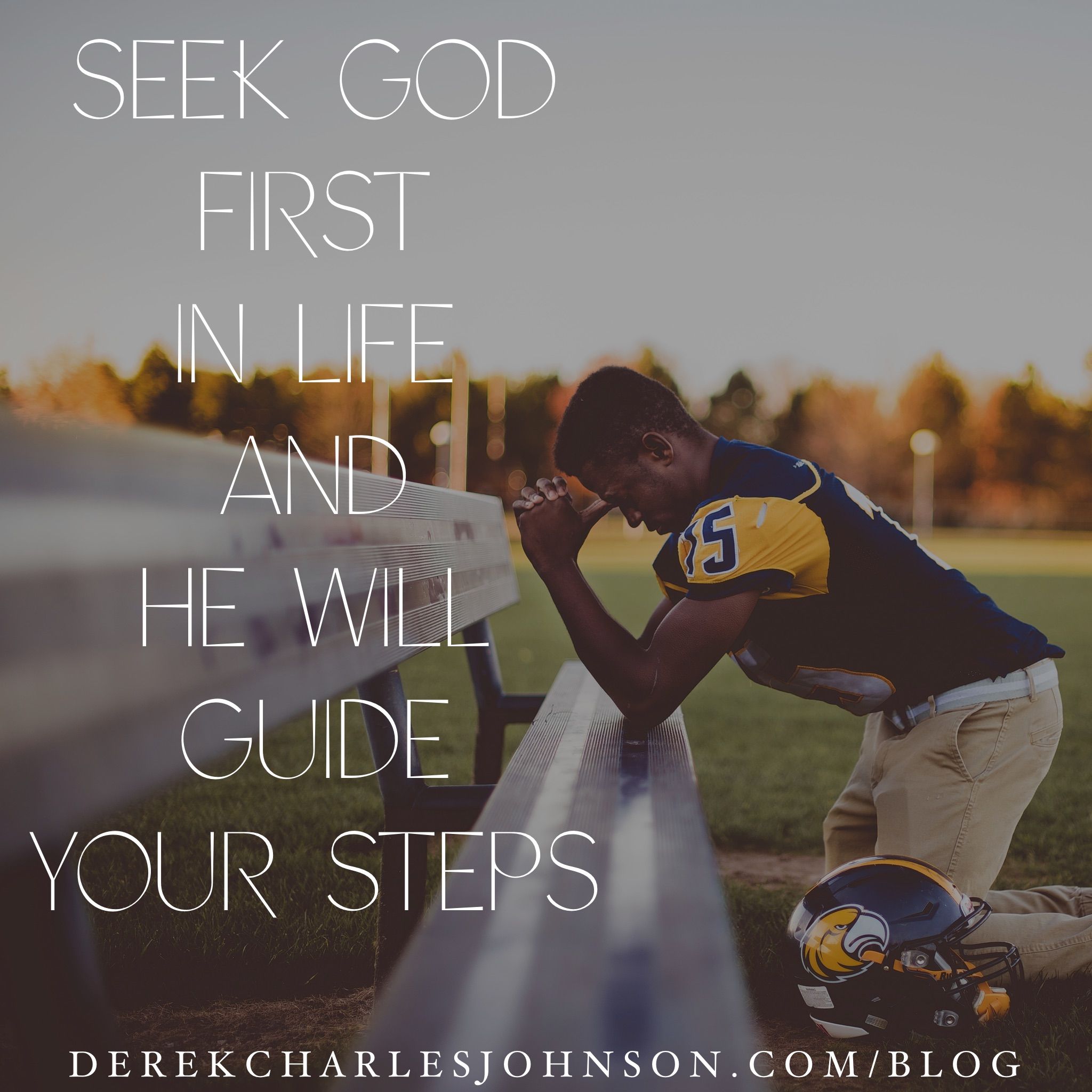 Paul addresses Timothy as a leader within the early church.  Timothy is young; he's in the age group that this blog applies to.  But Paul tells him, you are to set the standard.  Your speech, your love, your faith…it all becomes the example for other believers around you.  When a young man is fully committed to Christ and unhindered by this world, people take note.  He is someone who naturally stands out in school, at church, and in the home.  His countenance is one that radiates Christ and displays Him in such a way that it draws other people to Christ (through him).  Setting that firm foundation by spending quiet hours before the Lord is how that heart gets developed. 
2. Avoid the world's trappings 
How can a young man keep his way pure?  By guarding it according to your word.  Psalm 119:9 
Don't you love how honest the Bible is at times?  From the audience in this blog to the original audience in Psalm 119, there is a common theme:  men deal with lust and impurity.  So how does one stay pure?  Be in the word.  Simple as that.  If a young man deals with issues of lust and struggles with things like porn, masturbation, and sexual impurity (being real here), those things are going to naturally extend into later years of life.  Everything from a dating relationship to marriage itself will be affected and influenced by choices made in these years.  It's not an understatement to say those images and thoughts get carried with you for a lifetime.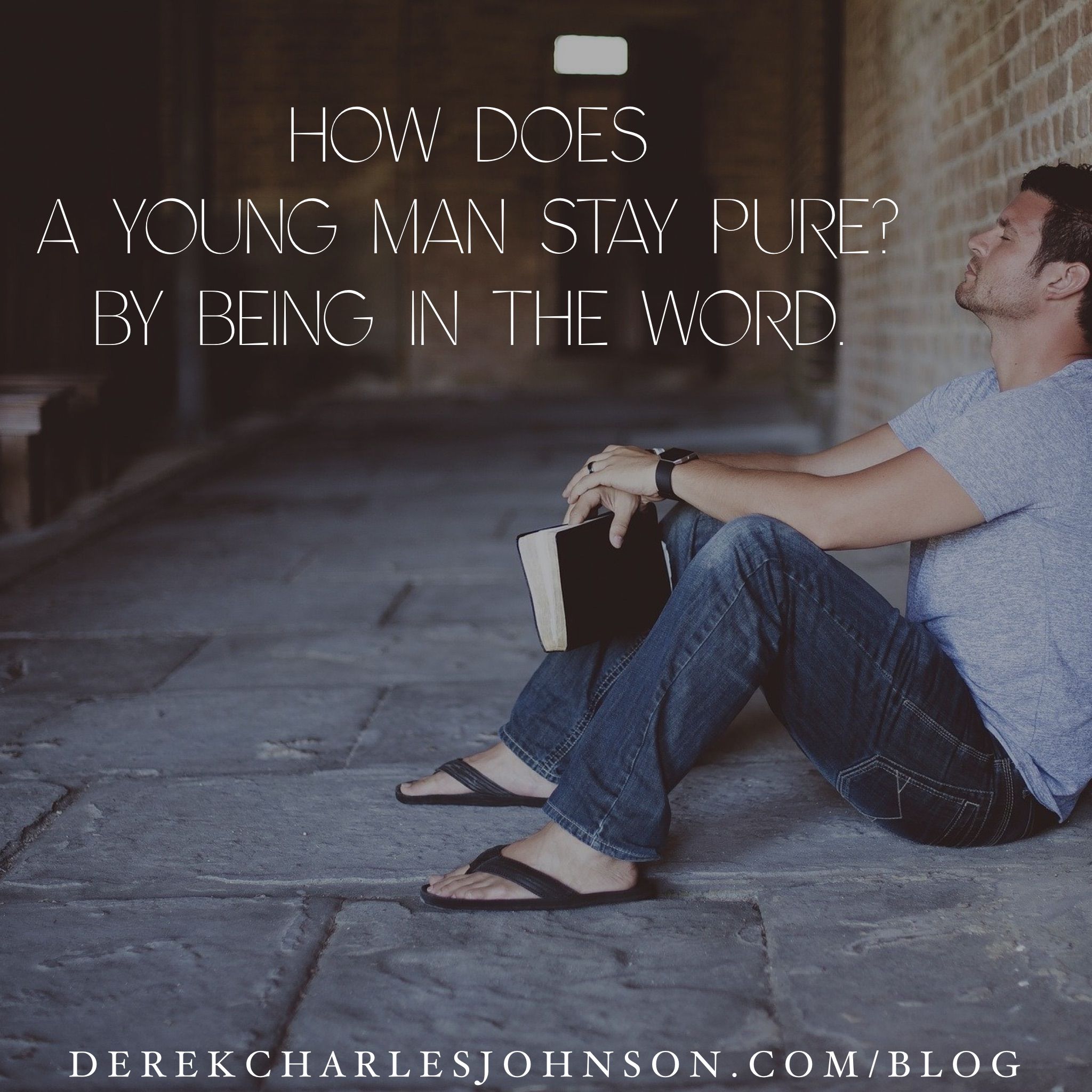 When we say avoid the world's trappings, the primary snare is sex.  Yes money, drugs, and power are all trappings we as young men can find alluring.  But it is the enticement of sexual sin that most often trips up a young Christian man.  The temptation is strong and so we must be stronger—in Christ.  We cut ties to things on our devices, images from screens, and magazine covers.  We learn to "bounce the eyes" as a means to not linger and succumb to the seductive.  And in relationships with the opposite sex (from friend to girlfriend to fiance…everything up to marriage), we treat a woman with respect and an unwillingness to compromise.  For some great further reading, check out Every Man's Battle by Stephen Arterburn and Fred Stoeker.
3. Let the Lord show you His plans 
Be very careful, then, how you live—not as unwise but as wise, making the most of every opportunity, because the days are evil.  Therefore do not be foolish, but understand what the Lord's will is.  Ephesians 5:15-17 
Shifting gears on this last point, we have to realize as young men the years before us are a blank canvas.  They are ours to either squander and waste or to use for a purpose higher and more significant than our own.  My verse for 2020 has been Ephesians 5:15-17 and I find it compelling for this discussion.  Even with the time we believe we have, in reality the days are short.  Wasted hours and missed opportunities cannot be reclaimed.  But what can be done is refocusing our time and energy on things that matter…purposed in the Lord for His glory.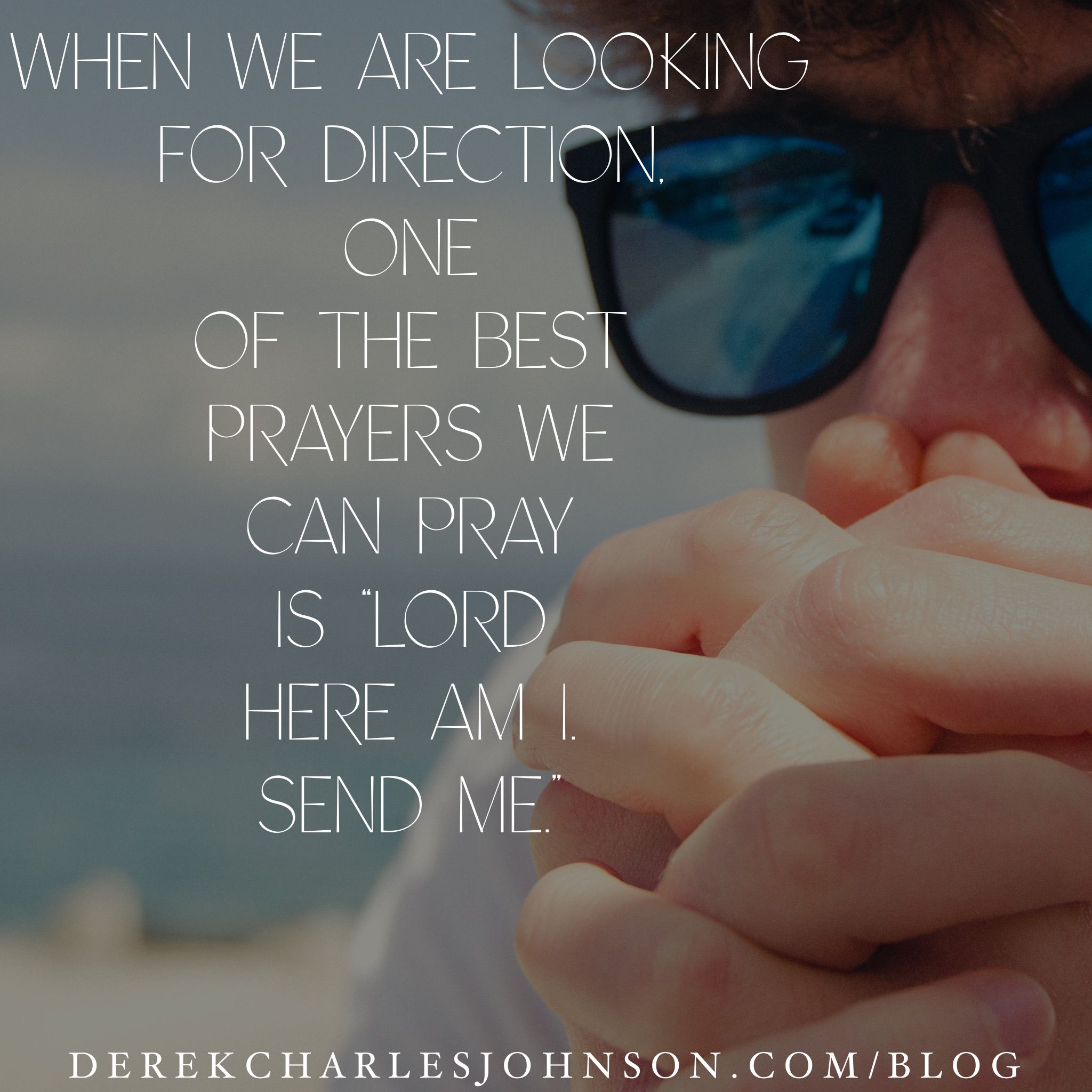 What will you do with your life?  That's a great question to ponder before the Lord and to come before Him empty-handed, no strings attached.  The most unselfish prayer you can pray is simply, "Lord here I am.  Send me."  (For further reading, check out my blog Whom Shall I Send? - Isaiah 6, Prayers Of The Bible).  Where and when and how God chooses to answer that prayer is up to Him.  But when we spend time in His presence, we start to get a sense for His heart.  When we sense His heart and combine it with our own innate gifts, talents, and abilities, we start to see our purpose and His plan come into shape.  Again, it takes a posture of recognizing you do not have all the answers.  And that is ok.  Putting your future into the hands of Almighty God is literally the safest and best place you can put it.  Anywhere else will leave you empty and unsatisfied.  Believe me. 
---
When I started out today's blog, I did a quick Google search on some quotes hoping to find something inspiring for this discussion.  The above mentioned JFK quote is well-known and is certainly a hoo-rah type of rally cry for those of the male gender.  But consider the weight of this statement:  "Do not pray for easy lives. Pray to be stronger men."  When we are in the early years of adulthood, the mind doesn't necessarily consider the longview of life.  We don't think a lot about things because they still seem too grown-up and perhaps far off (or someone else's reality).  Terms like cancer, divorce, job loss, drug addiction, bankruptcy and so on seem so "adult"…so far off the radar from where we are at.  Someone else's issue.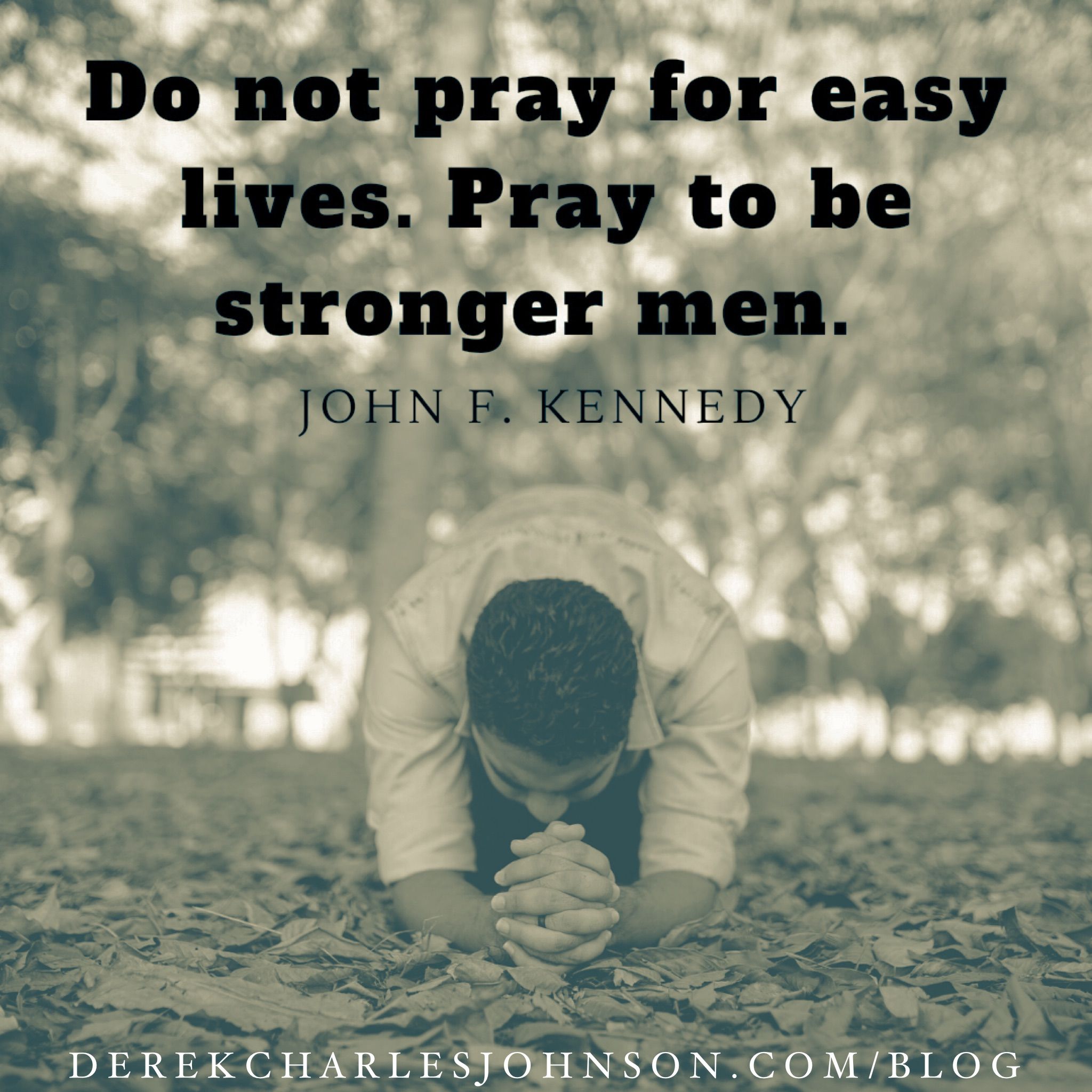 But when we pray to be stronger men, we pray for that ability not just at 40 or 60 or 80, but also at 13 and 17 and 24.  These are the formative years of our faith where we put our roots down and establish our dependence on Christ.  Because storms young man, will come.  It's not a matter of if, but when.  And when the storm hits, will you have spent enough time drawing near unto the One in whom your faith is unshakable?  That is the reason for this blog and a significant reason for this series in general.  Raising the standard means we reject the notion that somehow, some way we can figure life out on our own.  We cannot.  We need a Savior. 
I hope you've been blessed by this message today and as always, I want to hear from you.  I love you guys and I love walking the journey with you. 
Sign up to get these blogs delivered to your email inbox!  Visit http://derekcharlesjohnson.com/as-bold-as-lions 
Let's connect: 
Email:  info@derekcharlesjohnson.com 
Facebook:  https://www.facebook.com/derekcharlesjohnson1/ 
Instagram:  http://instagram.com/derekcharlesjohnson 
Be very careful, then, how you live—not as unwise but as wise, making the most of every opportunity, because the days are evil.  Therefore do not be foolish, but understand what the Lord's will is.  Ephesians 5:15-17

Other blogs in this series:

Raising The Standard: Becoming Men After God's Own Heart (Intro)