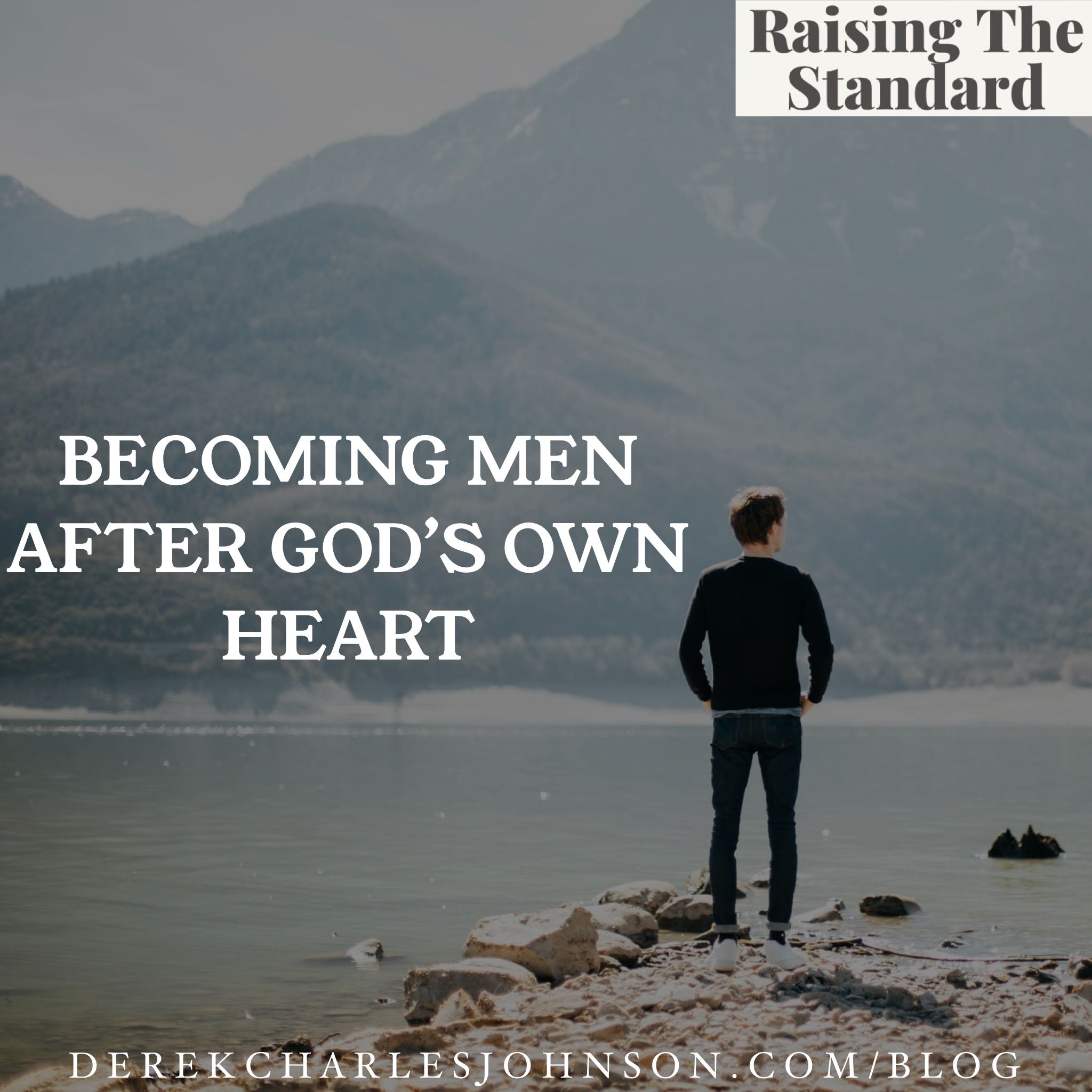 I've written quite a few blogs over the past years on dating, marriage, family, and the home.  In all of those blogs, there have been moments to address men specifically on various topics.  It seems as a man, the most obvious and natural progression of thought is from a male perspective.  I won't say that is always the case and will definitely bounce ideas off my wife to get her point of view.  I honestly crave it because I know as a woman, she is wired completely different than I am and that is a totally awesome thing! 
But I have never written something specifically for men in these blogs and I'm compelled to camp out and spend a few weeks talking to men.  I've called this series "Raising The Standard" and for me, that really means a call to burden men's hearts with something more — something beyond just the day-to-day grind that we face.  I sense that men, especially Christian men, are repeatedly questioning themselves, their value, worth, and legacy and wondering whether or not they simply measure up.  I want to take some time putting the vision before us once again and although the overarching call to Christ is key, the means to follow that vision changes from one various life stage to the next. 
Remember that Five For Fighting song 100 Years?  I'll leave a link to the video here and I'd encourage you to go listen to it if you haven't:


I'm a sucker for sappy songs that have some deeper meaning; one that pulls at the heartstrings.  Really, 100 Years is a portrayal of a man's life (it's so well-written).  Going from his teenage years and searching for identity (I'm 15 for a moment, caught in between 10 and 20) to being in love, married, and expecting kids (I'm 33 for a moment, I'm still the man, but you see I'm a "they", a kid on the way, babe, a family on my mind).  The song moves effortlessly from one age to the next all the while making footnotes about what each milestone brings.  At a certain point, the lyricist comes to 99 and this is the moment where, looking back, it all brings a desire to relive it again (I'm 99 for a moment, and dying for just another moment, and I'm just dreaming, counting the ways to where you are).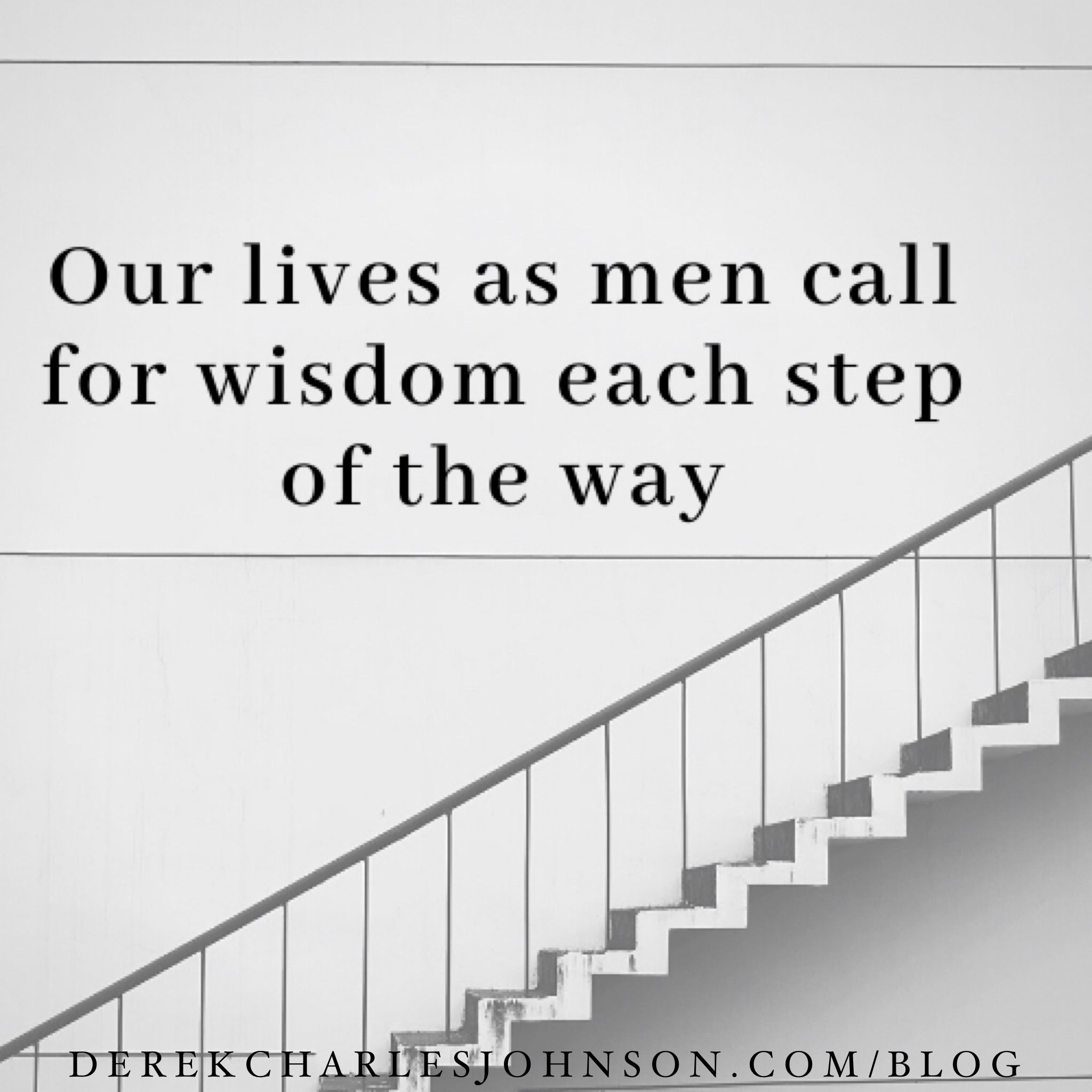 I'd be lying if 100 Years wasn't in the background as I started brainstorming this series, thinking about how to tackle such a topic.  It seems as men there is a strong need for wisdom at each phase of life — in the younger years, we're just figuring things out and trying to determine the path our lives will take.  As we grow older, settle down and have a family, we are in a stage still needing wisdom and still being "between"…not young enough to just be starting and not old enough to be ready to finish.  As we get into the graying years, we see life in the rearview and we consider all that we have accomplished.  Was everything worth it?  Would we go back and change anything if we could? 
Thankfully, the Bible has a lot to say about this topic and is a constant guide as we go through this series: 
My son, do not forget my teaching, 
    but let your heart keep my commandments, 
for length of days and years of life 
    and peace they will add to you. 
Let not steadfast love and faithfulness forsake you; 
    bind them around your neck; 
    write them on the tablet of your heart. 
So you will find favor and good success 
    in the sight of God and man. 
Trust in the Lord with all your heart, 
    and do not lean on your own understanding. 
In all your ways acknowledge him, 
    and he will make straight your paths. 
Be not wise in your own eyes; 
    fear the Lord, and turn away from evil. 
It will be healing to your flesh 
    and refreshment to your bones. 
Honor the Lord with your wealth 
    and with the firstfruits of all your produce; 
then your barns will be filled with plenty, 
    and your vats will be bursting with wine. 
My son, do not despise the Lord's discipline 
    or be weary of his reproof, 
for the Lord reproves him whom he loves, 
    as a father the son in whom he delights.  Proverbs 3:1-12 
I'm finding with each passing day, real legacy, accomplishment, and purpose are found not in what the world offers but only in Jesus Christ.  I have 4 sons of my own and the weight of wanting them to succeed and thrive is heavy on my heart at times.  I'm in the stage of the song in which I'm a "they"…we are the Johnsons; a family compromised of a dad, a mom, and 5 kids.  I want them all to do well but in my heart, I want to them love to God first and be able to keep their faith intact through any fire they face.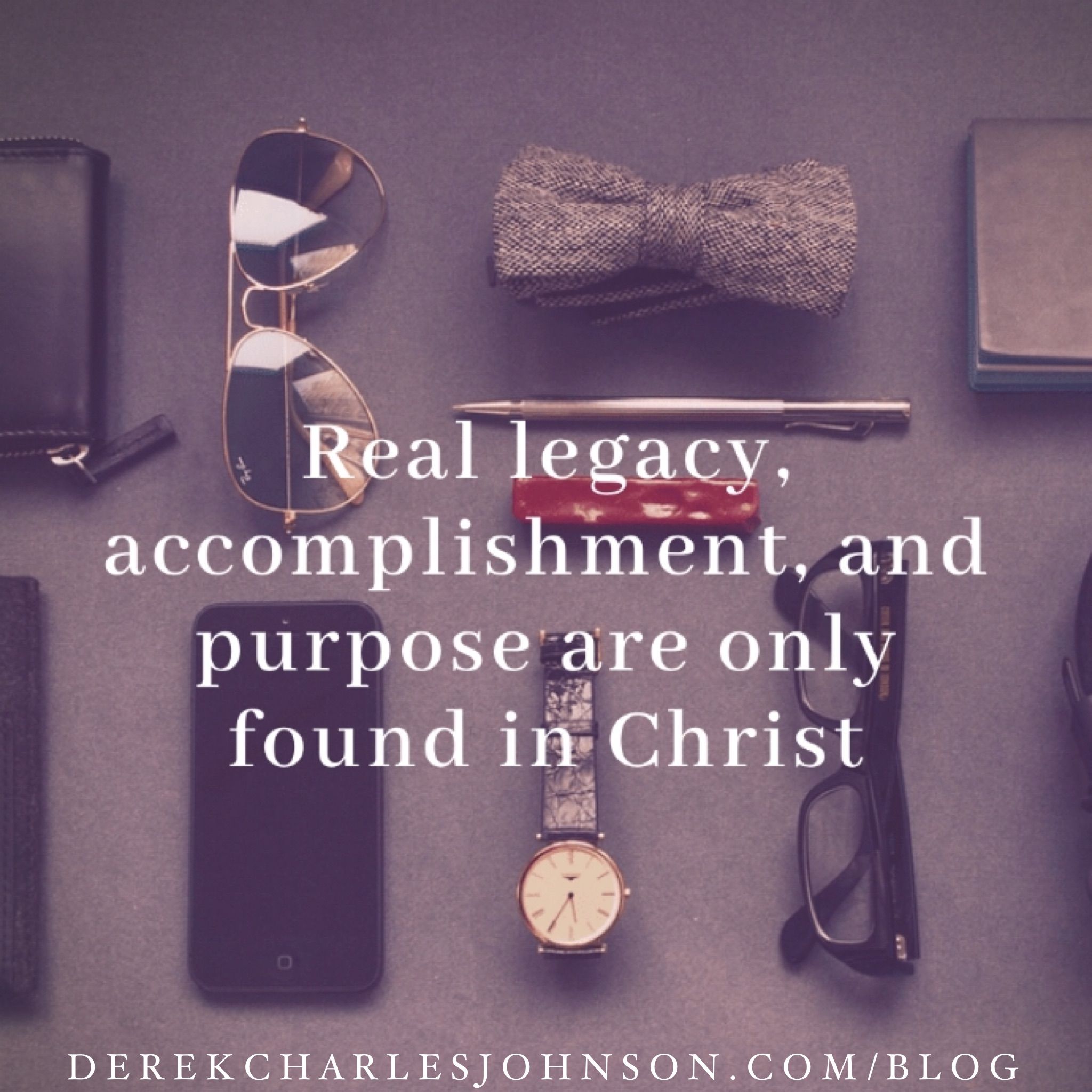 So what's the point of all of this?  Well, for me I have to ask what's the cost if men do not raise the standard?  The ripple effects are already being seen.  Statistics show teenagers who grow up in church do not necessarily have a firm grasp on the Gospel and often lose their faith shortly after college. (See "Are Young People Really Leaving Christianity?" — a great compilation of recent studies and observations about the topic) 
Men in the career stage/child-rearing stage are also missing the mark by not setting a better example:   "A 2001 U.S. Congregational Life Survey (USCLS) revealed that an average American congregation is roughly 61% female and 39% male."  But what if men take the lead?:  "Families are 90% more likely to attend church if the man of the household attends."  Taken from "Where Are All The Men? Exploring The Gender Gap In Church" 
Finally, we simply need the wisdom and life experience of men who have gone before us, knowing they have much to pass down and offer the next generation.  The Bible again has truth to guide us here: 
Older men are to be sober-minded, dignified, self-controlled, sound in faith, in love, and in steadfastness. Titus 2:2 
The glory of young men is their strength, but the splendor of old men is their gray hair. Proverbs 20:20 
As you can probably already tell, the path of this series will be sequential and compartmentalized to various life stages.  I want to first address young men; those trying to figure out life and where they are headed, all in the context of faith in Christ as the compass.  Secondly, I want to address the men in the career and family stage.  It's the stage of life I'm in right now and Lord knows, any advice I can give is the same I need to be taking myself.  Finally, those men who are in the retirement years; as the song says "the sun is getting high" but "suddenly you're wise."  Yes, you are wise and on behalf of the ones following in your steps, we crave your knowledge and desire hearing from you!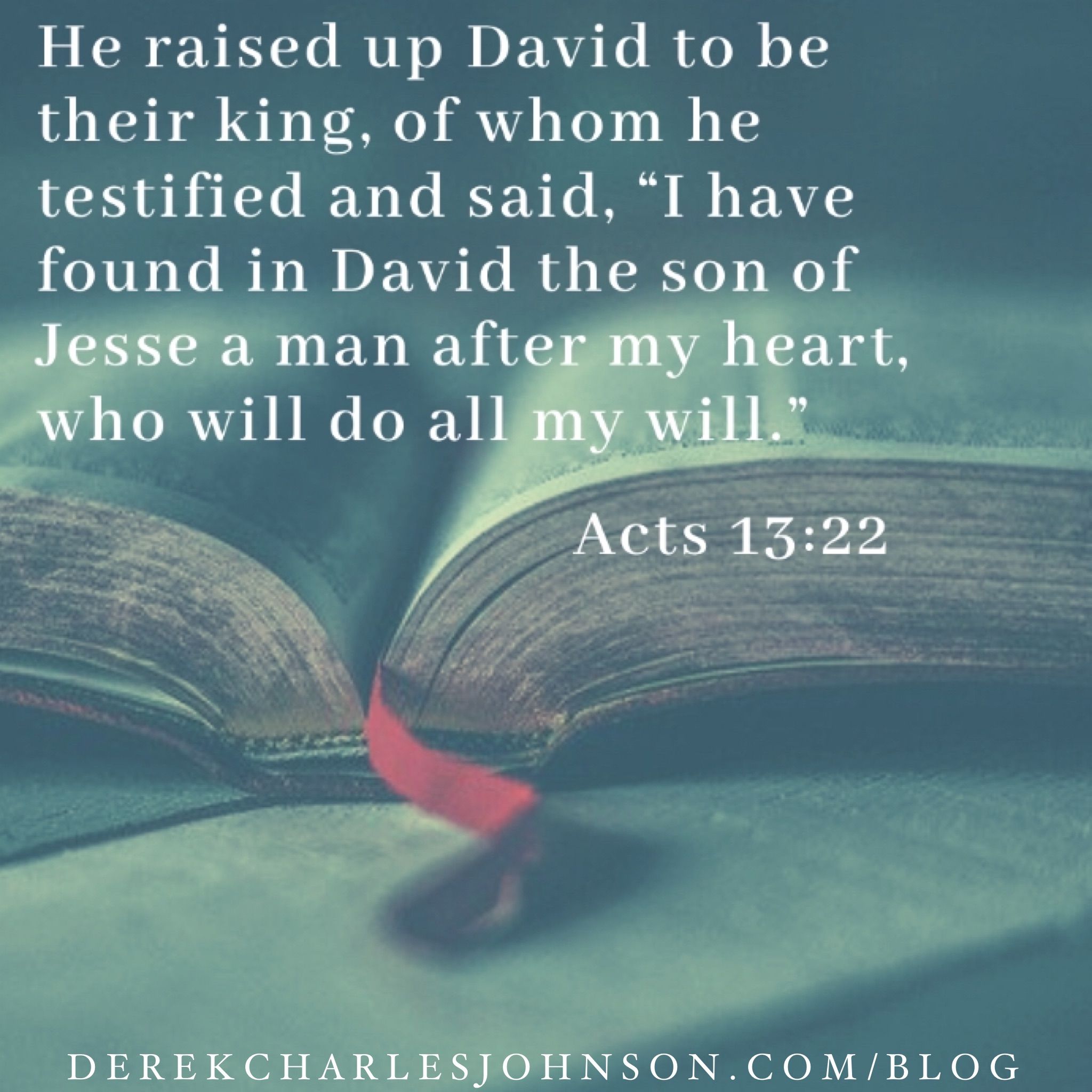 Guys (and gals) I trust these blogs will be something to share and even if you are not initially impacted, perhaps someone you know would be.  My intent in all of this is never to "male bash" or do anything that causes men to feel less-than or under-performing.  Quite the opposite.  I hope we see even more our need to depend upon our Savior and trust that as He guides us, we will be able to lead and guide others.  We have a holy calling, it's really the ultimate calling a man can have.  We must raise the standard and be men like David:  men who desire to know and follow the heart of God.  He raised up David to be their king, of whom he testified and said, "I have found in David the son of Jesse a man after my heart, who will do all my will."  Acts 13:22 
Will you join me over these next few weeks? 
Sign up to get these blogs delivered to your email inbox!  Visit http://derekcharlesjohnson.com/as-bold-as-lions 
Let's connect: 
Email:  info@derekcharlesjohnson.com 
Facebook:  https://www.facebook.com/derekcharlesjohnson1/ 
Instagram:  http://instagram.com/derekcharlesjohnson 
Be very careful, then, how you live—not as unwise but as wise, making the most of every opportunity, because the days are evil.  Therefore do not be foolish, but understand what the Lord's will is.  Ephesians 5:15-17