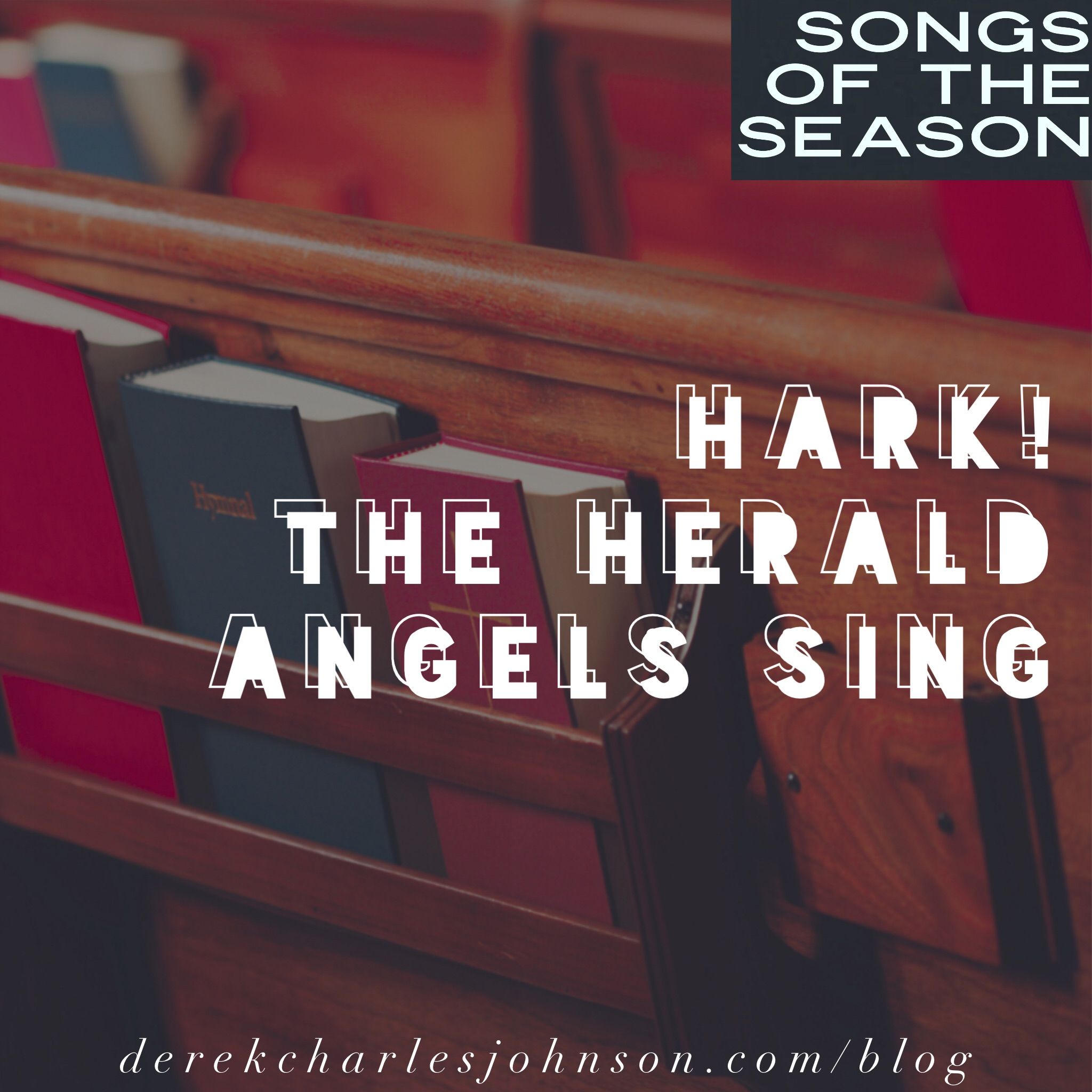 Hark! The herald angels sing, 
"Glory to the newborn King! 
Peace on earth and mercy mild, 
God and sinners reconciled." 
Joyful, all ye nations rise, 
Join the triumph of the skies, 
With th'angelic host proclaim: 
"Christ is born in Bethlehem." 
Hark! The herald angels sing, 
"Glory to the newborn King!" 
Christ by highest heav'n adored, 
Christ the everlasting Lord! 
Late in time behold Him come, 
Offspring of a Virgin's womb. 
Veiled in flesh the Godhead see, 
Hail the incarnate Deity, 
Pleased as man with man to dwell, 
Jesus, our Emmanuel. 
Hark! The herald angels sing, 
"Glory to the newborn King!" 
Hail the heav'n-born Prince of Peace! 
Hail the Son of Righteousness! 
Light and life to all He brings, 
Ris'n with healing in His wings. 
Mild He lays His glory by, 
Born that man no more may die, 
Born to raise the sons of earth, 
Born to give them second birth. 
Hark! The herald angels sing, 
"Glory to the newborn King!" 
Lyrics:  Charles Wesley and George Whitefield 
Melody:  "Festgesang" by Felix Mendelssohn, adapted by William H. Cummings 
A year ago, I took the month of December to look at various Christmas hymns in a blog series titled "Songs Of The Season."  Being there were only four weeks, I only had the opportunity to dig into four songs.   Mind you, there is a bit of pressure if you are only going to pick four!  This year I've decided to revisit this series and look at four more songs, the first of which is Hark! The Herald Angels Sing.  I'm excited to examine the lyrics and greater meaning of these songs.  I truly believe there is so much depth to the songs we sing especially at Christmas.  Today's hymn is no exception.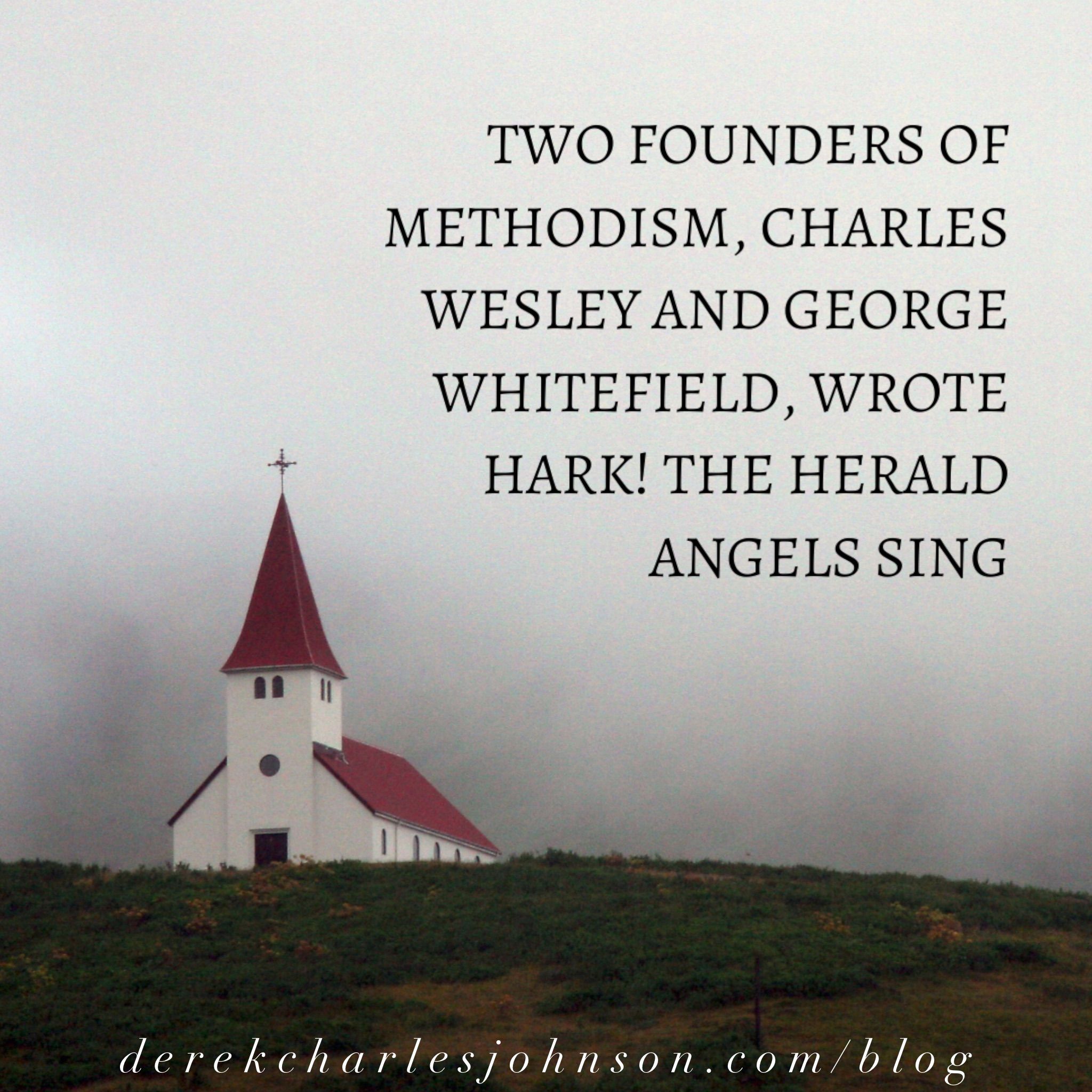 In discovering where Hark! The Herald Angels Sing comes from, we must look no further than two of the founders of Methodism:  Charles Wesley and George Whitefield.  Wesley was the originator of the lyrics, having published the song as "Hymn for Christmas-Day" in his brother John's Hymns and Sacred Poems collection in 1739.  In 1758, Whitfield updated some of the lyrics, namely the first lines which give us the title as it is now.  It was then published in another collection of hymns, at this point just poetic in nature (without music).  One had to wait nearly 100 years longer for the complete song as lyrics and melody.  It is in 1855 that a British musician, William H. Cummings, adapted the song to a secular melody written by Felix Mendelssohn which was titled Festgesang. 
What is clear to me is that we embark on a deep theological journey whenever we sing through a song like Hark! The Herald Angels Sing.  I'm reminded of other songs in a similar vein and style like Joy To The World or It Came Upon A Midnight Clear.  The richness of these verses pull so much from Scripture and each stanza is a Bible study in and of itself. 
Glory to God in the highest, and on earth peace, good will toward men. Luke 2:14 
This idea of giving glory to God and of peace rings through on the first verse, "Glory to the newborn King! Peace on earth and mercy mild."  The whole of Earth rejoices, alongside Heaven, with the advent of this King; this newborn baby.  The angels are the heralds and messengers of this truth and point the first witnesses (the shepherds) to go to Bethlehem and see this thing. (When the angels went away from them into heaven, the shepherds said to one another, "Let us go over to Bethlehem and see this thing that has happened, which the Lord has made known to us." Luke 2:15)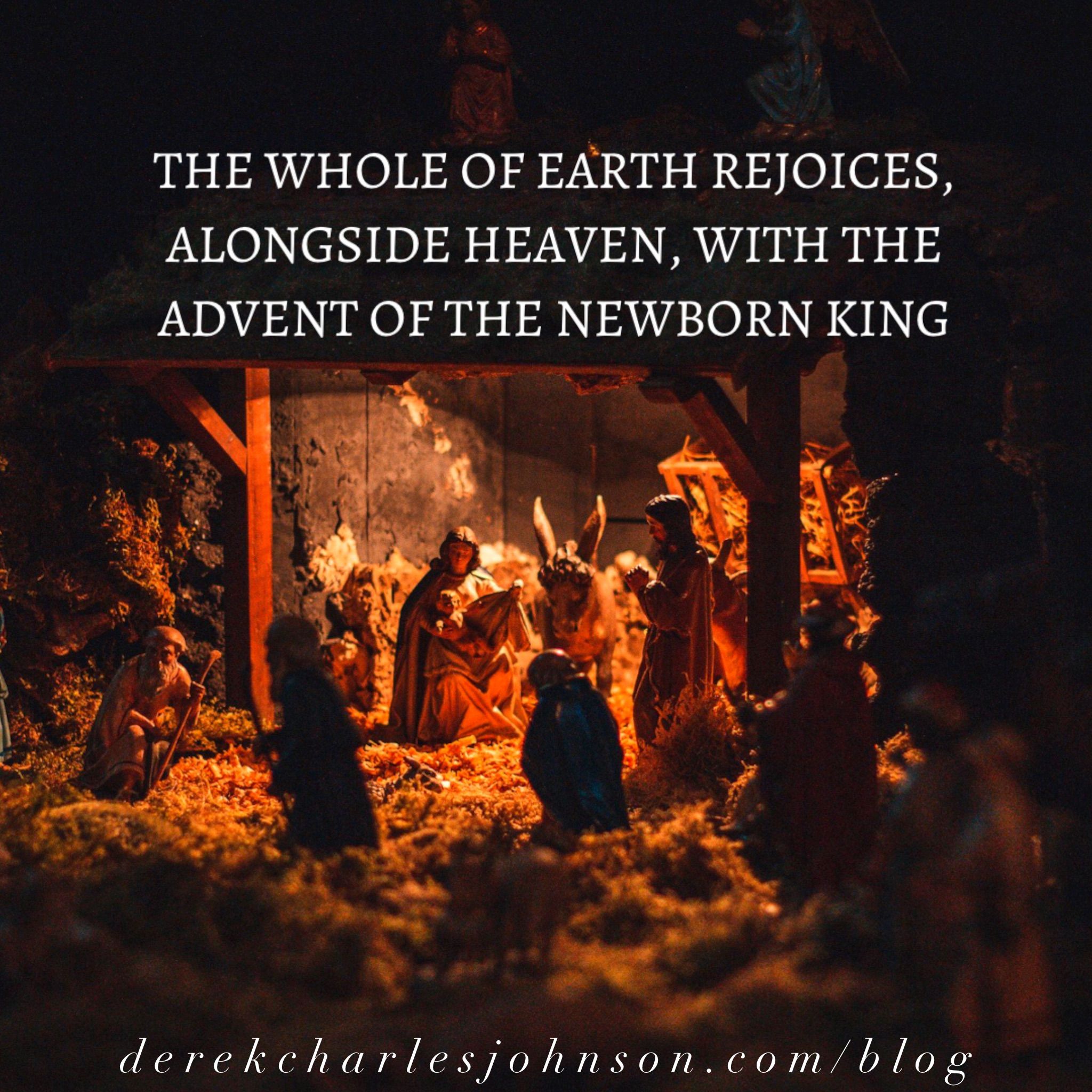 This hymn also reinforces the idea of the incarnate Christ, mildly laying His glory by.   [He] emptied himself, by taking the form of a servant, being born in the likeness of men. Philippians 2:7  Veiled in flesh…the incarnate Deity…pleased as man with man to dwell...there is much within the second verse that points to Jesus, being fully God, putting on flesh and becoming fully human (and still God).  There aren't too many modern-day choruses or even hymns of ages past that frame this so eloquently as Hark! The Herald Angels Sing.  This idea of the "hypostatic union" (the divine and human nature of Christ) is appropriate to sing, especially at Christmas.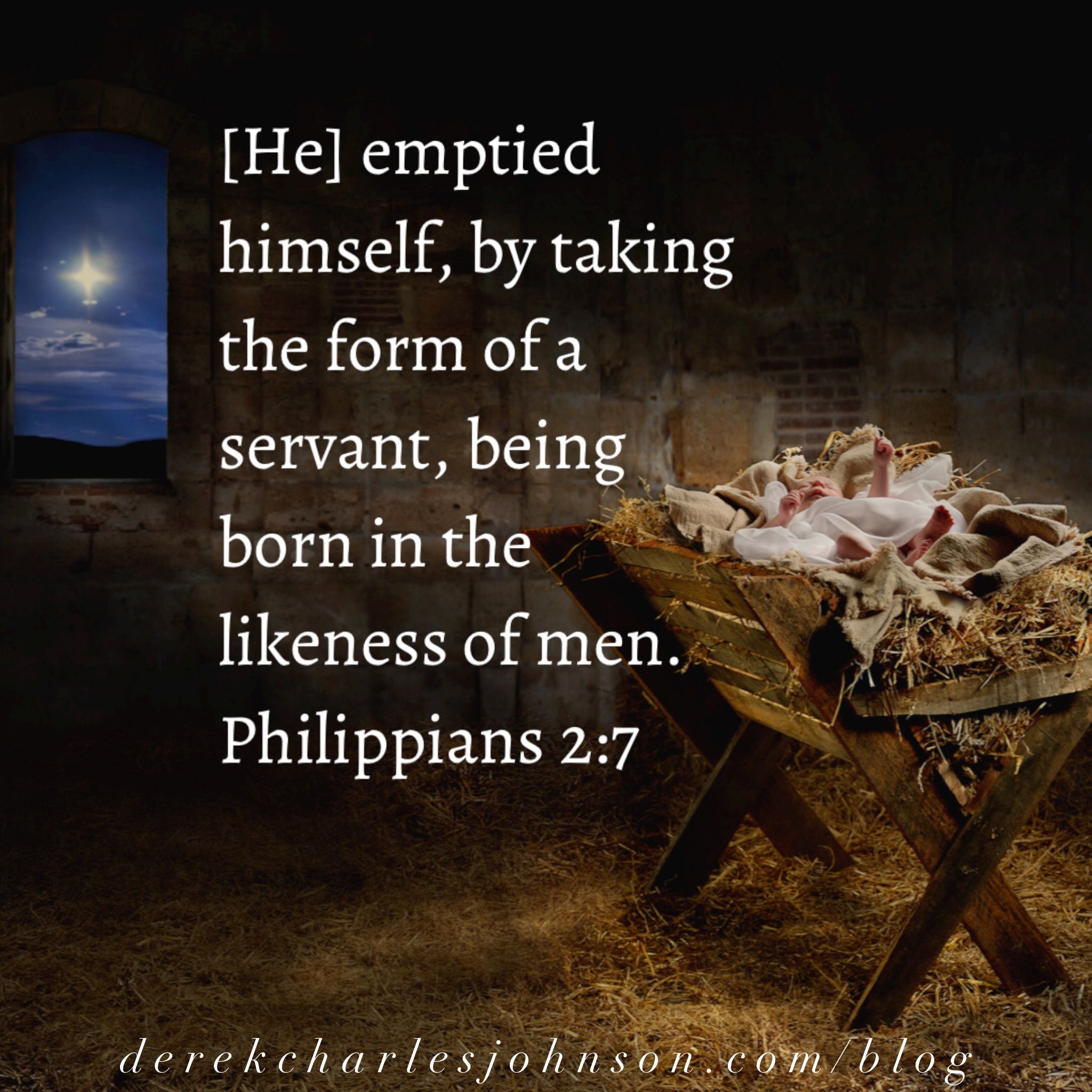 The final main thrust of this song that I see is the truth of Jesus as the reconciler.  What does all of the fanfare and rejoicing lead us to?  What is the reason Jesus would come to this planet, through the most unlikely of circumstances?  It is to see God and sinners reconciled.  What a hope we have when we discover this truth!  Light and life to all He brings, ris'n with healing in His wings.  This all points to the newborn King becoming the suffering King culminating in the risen and triumphant King.  Triumphant over death and over sin.  And I love these lines in the third verse:  Born that man no more may die, born to raise the sons of earth, born to give them second birth.  Because He was born and went to the cross, we do not have to die.  Because of all of this, we have access to the Father and to be raised as Christ was raised.  Hallelujah! 
I hope today's post recaps and refocuses a tune that you've probably sung a hundred times in your life.  For many, Hark! The Herald Angels Sing may not get as much recognition as the favorite Christmas song.  And I'm ok with that.  But it's lyrics are as solid as any other hymn out there that we sing during this season.  It is Gospel-centered, Gospel-infused truth.  It is the Gospel itself when we consider the message it proclaims.  And it takes us right back to that moment the angels heralded this truth, appearing to shepherds keeping their flock.  May we have the same wonder and awe they had and allow the meaning of this song to settle into our hearts during these days and weeks. 
Can't wait to dive in again next week with another tune!  Until then, God bless you richly! 
Sign up to get these blogs delivered to your email inbox!  Visit http://derekcharlesjohnson.com/as-bold-as-lions 
Let's connect: 
Email:  info@derekcharlesjohnson.com 
Facebook:  https://www.facebook.com/derekcharlesjohnson1/ 
Instagram:  http://instagram.com/derekcharlesjohnson 
Be very careful, then, how you live—not as unwise but as wise, making the most of every opportunity, because the days are evil.  Therefore do not be foolish, but understand what the Lord's will is.  Ephesians 5:15-17

HARK! THE HERALD ANGELS SING//COVERS BY DEREK