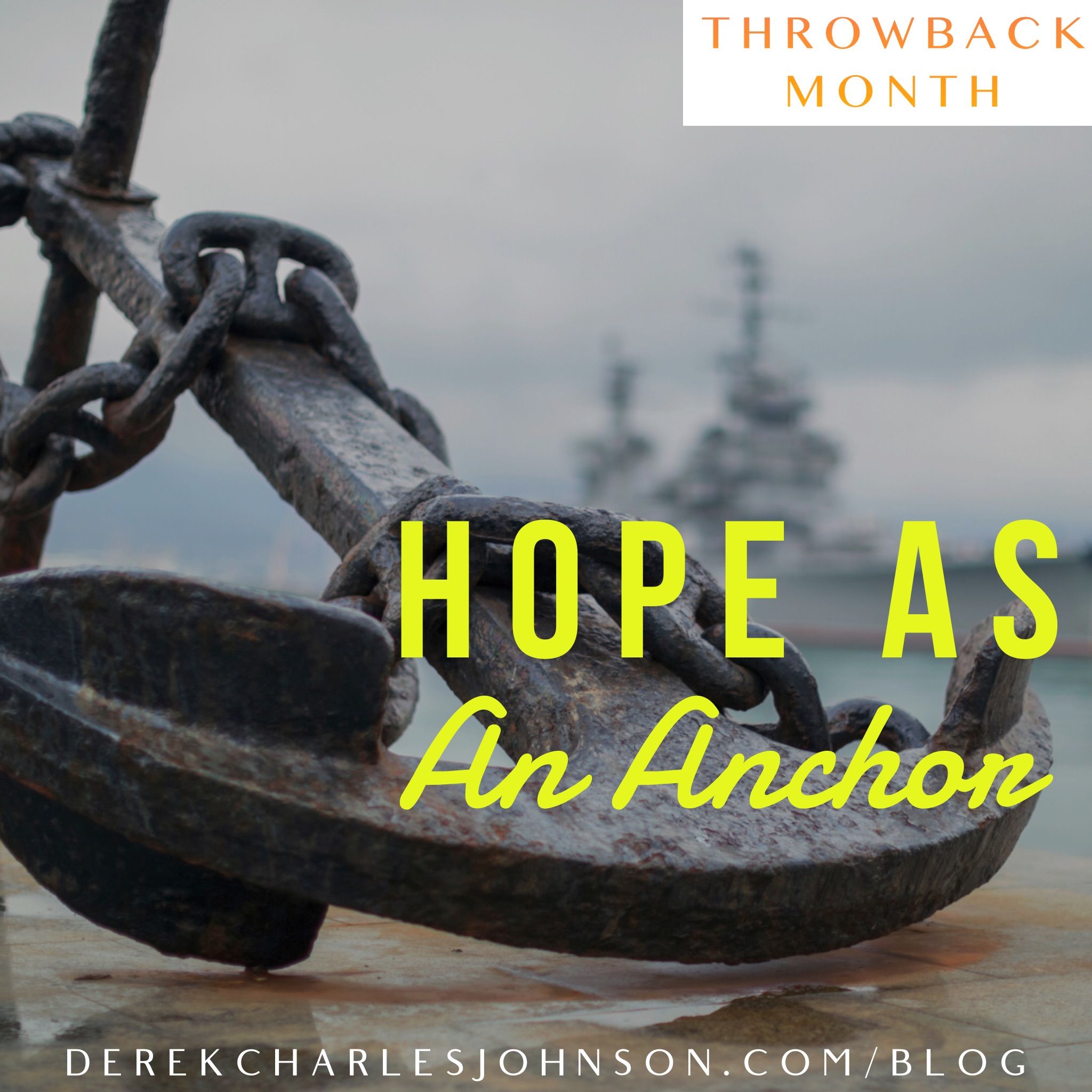 (Every year in October, I take some blogs from over the past few years that have resonated perhaps more deeply and repost them as the blog of the week.  Praying that this content will be a blessing to you -- whether it's the first time you've read it OR it's a refresher.  God bless!)
We have this hope as an anchor for the soul, firm and secure. Hebrews 6:19 
A steady diet of today's news cycles inevitably leads an anxious population to turn inward, to question, and in many cases, lose hope over what we are constantly bombarded with.  I don't know about you but events over the past few months only seem to snowball; bringing more strife and anguish.  I often wonder, how do those without Christ live?  How does an unsaved person make it today with all that has sprung up in this world (natural disasters, a worldwide pandemic, racial tensions, rioting, uprisings and lawlessness)? 
I don't know how a person without Christ makes it.  But I do know the promises of Scripture that are available to the believer in Christ.  Promises that we must not forget in times like these.  You see, despite the events around us, we are called to stay anchored because of the hope we have in Christ.  I think many Christians are, whether knowingly or unknowingly, becoming less anchored to the Savior and adrift in the endless sea of hopelessness.  That is not our identity and that is not our call. 
What I long to speak today will serve as a reminder for those of you who are in the fight and standing firm in the faith each day.  But I also want to give some encouragement to those who have perhaps wavered, had doubts, or just got swept up in the despair of these days.  Jesus is our hope and our anchor during these times.  With Hebrews 6:19 as a backdrop, let's dig in a bit and examine what God's word has for us! 
1. In Christ we have hope for today 
This is the day that the Lord has made; let us rejoice and be glad in it. Psalm 118:24 
In the United States, life definitely began to change in last March 2020.  It wasn't as if fear and worry didn't constantly bombard the headlines before.  But once we entered a lockdown period, our minds and thoughts were certainly captivated each day by the coronavirus.  I'd wake up many days, grab my phone and see what new revelation or speculation about the pandemic was being bandied about.  Rather than starting with God's word, I chose to look for man's word and man's understanding.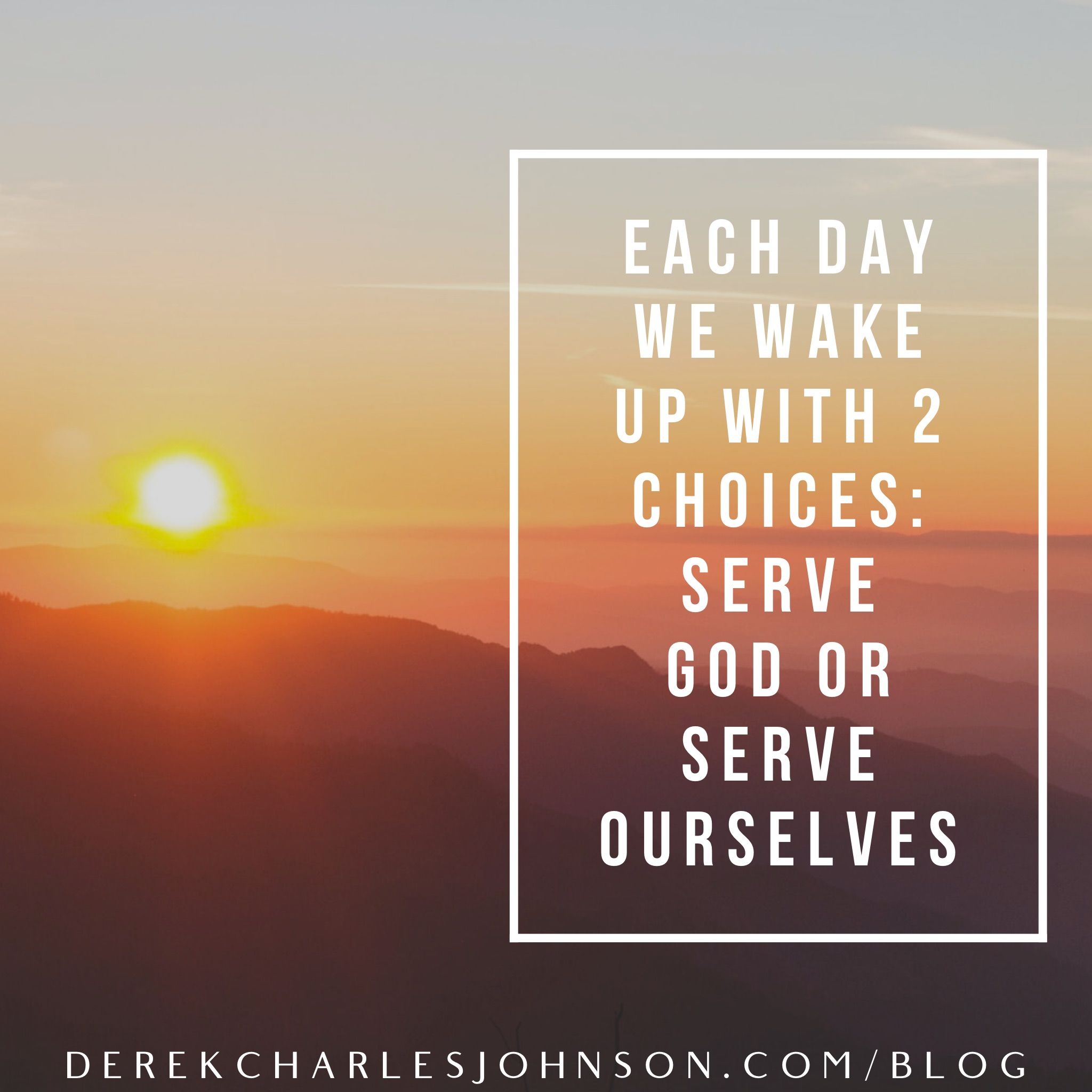 I'm reminded that we have 2 choices each day:  to either serve God or serve ourselves.  I've been all too guilty of waking up, forgetting to acknowledge any thankfulness or recognition of the Lord and then going about my day as if He doesn't exist.  And then getting afraid of what I read and see.  Psalm 118:24 is a great posture to begin with everyday.  Today is a day the Lord has created.  What is our response?  To worship Him and be glad!  How much would our thoughts change if we just made this simple confession of faith before we allow our feet to hit the floor each day? 
2. In Christ we have hope for tomorrow 
Therefore do not worry about tomorrow, for tomorrow will worry about itself. Each day has enough trouble of its own.  Matthew 6:34 
We've done many blogs here on the Christian response to worry and fear (The Worry Monster, Dear Worried & Afraid, Filled With Peace).  It's a constant choice to pick faith over fear and to not allow our thoughts in the natural to override who we are in Christ.  Jesus spent time in Matthew 6:25-34 addressing this very topic of anxiety.  He knew that the things of life can consume us...much of it basic survival-type things (food, clothing, shelter).  When we look at the world around us, we start to wonder if some of those things will be threatened.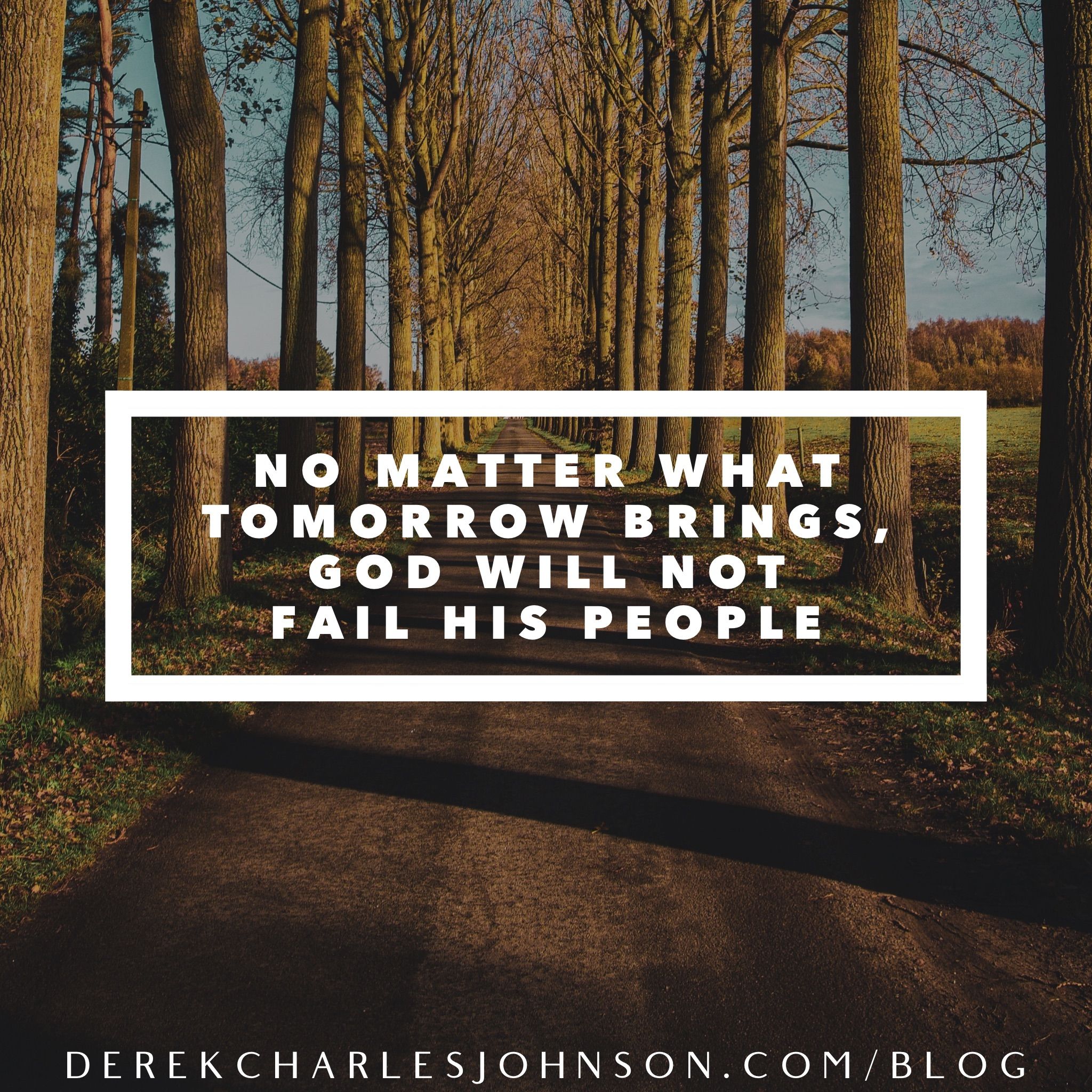 Here's what I believe happens as we trust Christ even in the midst of uncertainty:  He takes care of us and He provides.  We think it's all up to us and we have to figure out the ends somehow.  In reality, it is God Who makes a way through any season.  I love the promise from Psalm 37:25:  I was young and now I am old, yet I have never seen the righteous forsaken or their children begging bread.  To me, this verse states very plainly, the righteous will be alright.  No matter what tomorrow brings, God will not fail His people.  He is good and cannot deny His own nature.  We will not be forsaken. 
3. In Christ we have hope for eternity 
Praise be to the God and Father of our Lord Jesus Christ! In his great mercy he has given us new birth into a living hope through the resurrection of Jesus Christ from the dead, and into an inheritance that can never perish, spoil or fade. This inheritance is kept in heaven for you.  1 Peter 1:3,4 
If we are completely honest, we experience despair in this life because we cling too tightly to this world.  We see it as all there is when in reality, it's a finite blip on the timeline of eternity.  But if we are in Christ, we have a heavenly calling and reward.  We must realize this life is not all that there is and not spend all of our time existing as if nothing else happens when we die.  1 Peter 1:3,4 is a reminder that we have an inheritance; not in this life but in the one to come.  Unlike the things of this world that will pass away, our inheritance in heaven is imperishable.  Glory to God!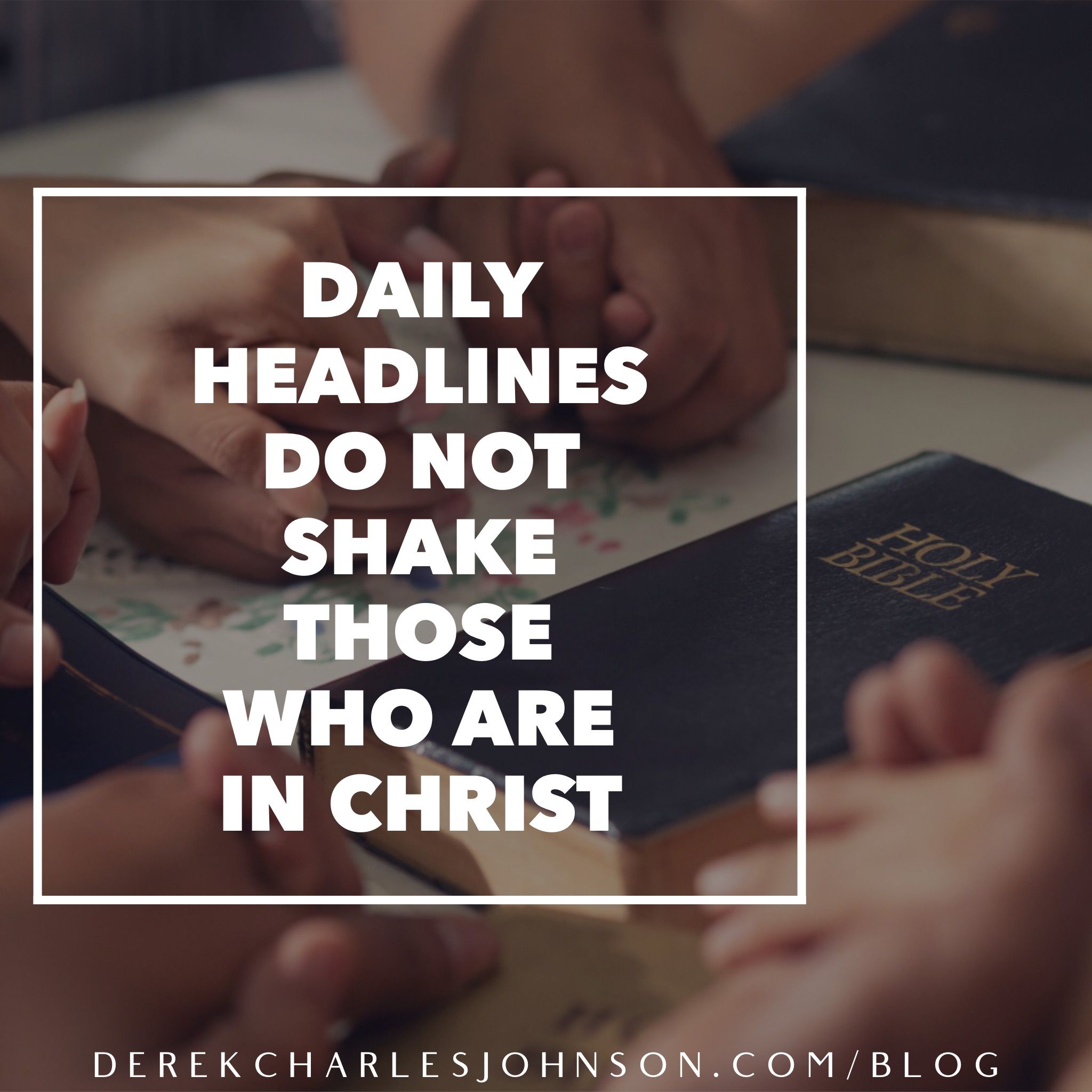 Hope beyond this life is a spark that will sustain us even during the darkest times.  We've seen weeks and months lately that look unlike anything else most of us have ever seen in our lives.  And what we see now might only be a precursor of what is to come.  But in Christ, we don't allow the daily headlines to shake us.  We continue to see beyond this life to know that which awaits us in heaven is what we were truly designed and created for. 
---
With all this in mind (today, tomorrow and forever), there is not much that can rattle us if we are in the word and in prayer.  My fear is that many who are being sifted right now are the ones who are not taking the time to stay plugged in.  My prayer is that you would stay anchored to the hope that is in Christ.  The anchor keeps you in one place when the winds and waves hit.  If you do not have your anchor down, you will be adrift and astray...it's not a matter of if it will happen, but when. 
My other prayer in this is for you and I to have daily discernment.  Rather than just a spiritual gift that some specifically have, discernment is an ability to perceive and understand things within a spiritual context in the Lord.  We need to have discerning eyes and ears if we are to remain anchored.  Many things can be seen for what they are when we ask God to reveal them plainly.  I pray for you and I to be willing to pause and listen to what God is saying each day.  We cannot afford to miss it. 
I love you guys and I love running the race with you.  God bless. 
Sign up to get these blogs delivered to your email inbox!  Visit http://derekcharlesjohnson.com/as-bold-as-lions 
Let's connect: 
Email:  info@derekcharlesjohnson.com 
Facebook:  https://www.facebook.com/derekcharlesjohnson1/ 
Instagram:  http://instagram.com/derekcharlesjohnson 
Be very careful, then, how you live—not as unwise but as wise, making the most of every opportunity, because the days are evil.  Therefore do not be foolish, but understand what the Lord's will is.  Ephesians 5:15-17