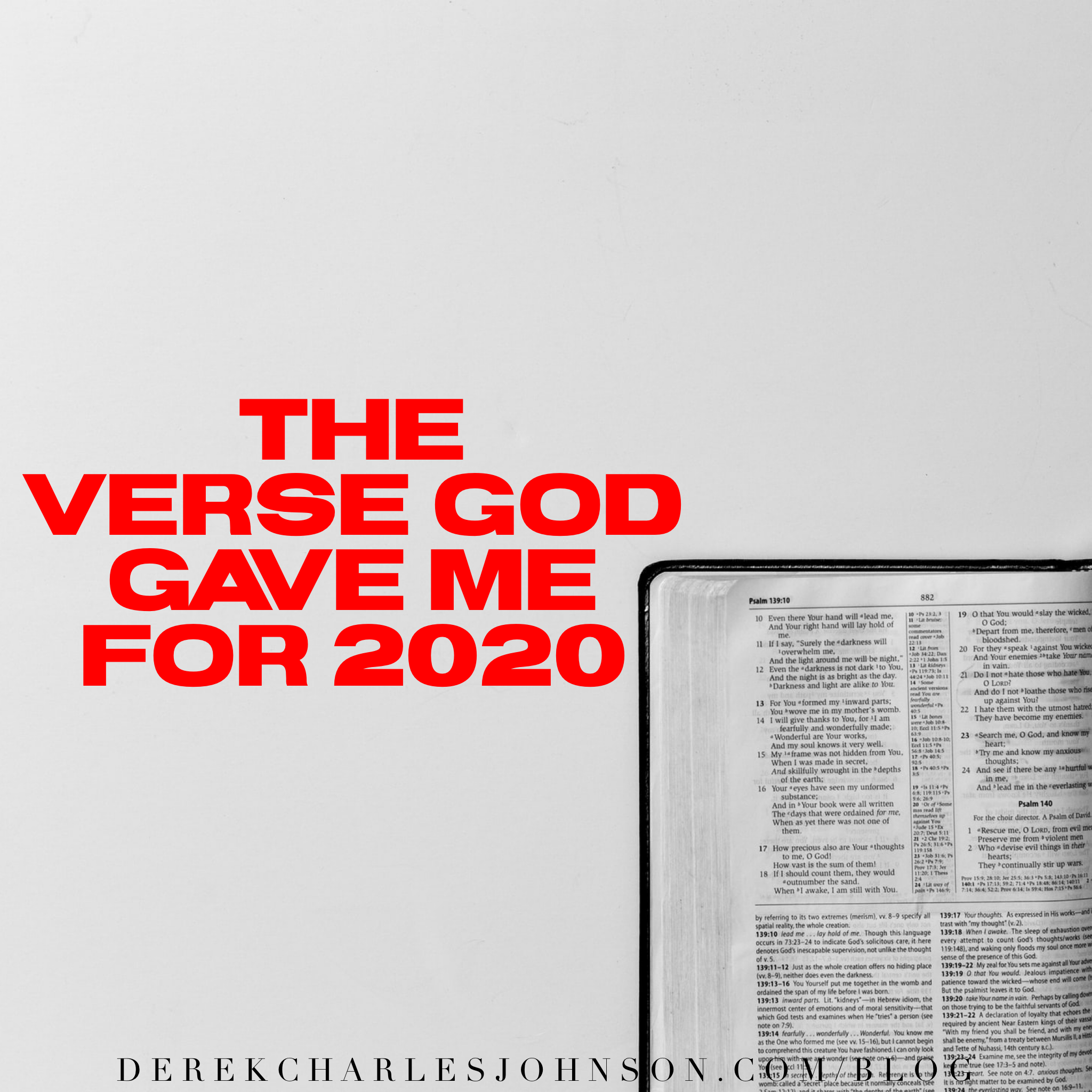 I was reading a devotional a few weeks back and thinking ahead to 2020.  By November and December, I like to get to a place where I have some thoughts developed about what the next 12 months will bring.  Often in my planning, I simply want to hear from the Lord.  But this past year, God was showing me my busyness was often crowding out the time I needed to be with Him.  It's as if I wanted His blessing but I didn't want to take the time to seek it.  Whew.  Can you say say convicting?!  So as I went before Him one morning this verse lept off of the page: 
Be very careful, then, how you live—not as unwise but as wise, making the most of every opportunity, because the days are evil.  Therefore do not be foolish, but understand what the Lord's will is.  Ephesians 5:15-17 
A lot of years I try to pick a verse to focus on and take it to heart.  Even beyond that I will ask God for a word or phrase that will be part of what the next year means.  This year, this passage from Ephesians is probably the most important thing I will take with me into 2020.  It immediately had profound meaning for me and I believe it does for other Christians as well.  As we enter a new year with the uncertainty it brings, Ephesians 5 has some wonderful truths we can take stock in.  I want to spend today's entry digging into verses 15, 16, and 17 and letting this time refocus and recenter our lives before we begin the journey of 2020. 
Disclaimer:  Nothing here, including the verse, supersedes anything the Lord has shown you or has given you as you enter 2020.  I only want to supplement your reading and prayer time and hope that what I offer is congruent and lines up with things the Lord is showing you. 
1. We must be careful how we live 
Be very careful, then, how you live—not as unwise but as wise 
The first part of these short 3 verses is really a warning (vs. 15).  Truth be told, a warning seems like a weird place to start as we enter 2020.  It's like saying "Buckle up, it's gonna be a bumpy ride."  But I think a cautionary tone is warranted:  we must guard our hearts and live in a way that honors God.  Eyes are watching us.  People see our faith on display and many are either drawn to or led away from Christ by the actions and words of Christians.  Does that mean we must be perfect?  No.  God can use us even in our humanity as redeemed sinners ministering to other sinners.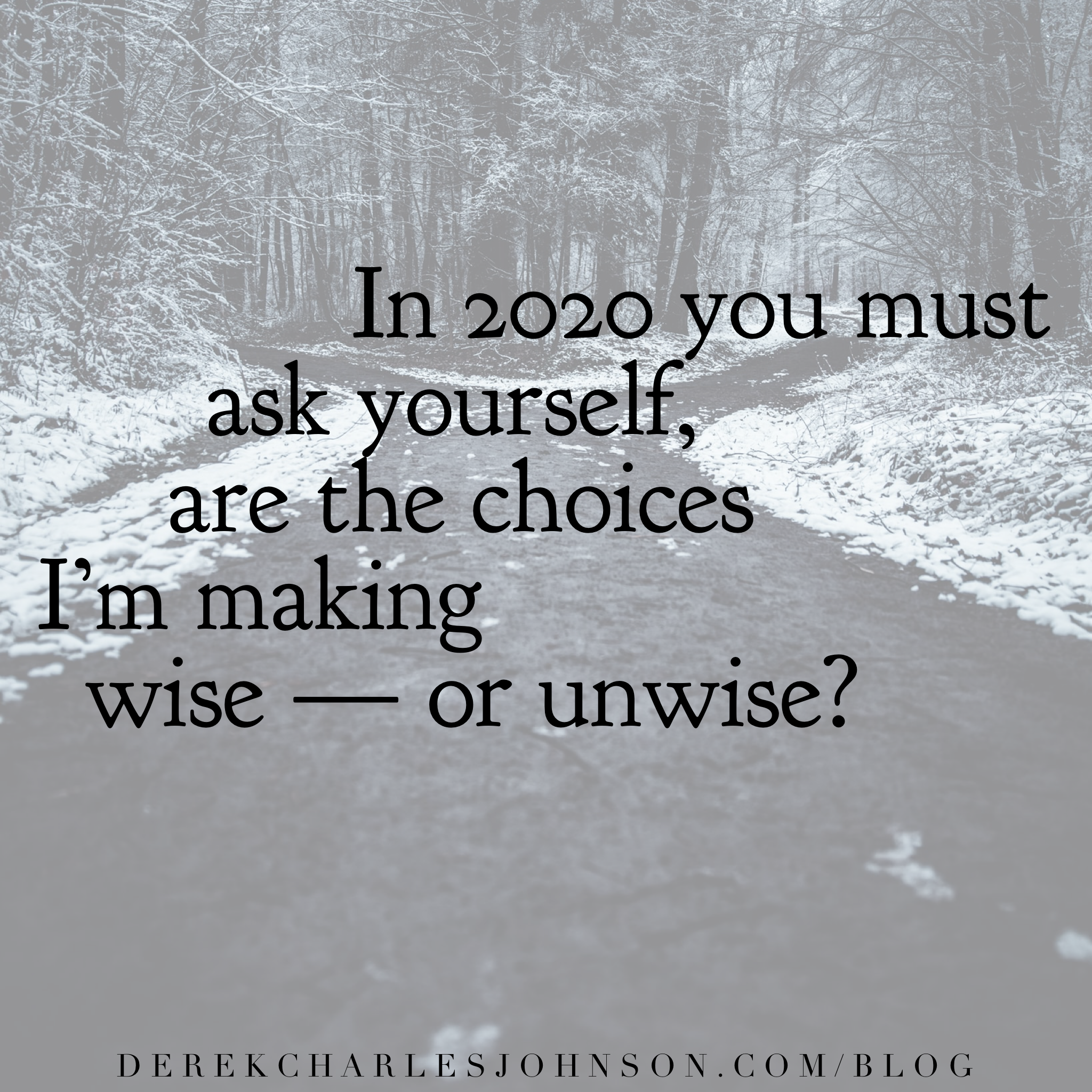 The rest of that first verse "not as unwise but as wise," speaks volumes.  I am convicted to say that my life choices are not always as wise as I would hope them to be in Christ.  And I think as Christians we have to be on guard about these things.  What are we doing with our time, money, and resources?  Are we succumbing to temptations because we put ourselves in places we have no business being in (movies, TV, computer/phone screens, etc)?  Are we being wise in the way we live; Christ-centered in all of our ways?  From there, are we allowing the Holy Spirit to convict our hearts, repenting of our error, and being drawn into deeper and deeper levels of holiness? 
2. We make the most of every opportunity 
Making the most of every opportunity, because the days are evil 
When I read the next verse, my mind is again convicted.  How much time do I waste?  How many missed opportunities and conversations?  The reminder of "why" we make the most of our time is clear:  because the days are evil.  The time is short.  We must be wise and aware of what's going on around us.  We don't ignore or run away from the battle.  Rather, we run into the fight and take the opportunity to glorify God by displaying Christ.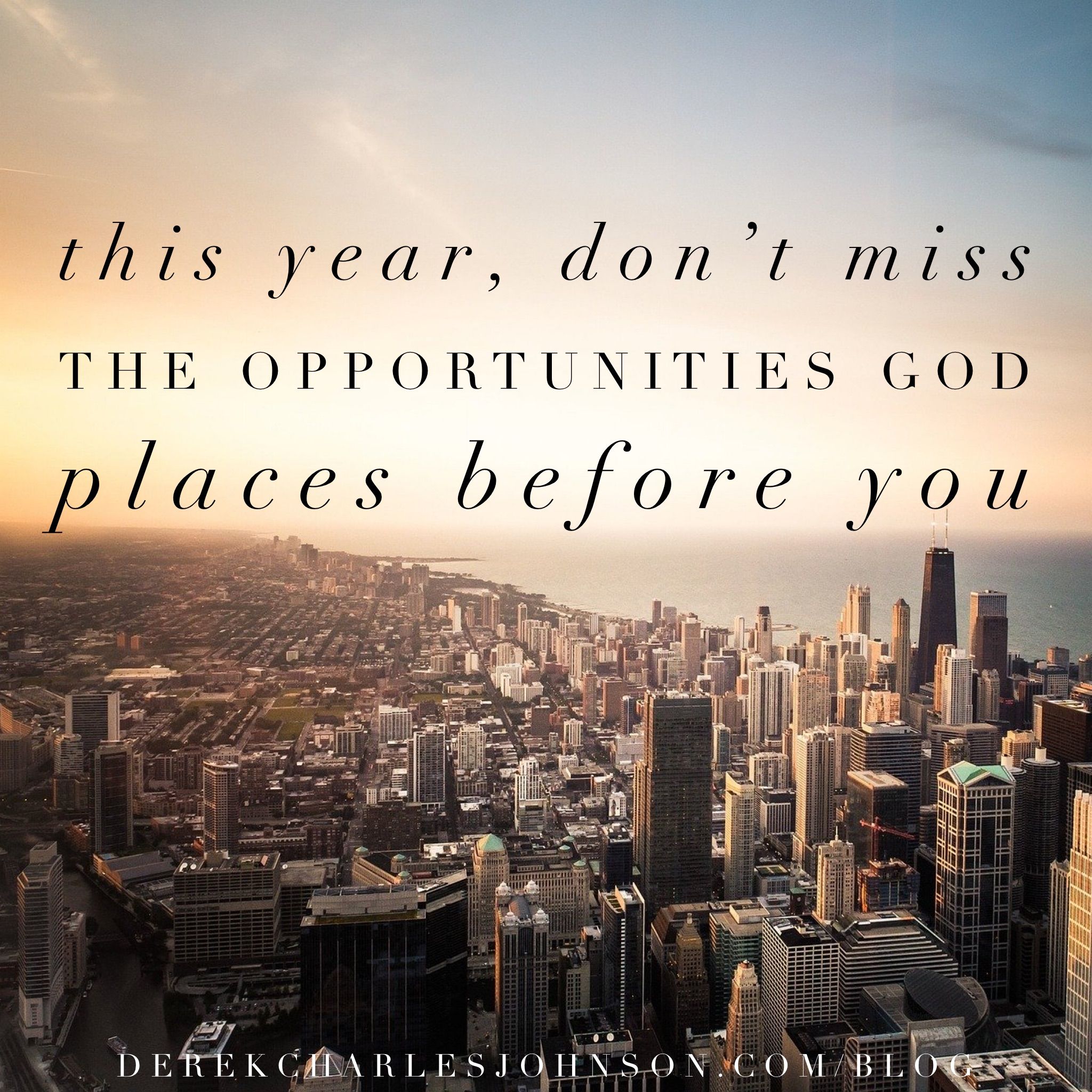 In 2020, I believe God is setting many of us up for divine appointments and we have to have the faith to step into them.  I say this because online, through Facebook/Instagram, and email, I've connected with so many who encounter this blog and are regularly seeking the Lord's will for their lives.  I don't know the opportunity God will place before you this year.  Maybe it's family-related.  Maybe a job.  Maybe just an opportunity to speak into someone's life and have God's favor upon you.  Whatever it is, do not miss the chance He gives you.  Take it wholeheartedly and without fear! 
3. We understand what God's will is 
Therefore do not be foolish, but understand what the Lord's will is 
When I think about discovering God's will for our lives, I consider 2 true callings.  One is the greater will and purpose of God for this world.  That is the will for all mankind and is reflected in verses like 2 Peter 3:9:  The Lord is not slow in keeping His promise, as some understand slowness. Instead He is patient with you, not wanting anyone to perish, but everyone to come to repentance.  His will is one of redemption and seeing the lost be found.  In that, we are all ambassadors, carrying His overarching will of salvation to a lost and broken world.  We all receive that call; we have a Great Commission responsibility.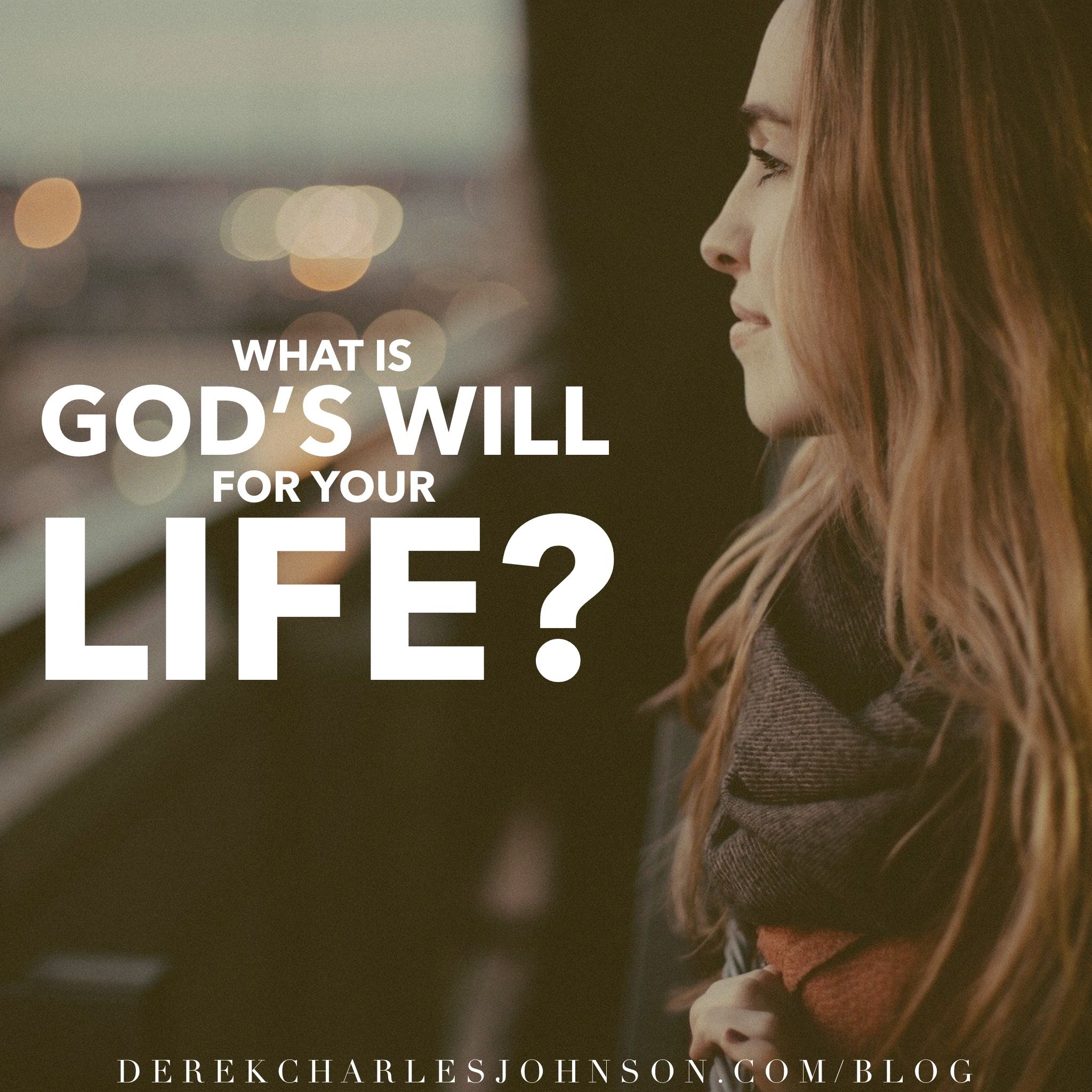 The other calling is the individual will God has for your life and mine.  It doesn't take the place of the grander will, rather it supplements and is really the vehicle upon which His greater will takes shape in your life.  A big part of mine right now is this:  I'm called to love and cherish my wife.  I'm to raise 4 sons and a daughter to know Who Jesus is.  I'm also called to equip and encourage people through music, blogs, devotionals and other means.  Wherever I  go, I am called to put Christ on display.  Those displays are evident through how my time is spent, what I spend my money on and how I use the resources God has given me. 
What is God's individual will for your life? 
That last verse "Do not be foolish," hearkens back to the earlier phrase which contrasts unwise and wise living.  As we begin a new year, it is often a practice to set goals and make resolutions.  Some are well-meaning, but many do not see the light of day past January 31st.  But one thing I would challenge you to begin (if you haven't already), is daily Scripture reading and prayer.  We cannot understand God's will if we are not in His word and in communication with Him.  Really, being foolish and unwise means believing God exists but living as if He has no part in our lives.  We must seek Him daily!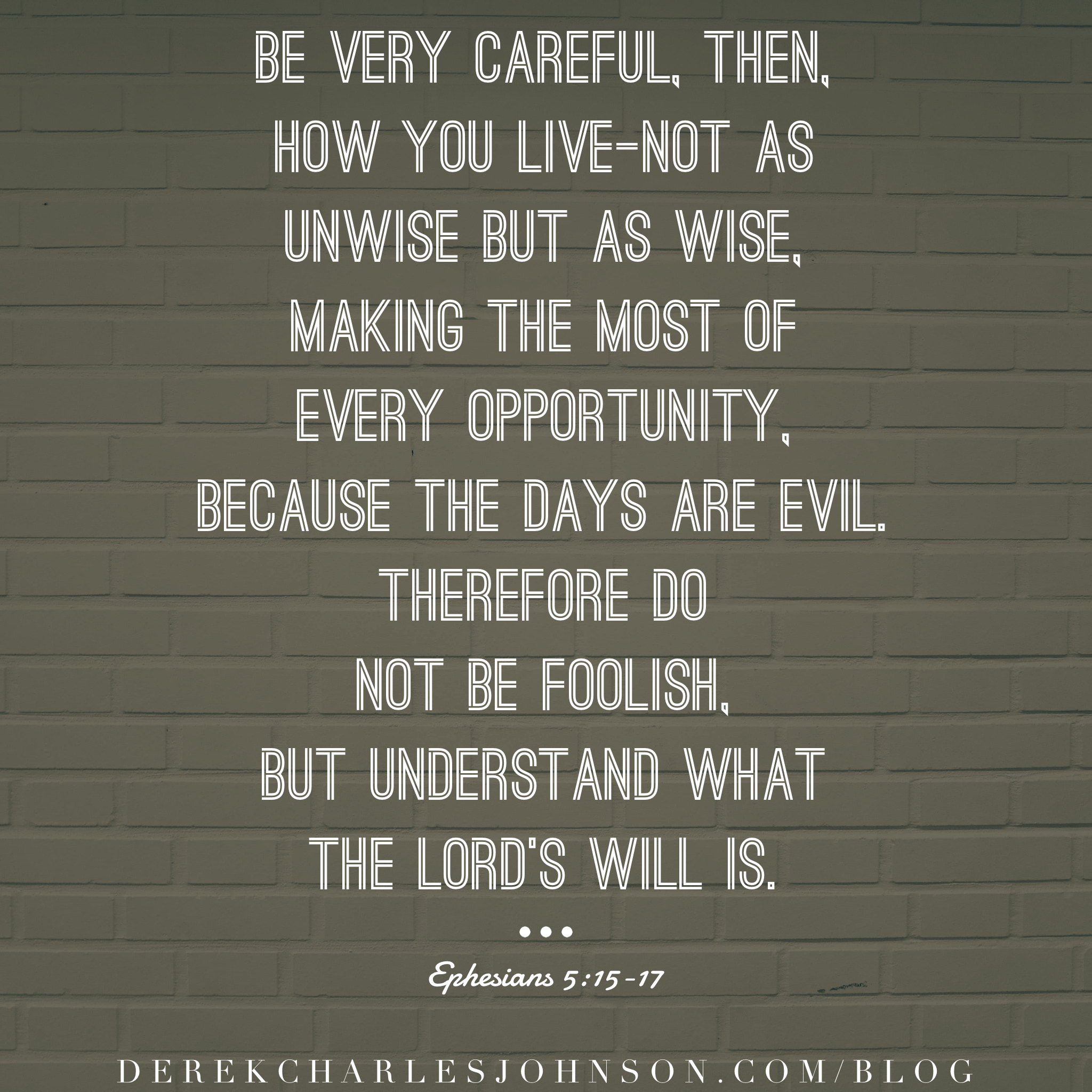 My prayer for you and I this year is to go deeper and develop unshakable roots that cannot be moved whenever the storms of life hit.  This blog today is more big picture and that's often how things start come January.  However, I believe God has practical nuggets from His word that He wants to share as we forward.  In my own study, I have to seek His face to say "Lord what's your will for these messages?"  Whether you've been here since the start in 2017 or are a new reader, thanks for being here! 
Oh and before I forget:  Happy New Year!!!  I love you guys and I can't wait to see and hear what this year brings for you!
Sign up to get these blogs delivered to your email inbox!  Visit http://derekcharlesjohnson.com/as-bold-as-lions 
Let's connect: 
Email:  info@derekcharlesjohnson.com

Facebook:  https://www.facebook.com/derekcharlesjohnson1/ 
Instagram:  http://instagram.com/derekcharlesjohnson