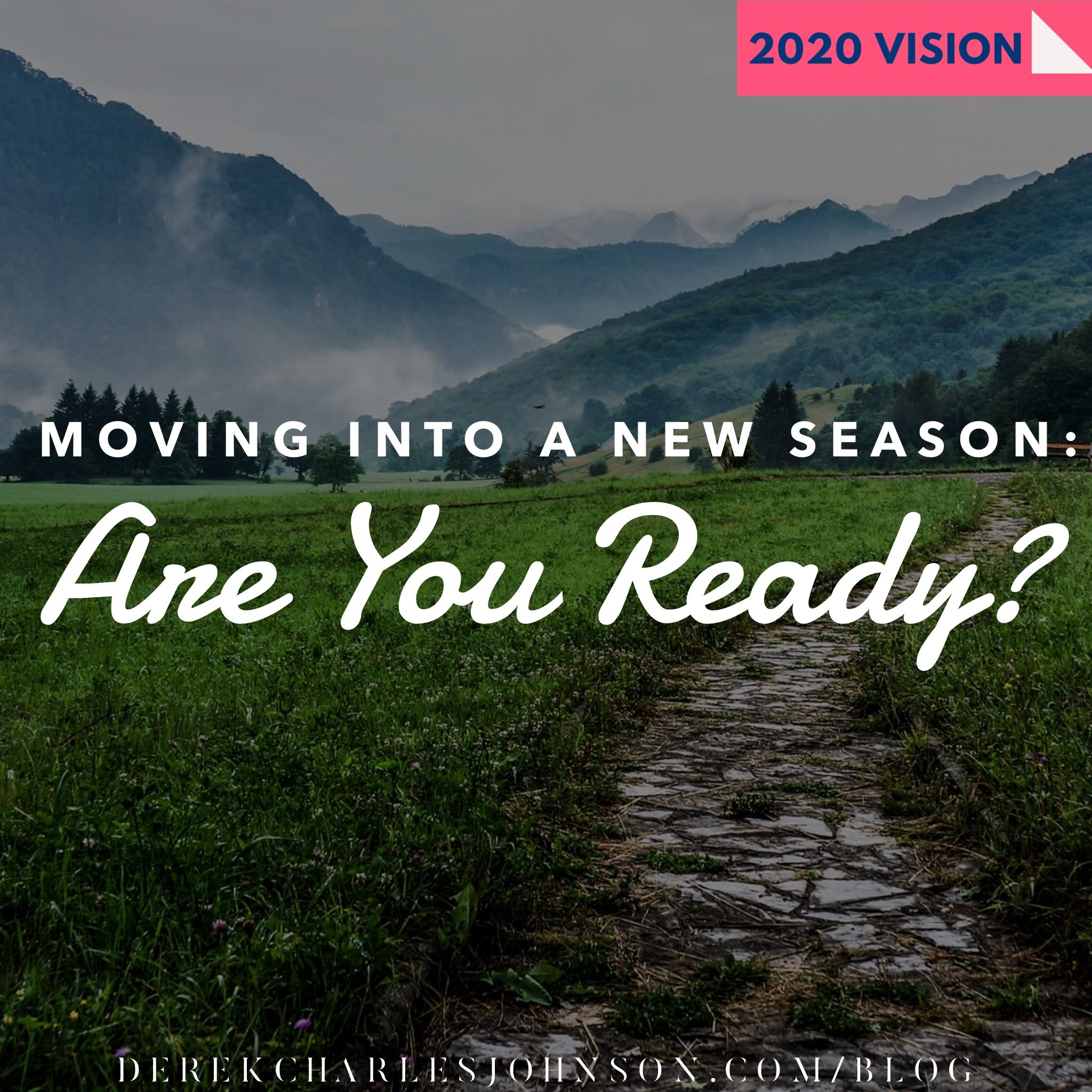 Therefore, if anyone is in Christ, the new creation has come: The old has gone, the new is here! 2 Corinthians 5:17 
I chose to start out 2020 with a blog series that is in many ways vision-minded and over-arching.  It was hard not to pass up the title "2020 Vision" as we only get this one year to capitalize on such a phrase!  But in all seriousness, I began to think about this year and wanted the Lord to clear my mind to see things from His viewpoint.  A clearer, more accurate picture of things comes into focus as we seek Him and make His will a priority for our lives. 
Over the rest of January, I have some blogs ready to share that will speak into various buckets of responsibility we have in common.  For this week, it is the area of personal responsibility and the idea of being ready for change and new things to come as we grow in the Lord.  The following weeks will focus on other areas:  home life (marriage and parenting), church, and the unique mission field you and I possess as we work and interact with others. 
Moving into a new year brings change.  It inevitably does, even if it is as simple as turning the page of the calendar.  Most likely, we will experience change because our lives are in constant transition. 
We are growing older.  New aches and pains show up unexpectedly letting us know our bodies are finite and will wear out someday. 
Our kids are growing up.  Life does not stop and the transition from childhood to adolescence to adulthood seems to accelerate over time. 
There are new challenges we face.  New questions to answer.  Some are easy to discuss and others are agonizing and painful. 
In all of this, we see the future and know that the place we start from and the place we end up will not be the same.  Even from January 1st to December 31st, a lot of life happens and we must be ready for the change in season that will no doubt come.  With all of this in mind, I want to dive in and consider personally where we are at.  What do we need to do to prepare for what 2020 has in store?  How do we stay sharp and not lose focus?  God has some great things planned and I believe we must be in a place where we are ready to receive from Him.  Let's get started. 
1. Look closer, God's up to something 
See I am doing a new thing!  Now it springs up; do you not perceive it?  I am making a way in the wilderness and streams in the wasteland. Isaiah 43:19 
The physical season may look the same as you look around:  it's the middle of winter, perhaps snow is on the ground, and everything is dead or dying.  But even in the midst of those things, the ground will soon be ready for new growth and life.  The snow will melt, the spring rains will come, and the leaves and grass will appear once again.  So it is spiritually as well.  New growth comes as you encounter God's word and are connected to Him in prayer.  And in that growth process, He begins to move you further along the path He has for you.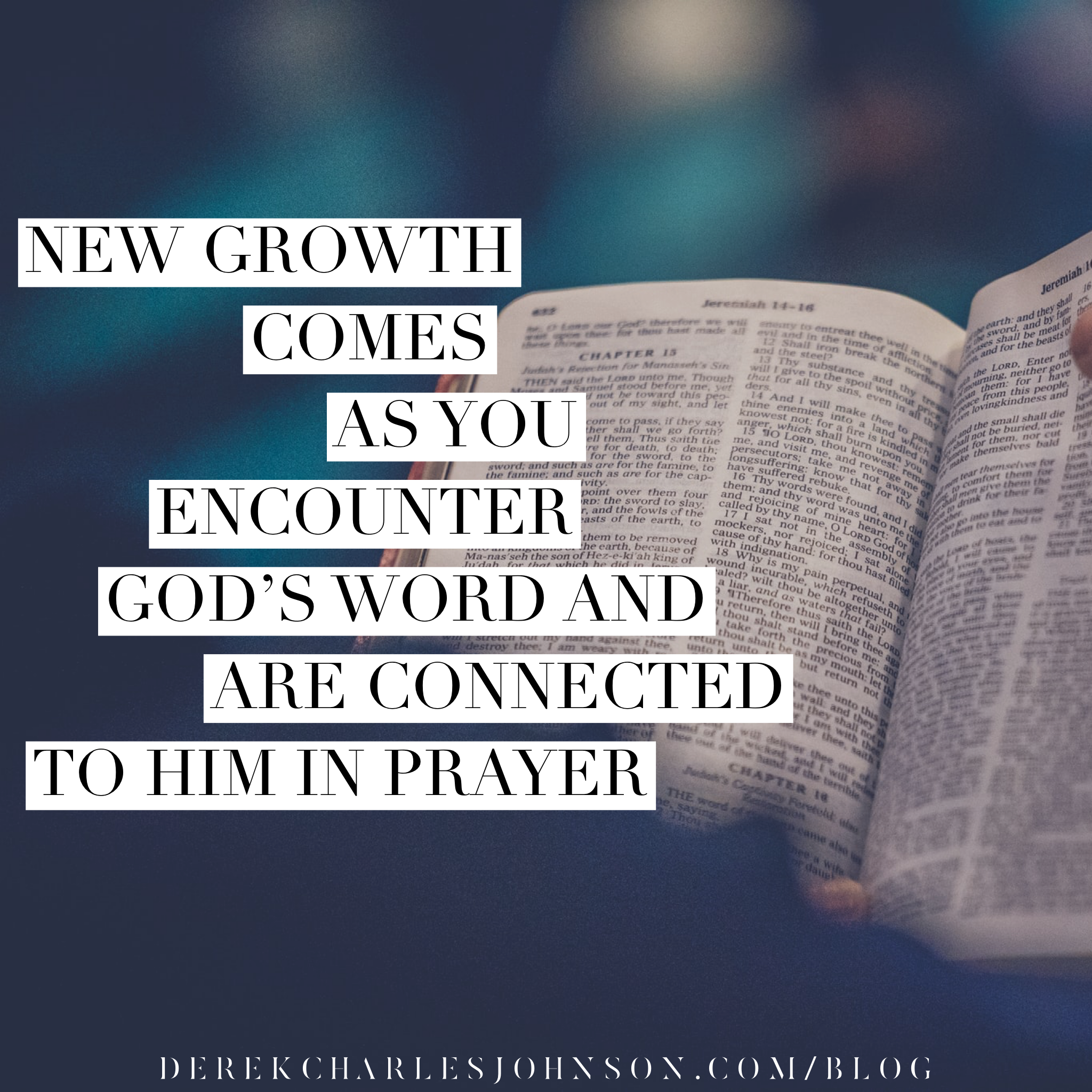 What we are tempted to do in a microwaved, 15 minutes or less culture is reject the process God has because the growth seems slow or unnoticeable.  We tend to fizzle out quickly, especially in terms of resolutions or goals.  But in Christ, we must realize more is going on under the surface than we can see.  If we are in prayer and in His word daily, sanctification is taking place in our hearts.  We are becoming more like Jesus.  And as we grow, we will see more evidences of Him at work around us. 
2. Be ready in season and out 
Then the Lord said to Moses, "Now you will see what I will do to Pharaoh: Because of my mighty hand he will let them go; because of my mighty hand he will drive them out of his country." Exodus 6:1 
Transitions can happen very slowly.  But on the flip side, things can accelerate and change can come quickly.  Moses is a good example.  He most likely spent 40 years growing up in Egypt and then another 40 as a shepherd after he fled his home country.  While in Midian, his "burning bush" encounter set the next phase of his life in motion rather quickly.  All the prior years were preparation.  But it was his call to go back to Egypt and speak to Pharaoh that ushered in his ultimate calling before the Lord.  The years of preparation (both in Egypt and Midian) were years that God did not waste.  They served to mold and shape Moses' character so he would be ready to lead God's people (a role he was unsure about, to be certain).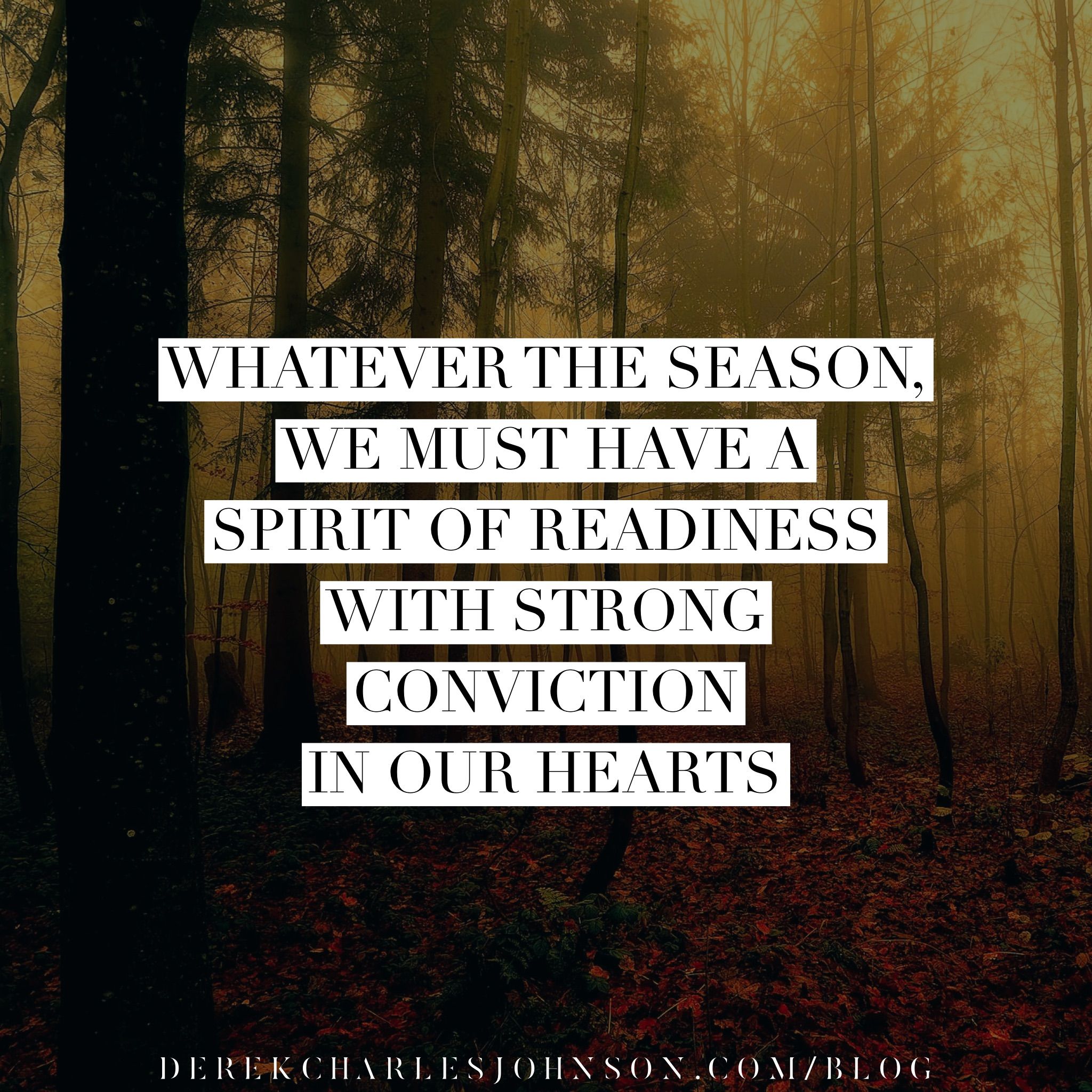 We don't know how quickly life can change.  There may be good things ahead like a job promotion or the birth of a child.  Or there may be bad things like an unfavorable diagnosis or a broken relationship.  But in any of these situations, our calling is the same:  we must be ready.  We must be prayed up and filled with the Holy Spirit so that we can stand strong.  Further, we have to be willing to be a voice in someone else's life who needs encouragement from the Lord.  2 Timothy 4:2 says we are to "Preach the word of God.  Be prepared, whether the time is favorable or not."  Whatever the season, we must have a spirit of readiness with strong conviction in our hearts. 
3. Don't hang onto the past 
Forget the former things; do not dwell on the past. Isaiah 43:18 
The previous verse from Isaiah 43:19 is one of my favorites in all of Scripture.  It reminds me that God is always up to something, even if we cannot see it.  He able to make a path in the wilderness and streams in the desert.  That reminder was true for ancient Israel and it is still true for us today.  But it is the verse just prior that which sets up an important point:  you cannot move forward into a new season while you are hanging onto the past.  When we dwell on the past, we hamstring our potential to see God's blessing and truly grow in Him.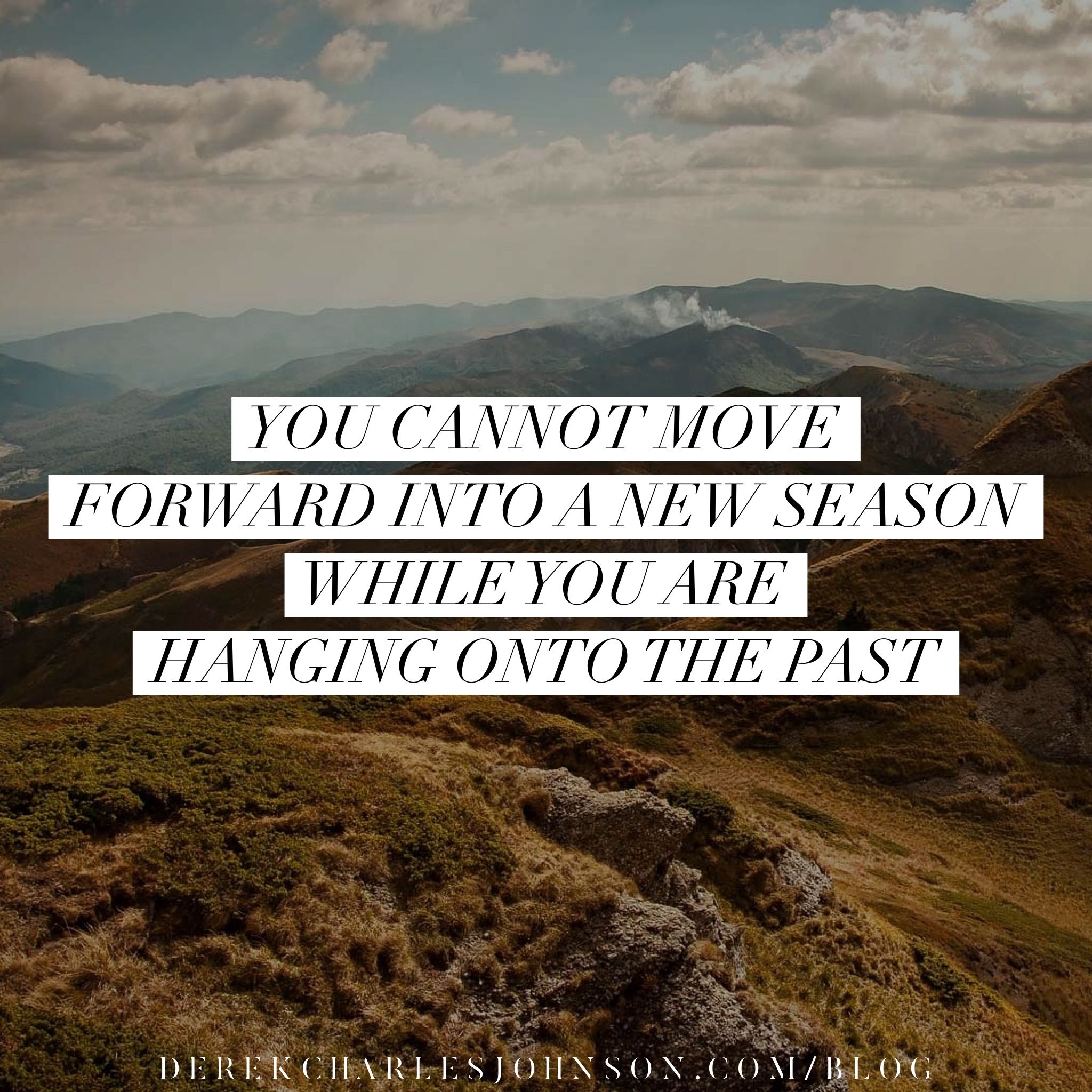 What does the past mean for you?  A failed relationship?  An addictive behavior?  A messy up-bringing?  There is a point at which we must let the past be the past.  Quit bringing it into your present and affecting your future.  Quit allowing the Enemy to say your past is what defines you; your mistakes are too big to move beyond.  Look at Isaiah 43:18 again:  what is the first word?  Forget.  Let it go.  Do not dwell on it.  Release those past mistakes so that you can be positioned to receive all that God has in store for you.  Don't be bound up by what you are not.  You are His child.  Your identity in Him is secure. 
---
We spend a lot of time here on identity and I think it's a concept we never truly get beyond.  So it may be fitting to end today with the idea that even as we undergo transitions in life and weather various seasons, our identity in Christ does not change.  I'm excited for 2020.  I really think some amazing things are on the horizon for you and me.  But even in the highs, we can forget our identity and choose to look inward for what got us there.  Remember to give praise to God on the mountaintop and in the valley.  When you do that, He sees it and rewards you (Matthew 6:4).  If you are to boast, boast in Him.  It will speak volumes to an unbelieving world around you. 
I can't wait for next week as we once again talk 2020 Vision.  Just to whet your appetite, we are going to be looking broadly at the home; the area of marriage, parenting, and being a home where Christ is put on display.  Come on back and join me next time! 
Sign up to get these blogs delivered to your email inbox!  Visit http://derekcharlesjohnson.com/as-bold-as-lions
Let's connect: 
Email:  info@derekcharlesjohnson.com 
Facebook:  https://www.facebook.com/derekcharlesjohnson1/ 
Instagram:  http://instagram.com/derekcharlesjohnson 
Be very careful, then, how you live—not as unwise but as wise, making the most of every opportunity, because the days are evil.  Therefore do not be foolish, but understand what the Lord's will is.  Ephesians 5:15-17