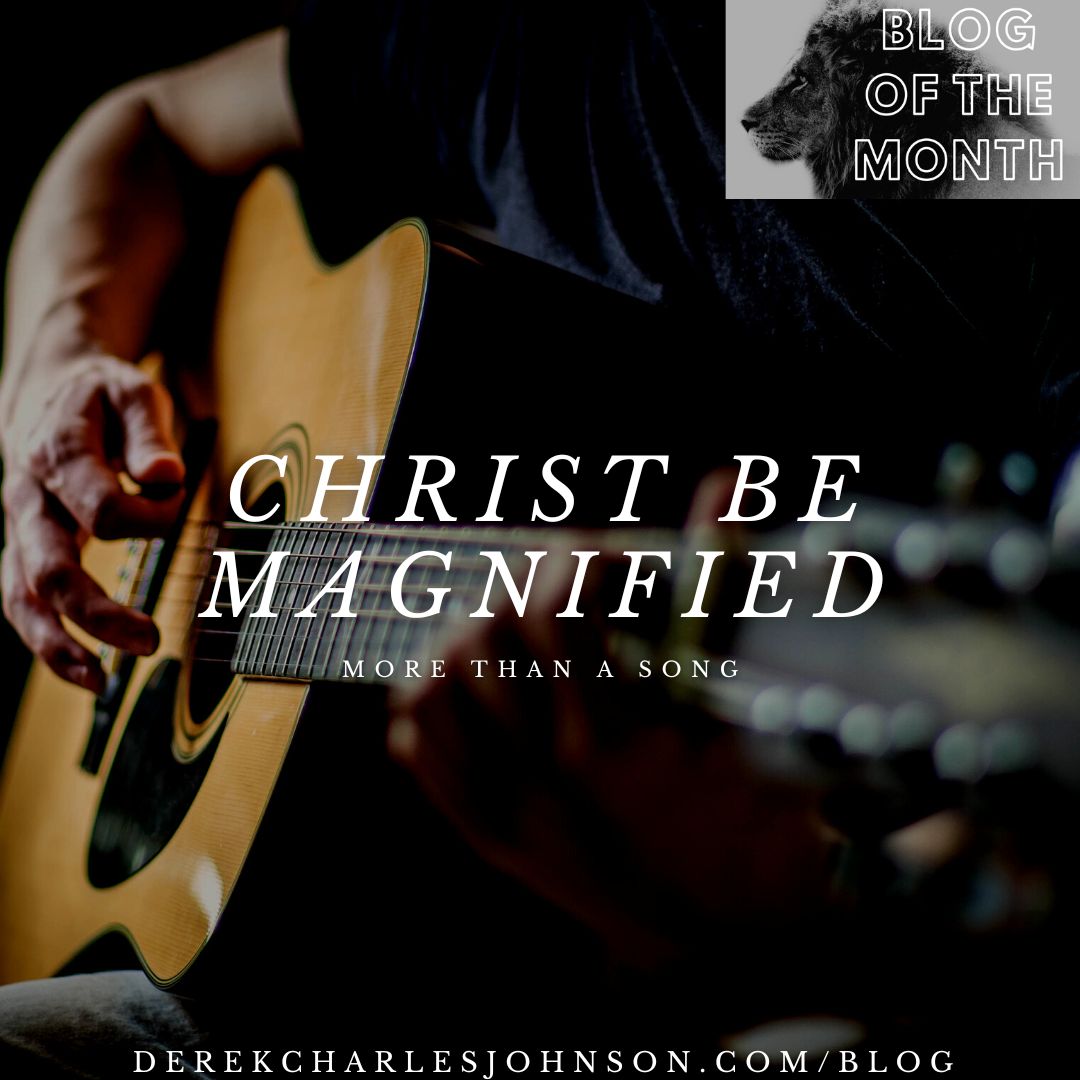 Christ Be Magnified - Cody Carnes
Were creation suddenly articulate
With a thousand tongues to lift one cry
Then from North to South and East to West
We'd hear Christ be magnified
Were the whole Earth echoing His eminence
His name would burst from sea and sky
From rivers to the mountain tops
We'd hear Christ be magnified
O Christ be magnified
Let His praise arise
Christ be magnified in me
O Christ be magnified
From the altar of my life
Christ be magnified in me
When every creature finds its inmost melody
And every human heart its native cry
O then in one enraptured hymn of praise
We'll sing Christ be magnified
O Christ be magnified
Let His praise arise
Christ be magnified in me
O Christ be magnified
From the altar of my life
Christ be magnified in me

I won't bow to idols, I'll stand strong and worship You
And if it puts me in the fire, I'll rejoice 'cause You're there too
I won't be formed by feelings, I'll hold fast to what is true
If the cross brings transformation I'll be crucified with You
'Cause death is just a doorway into resurrection life
If I join You in Your sufferings, then I'll join You when You rise
And when You return in glory with all the angels and the saints
My heart will still be singing, my song will be the same
O Christ be magnified
Let His praise arise
Christ be magnified in me
O Christ be magnified
From the altar of my life
Christ be magnified in me
O Christ be magnified
Let His praise arise
Christ be magnified in me
O Christ be magnified
From the altar of my life
Christ be magnified in me
Publishing: © Capitol Cmg Paragon, Be Essential Songs, Bethel Music Publishing, Writers Roof Publishing, Cory Asbury Publishing
Writers: Cody Carnes, Cory Asbury, and Ethan Hulse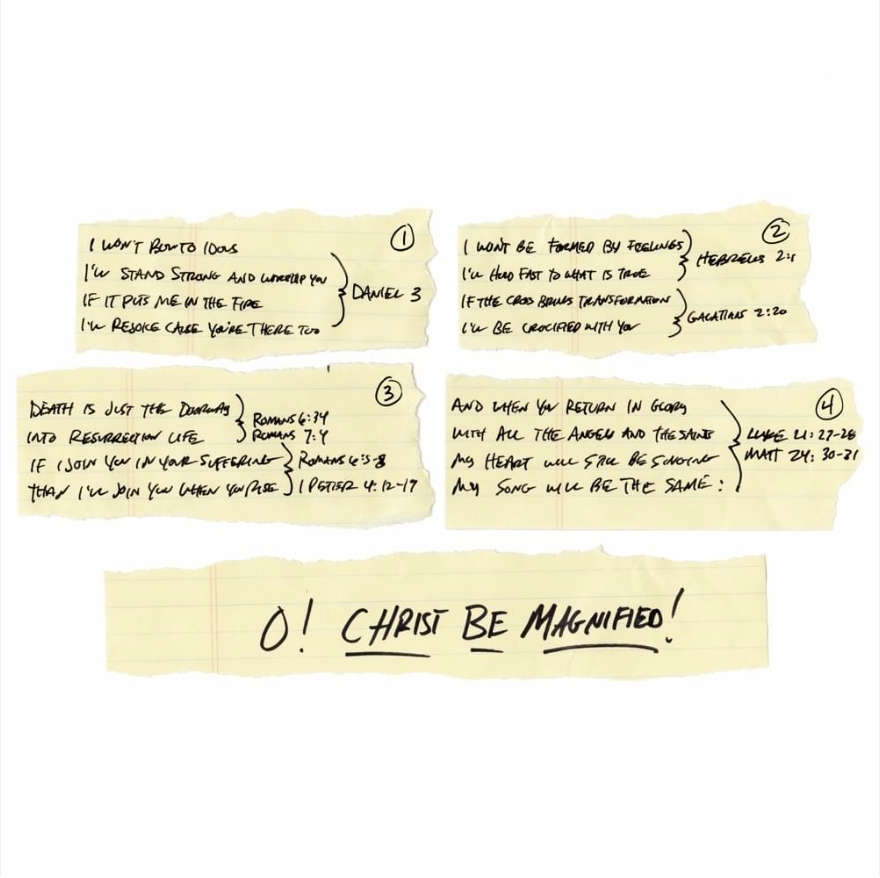 For a number of years on my blog, I focused on featuring music whenever I could.  I'd definitely give it more time again but alas, life gets busy and I find myself pulled in too many directions.  But if you go back…way back, you'll see I used to write album reviews (Music Monday posts) and occasionally I'd highlight a song that seemed especially poignant in terms of our spiritual walk (More Than A Song series).  I love music and I love worship.  It's evident throughout the archives of my blog and podcast and it's part of my walk in Christ that I find strong attachment to.  
So when thinking about this month's content, I started to think about a song that's been on my mind — a lot.  In the year or so past since our church introduced it, the song has just grown on me.  You may already be aware of it and have noticed it by the title:  Christ Be Magnified.  This song has a lot of depth lyrically, which is one thing that drew me in.  Admittedly, some of our modern worship tunes can aim for just "good enough."  Good enough lyrics, good enough melodies, good enough theological concepts.  In my opinion, this song doesn't stop at good enough.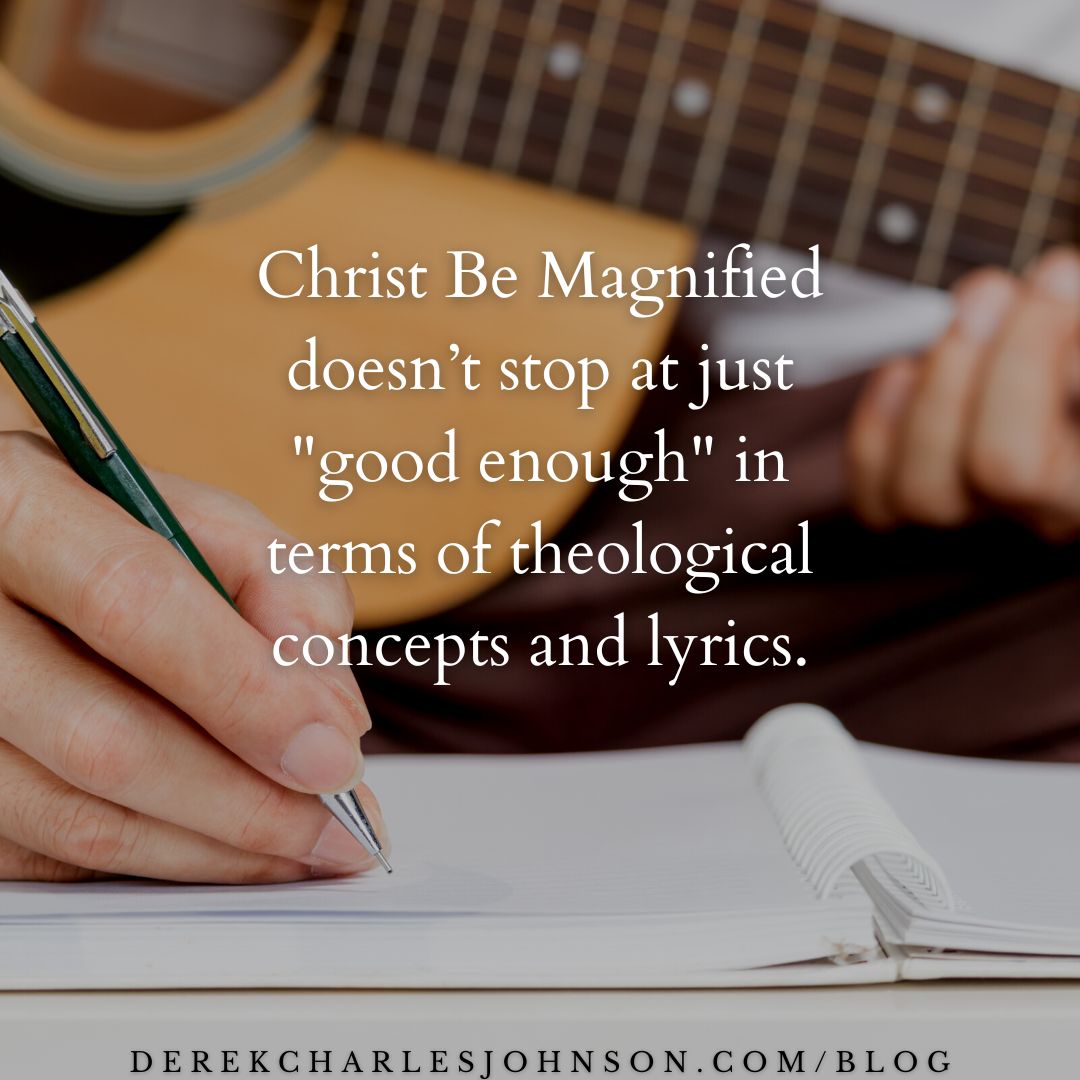 As you dive into the verses, we have this BIG PICTURE of creation.  If creation could cry out (Were creation suddenly articulate with a thousand tongues to lift one cry), if the mountains, rivers, skies, and seas could all speak, the unified voice of all it would be a resounding Christ be magnified!   Scripture has this idea already put forth in verses like Isaiah 55:12 

For you shall go out in joy 
and be led forth in peace;
the mountains and the hills before you
shall break forth into singing,
and all the trees of the field shall clap their hands.
Jesus Himself remarks that even stones would cry out if those who were praising Him were forced to be silent:  And some of the Pharisees in the crowd said to him, "Teacher, rebuke Your disciples."  He answered, "I tell you, if these were silent, the very stones would cry out."  Luke 19:39,40
Christ Be Magnified lays a foundation that if creation truly were to sing out, it would all point to Him.  As we go into the chorus (before looking at the third verse), we respond to this truth and make it personal.  O Christ be magnified, let His praise arise, Christ be magnified in me.  May He be glorified — in me.  Make my life an altar for His praise and for His use (this concept of a living sacrifice and being on the altar all comes back in the bridge; stay tuned!).  The chorus is so strong and I find myself humming it often these days.  It's almost prayer-like; really it is.  And what a simple prayer it is that we can utter:  Christ be made much of in my life — be magnified in me.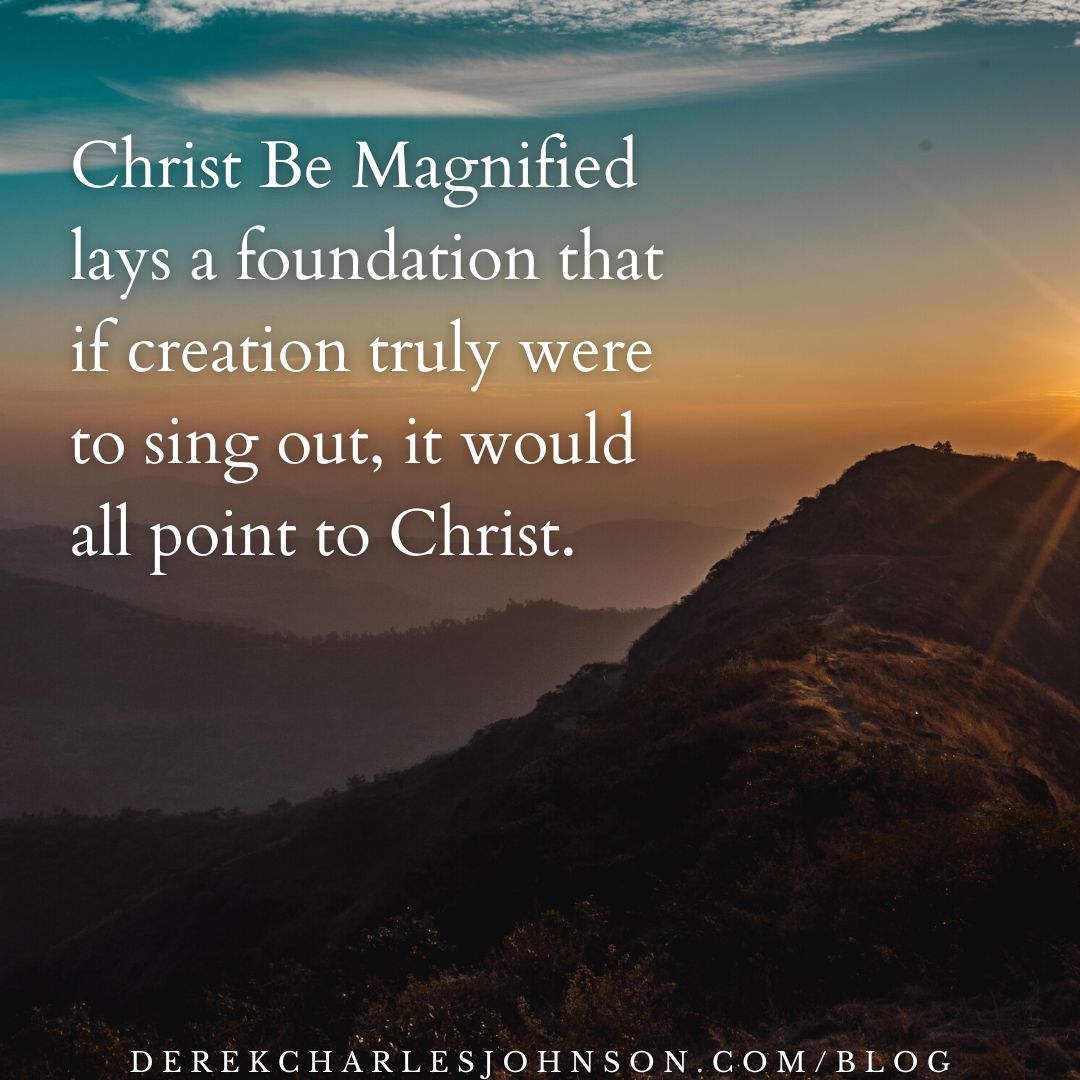 In the third verse, we look at the pinnacle of God's creation:  humanity itself.  Where the song started out with a general revelation of God through His creation and nature, we now move into the heart of what He has made.  When we discover truly who we are and what we were made for, it turns us towards our Creator.  Look at these lines:  
When every creature finds its inmost melody
And every human heart its native cry
O then in one enraptured hymn of praise
We'll sing Christ be magnified
In looking at the meaning behind this song, writer Cody Carnes explains "We were created to worship.  We find our native cry and inmost melody when worship to Jesus is expressed out of us. The foundational prayer for my life is that Jesus would become greater in me. When I study all of Paul's writings in the New Testament, I see his teaching point to that prayer."  (From Cody Carnes releases new single, 'Christ Be Magnified').  
As if the rest of the song up to this point wasn't rich enough, it's the song's bridge that takes it up another notch.  Really this is the part that broke me and the part in which, when first singing it, I had to do a gut check.  Because the verses are not easy Christianity.  They don't reflect a soft, watered-down Gospel.  It's an all-or-nothing faith and in that faith, I'm choosing each day to walk a narrow road that Jesus calls me to.  Read these lyrics again:  
I won't bow to idols, I'll stand strong and worship You
And if it puts me in the fire, I'll rejoice 'cause You're there too
I won't be formed by feelings, I'll hold fast to what is true
If the cross brings transformation I'll be crucified with You
'Cause death is just a doorway into resurrection life
If I join You in Your sufferings, then I'll join You when You rise
And when You return in glory with all the angels and the saints
My heart will still be singing, my song will be the same
In the bridge is the response to "Christ be magnified in me" and really the "how" of what that looks like.  I won't bow down to the culture.  If that means rejection, so be it.  I won't trust my feelings.  They are fleeting and change day by day.  I'll crucify my life and my flesh so I am conformed into Jesus' image.  And here's the really tough part but the part we cannot ignore (especially as the tide is shifting against Christians):  I'll willingly lay down my life because death brings me into eternity with Him.  I'll suffer for His name.  I'll be ready for His return.  At the end of it all, I'll still be singing Christ be magnified!  Hallelujah!  
For to me to live is Christ, and to die is gain. Philippians 1:21
Guys there are a TON of worship songs being written and released weekly.  And many are good songs; some even great.  But I haven't come across a song like this in quite awhile.  This song and this bridge especially, have rocked me.  I've had to ask myself in worship, will I follow Christ in this manner?  Will I willingly lay down my life in order to see Him be magnified and exalted in me?  I have to admit the first time I sang it, my impression was (and still is), I cannot sing these words unless I mean them.  Well-written songs should do that and remind us in worship that we are not living for this world, but the one to come.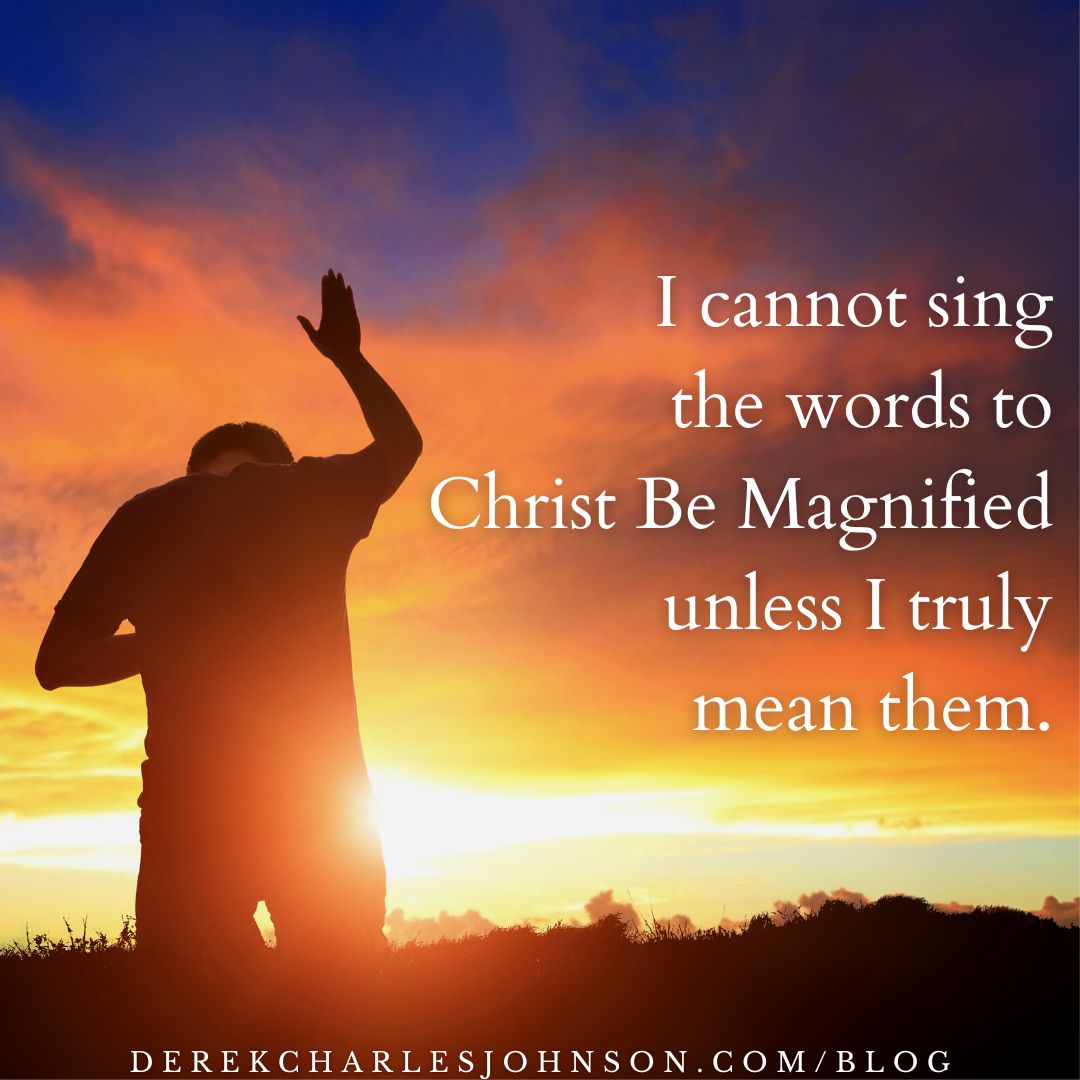 As I close out this blog, I hope that you can see and hear the concept behind "More Than A Song" once again.  Christ Be Magnified is more than just a nice melody and simply a song in itself.  It is a reflection of truth and deep meaning for the believer in Jesus.  If that's a truth you have not accepted or are in the process of considering, I'd love to connect and try to help answer any questions you have.  We have this one life.  Let us life it considering the weight of eternity and let us join with creation in magnifying the Lord.  All of it points to Him and reflects His beauty.  
I recorded a cover song and lyric video of Christ Be Magnified which you can watch here:
As always, I love you guys and I love walking this journey with you. 
Other "More Than A Song" blogs:
Living Hope by Phil Wickham
Leaning In by Carrollton
I Wanna Go Back by David Dunn
Endless Alleluia by Cory Asbury
Pray by Derek Charles Johnson
O Come All Ye Faithful (Christmas Edition)
Into Faith I Go by Pat Barrett 
Sign up to get these blogs delivered to your email inbox!  Visit http://derekcharlesjohnson.com/as-bold-as-lions 
 
Let's connect: 
Email:  info@derekcharlesjohnson.com 
Facebook:  https://www.facebook.com/derekcharlesjohnson1/ 
Instagram:  http://instagram.com/derekcharlesjohnson 
Be very careful, then, how you live—not as unwise but as wise, making the most of every opportunity, because the days are evil.  Therefore do not be foolish, but understand what the Lord's will is.  Ephesians 5:15-17