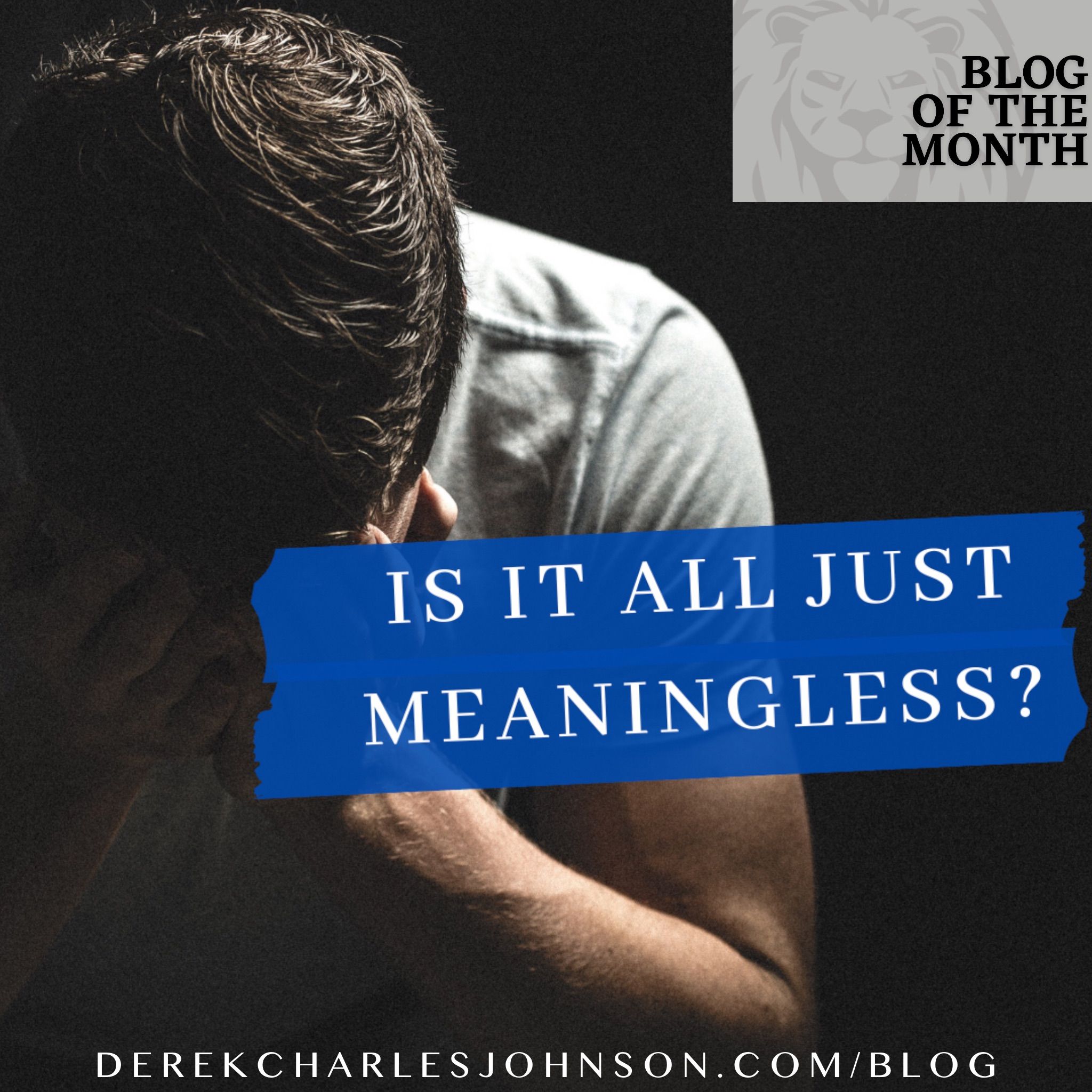 Well as we end 2022 in a few short weeks, I have to consider what this year has brought and where life's twists and turns have brought us as a society and for me and my family.  It's been a bumpy ride for sure and it seems like every year from 2020 forward tries to out-do the previous years in craziness and unpredictability. I am hopeful for the year to come and have been already thinking much about 2023.  But into all of that, I have had to do some soul-searching and evaluating before the Lord. 
As I've closed out my recent Bible reading plan, the Scriptures brought me through several books of wisdom.  As you may know, I was in the Psalms for awhile (see last month's blog Lessons From The Psalms).  Then I went to Proverbs and after that, Ecclesiastes.  The author of these last two books and also a couple of Psalms was King Solomon.  I sense as I read these books that Solomon was indeed a very wise man.  He had God-given insight; profound knowledge.  He had wealth.  He had access to anything he wanted.  But yet he found it all meaningless and vain; a chasing after the wind. 
And whatever my eyes desired I did not keep from them.  I kept my heart from no pleasure for my heart found pleasure in all my toil, and this was my reward for all my toil.  Then I considered all that my hands had done and the toil I had expended in doing it, and behold, all was vanity and a striving after wind, and there was nothing to be gained under the sun.  Ecclesiastes 2:10-11 
The title of this blog is a play off of Solomon's theme in Ecclesiastes.  If I'm honest, it's probably one of my least favorite books to read because it has a lot of "downer" stuff in it.  It's not all sunshine and roses (not that the rest of the Bible is).  But it is real.  Sometimes that real-ness is a tough pill to swallow.  But there is truth and there is a redeeming message in the book if we are willing to discover it.  With this groundwork laid, I'd like to dive in today to some themes from Ecclesiastes and some takeaways that we can use to encourage our walk in the Lord. 
1. All who live will suffer the same fate 
Then I said in my heart, "What happens to the fool will happen to me also.  Why then have I been so very wise?"  Ecclesiastes 2:15 
As we go along here, these rapid fire points are main insights I witness from Solomon.  One particular wake-up call for him is simply this:  the fool and the wise man will both die.  In response to this realization, he's basically asking "What's the point?"  We may get a bit dismayed and discouraged at this but coming our acceptance of this truth is our first step to experiencing freedom.  Yes wisdom's gain in and of itself is meaningless.  We know from 1 Corinthians 8:1 that  "knowledge puffs up," and to simply learn for our own benefit can lead to pride.  Solomon sees that after he is dead, neither he nor the fool will be remembered.  In this, we have to ask "Then what is our higher goal?  If it is not for these things, what are we to aspire to?"  More to come…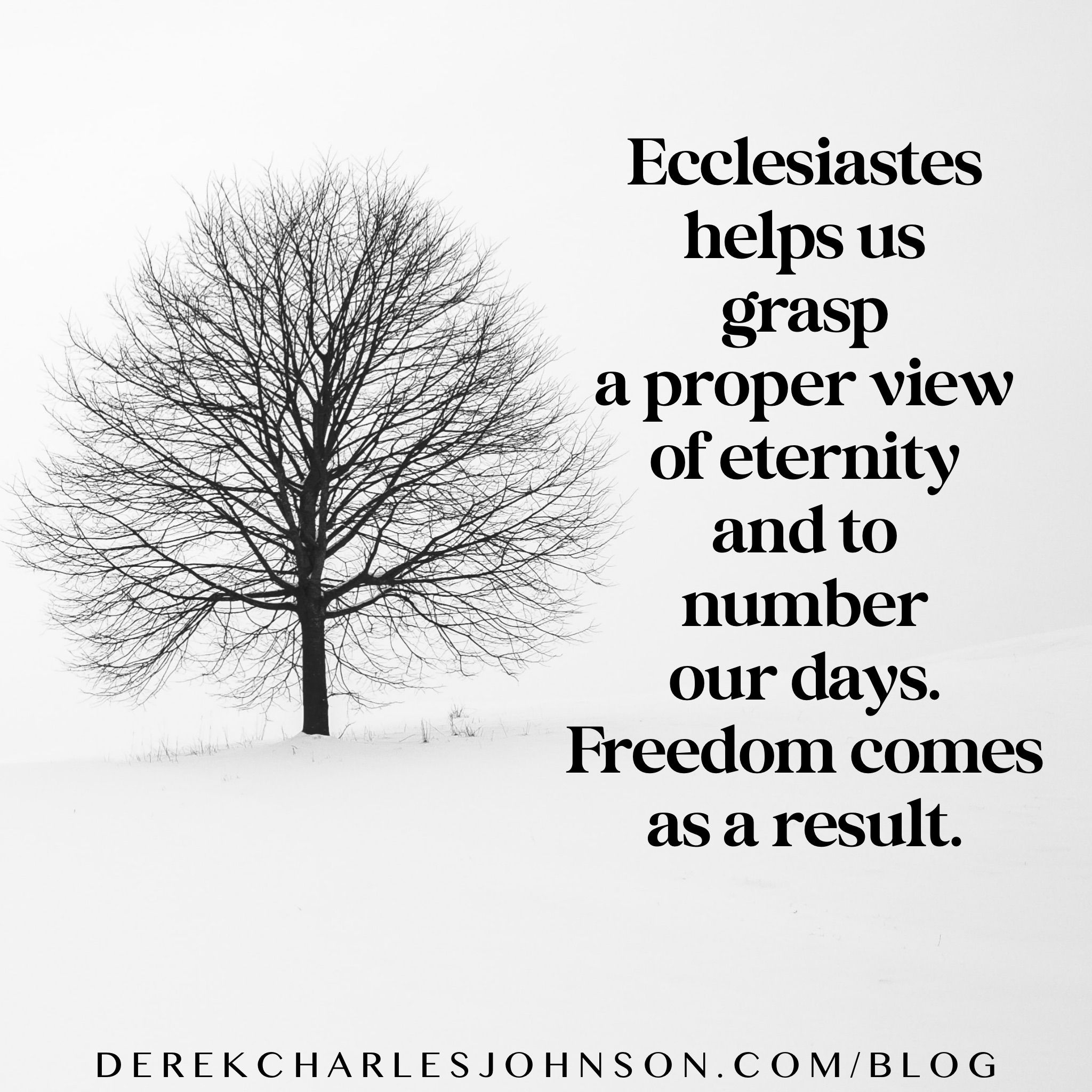 2. What God has created is eternal 
I perceived that whatever God does endures forever; nothing can be added to it, nor anything taken away from it.  Ecclesiastes 3:14 
Solomon seems to take the next logical step here, knowing that the foundation he's established in the first few verses paints a somewhat bleak picture.  God is eternal.  As opposed to man, He is forever…nothing can be added to or taken away from Him.  This is good for us to remember even as we reflect upon our own finite states as human beings.  God has an outside and higher perspective…as well as being right there in the weeds with us.  Praise God!  I love this verse from Psalm 147:5 — Great is our Lord, and abundant in power; His understanding is beyond measure.  We cannot fathom Him.  We cannot even begin to try.  Our lives have a beginning and an end; He is eternal and has no starting or stopping point. 
3. We can find God-given fulfillment in our work 
Behold, what I have seen to be good and fitting is to eat and drink and find enjoyment in all the toil with which one toils under the sun the few days of his life that God has given him, for this is his lot.  Everyone also to whom God has given wealth and possessions and power to enjoy them, and to accept his lot and rejoice in his toil—this is the gift of God.  For he will not much remember the days of his life because God keeps him occupied with joy in his heart.  Ecclesiastes 5:18-20 
This longer passage here nearly sums up this point without me having to say much about it.  We are given the opportunity to find fulfillment in our work as we do it unto the Lord.  Again, this is a good thing and what the Lord has given us is a blessing.  We can take extreme views on wealth and riches or poverty and lack.  But I believe whether we have little or much, it is all a gift from the Lord and a blessing to enjoy and give back to Him.  Therefore, we can be joyful even in our numbered days and years.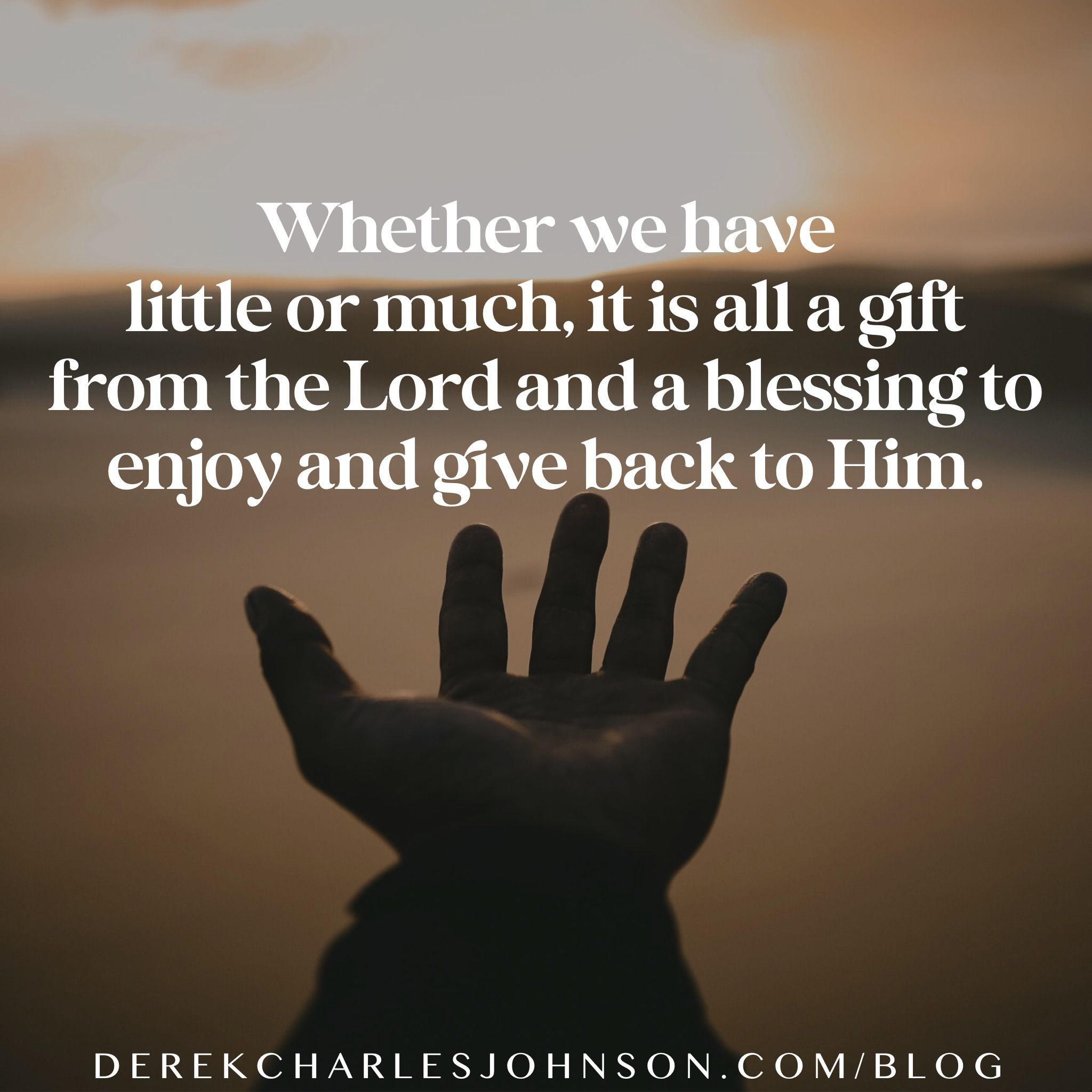 4. Life is not meaningless — if we are in Christ 
The end of the matter; all has been heard.  Fear God and keep His commandments, for this is the whole duty of man.  Ecclesiastes 12:13 
The last words of the book and seemingly some of the last words of Solomon are to fear the Lord and obey Him.  These words are as relevant today for us as they were 1000s of years ago.  Further, we see in full what Solomon only had a glimpse of:  Jesus came into this world, lived a sinless life, was crucified and resurrected.  Because of this, we can be saved.  Solomon's words in Ecclesiastes may seem bleak in many aspects.  His "truth bombs" are littered all over these pages.  But he does not forget at the very end to reestablish what is important:  to fear the Lord.  Indeed this is where true wisdom begins (The fear of the Lord is the beginning of knowledge; fools despise wisdom and instruction.  Proverbs 1:7).  We have meaning, we have purpose, and we have identity when we choose to walk in Christ.  Our joy is complete in Him.  All our longings and strivings cease as we come into relationship with Him.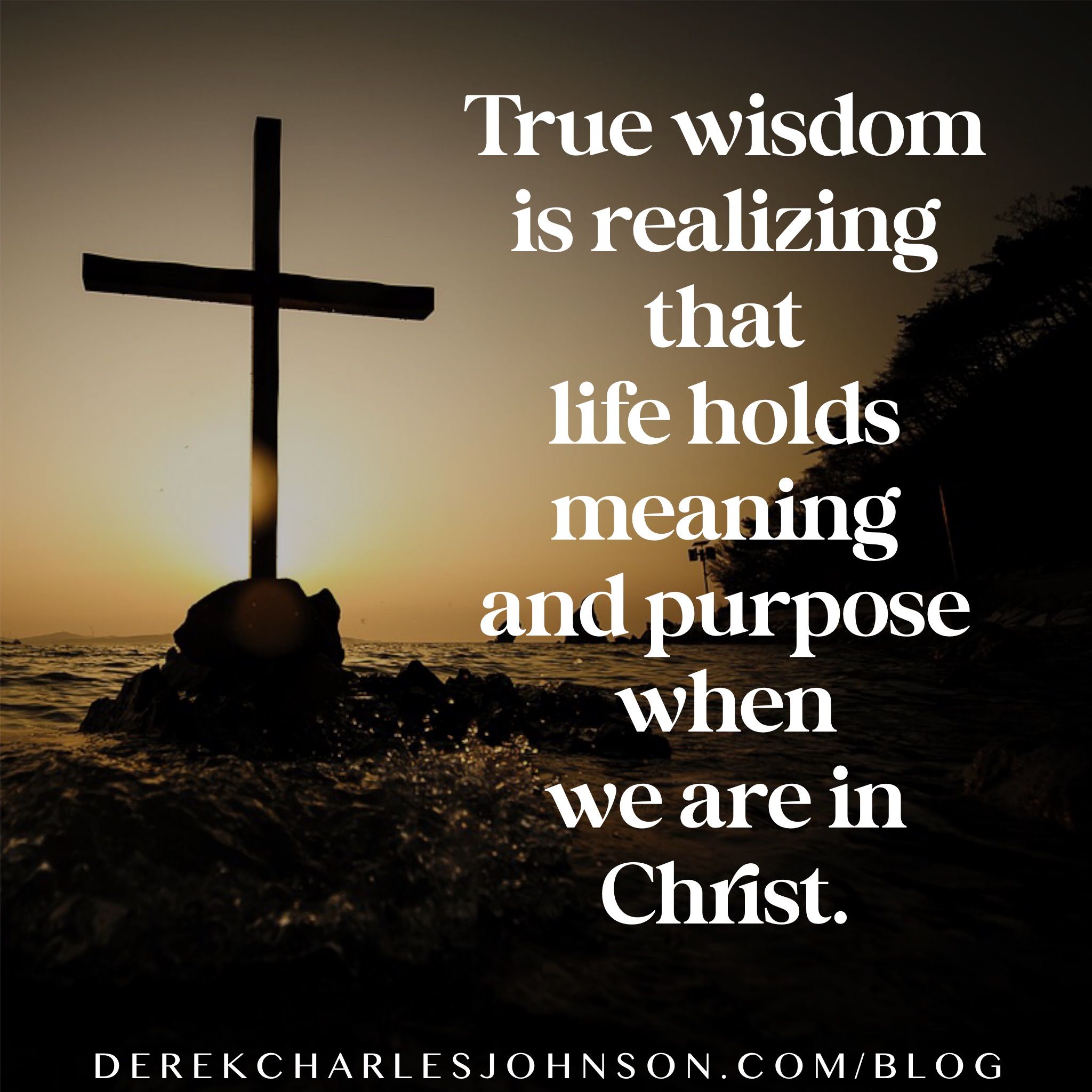 As I've examined several books of wisdom lately, I've been encouraged to see God's reassurance in each of these passages.  One main reason I'm encouraged is that these books portray a struggle that is common to all mankind.  The questions asked are ones we still ask right now:  What is the meaning of life?  Why do the evil prosper and righteous fall?  What is true wisdom and understanding?  What is truth? 
If you've asked any of these questions at all over this year or even the last few years, I'd highly recommend reading through some of these books.  Last month I placed a challenge to my readers and podcast listeners:  read the Psalms.  This time I'm adding to that:  read Proverbs and Ecclesiastes too.  And find true wisdom.  Find truth.  In a world that is struggling to find anything of substance or value, the Bible speaks to us in a way that nothing else can.  The word is alive and active:  For the word of God is living and active, sharper than any two-edged sword, piercing to the division of soul and of spirit, of joints and of marrow, and discerning the thoughts and intentions of the heart.  Hebrews 4:12 
I'd love to hear from you if you've been encouraged by this message (contact email is below).  If you take the challenge, let me know. I'd love to hear what God is speaking to you. 
As always, I am grateful to be on this journey with you and to be part of what the Lord is doing in His people.  God bless you today! 
Sign up to get these blogs delivered to your email inbox!  Visit http://derekcharlesjohnson.com/as-bold-as-lions 
Let's connect: 
Email:  info@derekcharlesjohnson.com 
Facebook:  https://www.facebook.com/derekcharlesjohnson1/ 
Instagram:  http://instagram.com/derekcharlesjohnson 
Be very careful, then, how you live—not as unwise but as wise, making the most of every opportunity, because the days are evil.  Therefore do not be foolish, but understand what the Lord's will is.  Ephesians 5:15-17