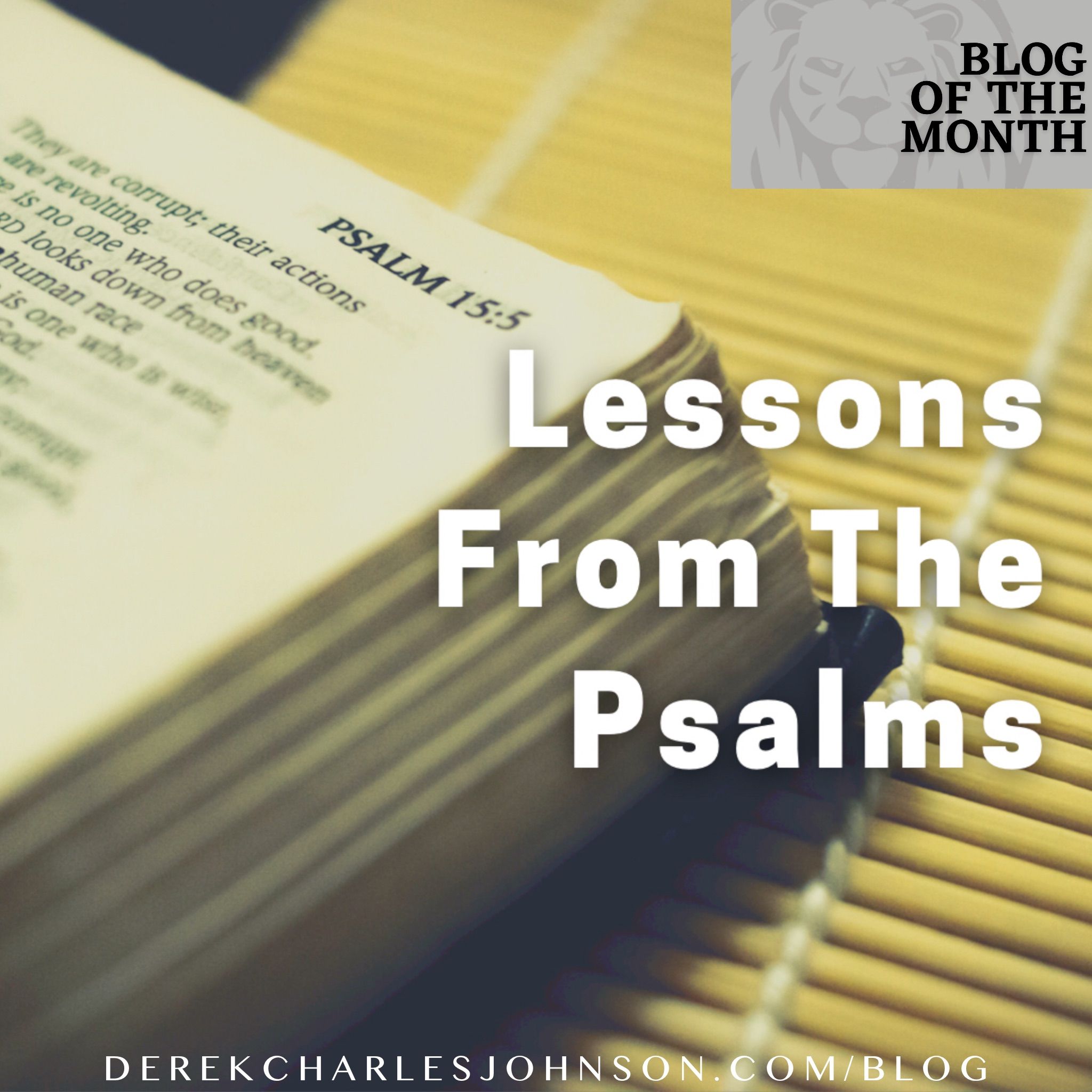 Because Your steadfast love is better than life, my lips will praise You.  So I will bless You as long as I live; in Your name I will lift up my hands.  Psalm 63:3,4 
I've been reading over the Psalms in the last couple of months.  It's been a personal goal of mine in my 2022 Bible reading to read this book of 150 chapters in 60 or so days.  That usually means more than a Psalm a day and with missing days here and there, I'm often reading 2-3 or even more chapters.  Many are short and just a few verses so it's often a quick read. 
In total transparency, the Psalms have been my spiritual food for these past few weeks.  And I have feasted.  There is so much in this book that it seems a bit too easy to just title this blog "Lessons From The Psalms."  In reality, this topic could take days to cover and a series of blogs and commentaries.  Truth be told, this has been done and men and women much more scholarly than I have undertaken the task to truly dissect the Psalms. 
Still, that doesn't keep me from wanting to put together an overview of the Psalms to draw out some key points.  I have taken some time in the past (even this year) to look at this book (Sleeping Well In The Fire, the Summer Of Psalms series -- blog and podcast).  Those have been more direct in nature and focused on a particular passage.  As I read through the entire book, certain recurring ideas emerge.  Things that have always been there but have struck me in some shape or form this year in a way I resonated with.  *And I could read Psalms again and probably find another set of themes! 
So with this background laid, I want to jump into these themes in rapid fire succession.  I hope it is an encouragement to you as you consider your own study of this remarkable book. 
1. God watches over His own 
As for me, I am poor and needy, but the Lord takes thought for me.  You are my help and my deliver; do not delay, O my God!  Psalm 40:17 
A major theme I could not shake is the simple truth that God takes care of us.  I've needed it this year in my own life.  Uncertainty in finances.  Questioning my own path in ministry and calling.  Feeling incapable or unworthy of leading my family/wife well.  But as I read the Psalms I found the reassurance that God does not neglect us.  He fights for us.  He provides.  He rushes in and sustains in the moments we are weak and have nothing.  Consider this truth: 
God is our refuge and strength, a very present help in trouble.  Therefore we will not fear though the earth gives way, though the mountains be moved into the heart of the sea, though its waters roar and foam, though the mountains tremble at its swelling.  Psalm 46:1-3 
This idea of refuge, rock, salvation, Redeemer…this is repeated over and over again.  I believe it is for good reason:  we are to see God as inhabiting all of these things.  He is the Rock we build our foundation upon.  When everything shakes and crumbles, He remains.  We can trust Him.  He watches over us.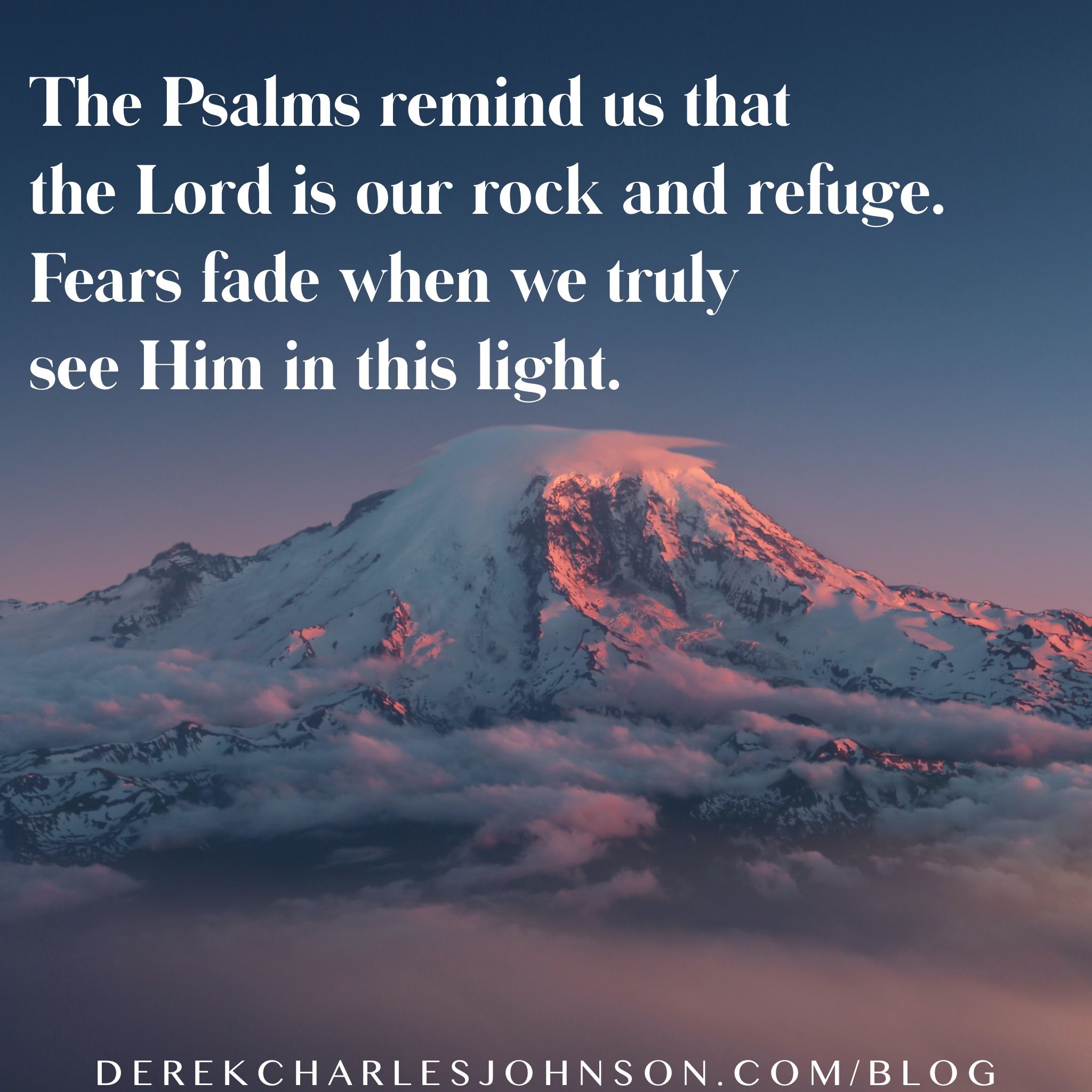 2. The wicked may prosper for a season, but their time is short 
But God shoots His arrow at them; they are wounded suddenly.  They are brought to ruin, with their own tongues turned against them; all who see them will wag their heads.  Psalm 64:7,8 
David wrote a majority of the Psalms and one of his favorite literary devices is to contrast wicked and righteous behavior.  In the range of his emotions, we sense the frustration over the success the wicked have at the expense of the righteous.  This has hit home in recent months and years as a progression of pagan and wicked thought have advanced upon our culture.  But the reminder and takeaway I have (and expressed in Sleeping Well In The Fire) is that the wicked do not prevail forever.  God has the ultimate say over these matters.  Every knee will bow and tongue confess that Jesus is Lord (Philippians 2:10,11).  The wicked will be punished for their sins.  And the righteous will gain an eternal reward in Heaven.  These are truths I've had to cling to as I allow my anger to turn into a place of acceptance and even a cherishing of God's plan; knowing He is at work and will finish what He has started.   He has the final word.  We need not fall into despair. 
3. Our God is marked as a God of "steadfast love" 
Give thanks to the God of heaven, for His steadfast love endures forever.  Psalm 136:26 
Somewhere in my reading of the Psalms, this phrase "steadfast love" started popping up everywhere.  Even to the point where I started underlining it when I would see it.  It might just be how my translation (ESV) chose to interpret this word (in various places, the NIV states "His love endures forever").  But as I encountered it, I realized the Psalmist was driving home a point about God's character:  His love is steadfast.  A quick word search of "steadfast" reveals such synonyms as loyal, faithful, committed, devoted.  In other words, this is a love that never gives up on us.  This is a love that goes beyond anything we experience in this life; even in marriage, the closest bond we can have with another person (although our marriages should model and reflect this steadfastness).  As I saw this phrase time and time again it became clear to me that the Psalmist had experienced this love firsthand.  His people had experienced it as well.  And it was a reason to praise and a reason to remind himself (and the reader) of just how loving and kind our God is.  For further reading in a passage that uses this phrase repeatedly, look at Psalm 136…it's 26 verses long and "steadfast love" in literally in every verse (again, in the ESV).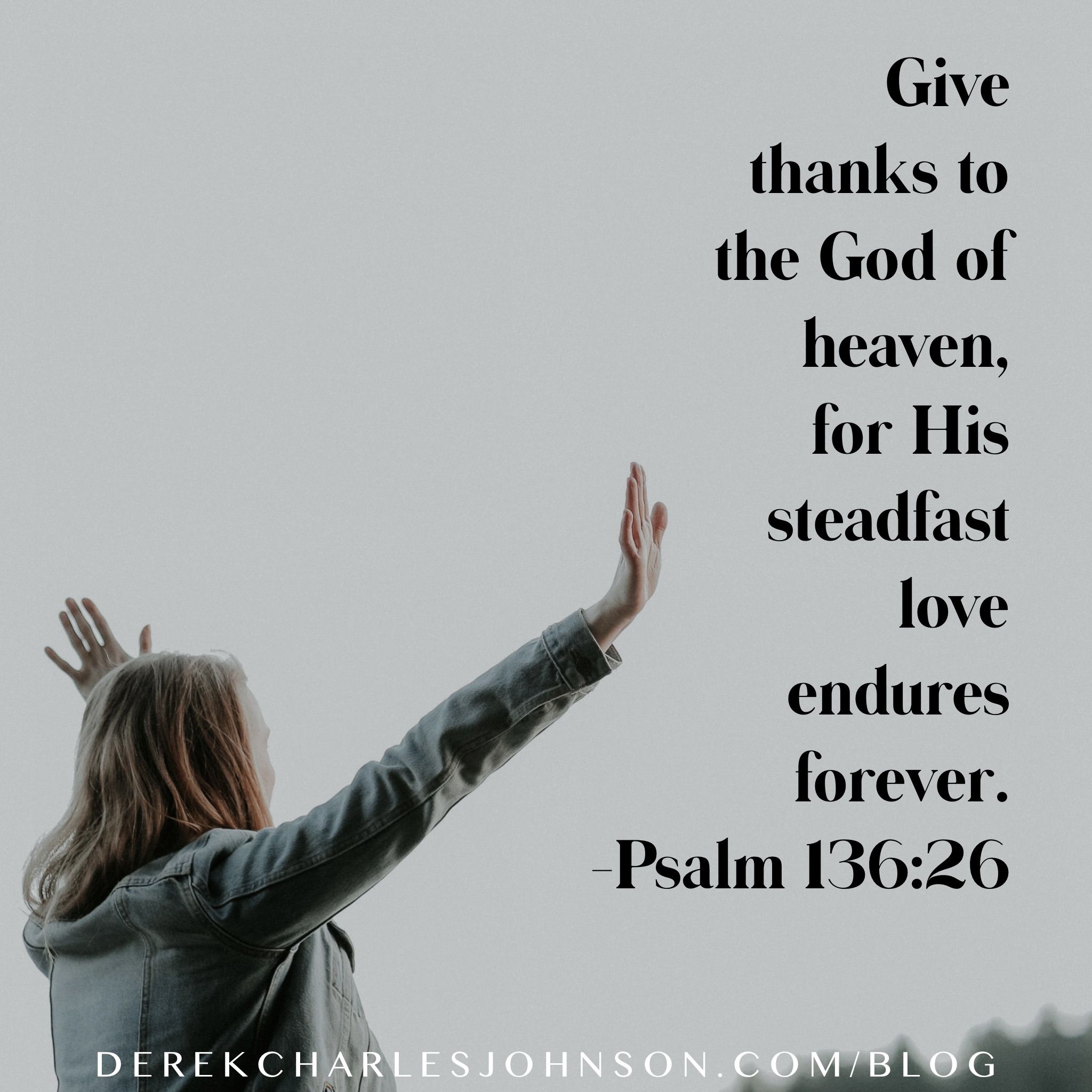 4. It is ok to express emotions to the Lord, but in the end we have to trust Him 
Be gracious to me, O LORD, for I am in distress; my eye is wasted from grief, my soul and my body also.  For my life is spent with sorrow and my years with sighing; my strength fails because of my iniquity, and my bones waste away.  Psalm 31:9,10 
The Psalms are full of various emotions:  happiness, sadness, grief, anger, fear and so on.  What I've always heard from teachings on this book are that it is ok to express to the Lord our heartfelt feelings.  He can handle it.  It doesn't make Him somehow love us less.  But what I have learned through this most recent study is that despite what our emotions tell us, at the end of the day we have to put all of that aside and simply trust.  Our emotions are a representation of the response we experience to something (a battle with illness, death of a loved one, a dispute with an enemy).  But we cannot always trust that our emotions will lead us into a place of truth.  David always comes back to a place of truth no matter what path he's taken through a Psalm.  In Psalm 31, quoted above, He ends with these words:  Be strong, and let your heart take courage, all you who wait for the LORD! (vs. 24).  Take courage.  Be strong.  Wait on the Lord.  Those are words that cut through the myriad of thoughts we may have in a certain situation.  And they are landmarks to come back to.  Yes, may we always be honest before the Lord in our thoughts and feelings.  But we must let those thoughts bring us into a place of renewed trust and confidence in Him.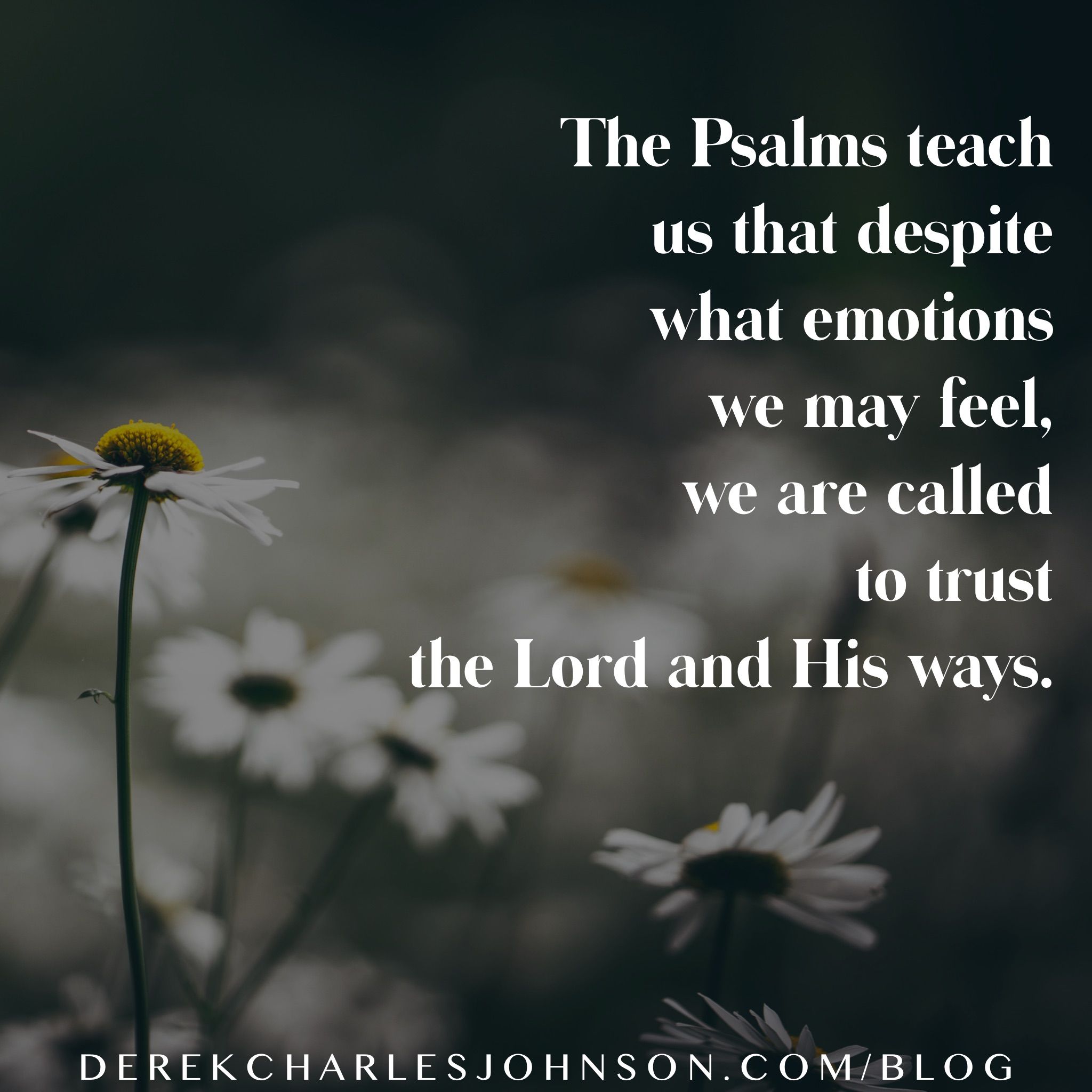 5. Praise must mark my life 
How lovely is Your dwelling place O LORD of host!  My soul longs, yes, faints for the courts of the LORD; my heart and flesh sing for joy to the living God.  Psalm 84:1,2 
So much could be said on this last point and indeed, whole books have been written about the model of praise that we find throughout the Psalms.  But praise was not offered just when life was easy or when the Psalmist was on the "mountain top."  Praise was brought forth at all times and it was commanded as an offering from the people.  That's not always easy.  I don't always feel like worshipping God.  I don't always feel like raising a song in my life (literally or metaphorically).  But again, it's not about feelings.  It's about obedience and about finding a place where we see God as holy and worthy.  Worthy of our continual praise.  The Psalms speak of this so often that it almost becomes second nature when reading them to think "Well, the idea of praising God is going to pop up somewhere in these verses, I just know it!"  Because it does!  Why is it so important?  Because worship gives honor and glory to something bigger than ourselves.  It helps us find a proper posture before the Lord.  Keeps us humble.  Keeps us grateful.  Praise is not just a Sunday-morning experience.  It is a lifestyle.  Worship must mark us.  Look at the reminder in Psalm 92: 
It is good to give thanks to the LORD, to sing praises to Your name, O Most High; to declare Your steadfast love in the morning, and Your faithfulness by night, to the music of the lute and the harp, to the melody of the lyre.  For You, O LORD, have made me glad by Your work; at the works of Your hands I sing for joy.  Psalm 92:1-4 
He is good and we must praise Him! 
After reading these chapters over the past 2 months, I felt led to share these points in the hopes they bless and encourage you.  I've found such truth in these words and in God's sovereignty.  He knew I needed them right now.  The amazing thing about Scripture is that He does that time and time again…that is, if I allow Him to.  I can neglect His word and neglect prayer for awhile.  I can see how far I get on my own.  But life always goes better and I always have more peace the more I am committed to spending time with Him.  It's so evident after my 45 years on this earth that to not notice this pattern is to only bring harm to my life — spiritually and otherwise. 
Friends I hope that daily Bible reading is something you've incorporated into your life.  If I might suggest something (and if this is already a discipline you have, great):  read a Psalm or part of a Psalm each day.  See how your perspective on life changes.  See how worry and fear dissipates.  See how praise grows and naturally starts flowing out of you.  See how God becomes your rock and fortress; the place you turn to and run to first.  Take a 30-day challenge and try it.  See if the way you look at life truly changes and you find yourself thinking about things in a new light.  It will happen.  And if you do take the challenge, let me know (info@derekcharlesjohnson.com).  I'd love to pray for you and encourage you in this endeavor. 
As always, I love you guys and love walking this journey with you.  Until next time!  God bless. 
Sign up to get these blogs delivered to your email inbox!  Visit http://derekcharlesjohnson.com/as-bold-as-lions 
Let's connect: 
Email:  info@derekcharlesjohnson.com 
Facebook:  https://www.facebook.com/derekcharlesjohnson1/ 
Instagram:  http://instagram.com/derekcharlesjohnson 
Be very careful, then, how you live—not as unwise but as wise, making the most of every opportunity, because the days are evil.  Therefore do not be foolish, but understand what the Lord's will is.  Ephesians 5:15-17