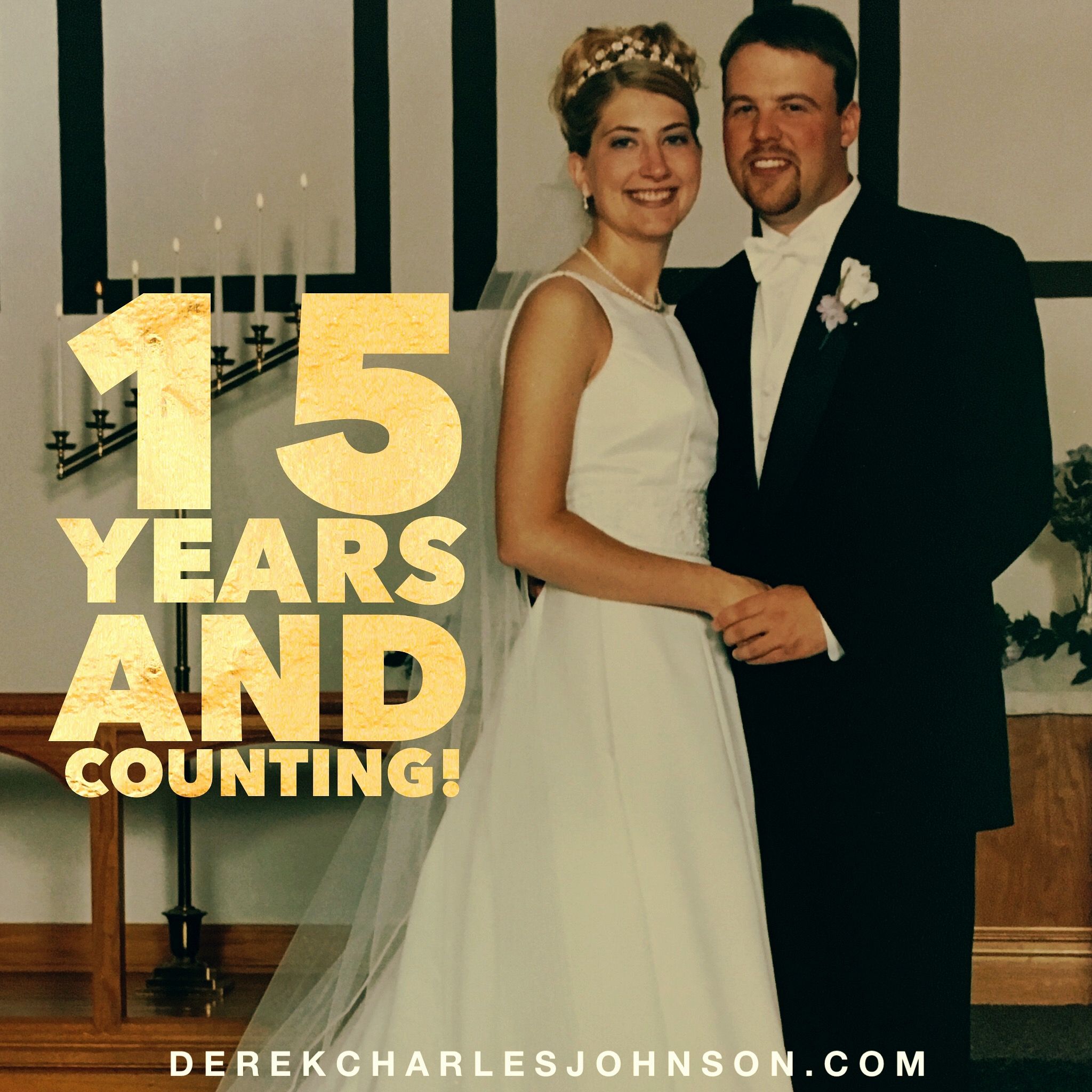 Today is a special day.  It's our anniversary:  my wife and I celebrate 15 years of marriage today!  At times, it's really hard to believe it's been 15 years already.  At other times, it definitely seems like it's been that long…or longer! 
When I look back over the years, I see a lot of life crammed into that period of time:  we've had 4 kids (all boys), we've had 5 different addresses in 3 different states, I've worked as a pharmacist and now as a worship pastor, my wife has worked as a nurse and now as a Sunday children's director at our church, she finished up a degree after we got married, I went back and got another degree after getting married, we've owned 6 vehicles, we've never had any pets (except a couple of fish), I've gone from having hair to having basically none…I could go on and on.  It's been a roller coaster ride! 
I won't pretend that I've got marriage all figured out.  No way.  Even after 15 years, I feel like I'm just starting to learn what it means to be a husband.  It's certainly been challenging at times to balance a life that consists of a wife and kids, a job, and at times school and education.  To keep all the balls in the air without dropping something can be hard.  But what I've come to learn as a married adult is that life truly is richer with my spouse by my side.  And I wouldn't trade that for anything.  Every day is an adventure with Corrie and a chance to learn more about her and the way God made her.   
I don't think I'll ever be done learning! 
What I want to use this blog for today is to address newlyweds or those soon to be married.  It might even benefit the dating couples who are in the "we're getting serious" phase of their relationship.  I only offer advice from my own experience and am not an expert or a counselor.  The things I've learned however, are things I believe all of us need to realize before taking the step into marital vows.  So often couples rush into marriage too quickly and find out later there are things they wish they had considered beforehand.  If anything I share helps alleviate some of that heartache, I'll have done my job! 
Here are my 3 tips to a successful and happy marriage: 
1. Realize divorce is not an option 
I'll never forget the first pre-marital counseling session my wife and I had.  The first words out of the pastor's mouth were:  "I want you both to commit to saying divorce is never an option for your marriage.  Otherwise I won't be able to marry you."  To me that was sound advice and really became the only option for my wife and I.  Divorce is ugly.  It is devastating to a couple and if kids are involved, it is that much more complicated.   
It is said in the Bible that God hates divorce.  I believe under certain circumstances (marital infidelity and spousal abuse), divorce is warranted from a Biblical standpoint.  But when entering into marriage, it should be understood by both the guy and gal that no one gets to "jump ship" just because it gets too hard.  Marriage does not walk out the door when things get tough or when a disagreement is not easily resolved.  Our disagreements and fights before getting married pale in comparison to the things we have disagreed on after being married.  But they have never allowed us the opportunity to say "I'm out, I quit."   
Marriage also requires faithfulness to each other.  A couple dealing with the issue of infidelity has a huge hurdle to overcome.  By God's grace, I believe it can be overcome and He can heal a marriage broken by adultery.  Before going into marriage, a couple must pledge faithfulness to each other as they make a covenant before God.   

2. Study God's Word and pray together 
Something that is still a challenge after 15 years is being intentional about spending time with my wife in God's Word.  I'm the kind of person who loves to just unwind and veg out at the end of the day; especially when the kids are in bed.  My wife can be the same way and honestly, we love those last few hours of the day!   
But before turning on the TV or getting lost in my own thoughts, I try to make a point to open the Bible, share with each other, and pray.  It may be that this time is easier for you as a couple at the beginning of the day or some other time before bed.  We've just found that our time is more focused and quiet when everyone else is in bed and we have no distractions.   
The time spent in Bible study and prayer gives husbands and wives that recharge and refocus point of the day that is so needed.  I'm convinced that the statement "the husband and wife that prays together, stays together" is so true.  The enemy would love to distract and keep us busy and it's easy to fall into the habit of not praying.  Avoid it at all costs and develop a good habit of a couple's devotion time during the day.  Husband + Wife + the Lord = A cord of three strands…not easily broken. Ecclesiastes 4:12 
3. Make time for each other 
During the dating years, it seems so easy to make time for each other.  The feeling of being "in love" is overwhelming at times and all you want to do is be with that person.  For most newlywed couples, the honeymoon phase lasts for 1-2 years.  Even during this time, most time outside of work and sleep is spent just being together.  Going on dates, being romantic; it all seems to come with very little effort when first married.  
But once kids come along, the weekly schedule starts getting full and finding time to be alone as husband and wife becomes tricky.  I can think of many weeks where I'm at my job during the day and then because I'm in ministry, there are appointments and meetings with people during the evening.  Or there are activities that my kids are involved in (church, school, sports, etc.) and that locks up several nights during the week.  Sometimes my wife and I get home and simply crash, exhausted by the day and the demands of life.  It's quite a change from when we were newlyweds! 
I believe that busyness is a reality and couples have to be that much more intentional about spending quality time with each other.  Maybe it's just an hour to grab coffee together.  Maybe it's getting a babysitter and having a full-on date night…dinner and a movie.  Maybe it's planning a trip and letting the grandparents watch the kids for a few days.  Whatever it is, it needs to take place if your marriage is going to have longevity and the romance rekindled.  My wife and I just took a mini-vacation while our kids were with family back in my hometown.  It. Was. Awesome.  And I hope it becomes something we do on an annual, if not semi-annual basis.   
---
So dating couples, those engaged, and newlyweds….realize this:  marriage is hard.  It is one of the most rewarding, yet most challenging things you will ever do.  It will take sacrifice and a submission of the will on a regular basis.  I'm still learning this.  I'm naturally selfish and prone to want my way all the time.  We all are.  But marriage is a relationship where we must die to self on a regular basis.  Christ's example of loving the Church and giving Himself up for His Bride is our example as well.  Husbands, take note as we are called most clearly to be spiritual leaders and model Christ in the home. 
I'm sure if you are married for any length of time, you have some additional suggestions to add to this list.  And I'd love to hear what things you've learned that help establish a healthy, Christ-centered marriage.  When Christian marriages thrive, I believe the family thrives, the church thrives, and the surrounding community is affected in a positive way.  Let's strive to have marriages founded on principles of faith and let's be fully committed to our spouse as Christ has modeled to us.  
I can be reached at:  info@derekcharlesjohnson.com  
Love is patient, love is kind. 
Love does not envy, 
is not boastful, is not conceited, 
does not act improperly, 
is not selfish, is not provoked, 
and does not keep a record of wrongs. 
Love finds no joy in unrighteousness 
but rejoices in the truth. 
It bears all things, believes all things, 
hopes all things, endures all things. 
Love never ends. 
1 Corinthians 13:4-8