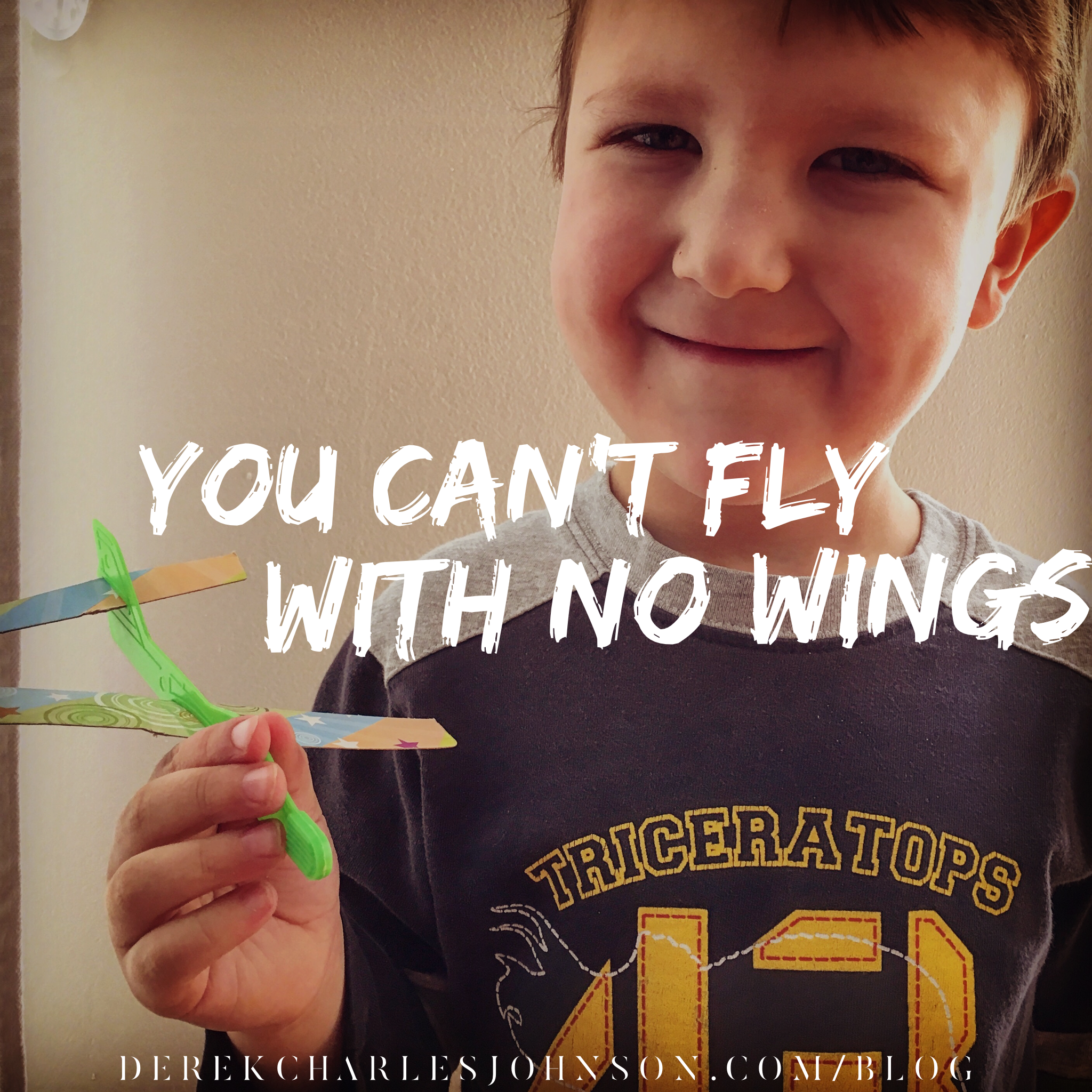 An interesting exchange happened the other day with my youngest son, Jacob.  Jacob is 4 years old and it alway amazes me to observe his world, through his words and actions.  I was in our master bedroom and had just started riding the exercise bike (my once-in-awhile routine).  Jacob entered the room carrying a dollar store toy airplane.  It was the kind that you attach the wings to the plane in order to make it fly.  However, he had removed the wings.  The conversation went like this: 
Jacob:  Dad, look at my plane.  It's naked (meaning the wings were removed). 
Jacob promptly attempts to fly the plane throwing it as normal.  It drops like a stone. 
Me:  Yeah Jake, it has no wings.  It can't fly. 
Jacob:  Yup, you can't fly with no wings! 
Out of the mouths of babes, they say and in this moment, Jake's comment (you can't fly with no wings!) was like God's lightbulb going off over my head.  The plane wouldn't fly if the wings weren't attached.  Real planes without wings can't even lift off the ground.  And if I'm spiritually extrapolating this, it's often how I go throughout life; without wings and without anything to hold me up. 
I've been taken aback by my lack of prayer and lack of genuinely going to the Lord first over the details of my life.  This has become a real concern to me and I want 2019 to be a year that I develop a healthier prayer life.  I want to do less knee-jerk reactions and more knee-bowing reactions when it comes to where I should be or what I should be doing.  Prayer to me is the lifeline to heaven.  I often neglect it to my own downfall.  Maybe you can relate.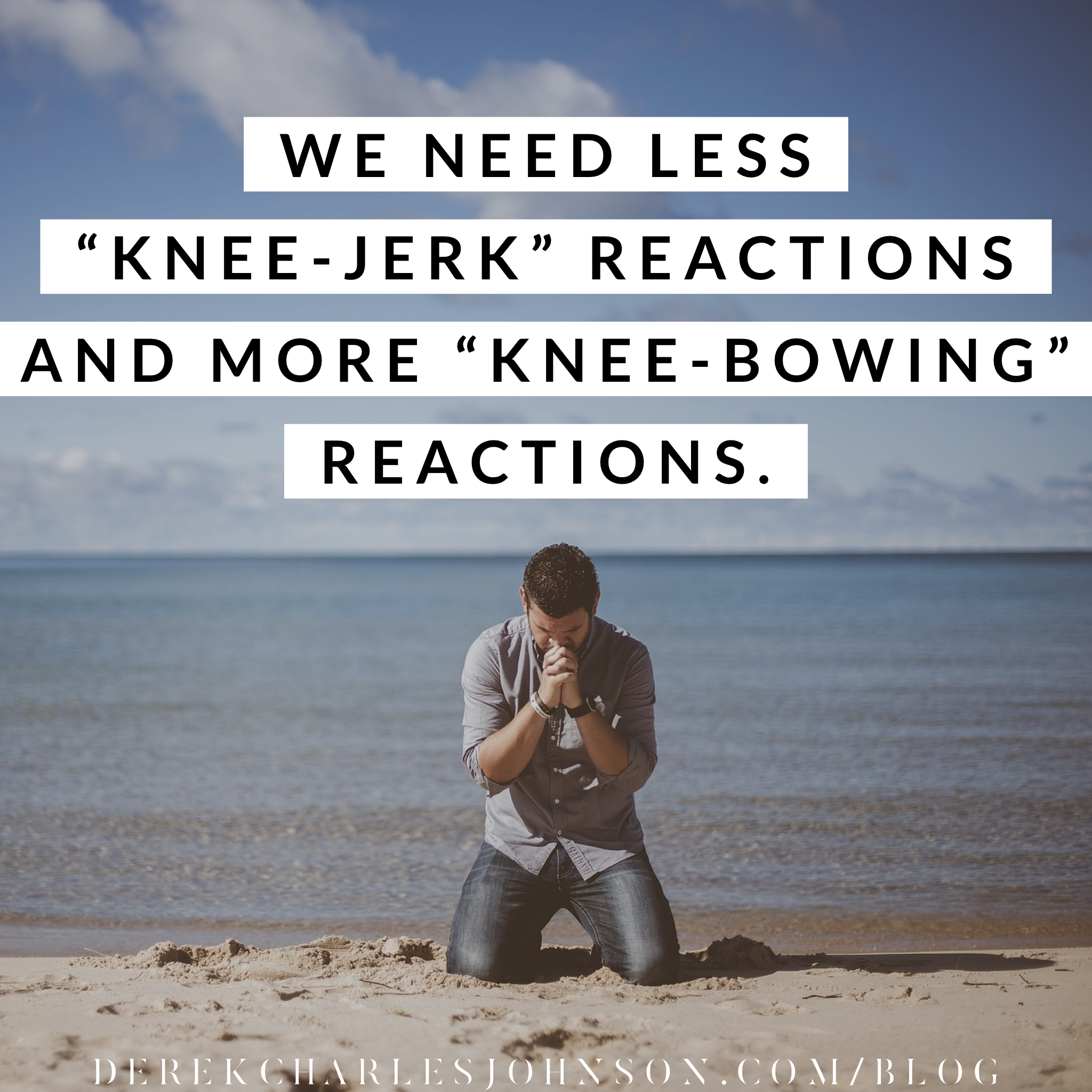 Over the next few weeks and months, I'm doing a recurring series called "Prayers Of the Bible."  Since the Bible is a handbook for daily life, there is a lot it can say to benefit our prayer life.  There are characters who pray with their prayers recorded in Scripture.  Those prayers can be a great help to us in drawing deeper to the Lord in this way.  Here are some thoughts to consider about prayer and what can springboard us into some of these future conversations. 
1.  Prayer is an ongoing, everyday thing 
Rejoice always, pray without ceasing, give thanks in all circumstances; for this is the will of God in Christ Jesus for you. 1 Thessalonians 5:16-18 
While we often go into a certain problem or situation petitioning heaven out of desperation, similarly we stop when we've gotten an answer of some form.  And from there, it can be days, weeks, months, or even years between the next time we honestly talk to the Lord.  We weren't made for that type of on-again, off-again relationship with our Savior.  No relationship can withstand that amount of infrequency.  God desires a prayer life which is continuous and frequent.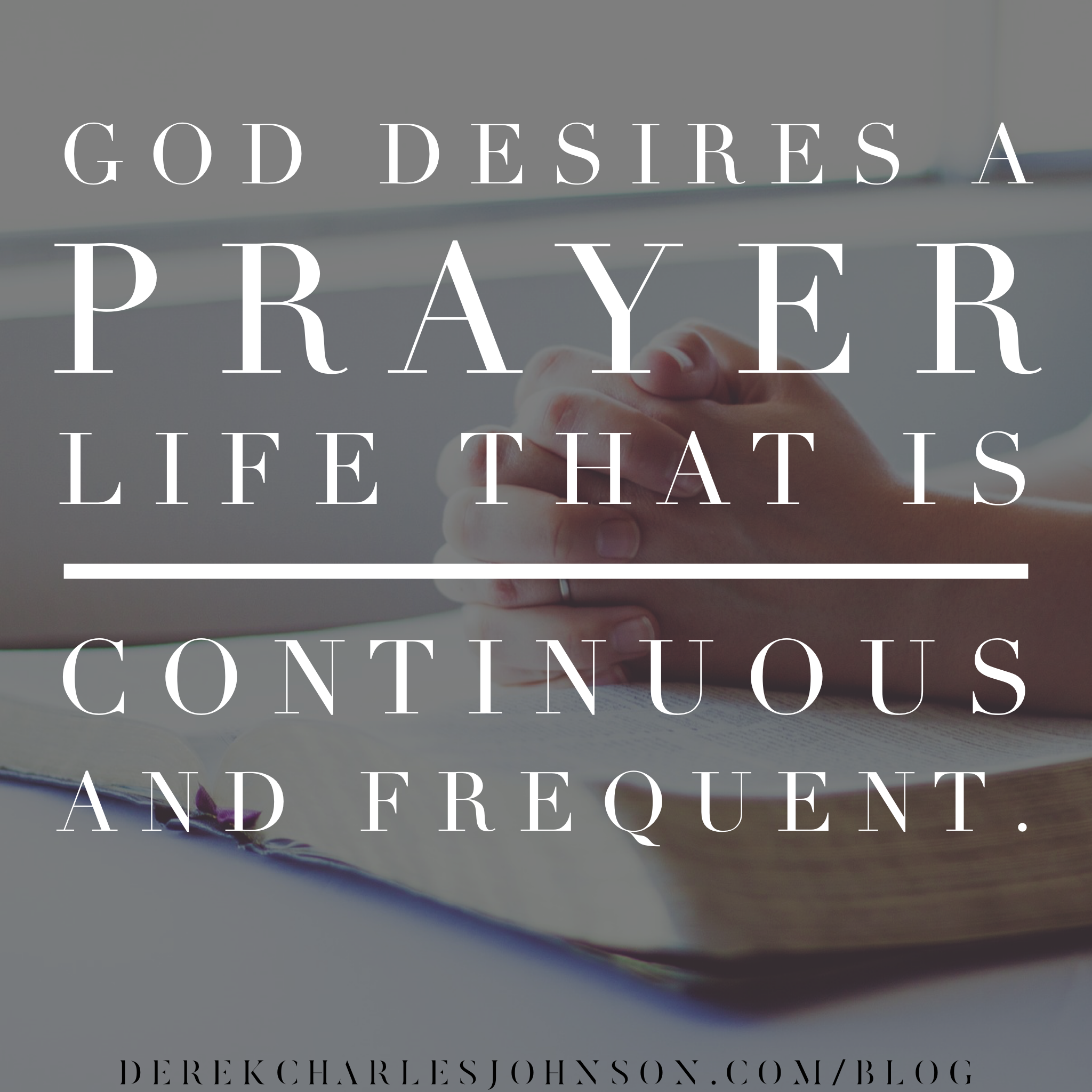 I know when Paul says "Pray without ceasing" it immediately sounds too daunting and outright impossible.  But I believe his intent is that we develop a lifestyle of prayer that makes it constantly recurring.  No one can pray "all the time" as in a 24/7 conversation.  But we can be in attitude where we are in a 24/7 mindset of God being near and accessible.  Into that, we take any problem and go to Him with it.  We remain in attitudes of worship and submission.  And we develop our minds to pursue sanctification and holiness; a process that leans on the Holy Spirit and His guidance continually. 
2.  Prayer should never be a last resort 
We tend to use prayer as a last resort, but God wants it to be our first line of defense. We pray when there's nothing else we can do, but God wants us to pray before we do anything at all.  Oswald Chambers 
Here's where I often struggle and I'll admit, part of the problem is my "I'm a guy, I can fix this, I can handle whatever comes" mindset.  That attitude has caused many a heartache and a wish for a "do-over" because of the path I've found myself on.  I'm learning that even if I have a notion of how I might try to handle something, that notion must take a backseat as I go first to the Lord in prayer.  That requires a couple of things must happen.  First, I must lay down my pride.  God has a better handle and understanding of any situation than I could ever hope to have.  Secondly, it requires some patience.  The first notion I have to solve something might seem great.  It might sound amazing in my own head.  Regardless, I must wait upon the Lord and see where or what He leads me to.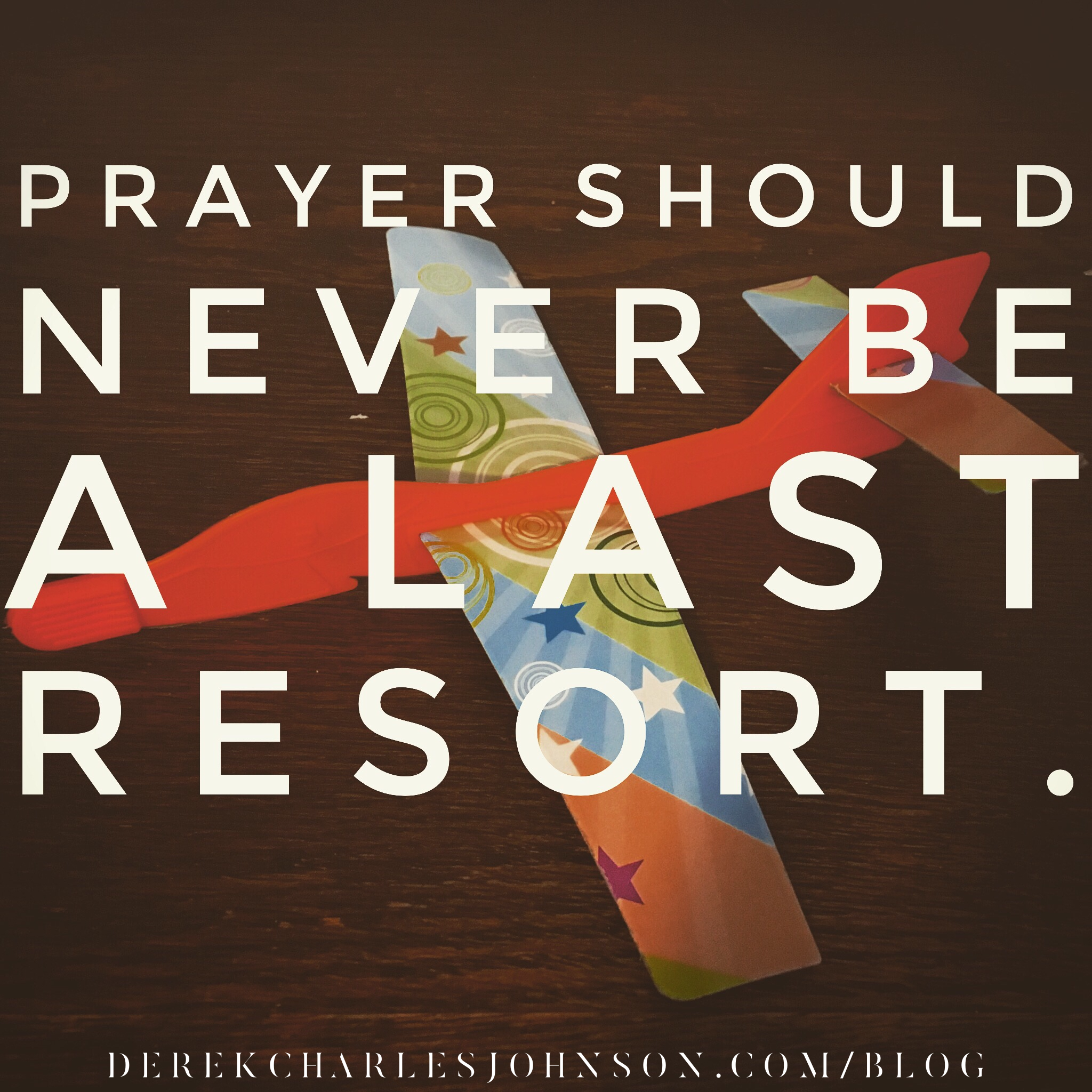 Prayer must not be the last option we consider.  Think of how often the end result would be better (or we'd get there sooner) if God had been involved in the plans first.  He knows best.  And He knows us better than we know ourselves. 
3.  Through prayer, God changes us 
Although we come to God with our laundry list and expectations for the day, He is after something else.  He doesn't reject us in bringing those things and I believe we are called to submit everything to Him.  But often the change He brings through prayer isn't going to be exactly the thing we were asking for.  He's changing us in the process and allowing us to see Him more fully. 
The cancer diagnosis you prayed would improve but doesn't.  God draws you closer to Himself to trust what He's doing.  He wants you to see that even through death He is still good. 
The career path you asked God to take you on is not developing how you thought.  God is purposely taking you on the path of His choosing.  It's the right path and even the roadblocks and detours along the way are His will. 
The desire for a child is met with only barrenness and heartache.  God is using one of the most difficult situations to show that He is still in control.  He hasn't forgotten your desire to be a parent.  He's wired you that way…He just might have a different way for it to come about and it is still good.  Completely and perfectly good. 
Each prayer is prayed in a way that we are asking God to do something with a certain outcome that we've pre-established.  The thing is, I've seen time and time again where God has answered, just not in the way I was expecting.  Some of those times the answer turned out way better than how what I was praying for.  And some of them, seemed way worse (at least in the moment).  But in every scenario, I was led to trust Him more fully.  To draw more closely to Him.  And to see, just like the opening illustration, if there's no wings (no prayer, no dependence upon Him), the plane will never fly.  
Give all your worries and cares to God, for he cares about you. 1 Peter 5:7 
---
Guys, I can only speculate where people are at as they read a message like this.  I only know there are people everyday looking for God to intervene, often throwing that "Hail Mary" prayer asking for Him to do something.  I'm not against those prayers but I believe God is requiring more of us.  He wants us to develop prayer lives that are constantly intersecting with Him throughout each and every day.  Prayer is so vital and so important if we are going to make it in these days.  I'm challenging you to go deeper in prayer and I want accountability for myself to do the same. 
Let's stop trying to fly the plane without wings.  I'm excited to go on this journey with you all. 
Let's connect: 
Email:  info@derekcharlesjohnson.com 
Facebook:  https://www.facebook.com/derekcharlesjohnson1/ 
Instagram:  http://instagram.com/derekcharlesjohnson
Other blogs for further reading:

Rooted In Self-Control (The Fruit Series)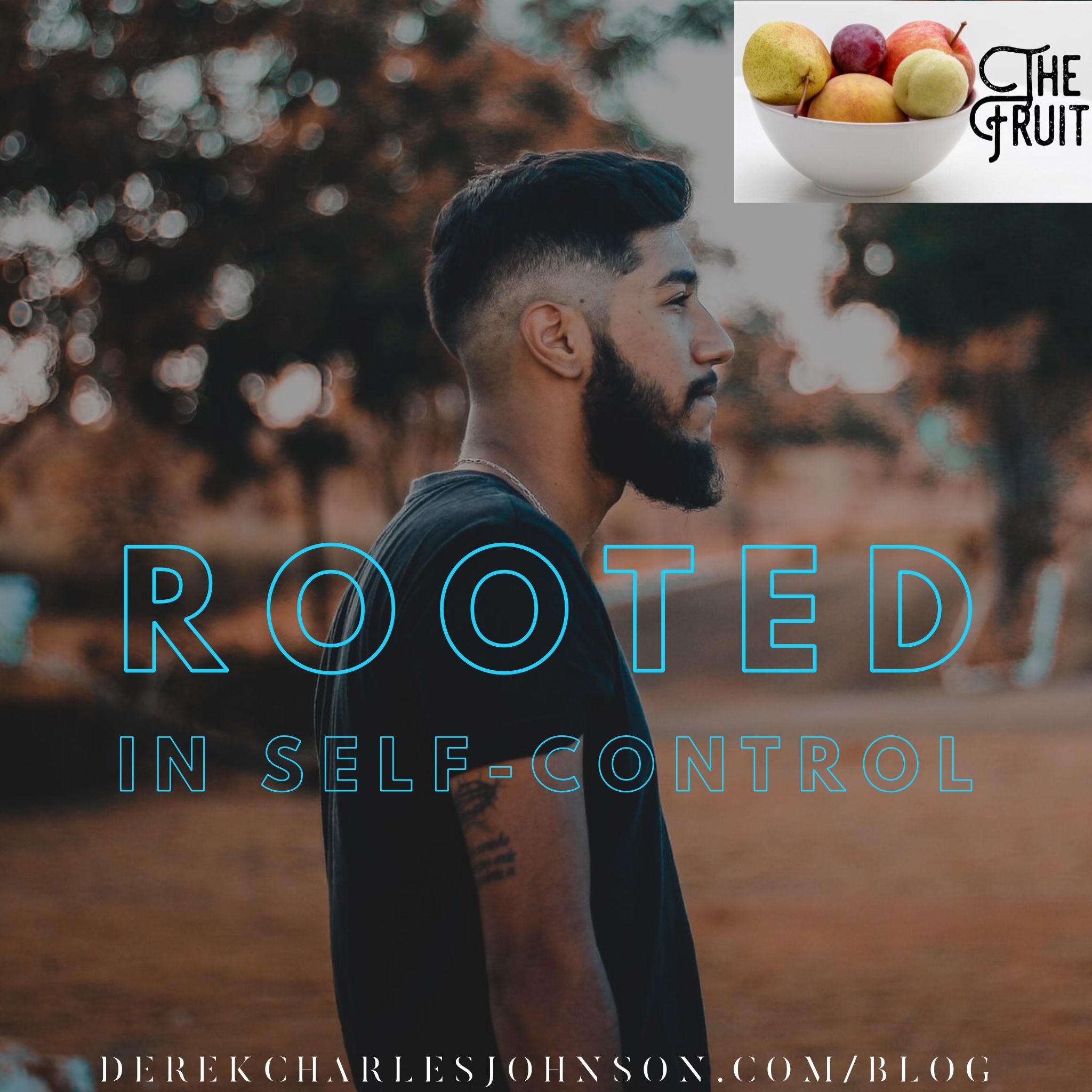 No Plan B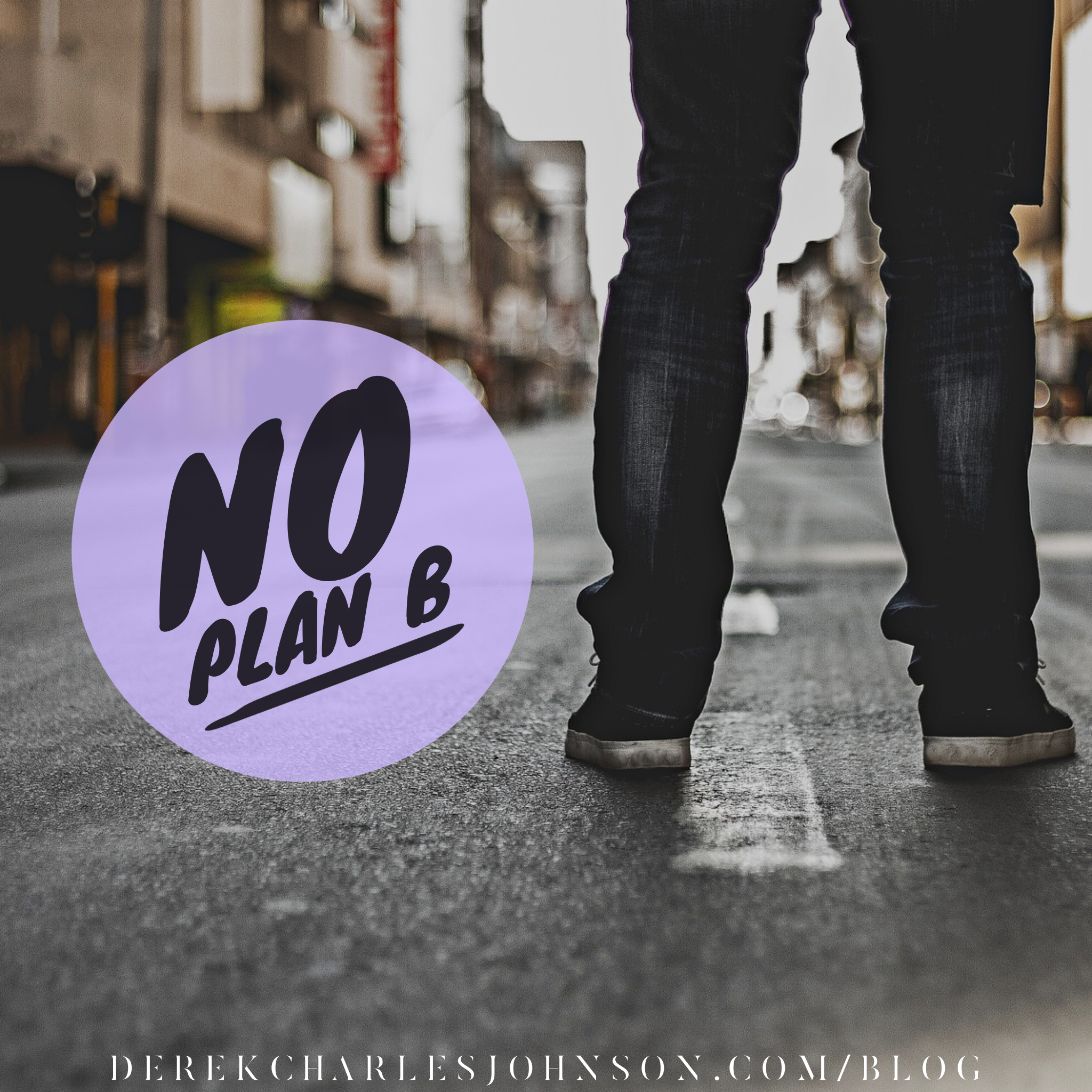 Redeeming Work