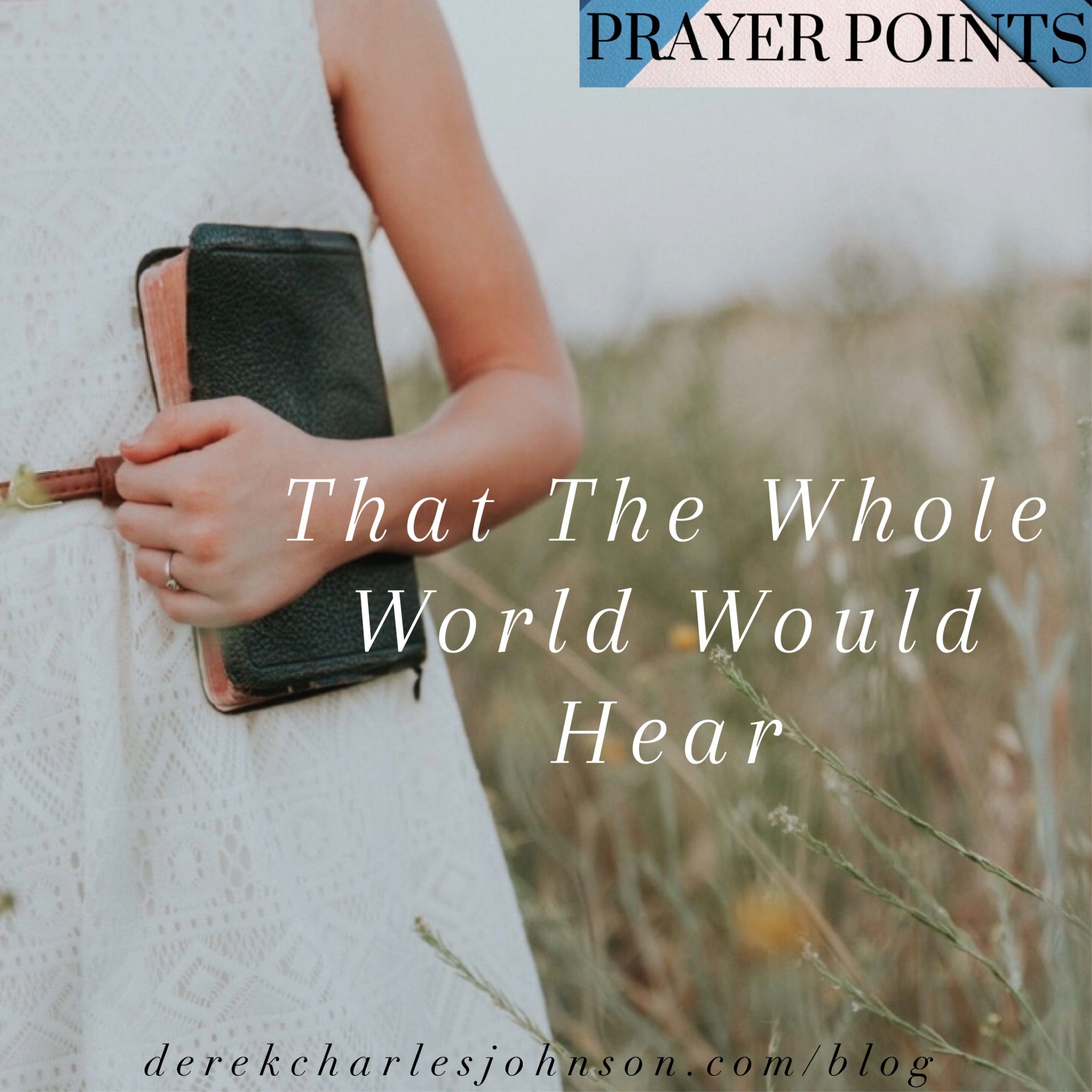 Devote yourselves to prayer, being watchful and thankful. Colossians 4:2 
Well we are here after a month focused on prayer, ending at a point which I think makes logical sense.  These prayer points have taken ever-widening circles.  First we looked at ourselves.  Then, those we influence followed by our church communities.  Last time we looked at our nation and the need to keep a proper perspective in prayer, balancing the evil we see with the goodness of our Lord.  This final installment of the series dovetails with last week's ending:  we are a Great Commission people tasked with telling the whole world about Jesus.  How does that inform and guide our prayer life? 
The world is big place so it would make sense that we pray big prayers when we consider what is going on.  I'm not one to use this blog to delve into conspiracy theories.  I'm not looking at this post as the time or place to say whether we are on path towards globalism vs. nationalism.  All of those things may or may not be occurring.  It doesn't really matter honestly.  In the end, if we are Gospel-minded we will find a way to advance the Kingdom whatever the political climate.  As expressed last week, we pray for forces of evil to be stopped and we ask for God's favor to establish us "in the land." 
I cannot talk about the Great Commission without using that verse this week as our main theme: 
Go therefore and make disciples of all nations, baptizing them in the name of the Father and of the Son and of the Holy Spirit, teaching them to observe all that I have commanded you. And behold, I am with you always, to the end of the age.  Matthew 28:19,20 
As we move forward today, I believe Jesus' last words to His disciples are our first words as truth-bearers.  We are sent with these words in mind.  We need them in the front of our brains as we ask God for open doors for this message to be delivered.  Let's finish up strong today with this week's prayer points! 
1. Pray for the Gospel to be preached in every country 
And this gospel of the kingdom will be proclaimed throughout the whole world as a testimony to all nations, and then the end will come.  Matthew 24:13 
Biblically-speaking we are called to pray for the Gospel to preached everywhere.  I don't know exactly how God commissions this to happen.  All I know is that His word is clear and we proclaim what we have seen and heard.  Matthew 24 is a whole chapter of Jesus telling His disciples what is to come in the last days.  Within this chapter is a verse saying the truth must go out to the "world as a testimony to all nations."  We can and should be praying for opportunities to come in places where the Gospel has been restricted.  We should pray that God would bless those who carry His message into unknown and foreign lands.  And we should pray for the completion of Matthew 24:13 which says the end will come when this word has been preached worldwide.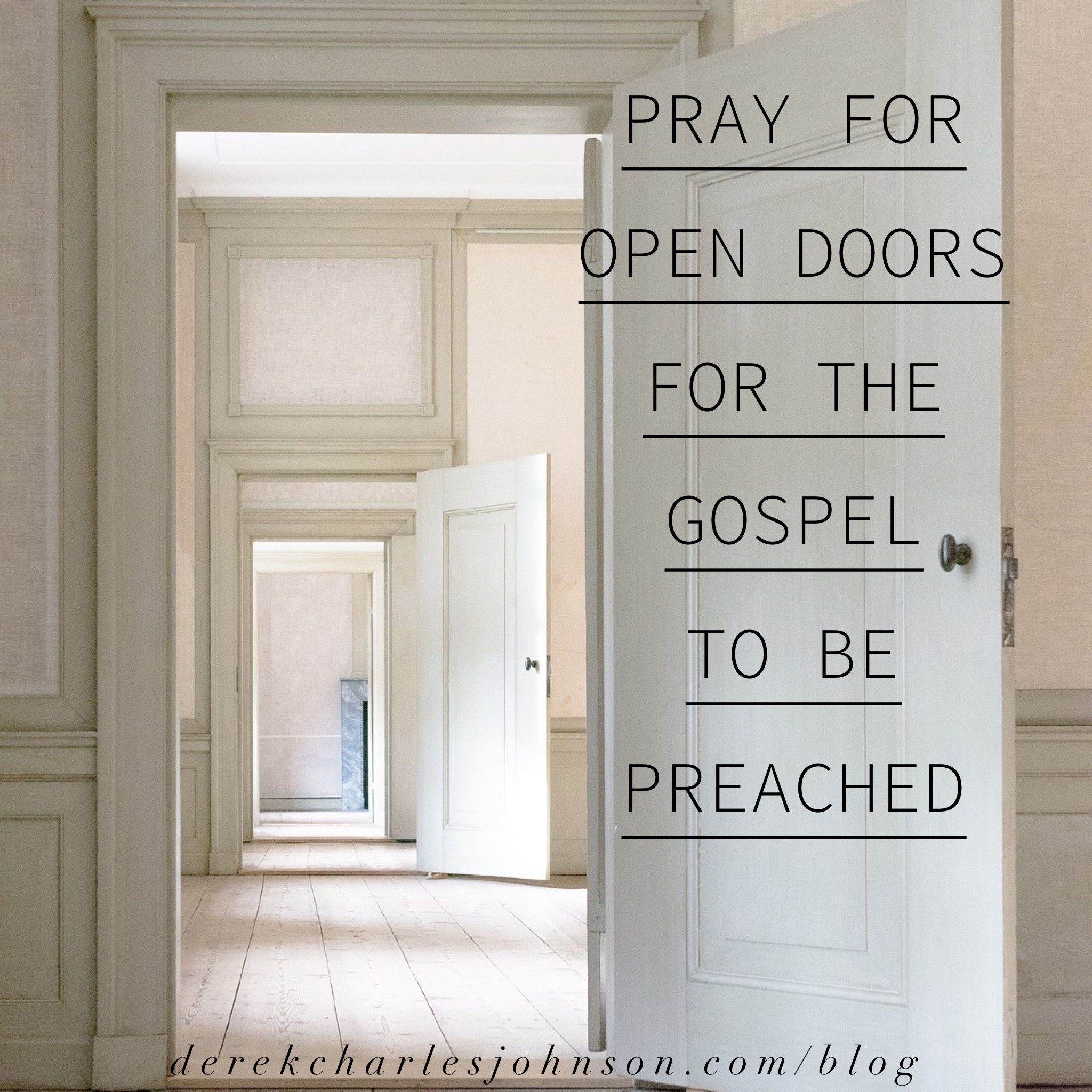 2. Pray for worldwide revival like we've never seen 
Will you not revive us again, that your people may rejoice in you?  Psalm 85:6 
I believe our hearts must desire and be ready for revival.  It's one thing to talk about it and quite another to actively seek and experience it.  Pockets of revival have been seen in various countries over the past century.  But what would an actual worldwide revival look like?  If we believe the Gospel must be fully preached to all nations, there is a promise that many hearts will change and bow the knee in surrender to Jesus.  If we go all the way back to the first week of this series (Let Us Become Living Sacrifices), the process of revival starts with the individual saying "I repent and I turn from my wickedness and follow You God."  We must become instruments that model this practice and earnestly seek the Lord's grace and mercy upon us once again.  We must ask for Him to "do it again" as He has done before; sweeping the lands with His Spirit which transforms the hearts of men and women. 
3. Pray for the persecuted church worldwide 
I am in chains now, still preaching this message as God's ambassador. So pray that I will keep on speaking boldly for Him, as I should. Ephesians 6:20 
For anyone in a country closed off to the Gospel, there is a real awareness of what persecution is.  We've talked about it already within our borders in the US, but a persecuted worldwide church is a reality that has existed for decades, even centuries.  To know how to specifically pray and even financially support those under this threat, a great resource is The Voice Of The Martyrs (https://www.persecution.com/).  I'd highly recommend checking out their organization and beginning to pray for the places God lays on your heart.  We see the example of Paul in all of this, as his life was threatened yet he did not abandon his call to preach.  Our boldness must not waiver in the face of even extreme persecution.  If all we have in this world is Jesus, we will have enough.  Pray for those brothers and sisters under attack for their faith and ask God to give them boldness. 

4. Pray for a unified body 
That they may all be one, just as you, Father, are in me, and I in you, that they also may be in us, so that the world may believe that you have sent me.  John 17:21 
The idea that we must pray for unity within the church is not only for the church itself, but also for a watching outside world.  We know that there are several "sideline" issues that hamper the cohesiveness of the body.  There are many stumbling blocks that keep Christians divided even though these are not absolutes that are essential to the faith (absolutes would be things such as tenets of salvation, inerrancy of God's word, etc).  Our witness is stronger when believers partner together and proclaim the truth of Jesus as one.  There will be opposition within the ranks and whole movements that are outside of the Gospel entirely (even as they call themselves part of "the church").  Many will say, "Lord, Lord" but they are not on the same page.  I am not talking about these folks.  What I am referring to are those true believers, who despite their differences, must overcome pettiness and be the Bride of Christ.  We must pray for this to happen worldwide. 
5. Pray for the peace of Jerusalem 
Pray for the peace of Jerusalem: "May those who love you be secure." Psalm 122:6 
This last point is a bit multi-faceted and for a more thorough analysis, this is a great article:  5 Reasons To Pray For The Peace Of Jerusalem. Suffice to say, just as we pray for the Gospel to go worldwide to speed Christ's return, we also pray for Jerusalem (Israel) to be at peace.  Recent news headlines suggest much is happening to usher in a change in the atmosphere in the Middle East.  Peace for Israel is a precursor for the return of Messiah and in praying for this, we are ultimately asking for Christ to come.  We must remember that it is through the Jewish people that God choose to bless all of humanity.  He continues to work through His people (Jews and Gentiles) to display His goodness and mercy.  Praying for peace to come is praying for this world to come to know Christ.  We know peace may be short-lived in this life, but will one day be eternal when we reign with our Savior.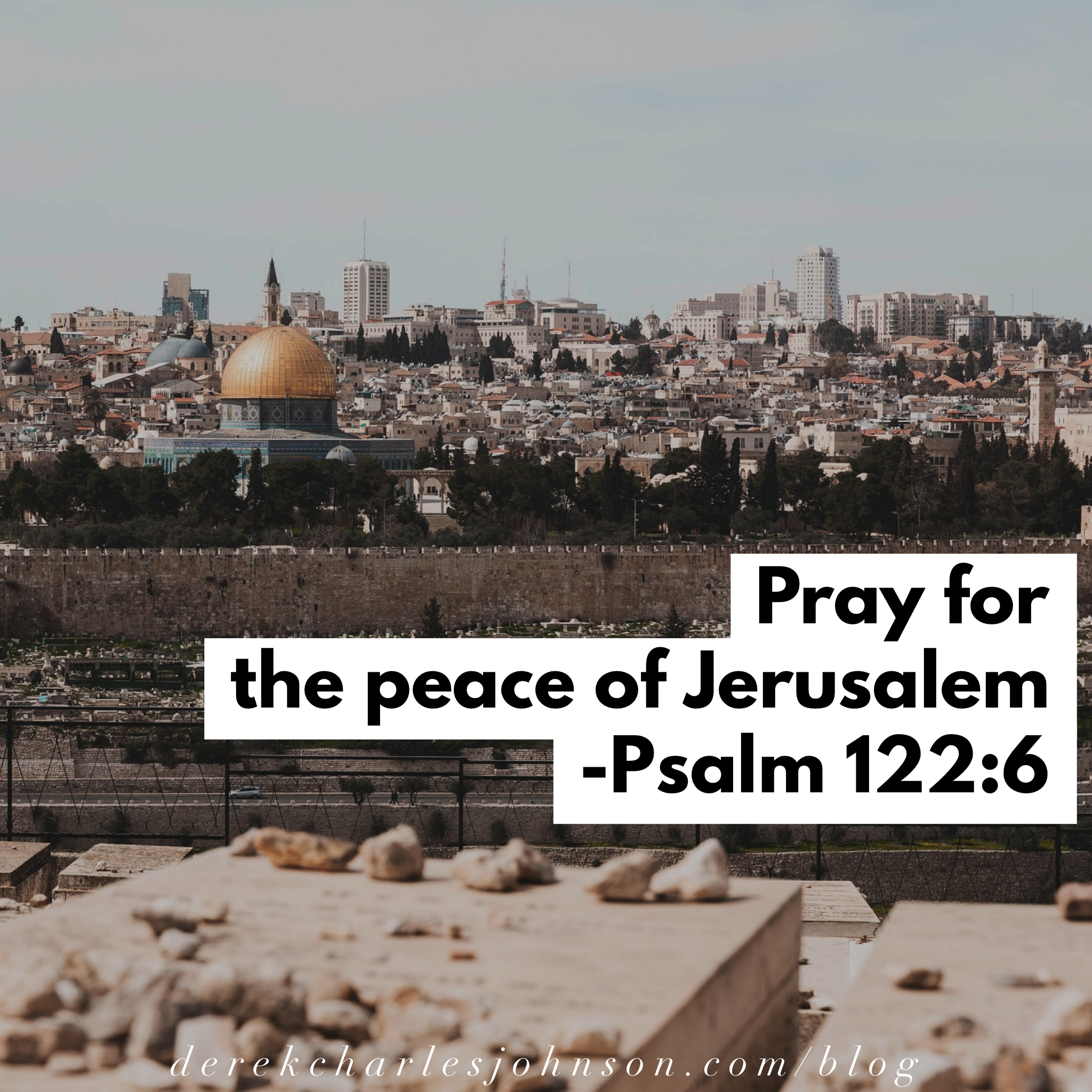 There's so much more that could be shared on each of these topics.  In my mind, the pages of Scripture are unfolding day by day and we are in exciting times as we anticipate Jesus' return.  We can get caught up in prophecies and predictions of the when/where/how/why of the end times.  But we miss our true focus if we spend too much time being sidelined by details that are not helping to save the lost.  We desperately pray for this world, yet we remain hopeful.  We see the worst of what the Enemy can do, but we know God will not let the wicked prosper forever. 
---
Looking back over this series, I hope there is much you can return to and process again and again to guide your prayer life through these "prayer points."  You may find much you can add personally as you go through each area as well.  I hope you do and I hope you make what we've started this month a daily habit and practice.  We are in days that are too perilous not to pray.  We live in times that demand it.  When we put God first in this way, I believe He is going to bless us and encourage us no matter what the headlines say. 
I love you guys.  I love walking this journey with you.  God bless. 
Sign up to get these blogs delivered to your email inbox!  Visit http://derekcharlesjohnson.com/as-bold-as-lions 
Let's connect: 
Email:  info@derekcharlesjohnson.com 
Facebook:  https://www.facebook.com/derekcharlesjohnson1/ 
Instagram:  http://instagram.com/derekcharlesjohnson 
Be very careful, then, how you live—not as unwise but as wise, making the most of every opportunity, because the days are evil.  Therefore do not be foolish, but understand what the Lord's will is.  Ephesians 5:15-17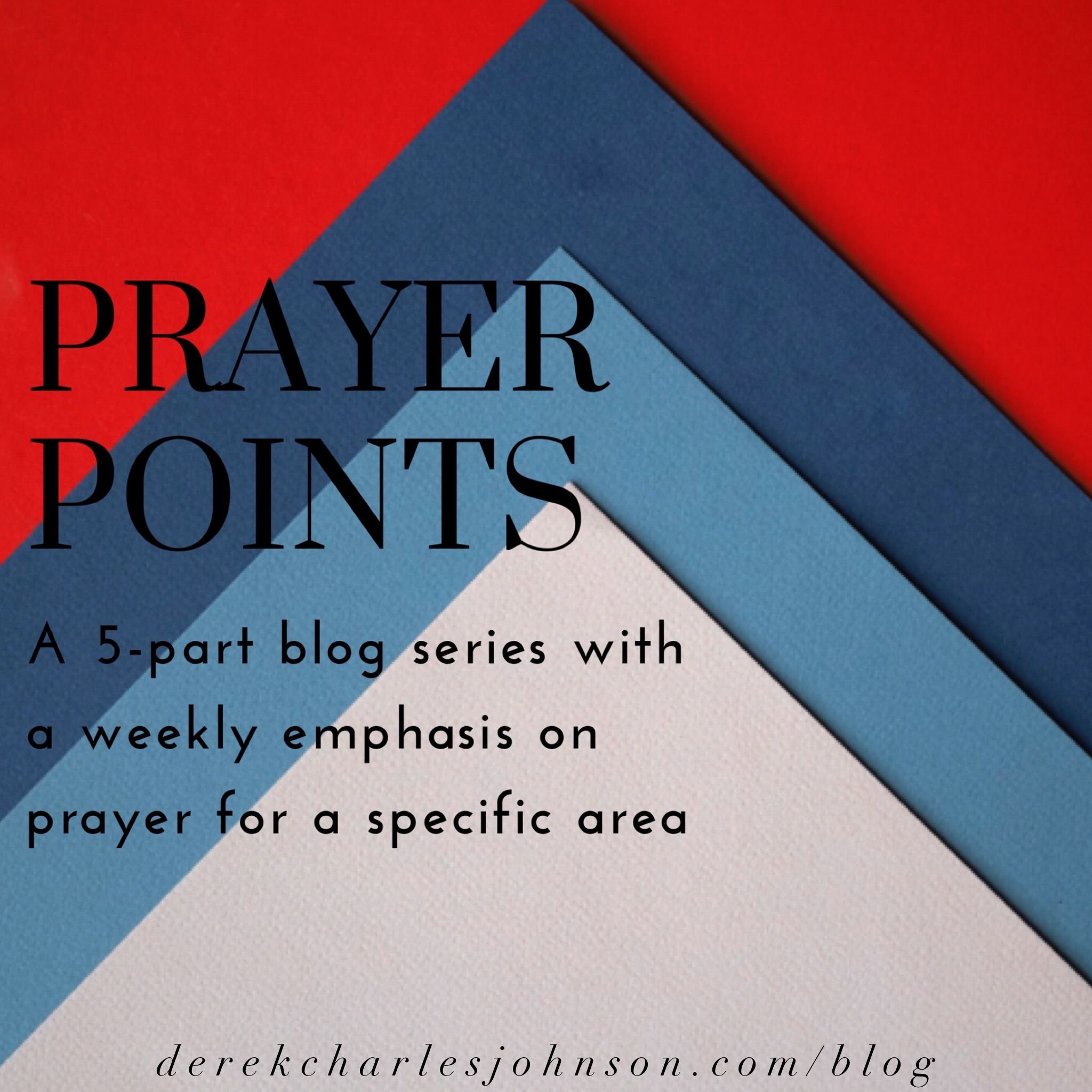 Other Prayer Points blogs: