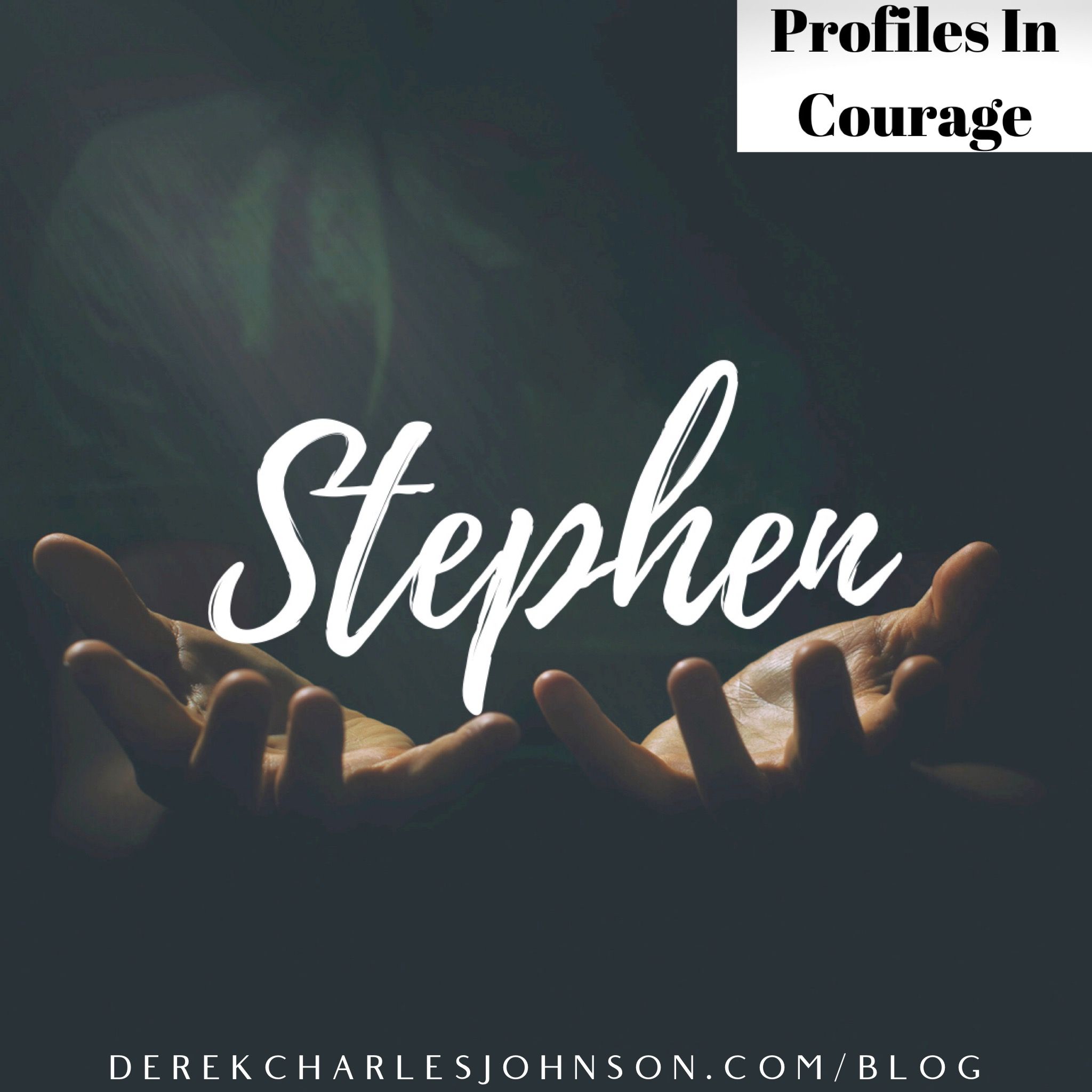 But they could not withstand the wisdom and the Spirit with which he was speaking.  And gazing at him, all who sat in the council saw that his face was like the face of an angel.  Acts 6:10,15 
Often the profiles we talk about in these stories show great courage, great boldness, and deliverance on behalf of the Lord in some way.  The stories tend to give us that "all is right with the world" feeling when we know God hears the cry of his servant and steps in to secure the victory.  But what happens when God doesn't make a way for the hero in the story?  What happens when the outcome is death instead of deliverance? 
Today we are talking about Stephen.  This character is important as he is the first martyr of the early church.  We don't know a ton about Stephen other than what is recorded in the Book of Acts.  In Acts 6 we see he is selected as a deacon to help distribute food and meet the needs of widows.  This was a need that was being neglected as the ministry of the church balanced its focus on preaching the Gospel alongside meeting physical needs.  Both were necessary and Stephen, alongside 6 others were brought forward, prayed over and commissioned in their new roles.  It was said he was "a man full of faith and of the Holy Spirit," (Acts 6:5) and this is an important characteristic to note moving forward in this discussion. 
Stephen's account is basically the rest of Acts 6 (verses 8-15) and all of Acts 7.  He evidently ruffled the feathers of various synagogue rulers who were not in line with the signs and wonders he performed and the teachings he proclaimed.  Some of these men from the synagogues rose up to dispute him.  When they were unable to argue with the wisdom he displayed, they brought him up on false charges of blasphemy and took him before the Sanhedrin (the Jewish ruling council).  Bringing in false witnesses, they built a case against Stephen all in the effort to lay the charge of blasphemy on him with the punishment being death by stoning. 
There's much to unpack in Acts 7 which is Stephen's speech before the Sanhedrin and his eventual martyrdom.  I want to pull out a few themes and allow them to guide today's blog.  Let's begin! 
1. Stephen allows the truth of God's word to speak for itself — some will accept and others will reject 
And the high priest said, "Are these things so?" And Stephen said:  "Brothers and fathers, hear me."  Acts 7:1,2 
The early church followers of Christ were coming up against a fierce opponent:  the Jewish ruling class and synagogues.  Jesus was not accepted as Messiah by most of these men.  After all, they had worked to put together another false trial with phony witnesses:  the trial of Christ.  Much of Acts 7 is Stephen's address to these men, appealing on behalf of their connected history as Jews and the fact that all of Scripture has been leading up to this point:  that Jesus was the one to come and save His people.  Patterns of deliverance in the Old Testament showed time and time again that God had desired an ultimate Redeemer for His people.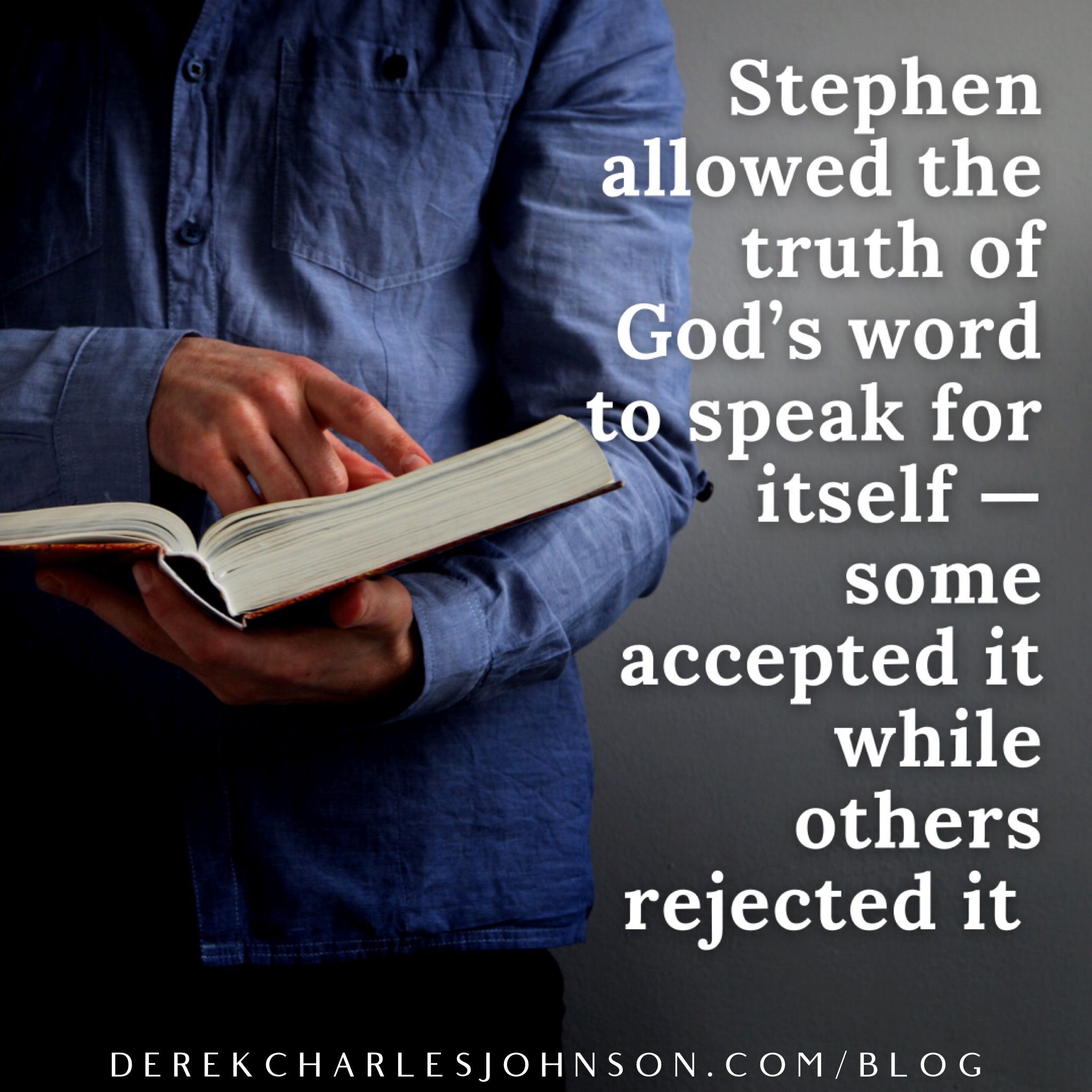 One takeaway from Stephen's address is that clearly some will reject our testimony in Christ.  We can appeal to certain innate desires (the desire to know where man came from, why is there wrong/evil in the world, and even is there a God and how can we know).  Stephen sought the common ground of Scripture to build a bridge to his hearers.  Still, he was clear about the implications of accepting or denying Christ.  Just as many ancient Israelites at times rejected the redeemers God sent (Moses — vs. 35), they would reject Christ as well.  We should expect the same response at times to our own preaching of the Gospel message.  It comes with the territory. 
2. Stephen calls out the Sanhedrin for its own resistance of the Holy Spirit 
"You stiff-necked people, uncircumcised in heart and ears, you always resist the Holy Spirit.  As your fathers did, so do you."  Acts 7:51 
Some serious charges are leveled by Stephen by the end of his discourse before the Sanhedrin.  The charges he brings are enough to enrage his hearers.  But which of his words were untrue?  He points out the unbelief that these men display.  They dismissed Jesus as Messiah just as their ancestors dismissed the prophets who foretold the coming of Christ (vs. 52).  He lays at their feet the responsibility of killing and rejecting Christ:  "the coming of the Righteous One, whom you have now betrayed and murdered" (Acts 7:52).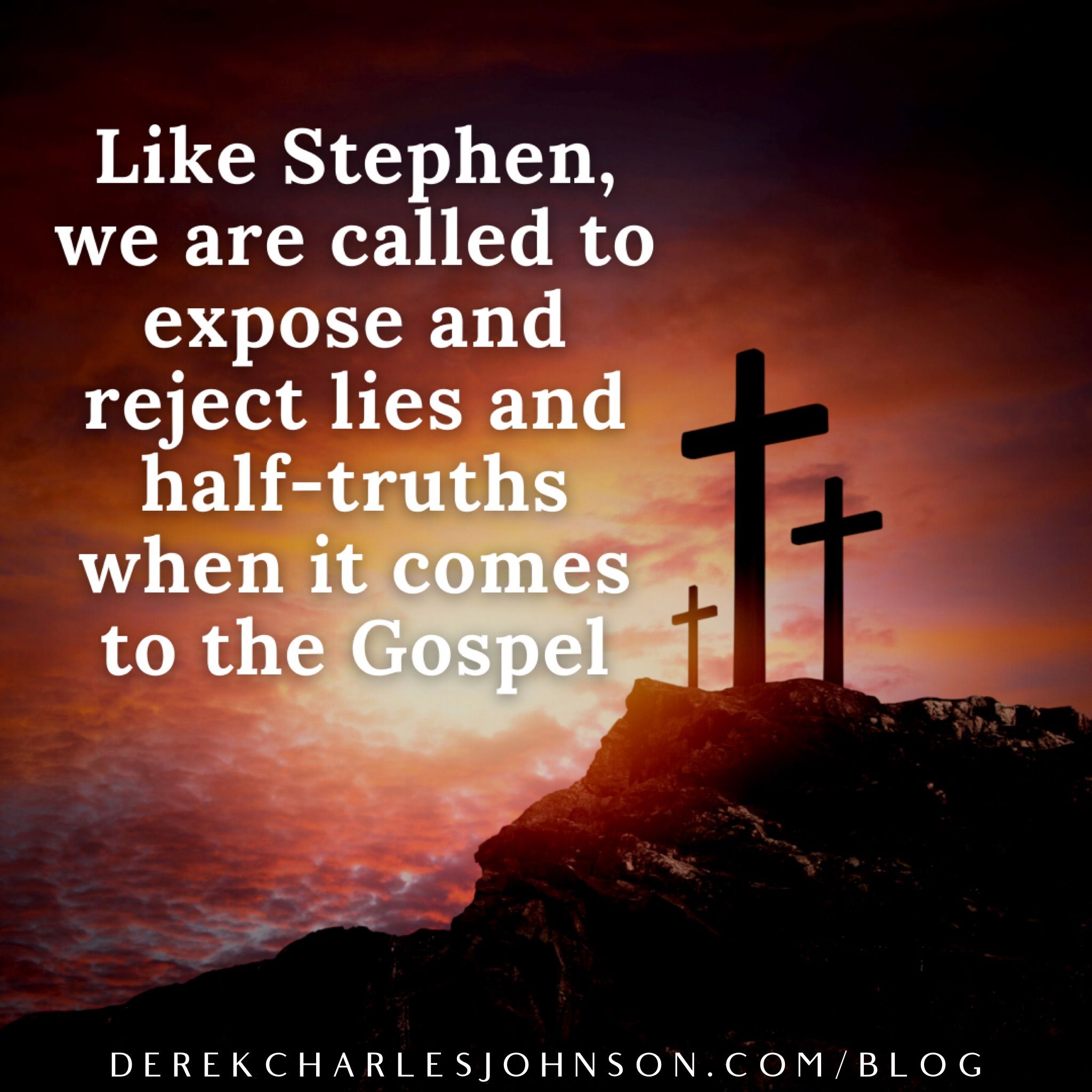 To me, Stephen exhibits boldness and righteous anger.  An anger that is quick to defend the holiness of God.  We spoke of this in our DAVID (PROFILES IN COURAGE) blog a couple weeks ago as David went toe to toe with Goliath.  What is the implication for us in the here and now?  When we see lies and half-truths being put forth, it is our job and responsibility to correct those things.  Just like "fake news" is being seen for what it is these days (and even so-called "fact checkers"), we must test everything against Scripture and be willing to be bold in our defense of truth.  Beloved, do not believe every spirit, but test the spirits to see whether they are from God, for many false prophets have gone out into the world. 1 John 4:1 
3. Stephen stays true to His God all the way to the end 
And he said, "Behold, I see the heavens opened, and the Son of Man standing at the right hand of God." Acts 7:56 
With his final comments before the Sanhedrin, Stephen has all but secured his fate:  he will be executed.  Perhaps these men already had this in mind when they dragged him into court.  But Stephen did not back down or try to save his own hide.  He was passionate about the truth of God's word.  The message had to be proclaimed.  The Holy Spirit filled his life.  It was evident to all; even the naysayers knew there was something different about him.  They could not counter his arguments or his theology.  They could only get upset because they were filled of another spirit — the spirit of this age.  They ran Stephen out of the city and stoned him.  Even at this point, Stephen cries out for his accusers "Lord, do not hold this sin against them." (Acts 7:60)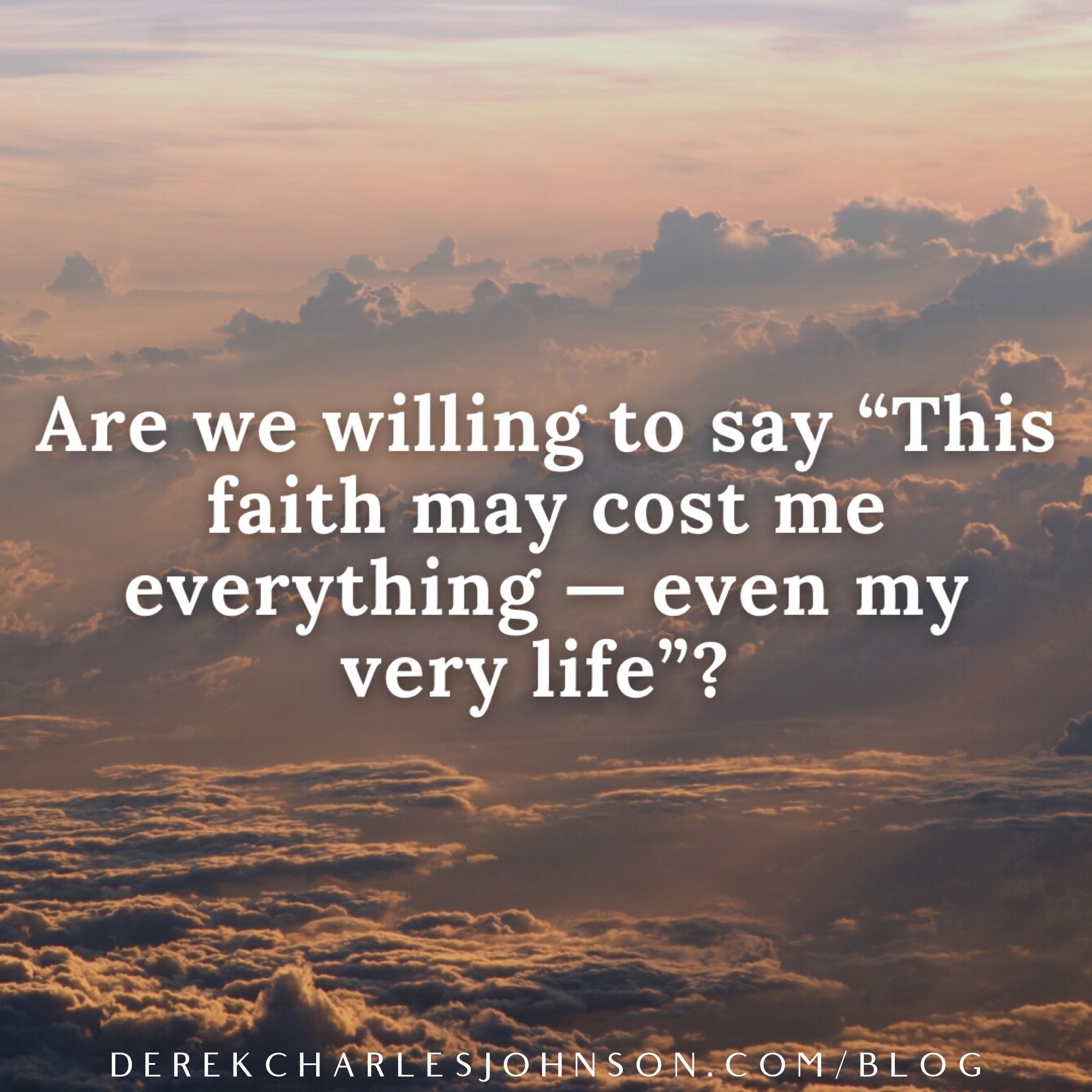 Up until 2020, I didn't see persecution as a real possibility like I do now.  But it seems like today we hear of stories quite frequently; maybe not always in the United States but certainly in other countries.  Pastors being hauled off to prison.  Churches shut down.  Laws enacted that label Biblical views as "hate speech" (you can no longer preach about certain things).  All of this should remind us:  this world is not our home.  In many cases yes, God will deliver.  But we have to read Stephen's account and know in the back of our minds, "This faith may cost me everything."  And that is a matter we must settle in our hearts now before we are ever in a position like Stephen. 
---
I want to go back to a key attribute of Stephen as we close today because I believe it gives us the ability to stand if/when this sort of scenario plays out.  What was it about Stephen that made him different and able to endure?  It was the Holy Spirit.  It is clear he was guided by the Spirit and it gave him the ability to speak with wisdom and eloquence.  The Spirit made him bold.  To me, if I am to proclaim the cross of Christ and have it influence lives, it will be because the Holy Spirit caused me to speak boldly and it will be His work, not mine. 
I hope this footnote offers hope as we discuss a story not as uplifting as perhaps the other individuals we have talked about.  Even still, Stephen's story ends well.  He is in heaven.  His eternal destination was secure and he did not disqualify himself or the work of the Gospel as he laid down his life.  Interestingly enough, we see Saul (Paul) at the scene of Stephen's stoning (Acts 7:58).  We know Paul goes on to be a key figure in early church history.  What affect did Stephen's story and his stoning have on Paul?  We can only speculate, but we know that the same Christ that Stephen proclaimed was the one Paul encountered on the road to Damascus.  Praise God. 
I love you guys and I love walking this journey with you.  Can't wait to wrap up this series next time!  Please reach out if I can be in prayer for some specific need you have today. 
Sign up to get these blogs delivered to your email inbox!  Visit http://derekcharlesjohnson.com/as-bold-as-lions 
Let's connect: 
Email:  info@derekcharlesjohnson.com 
Facebook:  https://www.facebook.com/derekcharlesjohnson1/ 
Instagram:  http://instagram.com/derekcharlesjohnson 

MeWe:  https://mewe.com/p/derekcharlesjohnson
Be very careful, then, how you live—not as unwise but as wise, making the most of every opportunity, because the days are evil.  Therefore do not be foolish, but understand what the Lord's will is.  Ephesians 5:15-17