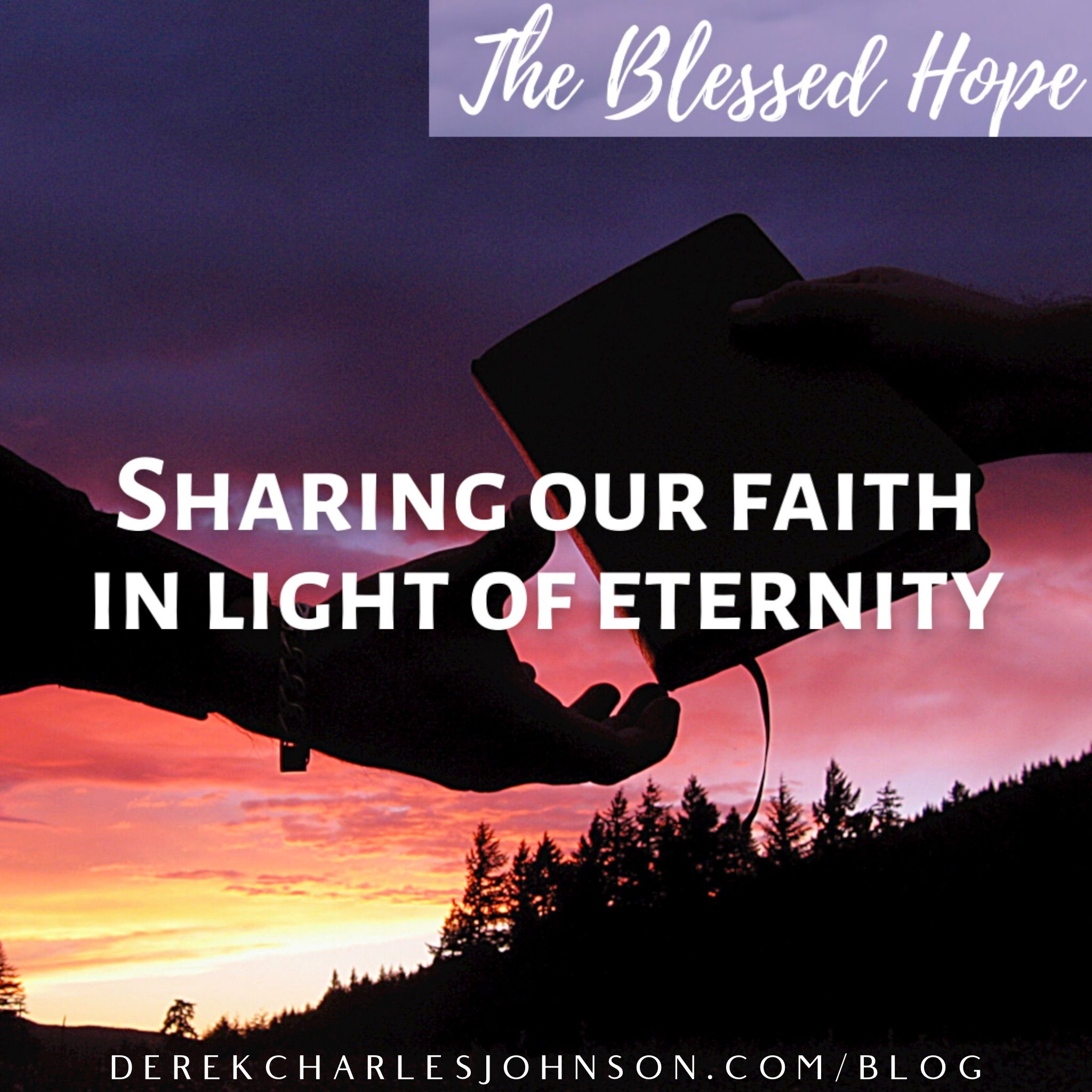 For the grace of God has appeared, bringing salvation for all people, training us to renounce ungodliness and worldly passions, and to live self-controlled, upright, and godly lives in the present age, waiting for our blessed hope, the appearing of the glory of our great God and Savior Jesus Christ, who gave Himself for us to redeem us from all lawlessness and to purify for Himself a people for His own possession who are zealous for good works. Titus 2:11-14 
At the beginning of this series, I said we would take several different directions in our discussion from week to week.  We've already spent some time laying the groundwork.  We've addressed the big question of "When will Jesus return?"  We've also taken a moment to talk about personal readiness for His glorious appearing.  The Parable of the 10 Virgins was the focus last week and in that discussion, we saw how Jesus clearly says some will be ready for Him while others will not.  The implications are profound. 
Today I want to extend that topic a bit further beyond our own readiness to the discussion of others around us.  Every week, I put up a "How can I pray for you?" post on my Facebook page.  Without fail, someone always comments with a need for a friend or family member to come to Christ.  It seems like the urgency of these requests have only increased over the past year.  Many of us know someone who is not saved and is not walking with the Lord.  That hurts our hearts and we grieve at the prospect of them not being in Heaven. 
Today as I thought about this topic, I started to just brainstorm questions I think I would have for anyone pondering the bigger picture of life.  In sharing our faith, I think there are ways to not just beat folks over the head with a Bible (sometimes we'd like to!) but help them actually walk out the answers on their own.  In short, we give them permission to answer questions in a way that helps guide our discussion.  What follows are some of those questions I think are appropriate and anywhere in this dialogue, the Gospel can be inserted.  This is a little different format than usual for the blog but I hope you will follow where I'm going. 
Life is short and we are not promised tomorrow.  What happens when we die? 
And these will go away into eternal punishment, but the righteous into eternal life.  Matthew 25:46 
A couple typical responses to this question are usually "I don't know" or "We go to Heaven."  A lot of people do not think much further about the answer because we live in a culture that doesn't talk much about the afterlife.  Obviously, death is a reality.  I think we can find common ground with nonbelievers when we simply address the tenuous state of this world.  What have we just gone through?  A worldwide pandemic with fallout affecting everyone and every aspect of life.  That alone is enough to start the conversation and be real:  So if you died, where would you go?  How do you know?  Is Heaven open to everyone?  If not, who decides who is let in and who is left out? (The Parable of the 10 Virgins is a great lead-in here if the person is open to it).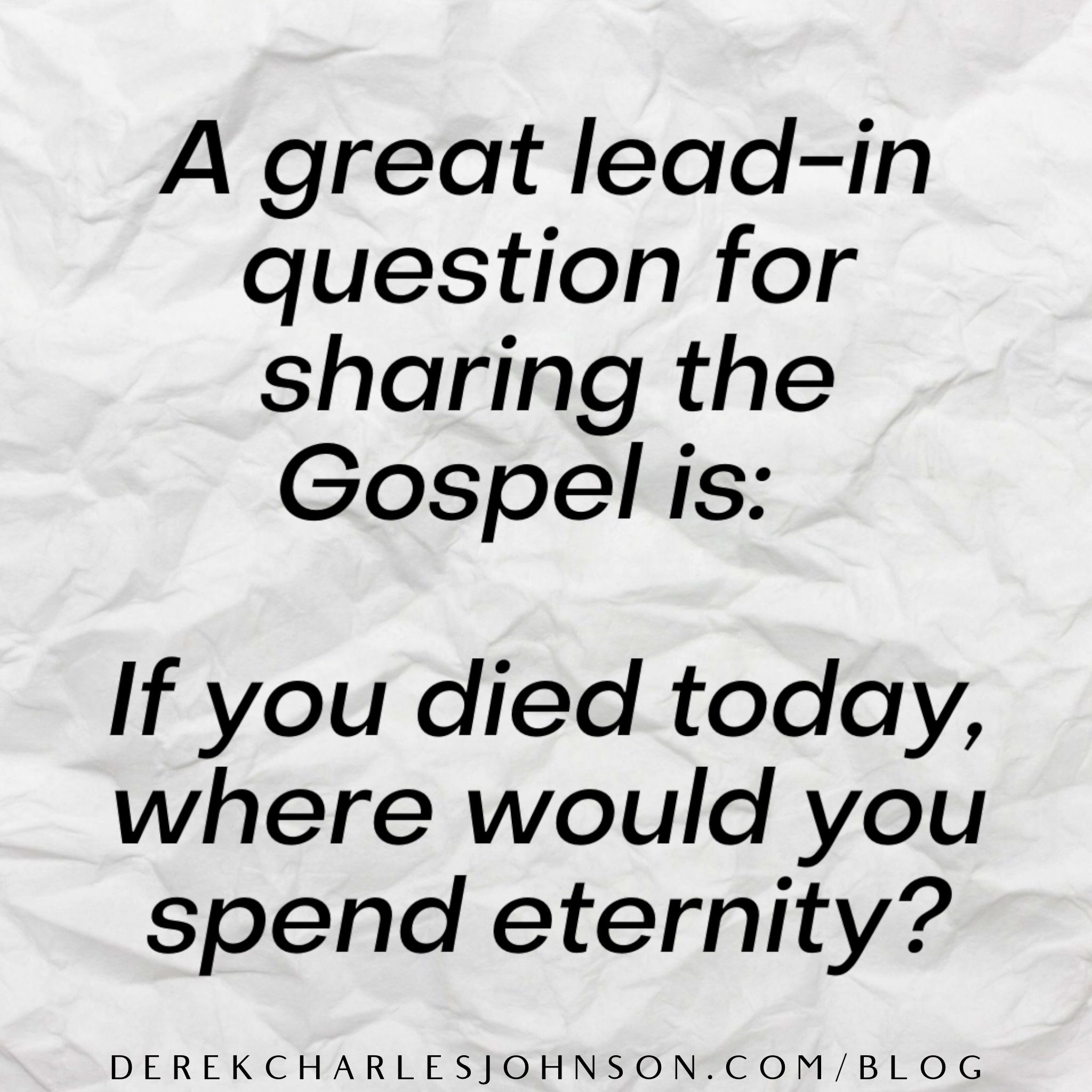 When you consider this world, are you optimistic about things?  Why/why not? 
Yet you do not know what tomorrow will bring. What is your life? For you are a mist that appears for a little time and then vanishes.  James 4:14 
This is an interesting question because polling data reflects many just don't feel too optimistic about where things are headed right now.  They may not be able to put a finger on exactly why.  But (again) after all the last few months have brought, there is a feeling of despair that many have.  And that can be a great lead in to this idea that life was created by God for perfect harmony with Him.  Sin entered and with the fall, we have broken fellowship with our Creator.  Until Christ's return, we will always live in a fallen world and things will not look the way they were intended.  So a lack of optimism is a real thing.  Even as Christians we realize this world will pass away.  We cannot get too comfortable here because this is not our home. 
Do you believe Jesus is the Son of God? 
She said to him, "Yes, Lord; I believe that you are the Christ, the Son of God, who is coming into the world."  John 11:27 
This question in our progression of thought is a big turning point.  Jesus is absolutely the stumbling block for some.  Even people who believe God and believe that Jesus existed have difficulty truly articulating Who Jesus was/is.  And for some, that just means He was only a good teacher or a nice person and so on.  But to truly establish Jesus as God's Son and as fully human/fully divine…well, that is a BIG step for many.  Because once we go there, we have a duty to respond.  Ok, if Jesus really is the Son of God what does that mean for me?  Well, He said He is the only way to the Father (John 14:6).  That's a big statement.  If He was crucified and the tomb is empty, what does that say about His power over death?  Why did He have to go to the cross?  On this point alone, a lot of questions begin to open up and this is where a believer in Christ can help "lead" a person to process these things.  It may not be a one-time discussion but rather a series of conversations and retuning to things as an individual processes it all.  It is important to pray here for the Holy Spirit to open up a person's heart and allow their mind to receive truth.  It can be like drinking from a firehouse at times because once eyes are opened, there's no going back!  But praise God for His revealing of truth!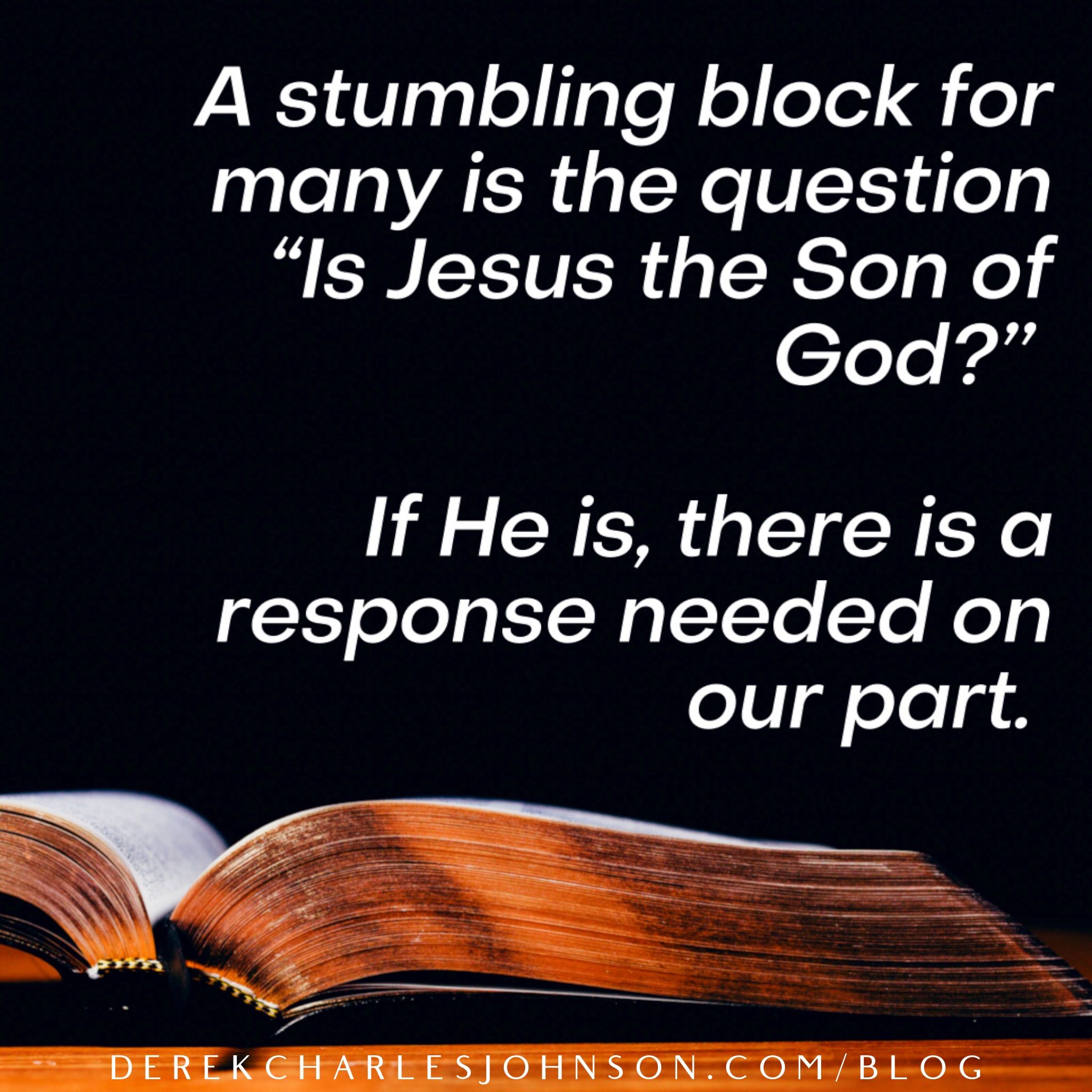 Jesus had a lot to say about His return, the End Times, and even things we seem to be facing right now?  If Jesus is really real, can you trust Him? 
At that time people will see the Son of Man coming in clouds with great power and glory.  Mark 13:26 
Going even further (sorry to keep hammering away on this!), we can continue this idea of "Things Jesus said about x,y, and z."  Here we simply open up Scripture and take them to places like Matthew 25 or Mark 13 or John 14,15 where Jesus talks about many things concerning the last days.  If Jesus is established as truth and reliable, then His words are an extension of that.  We can look at our world in light of Scripture and see where certain things seem to be at least starting to line up with those chapters.  Even if we cannot definitively state "Yes we are in the last days," we know we are starting to see things that look like what Jesus was talking about (remember our first week's discussion The Big Question:  When Will Jesus Come Back?).  With an open door and an open ear here, we have the opportunity to speak into lives with the Gospel with the backdrop of all that is going on.  It can be a real moment to say "With everything that is wrong with this world, why would you not trust Jesus?" 
What holds you back from trusting Jesus today? 
Because, if you confess with your mouth that Jesus is Lord and believe in your heart that God raised him from the dead, you will be saved.  Romans 10:9 
You know it's interesting, even with all the facts and truth put right in front of someone, there's still a possibility they will walk away in disbelief.  And we have to be OK with the idea that some will reject the message we have.  A couple things we must remember:  we do not "save" people.  The Holy Spirit does.  And this:  when the message is rejected, they are ultimately not rejecting you or I.  They are rejecting Jesus and our Lord.  So we cannot take things personal even in the midst of some very hard conversations (and with people we care deeply about).  We must give it all over to the Lord.  This final question really does make a person lay all their cards on the table.  It's basically, "Now you know the truth.  What would keep you from accepting Christ?"  For some, the evidence will be too overwhelming and they'll want to know how to be saved on the spot.  Praise Jesus.  Others may not be ready but open to the idea.  Keep praying for them…they are close.  Finally, others will make up some excuse or reason why it's not for them.  They might try to hide behind some scientific or philosophic answer.  But know that in their heart, a seed has been planted.  You may not be the one who leads them to the Lord.  But someone else down the line just might.  Never stop praying!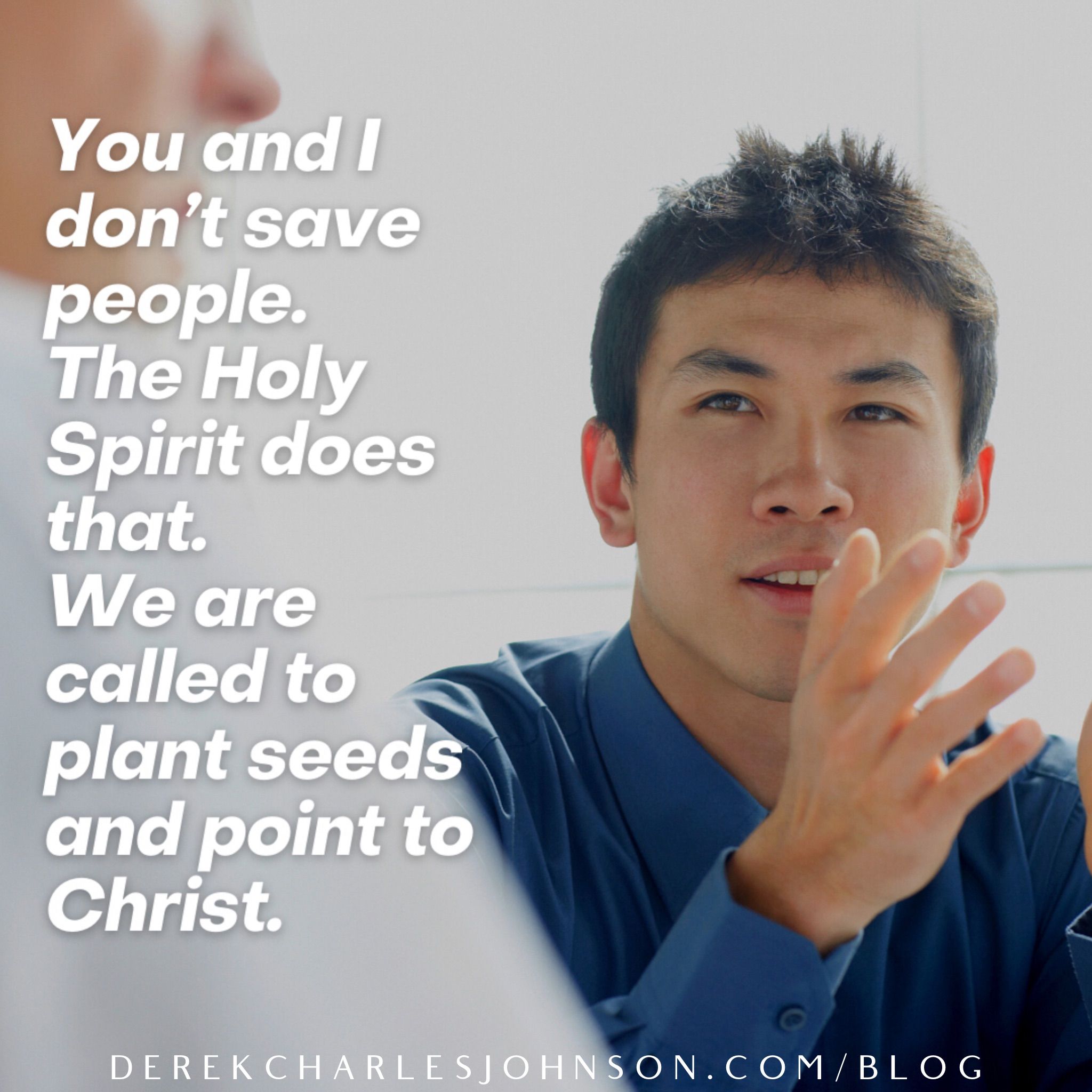 ---
As I end, I am prayerful that this is helpful to someone, somewhere.  I believe the series this month needed a week in which we just addressed sharing our faith.  This may not be exactly how you would go about having this conversation and that is fine.  I realize my trail of thought will look different from someone else.  And admittedly, I have left holes in this discussion that may need to be filled in with other questions and further digging.  That is why it is on us to be prayed up, read up, and then confident in the Lord as we enter into these discussions! 
I want to leave you with a story that ties back into all of this.  It's one that I regret having to share.  I can remember over a year ago walking out of the place where I work and because I lock up the department I work in, I had to find a manager to get me the necessary keys.  This was right at the onset of COVID and the hysteria of everything (the absolute panic) was just starting to set in.  I'll never forget finding that young manager who could get me the keys and the jaw-dropping statement he made to me.  As he assessed the dire situation it seemed we were entering into he said, "Well I guess if it's my time to go, it's my time to go."  Granted, we know so much more now about the probability of anyone dying from this virus.   But aside from that, I did little at the time to point this young man to Christ.  I was probably swept up in some of the fear myself.  I just went away nodding in agreement…leaving wide open the door of opportunity to say something, anything really about Christ.  I regret that missed opportunity and I realize now that I must be better prepared in the future.  We have the ability to point any hopeless situation to the reality that Jesus is coming back!  In that we can take much hope! 
I pray that motivates you as well today!  We must rely more and more upon the Holy Spirit in these times and less and less upon our own power.  He will give us words to speak in the moment they are needed. 
I love you guys and love walking this journey with you. 
Sign up to get these blogs delivered to your email inbox!  Visit http://derekcharlesjohnson.com/as-bold-as-lions 
Let's connect: 
Email:  info@derekcharlesjohnson.com 
Facebook:  https://www.facebook.com/derekcharlesjohnson1/ 
Instagram:  http://instagram.com/derekcharlesjohnson 
MeWe:  https://mewe.com/p/derekcharlesjohnson 
Be very careful, then, how you live—not as unwise but as wise, making the most of every opportunity, because the days are evil.  Therefore do not be foolish, but understand what the Lord's will is.  Ephesians 5:15-17