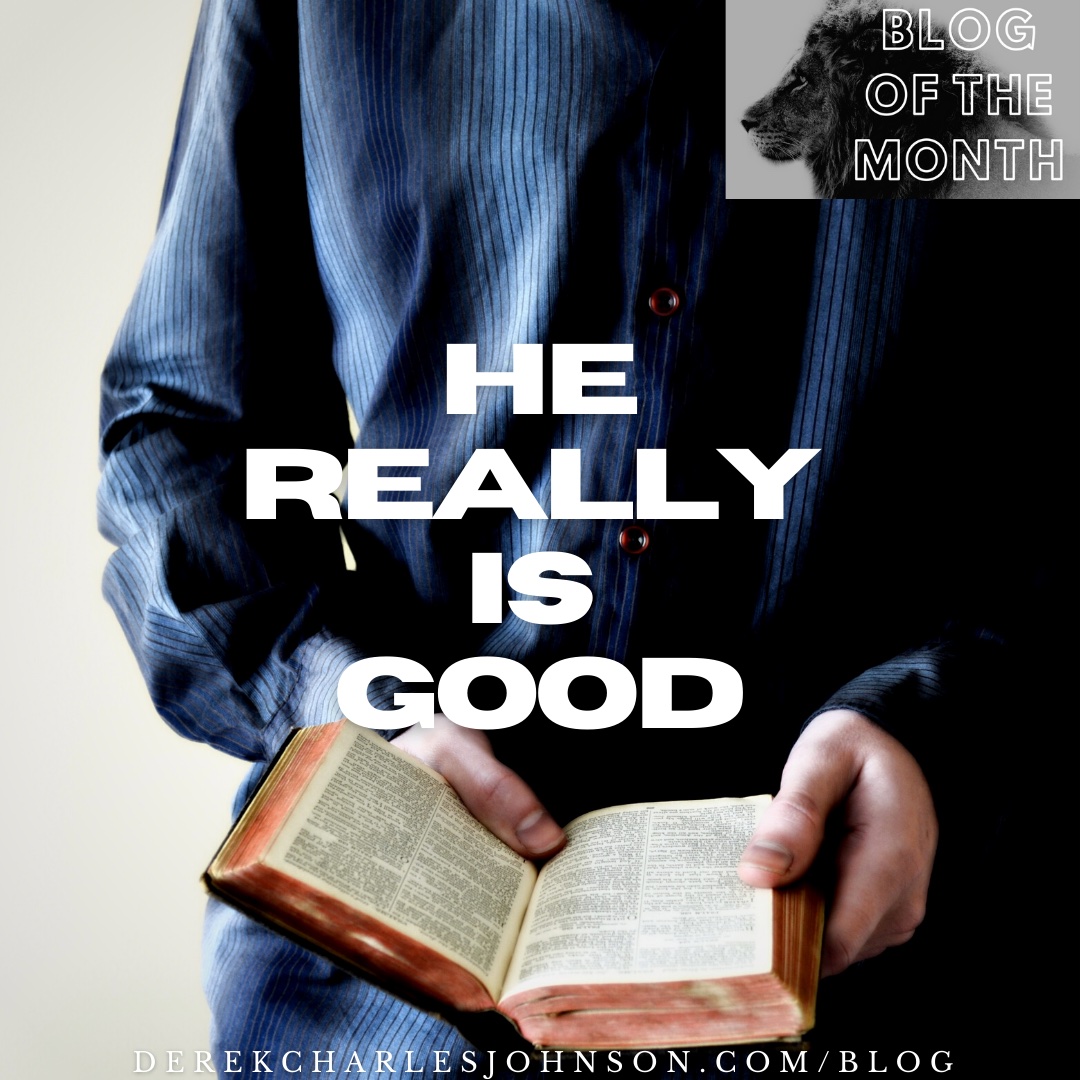 The Lord is good, a stronghold in the day of trouble; He knows those who take refuge in Him.  Nahum 1:7
Alright, we're about half-way through 2023 and I feel like it's time for a bit of a spiritual gut-check.  At least it is for me.  When thinking about the blog and podcast and where the rest of the year is headed, I felt impressed to hit the "pause" button and do some self-reflection…and definitely some God-reflection.  It's pretty crazy the year has flown by this fast.  It seems like I was just planning out how to start 2023 and here I am, already looking at the 6 months that are left and gearing up to finish strong. 
As I began to think on these things, I consider that many of my posts and blogs have an element of "doom and gloom" to them.  Perhaps it's not always intentional but at times it can be a running theme that needs some balance.  Certainly we've talked about heavy things:  on the podcast I've looked at The Armor Of God and tackling issues like apologetics and combating false gospels.  On the blog (and podcast by default), we've sought peace within chaos and grappled with the very sensitive topic of the trans movement.  Part of it simply reflects the mood and feel of the day.  We are soldiers in a battle.  The enemy is not out to just nudge us back a little bit.  He wants to kill and destroy.  We have to be aware of this.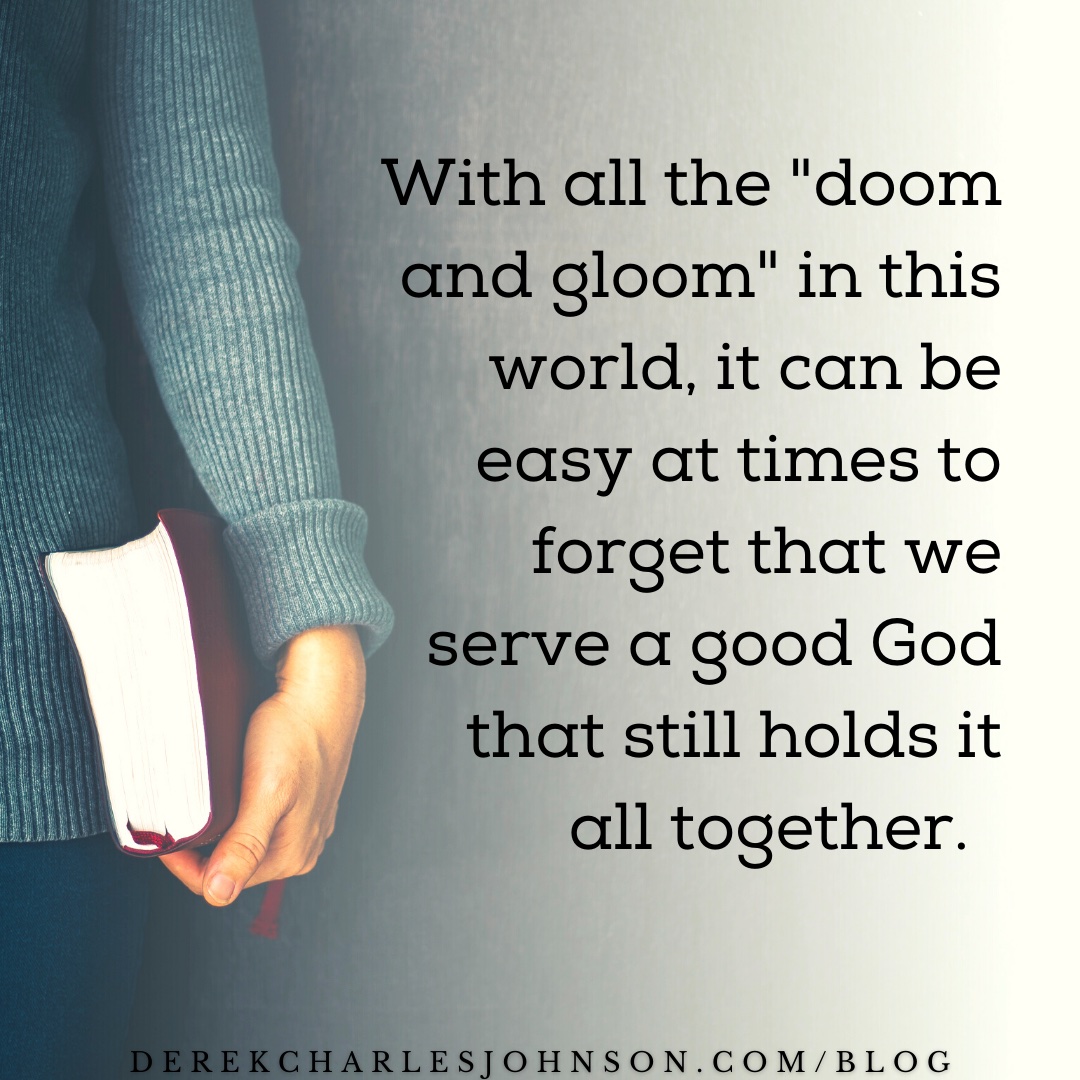 Still, I come into this month thinking upon one thing:  the goodness of God.  Just how good is He?  And how remarkable is it that He cares for and love us…His children?  I often forget and take for granted the magnitude of His lovingkindness towards us.  I look at all the things that make it seem like the bad is outweighing the good and it's God's job to fix it.  And yes, someday He will when He comes back.  But do I take time to ponder it's His goodness that holds the world together?  That the reason things aren't as bad as they could be is because He is merciful and gracious; in short, He is good!
So with that as a preface today, I'd like to jump into this topic…outlining some ways the title is accurate:  He Really Is Good.  Scripture shows us the promises.  It's up to us to lay hold of them and claim them.  Let's examine some of these things together in bullet-point, rapid-fire fashion:    
1. God's goodness came before we even put our trust in Him
But God shows His love for us in that while we were still sinners, Christ died for us.  Romans 5:8
This verse really speaks for itself.  Even before we laid claim to Christ's gift of salvation, He died for us.  Before we even knew or desired Him, He had a plan.  Paul makes it clear that this is a demonstration of love and it truly is.  Would we do this for anyone else?  Do we even have the full capacity to appreciate that this was done for us?  Sometimes I get glimpses of it and it breaks me.  But I think most days I don't consider the full weight of this truth.  Christ died for me while I was His enemy.  While I was on a road to Hell, He met me from Heaven.  That is truly good.  
2. God's goodness means we have an inheritance
And because you are sons, God has sent the Spirit of His Son into our hearts, crying, "Abba! Father!"  So you are no longer a slave, but a son, and if a son, then an heir through God.  Galatians 4:6,7
But the father said to his servants, "Bring quickly the best robe, and put it on him, and put a ring on his hand, and shoes on his feet.  And bring the fattened calf and kill it, and let us eat and celebrate.  For this my son was dead, and is alive again; he was lost, and is found." And they began to celebrate.  Matthew 15:22-24
Think of this:  we went from outsiders and strangers to being brought in and given the keys to the mansion and the company car.  Now, this is not a health and wealth message.  Not at all.  But metaphorically-speaking, we have an inheritance that awaits us.  And it cannot be destroyed.  We were the prodigals; the ones far from Him.  But He has lavished upon us the best.  And I mean, THE BEST.  We sometimes forget that in a doom and gloom world.  We have to look at how excited He is as a Father knowing that we are back in the fold.  That's how He feels each day about His children and that's the perspective He wants us to have as we preach the Good News to a dying world.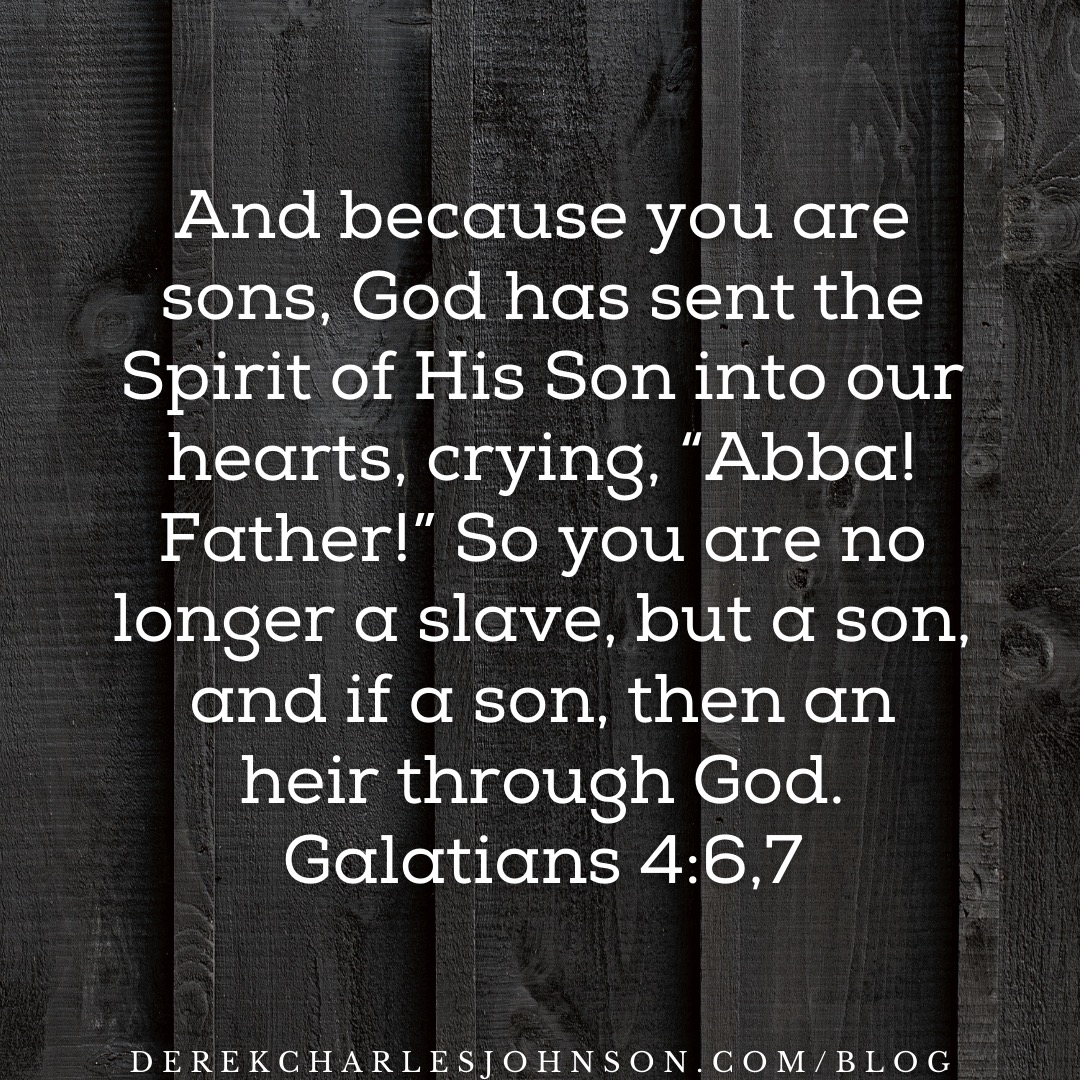 3. God's goodness means He is still at work within this world
So, because Jesus was doing these things on the Sabbath, the Jewish leaders began to persecute Him.  In His defense Jesus said to them, "My Father is always at His work to this very day, and I too am working."  John 5:16,17
The context of these verses in John come after Jesus heals an invalid man at the pool (John 5:1-15).  He is being challenged.  He is being persecuted about this healing.  And it's all from "religious leaders" who do not understand the work He is doing.  And to be certain, the work still goes on today.  He is working through the Holy Spirit to reach the lost.  To heal.  To restore.  And for those things, He is good.  He is not a God Who would leave us to our own devices or just says "Figure it out."  He is close to us as we go out and live for Him on a daily basis.  Based on the Beatitudes (Matthew 5:3-12), He is near when we are humble, when we face persecution, when we seek peace, are pure in heart, and so on.  Those are real promises that extend from the goodness of His character.  
4. God's goodness means He has a plan for your life
And we know that for those who love God all things work together for good, for those who are called according to His purpose.  Romans 8:28
This verse from Romans is easy to pull out of context and again, use as a platform for some sort of "name-it-and-claim-it" off-shoot, false gospel.  That's not what it means.  His plans are for good.  Will there be difficult days, hardships, persecutions, and the like?  Certainly.  But somehow, someway, God still uses ALL of that for His good.  This verse should leave us asking the question to ourselves:  Am I called according to His purpose?  If so, the work is never over this side of eternity.  The goodness of God that accompanies that work will never run out.  His mercies are new everyday and great is His faithfulness!  (Lamentations 3:22,23). If you've been struggling with a plan for your life, may I remind you that your identity is first and foremost being His child and His treasured creation.  He will show you His will and it will be beyond even what you could dream up on your own.  But trust Him.  Remind yourself that He is still good.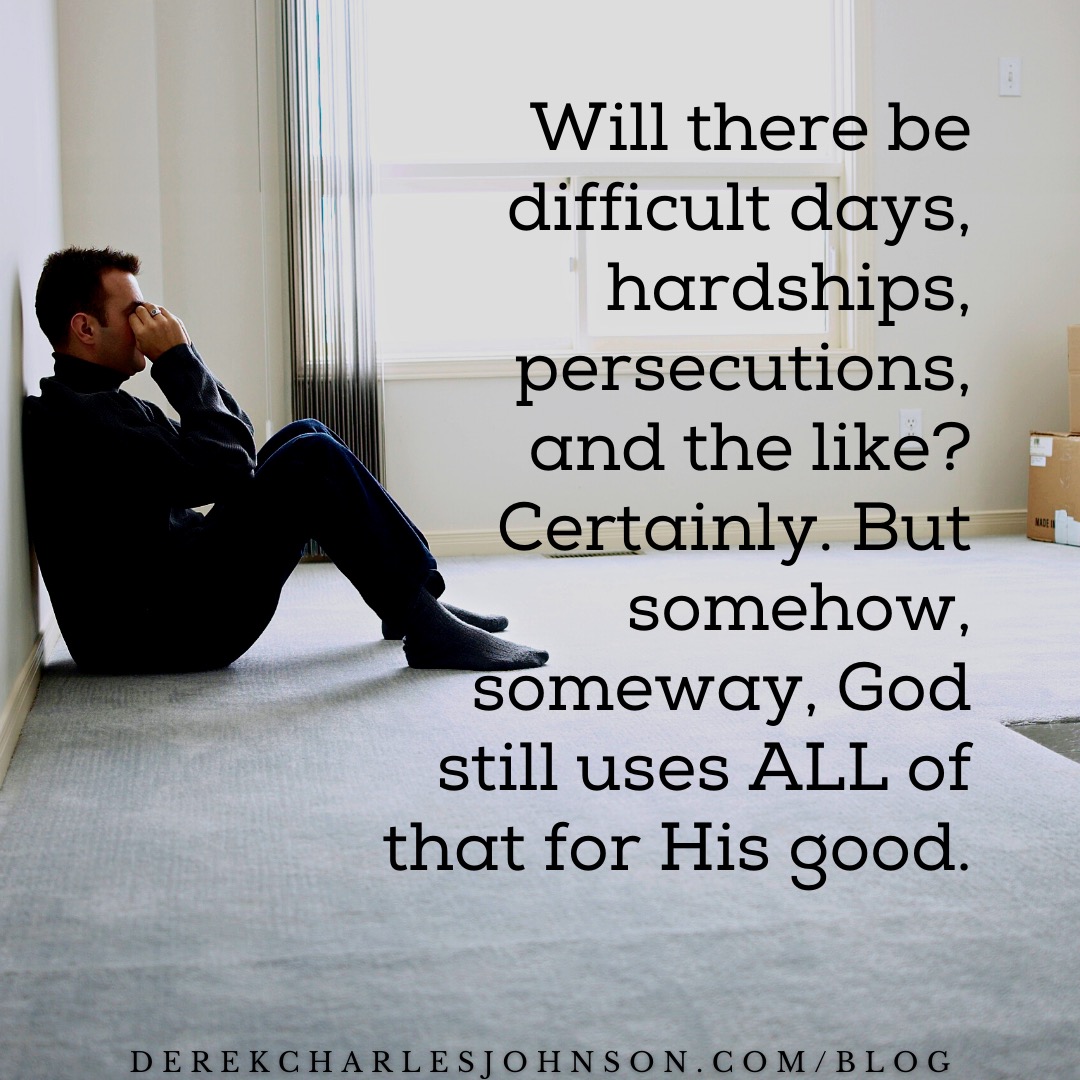 Guys everything else aside, I just want to leave you with some hope today.  We possess a hope that cannot be shaken or taken away from us if we are in Christ.  Yes the world looks bleak right now.  We have corruption in our government.  Sicknesses and wars.  Famines and financial crises.  And we can camp out in those things.  But when we do, we give more time to what is wrong and broken in this world and less time to the One Who can fix it.  We have to keep fixing our eyes on Jesus, the Author and Perfecter of our faith.  He has not brought us this far to fail.  We are alive in this very time and place for a reason.  Don't ever forget that.  
If I can share a bit of my journey so far this summer, I can just tell you I have seen His goodness.  My wife and kids and I have traveled many miles.  I've gotten the opportunity to go new places with my music ministry.  I've met some amazing Christian brothers and sisters.  And my own family (specifically my boys) have borne witness to all of it.  My 3 oldest have started playing some songs with me and it's such a blessing to experience the Lord's favor along our path.  It's not because we're worthy or somehow earned it.  It's only because He is good and loves to give good gifts to His children.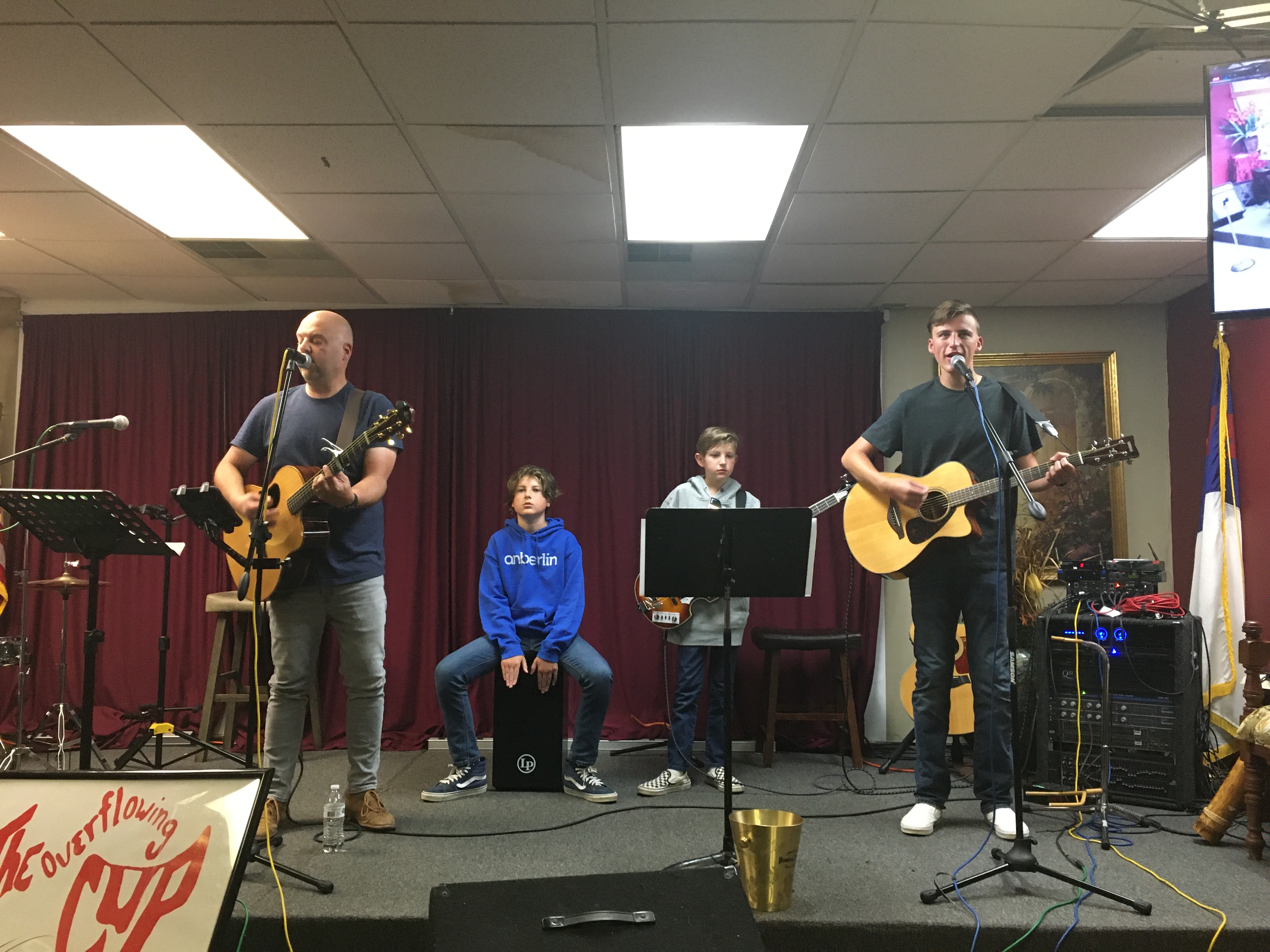 ***That being said, I'd love to see you if I'm anywhere near you the rest of the summer and into the fall.***  
It is a joy to go out and see how God shows up!
Guys I love you and I love walking this journey with you.  If there's any way I can be in prayer for you or if you just need to chat, my email is below.  Don't hesitate to reach out.  Take some time to reflect before the summer is over.  And think upon just how good the Lord truly is!
Sign up to get these blogs delivered to your email inbox!  Visit http://derekcharlesjohnson.com/as-bold-as-lions 
 
Let's connect: 
Email:  info@derekcharlesjohnson.com 
Facebook: https://www.facebook.com/derekcharlesjohnson1/ 
Instagram: http://instagram.com/derekcharlesjohnson 
Be very careful, then, how you live—not as unwise but as wise, making the most of every opportunity, because the days are evil.  Therefore do not be foolish, but understand what the Lord's will is.  Ephesians 5:15-17