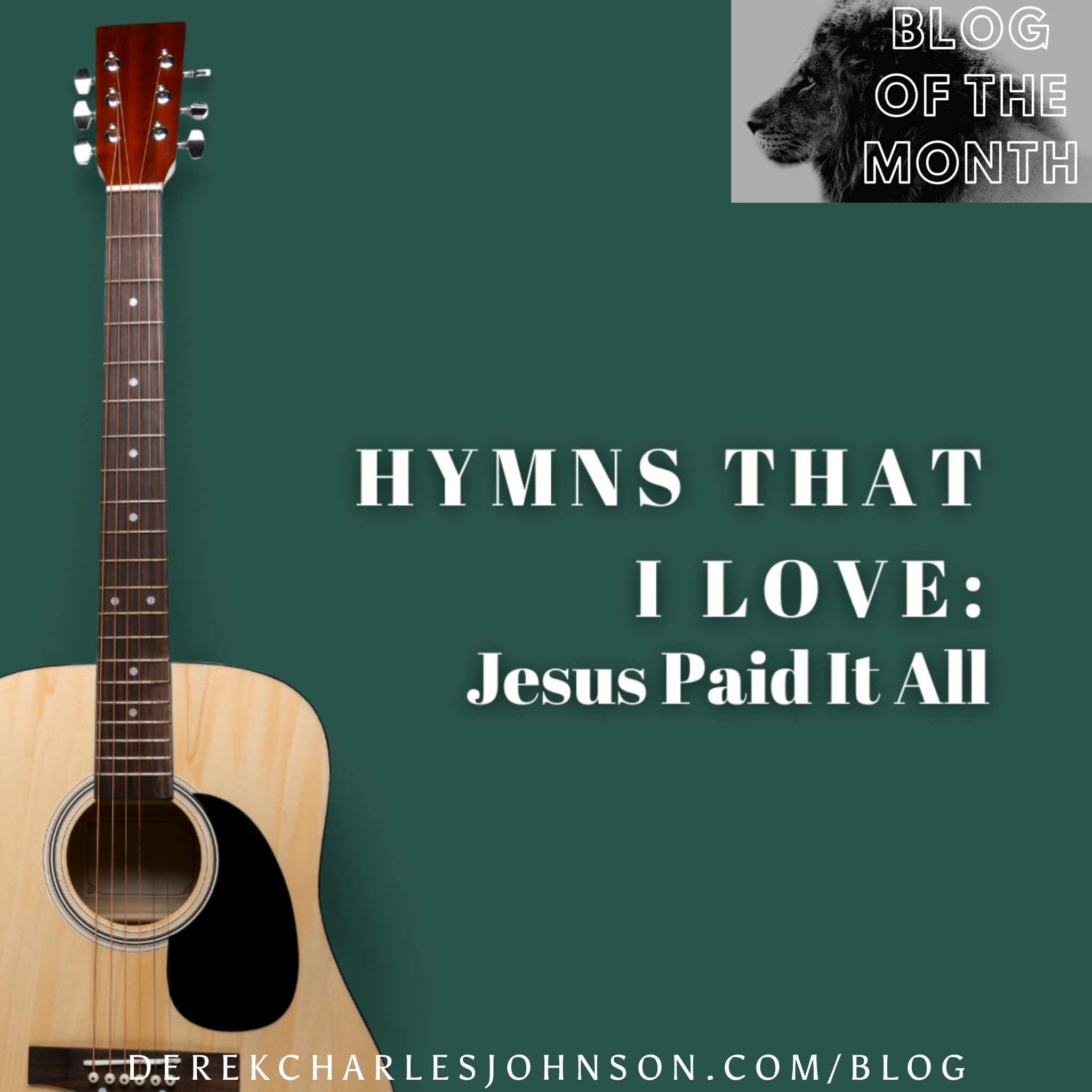 I hear the Savior say,
"Thy strength indeed is small,
Child of weakness, watch and pray,
Find in Me thine all in all."
Jesus paid it all,
All to Him I owe;
Sin had left a crimson stain,
He washed it white as snow.
Lord, now indeed I find
Thy pow'r and Thine alone,
Can change the leper's spots
And melt the heart of stone. 

Jesus paid it all,
All to Him I owe;
Sin had left a crimson stain,
He washed it white as snow.

And when, before the throne,
I stand in Him complete,
"Jesus died my soul to save,"
My lips shall still repeat.
Jesus paid it all,
All to Him I owe;
Sin had left a crimson stain,
He washed it white as snow.
Lyrics:  Elvina M. Hall
Musical Arrangement:  John T. Grape
It's been awhile since I've done a blog on a song or hymn and I felt like this month was a good opportunity to do so (especially with Good Friday and Resurrection Sunday).  If you've read my blog for any length of time, you may remember columns written about worship songs (by artists like Phil Wickham, Sanctus Real, Cory Asbury) or even a whole series concerning the origin and meaning of beloved Christmas songs (Songs Of The Season).  My AS BOLD AS LIONS Podcast has kept up with it more recently.  In the last year I've released some new music (hymns specifically) and discussed those in various episodes. 
So it is today with this blog (and accompanying podcast).  In March, I released a cover/live arrangement of a hymn I truly love:  Jesus Paid It All.  It might be my favorite hymn.  I'm not sure; it's honestly too hard to choose.  But it's in my top 3.  With more modern arrangements and retellings of this song, Jesus Paid It All has made a resurgence in recent years.  Prior to Kristian Stanfill's reworking of it in 2006 (with Passion), I honestly had never heard it.  Growing up in the 80s and 90s, modern worship music was on the rise.  Sadly, many hymns took a backseat for awhile and I think we relied too heavily on the new and the "fresh."  I could go down a rabbit trail on that topic in terms of where worship music is at in 2023.  I won't but I certainly have my own convictions which have shaped and changed a lot over my 45 years of life!
As you may recall, my hope in looking at any song is to present to you the meaning and context behind it.  Digging in, I want to look at 3 verses and the refrain that is between each.  However, first I want to begin with the story of author Elvina M. Hall and how Jesus Paid It All came into existence.  
Elvina was born June 4, 1820 in Alexandra, Virginia.  She was married twice; her first husband Richard Hall died in 1859.  She remarried in 1885 to Thomas Myers, a Methodist minister.  Jesus Paid It All came about, as the story goes, during a Sunday morning worship service.  Hall attended Monument Street Methodist Church in Baltimore, Maryland and sang in the choir.  On one particular morning, the pastoral prayer was going quite long and Elvina's thoughts began to drift.  She started jotting done some lines of poetry in the flyleaf of her hymnal.  These lines became the lyrics to Jesus Paid It All and she took them to the church organist, John T. Grape, who just so happened to have a melody that fit with the words.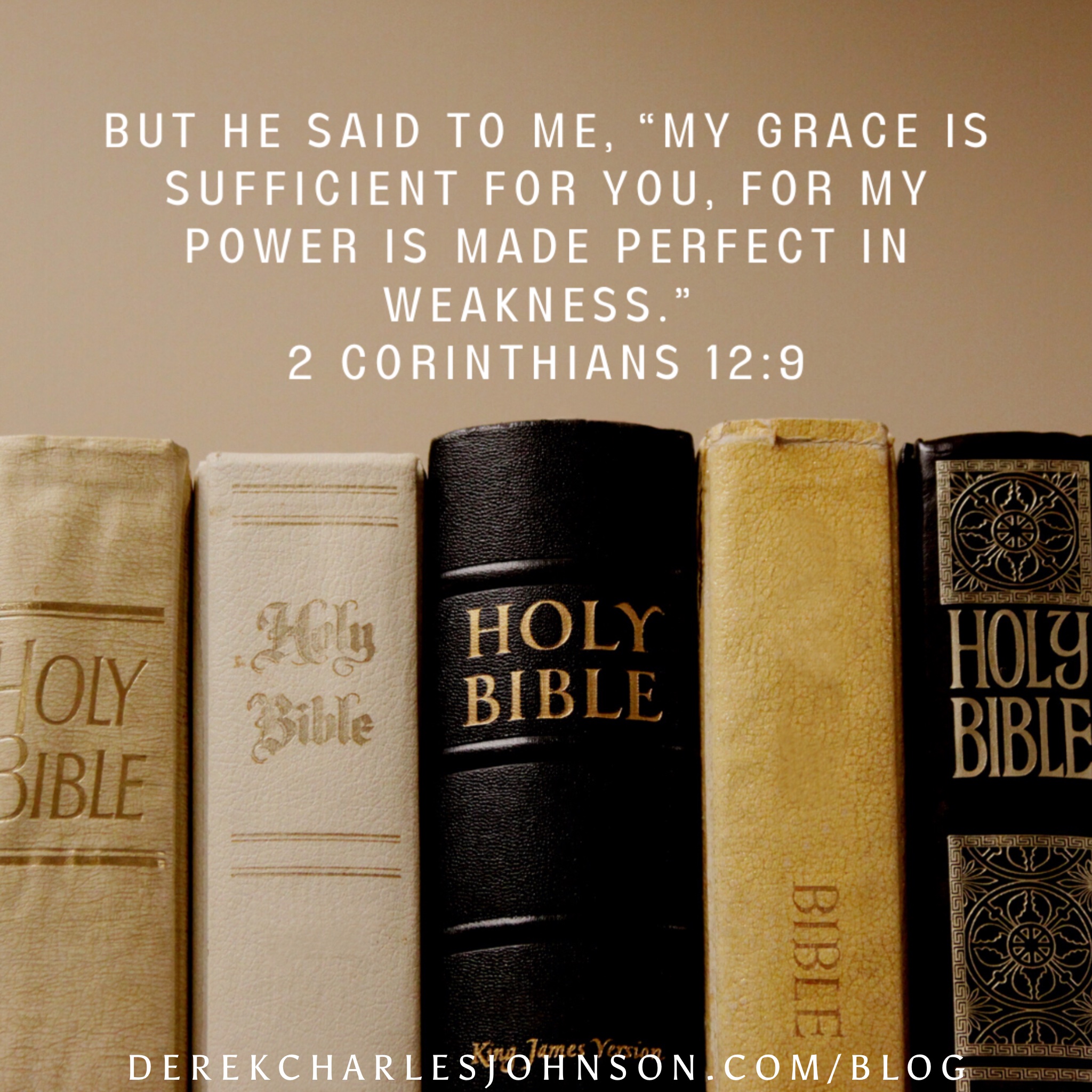 With their pastor's urging, Hall and Grape submitted the hymn to a publisher of a periodical called Sabbath Carols.  (Side note:  what did her pastor think when Elvina admitted to daydreaming during his long-winded prayer and penning this song?  He must not have been too offended!)  The song was published for the first time in 1868; in the post-Civil War era.  There were several alterations to the text from its original phrasing and the form we have today appeared in 1874 in the Gospel Song Book Collection.  Elvina Hall passed away in 1889.  
But He said to me, "My grace is sufficient for you, for My power is made perfect in weakness." 2 Corinthians 12:9
What I love about this hymn is the opening verse which presents the truth about us and about Jesus:  "Thy strength indeed is small, child of weakness, watch and pray, find in Me thine all in all."  The first time I heard this song, I actually was taken back by its penetrating truth:  my strength is small.  Jesus comes to us in our inadequacy but does not leave us there:  He says "Find in Me thine all in all."  In other words, "Find your strength in nothing else but Me."  Daily I need that reminder!  
Lord, now indeed I find, Thy pow'r and Thine alone, can change the leper's spots and melt the heart of stone. 
Again in this verse there is the realization that I cannot cleanse myself.  I can't heal the sin disease I have (spiritual leprosy) and I cannot change out the heart of stone for a heart of flesh.  But…Jesus can.  There's a finality and a completeness about this song that speaks of absolutes in a world that just wants half-truths.  He paid it ALL.  It's His power and His ALONE.  It is a good point to come to as we recognize the end of ourselves is the place where He begins.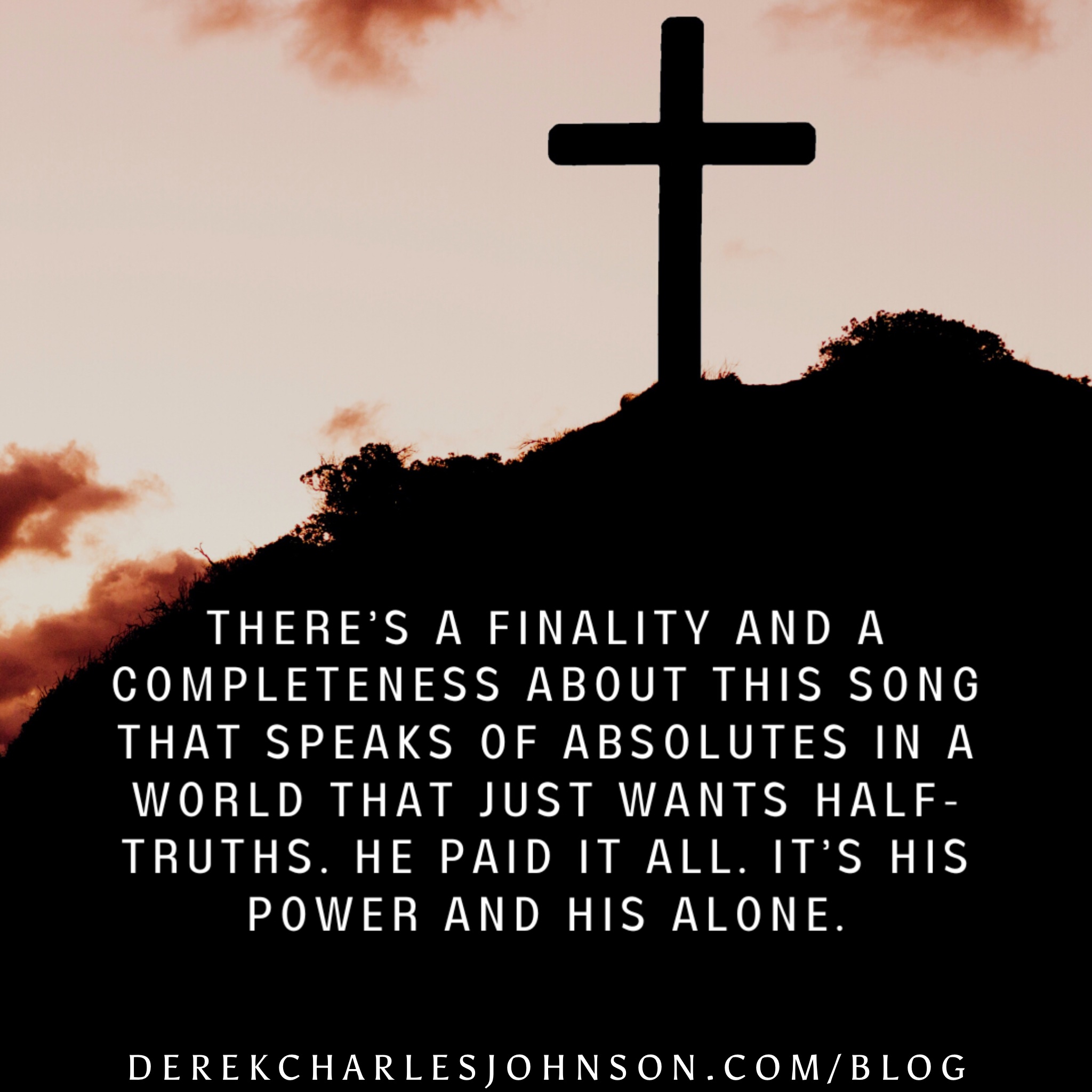 Taking into consideration the last verse and the refrain (the song has 4 verses but I'm leaving one out), our eyes are pointed to Heaven and to our great reward with Him.  In that place, we will "stand in Him complete," and we will declare with our tongues that Jesus that saves.  It will be a place of total fulfillment and joy; even as now we see just a shadow of it.  The words of Elvina Hall echo as the song comes into its last refrain:  Jesus paid it all, all to Him I owe; sin had left a crimson stain, He washed it white as snow."  What a blessed thought!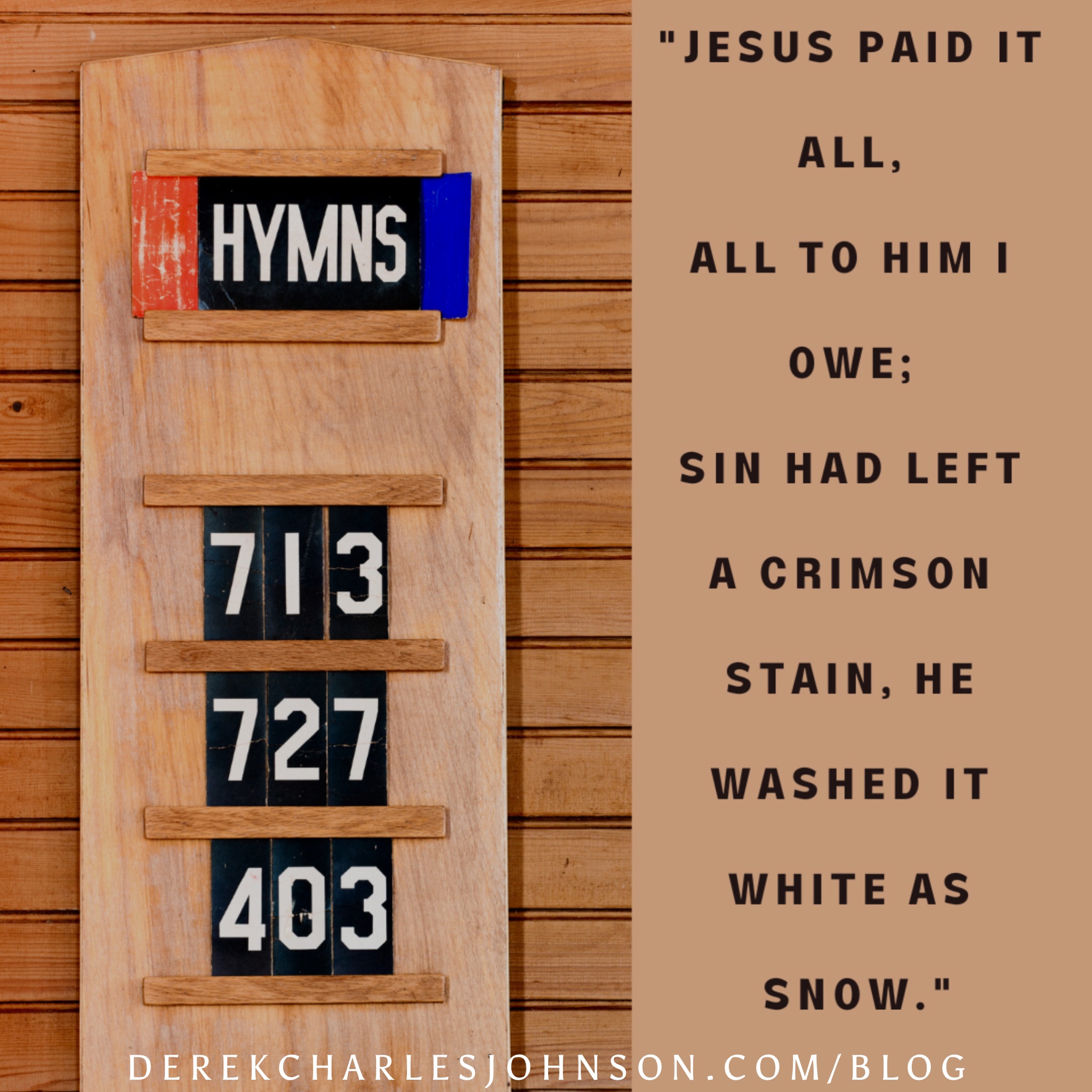 As we end this entry today and consider the cross and the empty grave once again, may the words and meaning of Jesus Paid It All be in our minds.  Every year as Holy Week approaches, my thoughts can be too easily removed from the reality of what actually took place at Calvary.  I can even consider, is my strength really that small?  Did Jesus really have to die?  I'm a pretty good person.  I've lived a decent life.  Certainly all of that must count for something!  
All of us have become like one who is unclean, and all our righteous acts are like filthy rags.  Isaiah 64:6
Yes my sin did put Him there.  There's no part of me that is somehow "good enough."  My only good comes from Him and the work He is doing in me.  I pray that as you hear this hymn and others this season, you are drawn to the reality once again that we're sinners redeemed by the grace and mercy of Christ.  Jesus truly paid the price that we owed.  He made the way for our salvation.  If trusting in Jesus is a decision you need to make, I would love to talk with you!  
You can listen to my single Jesus Paid It All here:  derekcharlesjohnson.hearnow.com/jesus-paid-it-all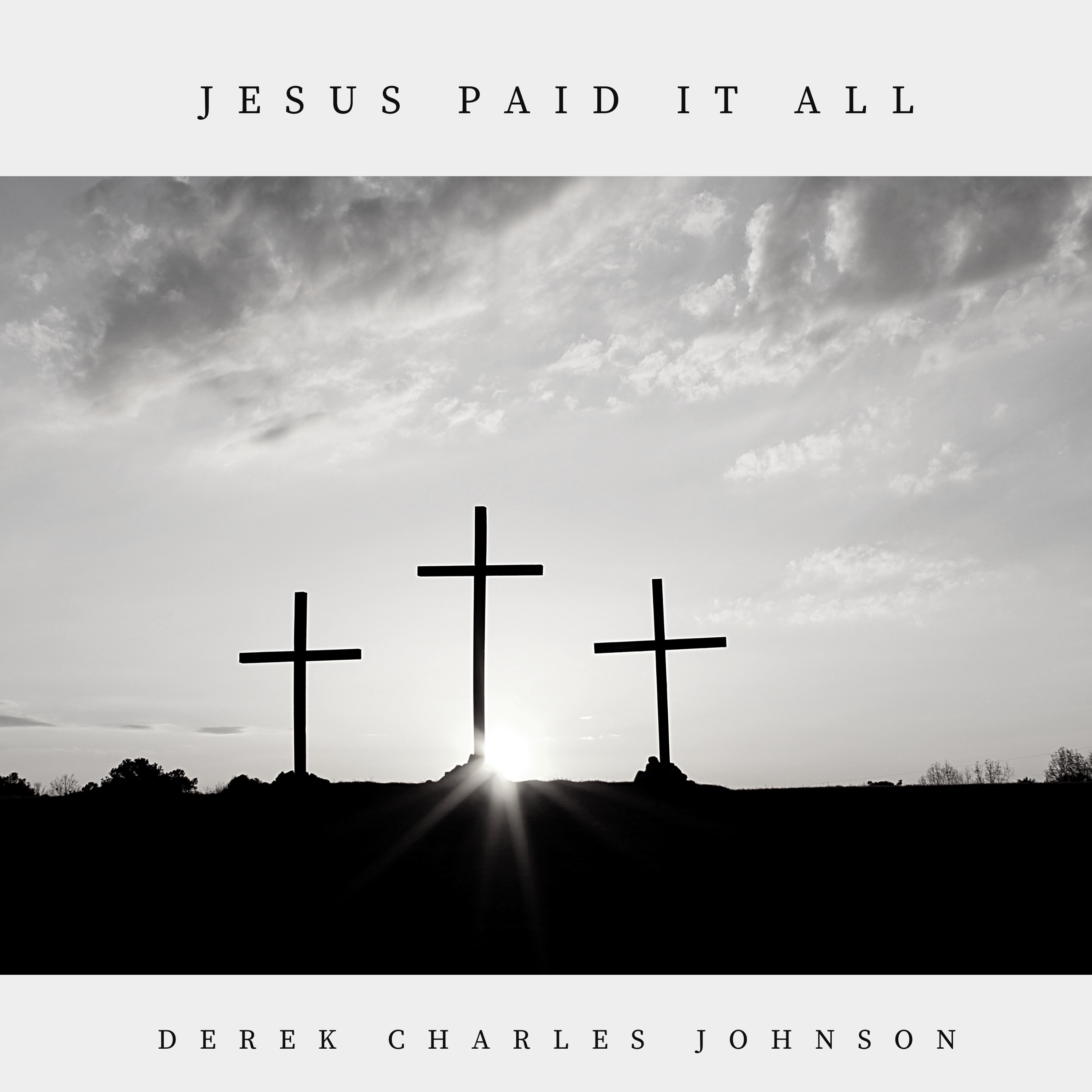 Guys I love you and I love walking this journey with you.  Let me know how you are doing…shoot me an email and let me know how I can pray for you today.  God bless.
Sign up to get these blogs delivered to your email inbox!  Visit http://derekcharlesjohnson.com/as-bold-as-lions 
Let's connect: 
Email:  info@derekcharlesjohnson.com 
Facebook:  https://www.facebook.com/derekcharlesjohnson1/ 
Instagram:  http://instagram.com/derekcharlesjohnson 
Be very careful, then, how you live—not as unwise but as wise, making the most of every opportunity, because the days are evil.  Therefore do not be foolish, but understand what the Lord's will is.  Ephesians 5:15-17