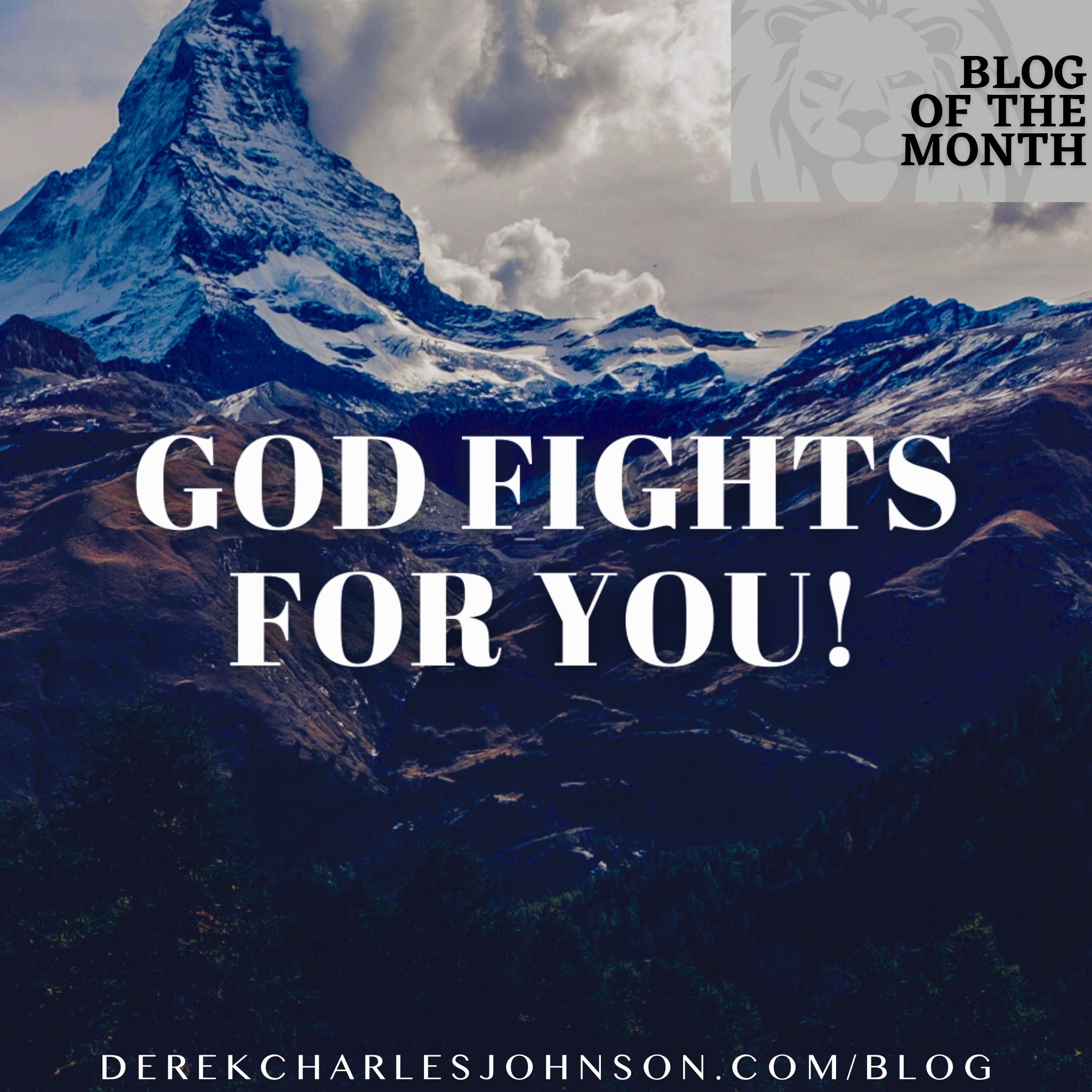 "You will not need to fight in this battle.  Stand firm, hold your position, and see the salvation of the LORD on your behalf, O Judah and Jerusalem.  Do not be afraid and do not be dismayed.  Tomorrow go out against them, and the LORD will be with you."  2 Chronicles 20:17 
As I've been following my Bible reading plan this year, I've been studying much of the historical books of the Old Testament (1&2 Samuel, 1&2 Kings, and 1&2 Chronicles).  To me these are some of the most exciting passages of Scripture; full of heroic battles, prophetic appointments, and the rise and fall of kings.  Tucked away in the book of 2 Chronicles is a story that reminded me of God's faithfulness in the battles we face.  2 Chronicles 20 recounts the battle of Judah under King Jehoshaphat against the armies of Moab and Ammon. 
As most confrontations go, the odds did not favor God's people.  Even the king is afraid but to his credit, he knows the one place he must go for counsel:  He and the nation must seek the face of the Lord.  "Then Jehoshaphat was afraid and set his face to seek the LORD, and proclaimed a fast throughout all Judah.  And Judah assembled to seek help from the LORD; from all the cites of Judah they came to seek the LORD." 2 Chronicles 20:3,4  In verses 5-12, King Jehoshaphat's prayer to the Lord is recorded.  This prayer sets the tone for the ensuing battle.  The king calls upon the Lord to "hear and save." (vs. 9)  In its conclusion, he acknowledges the powerless state Judah lies in; it has nowhere else to turn but the Lord:  "We do not know what to do, but our eyes are on you." (vs. 12)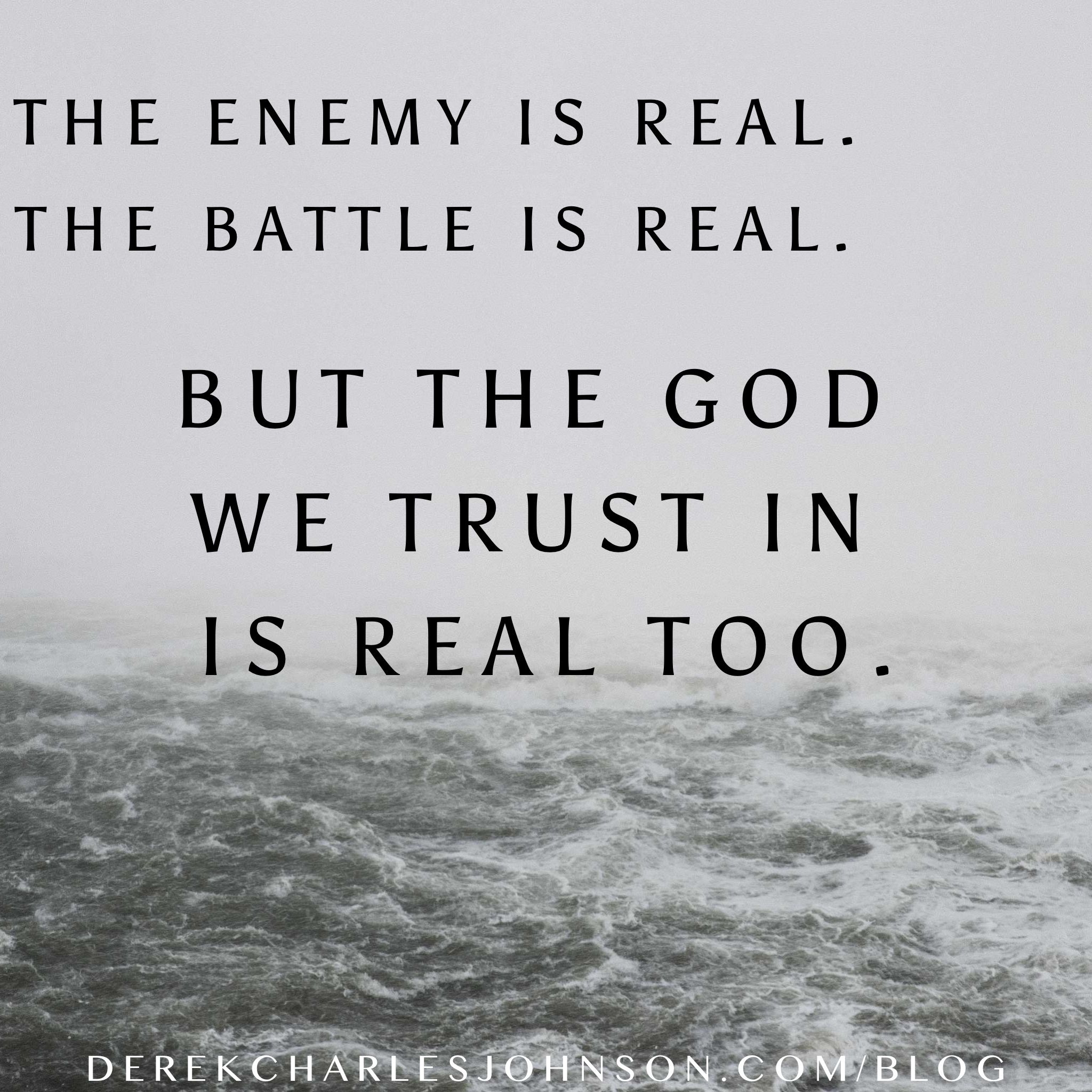 Whether you are in a battle right now or want to be prepared for what lies ahead, there is much we can gain from this passage.  It is easy to say "Oh that was thousands of years ago, God doesn't operate like that anymore."  But I couldn't disagree more.  I believe the takeaways directly parallel the things we face right now.  Today's blog digs into the text and pulls out key points which serve as reminders as we go into war.  The enemy is real.  The battle is real.  But the God we trust in is real too.  He calls us to not run and hide but face our fears and stand in obedience.  Using this chapter as a backdrop (and if you want to put a finger there as you read), let's dive in! 
1. The battle is the Lord's 
Thus says the LORD to you "Do not be afraid and do not be dismayed at this great horde, for the battle is not yours but God's".  2 Chronicles 20:15 
Jehoshaphat seeks the Lord and ordains a fast for the land.  In response to this, the Spirit came upon a man named Jahaziel who prophecies to Judah and the king.  The beginning of his words are in verse 15 and from there, he outlines the battle plan God has for the nation.  "You will not need to fight in this battle.  Stand firm, hold your position, and see the salvation of the LORD on your behalf, O Judah and Jerusalem.  Do not be afraid and do not be dismayed.  Tomorrow go out against them, and the LORD will be with you."  2 Chronicles 20:17  It is clear that the victory will not come because of what Judah does.  It will come because of the Lord. 
So often even as Christians we believe we have to do something in addition to our prayers and our petitions to God.  After all, it can be hard to just sit and wait.  Being totally reliant on the Lord for an answer is a difficult position.  But if we are committed to the battle plan and seeing it fought the right way, God is trustworthy.  We can look at the foe (finances, job, health, etc) and see only the reasons why we won't win.  But God is calling us to put aside fear and seek His plan.  When we do, we see it is not us who do the fighting.  He does. 
2. Worship comes before the victory 
And when he had taken counsel with the people, he appointed those who were to sing to the LORD and praise Him in holy attire, as they went before the army, and say "Give thanks to the LORD, for His steadfast love endures forever."  And when they began to sing and praise, the LORD set an ambush against the men of Ammon, Moab, and Mount Seir, who had come against Judah, so that they were routed.  2 Chronicles 20:21,22 
As often occurs in the Old Testament, the worship team goes out before the army.  Seems like a backwards plan, doesn't it?  But this is the manner in which victory comes.  Praise goes up.  Worship and the exaltation of the Lord occurs.  The army is led by those who are the singers.  From there, God comes in and sets an ambush against the enemy.  They are routed; defeated by their own infighting (vs. 23).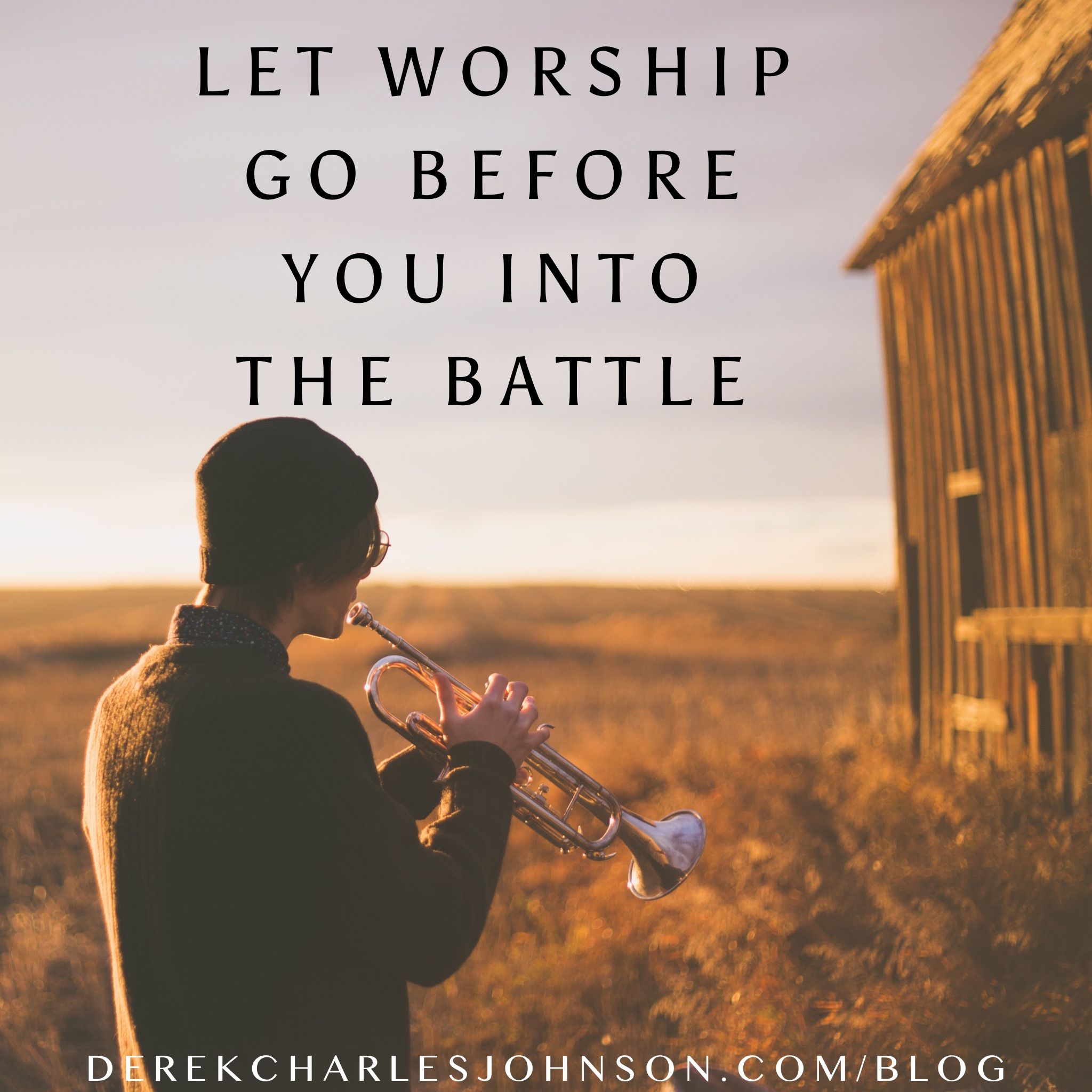 As we look at the idea of "worshipping first" we might think, "What if they lose?  Isn't that a waste of time?"  Often in my life, I devote time to worship when I am facing some sort of difficulty.  Again, in my own power I want to figure out how to overcome.  But before God is going to intervene, He looks at my heart.  Am I willing to praise Him at the onset?  Am I willing to give Him glory so that the credit for the victory goes only to Him?  It is not a natural response, but one we must consider:  am I worshipping before I go into the battle?  How does my perspective change when I allow praise to lead me?  Worship is our weapon! 
3. The enemies of God run in fear 
And the fear of God came on all the kingdoms of the countries when they heard that the LORD had fought against the enemies of Israel.  So the realm of Jehoshaphat was quiet, for his God gave him rest all around.  2 Chronicles 20:29 
An amazing thing happens as a result of Judah's sound defeat of Moab and Ammon:  no other enemy wanted to fight them.  The favor of the Lord comes upon the king and upon the land.  They would experience quiet and rest.  Jehoshaphat's reign totaled 25 years and much of that time was without war.  This is remarkable in a time in which nations always went to war.  It seemed that the people of Judah and Israel were in perpetual strife with some country; often with each other.  So in seeking God's face and following the battle plan correctly, Judah experiences a blessing that extends beyond just a win on the battlefield.  They experience the lasting favor of the Lord.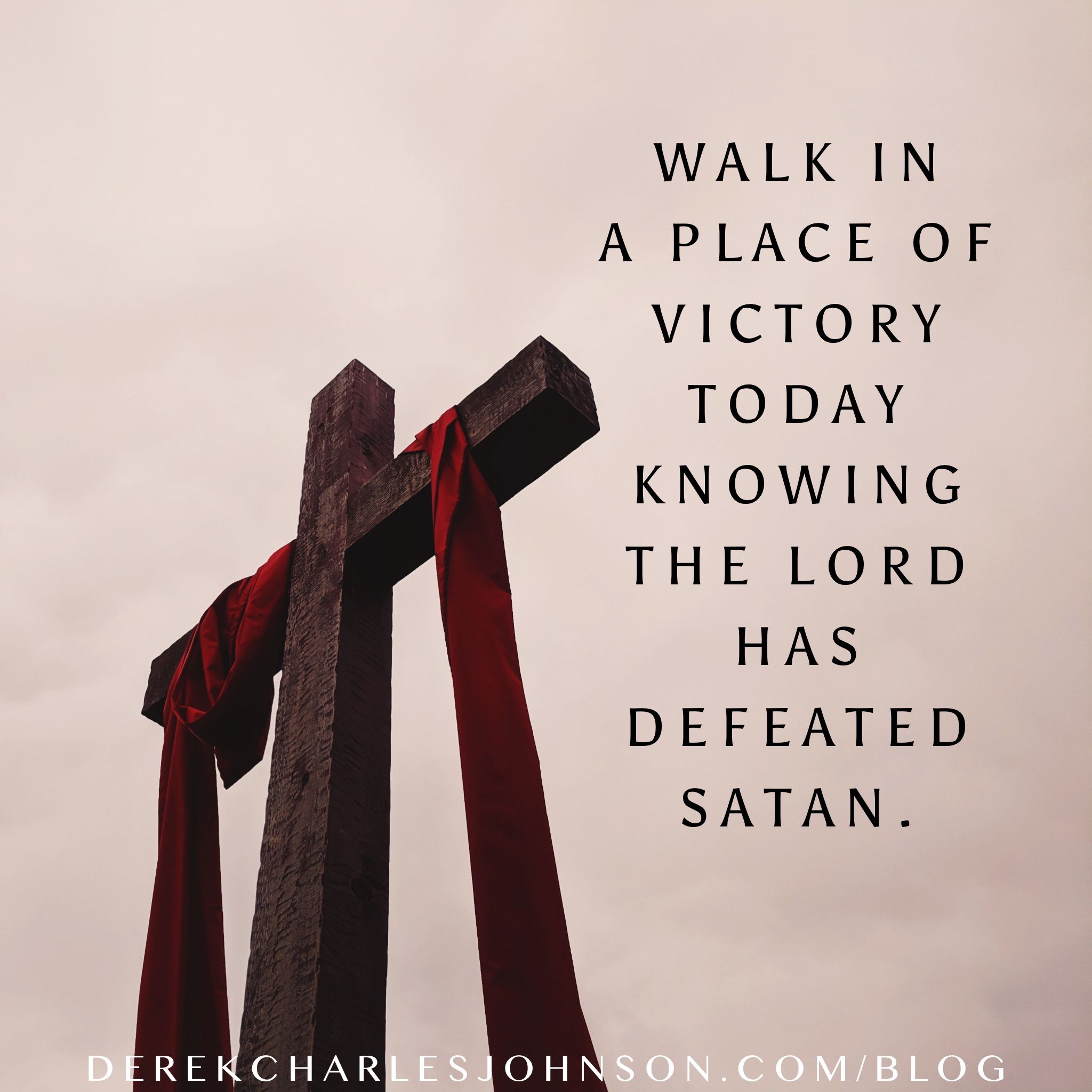 When we align ourselves to God's plan for our lives, Satan takes note.  Certainly he will take aim at us and tempt us to take an alternate path or shortcut from God's best.  But when we truly walk in victory, the enemy has to flee.  He knows that ultimately he cannot touch us; we are the Lord's and we are the sheep of His pasture (Psalm 95:7).  The Shepherd protects His flock.  This is good news for us in Christ!  We have the same access to rest and quiet that ancient Judah enjoyed.  Walk in a place of victory because the Lord has defeated Satan.
---
In doing these monthly blogs this year, I've covered a decent amount of ground.  But I think one of the most important takeaways personally for me has been this shift of thinking:  we walk in a place of victory and that mind shift should impact the way we look at trials, at difficulties…at every battle we face.  With Judah, the Lord set the battle plan and it was lock tight.  Stand in obedience.  Worship before entering the battle.  See the victory and watch the enemy flee.  What truly is different for us?  We serve the same God and have access to the same power and authority that Jehoshaphat had.  Amen! 
So today I hope this message encourages you to think a bit differently than you've been thinking towards trials.  In some ways we can get so emotionally involved (and afraid as the king was) that we don't see things clearly.  It was after prayer and after seeking the Lord that things started to align and come into a better view.  I believe that is what happens as well as we seek the face of the Lord.  He does not withhold Himself from us.  He is a good Father and He delights in giving good gifts to His children.  If you then, who are evil, know how to give good gifts to your children, how much more will your Father who is in heaven give good things to those who ask him!  Matthew 7:11 
God bless you today!  I love you guys and love walking this journey with you. 
Sign up to get these blogs delivered to your email inbox!  Visit http://derekcharlesjohnson.com/as-bold-as-lions 
Let's connect: 
Email:  info@derekcharlesjohnson.com 
Facebook:  https://www.facebook.com/derekcharlesjohnson1/ 
Instagram:  http://instagram.com/derekcharlesjohnson 
Be very careful, then, how you live—not as unwise but as wise, making the most of every opportunity, because the days are evil.  Therefore do not be foolish, but understand what the Lord's will is.  Ephesians 5:15-17