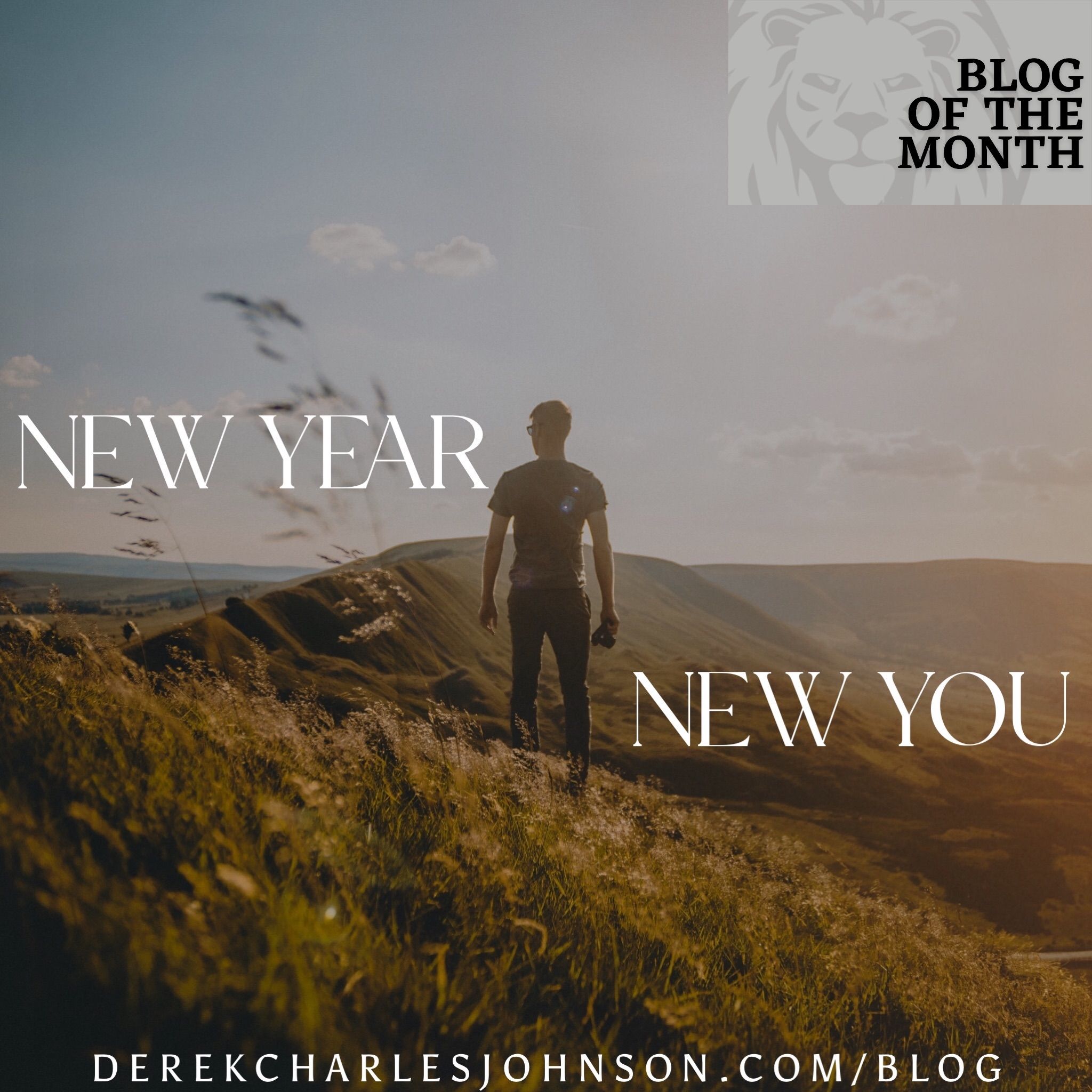 ***Please note:  As previously mentioned, the blog of the week is moving to a monthly format.  These monthly blogs and wice weekly devotionals will still go out if you are on my mailing list (sign up here:  https://derekcharlesjohnson.com/as-bold-as-lions). Additionally, the AS BOLD AS LIONS PODCAST posts new episodes on a regular basis and can be streamed on all major streaming platforms (Spotify, Apple Podcasts, Pandora, etc).*** 
Behold, I am doing a new thing; now it springs forth, do you not perceive it?  I will make a way in the wilderness and rivers in the desert.  Isaiah 43:19 
As the calendar turns over to a new year, we typically see and hear all the accompanying phrases that go along with the transition.  It's a time to consider new possibilities and fresh starts.  "A lot can happen in a year" or "A new year is filled with new beginnings" or one many gravitate toward, "A new year, a new you."  This last phrase is one I chosen to concentrate on for this blog and use as a focal point for January and beyond.  I've spent some time thinking about the "new you" that many of us want to achieve.  For the most part, the newness we are after has its roots in something physical or mental.  Starting an exercise program to lose weight.  Attempting to break some sort of habit (smoking, screen time, gambling).  Deciding to make better use of our time each day and be more productive. 
There's nothing wrong with any of these things and as you read them, you probably have an area or two that comes to mind that you wish you could improve upon.  I know I do.  Christmas baking and treats have caught up with me.  That diet and exercise program I've been putting off needs to begin! 
But beyond just the new you in these terms, what about the new you (and the ongoing transformation of you), that Jesus is after? 
There's a point at which I need to take a spiritual assessment of my life. 
A point where I analyze if my relationship with the Lord needs a bit of a reboot. 
Thinking about the new year and the new opportunities to serve Him, I wanted to share some practical steps we can take to draw closer to the Lord in 2022.  Some of these may seem a bit self-explanatory and basic.  I think that's ok.  It's alright to remind ourselves of the basics because we often overlook them or get too busy to keep returning to them.  So if these are helpful, please consider using them in your own faith journey this year.  Let's go! 
1. Spend time in God's word 
Your word is a lamp to my feet and a light to my path. Psalm 119:104 
In a busy day or week, the first thing that seems to get pushed out of my schedule is my time in the word.  I can make excuses all day long but when I get down to it, my priorities don't reflect putting Scripture at the top.  And I regret that I can so easily make that call throughout the day.  Too early to get up and read.  Too late to stay up without falling asleep.  But go a few days without the word and I start to sense it.  My emotions get easily stirred.  I get angry easily.  I harbor bitterness.  I become a person I know I wouldn't want to be around if it was me.  The priority of reading the Bible must be a consistent choice we make, day after day.  We will grow when we do.  It will cause us to bear fruit and be a blessing to others who cross our path.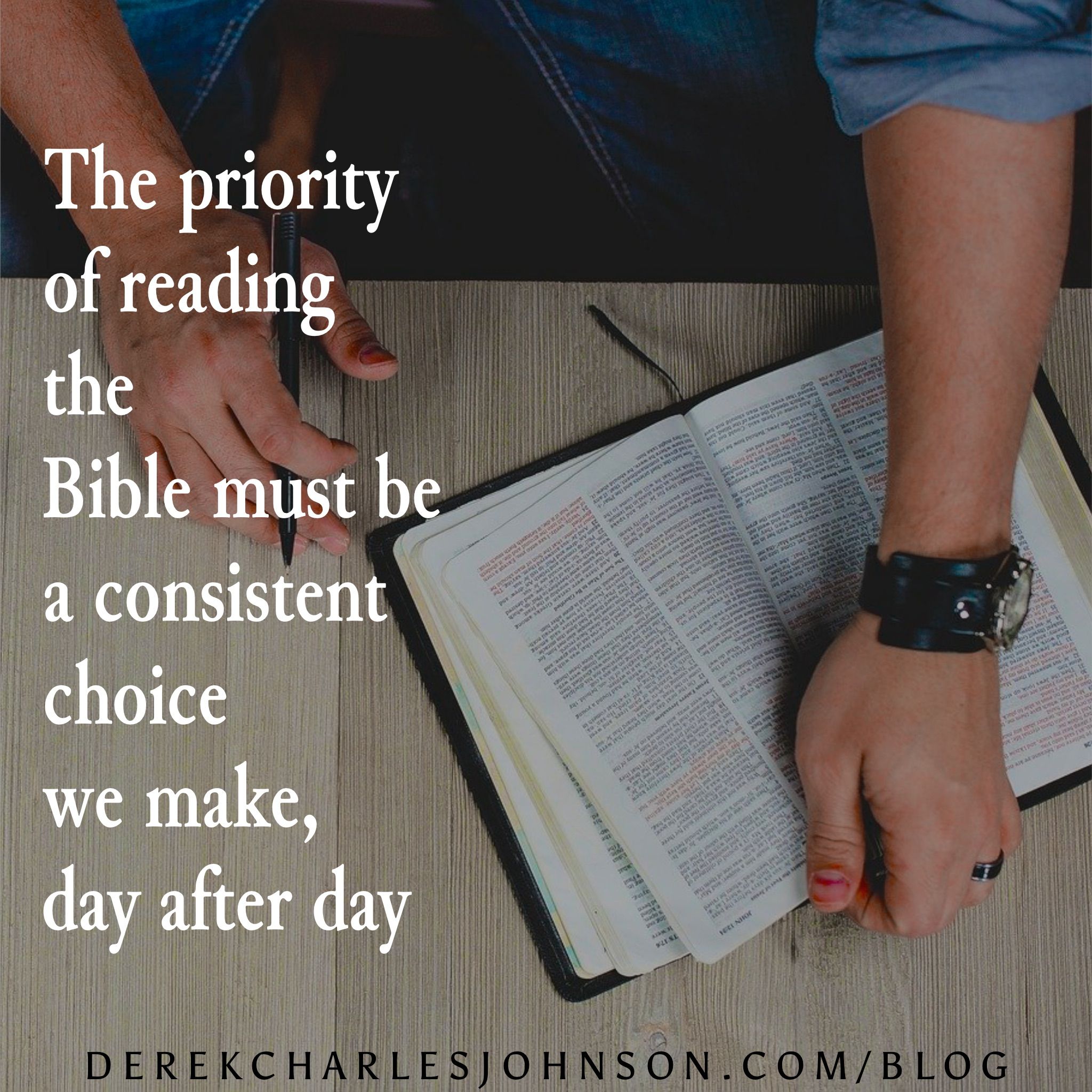 2. Spend time in prayer 
Do not be anxious about anything, but in everything by prayer and supplication with thanksgiving let your requests be made known to God.  And the peace of God, which surpasses all understanding, will guard your hearts and your minds in Christ Jesus.  Philippians 4:6,7 
I realize that point #1 and point #2 could be combined and for many, prayer and Scripture reading are synonymous.  And really they should be…they go hand in hand.  But I want to make a key distinction that while we spend time in Scripture, we also devote time to prayer.  It may be a shorter time depending on the day.  It might go longer if we are afforded more space.  One thing prayer does, which Philippians 4:6,7 makes clear, is it alleviates anxiety.  That is reason enough for me to place a high priority on prayer and keeping in tune with the Holy Spirit.  And must prayer be a one-and-done thing throughout the day?  No.  Paul also says to pray without ceasing (1 Thessalonians 5:17) so there must be a continual aspect of prayer daily.  God is always available to us. 
3. Be in community 
And let us consider how to stir up one another to love and good works, not neglecting to meet together, as is the habit of some, but encouraging one another, and all the more as you see the Day drawing near.  Hebrews 10:24,25 
In previous blogs I've mentioned the failed notion of "Lone Ranger Christianity" and that we indeed need each other if we are to keep growing in Christ.  Yet the last two years have led us further down paths of isolationism, frustration and distrust of many of our fellow brothers and sisters.  The Enemy knows this is a way to conquer and divide the church and he has played this card well over the 2020/2021 pandemic months.  But for the believer who has pressed in and refused to stop meeting with others, the growth and tight-knitedness of those relationships has increased.  If we are to continue growing in 2022, we must prioritize relationships within the Body; leaning on each other for accountability, mentorship, and discipleship.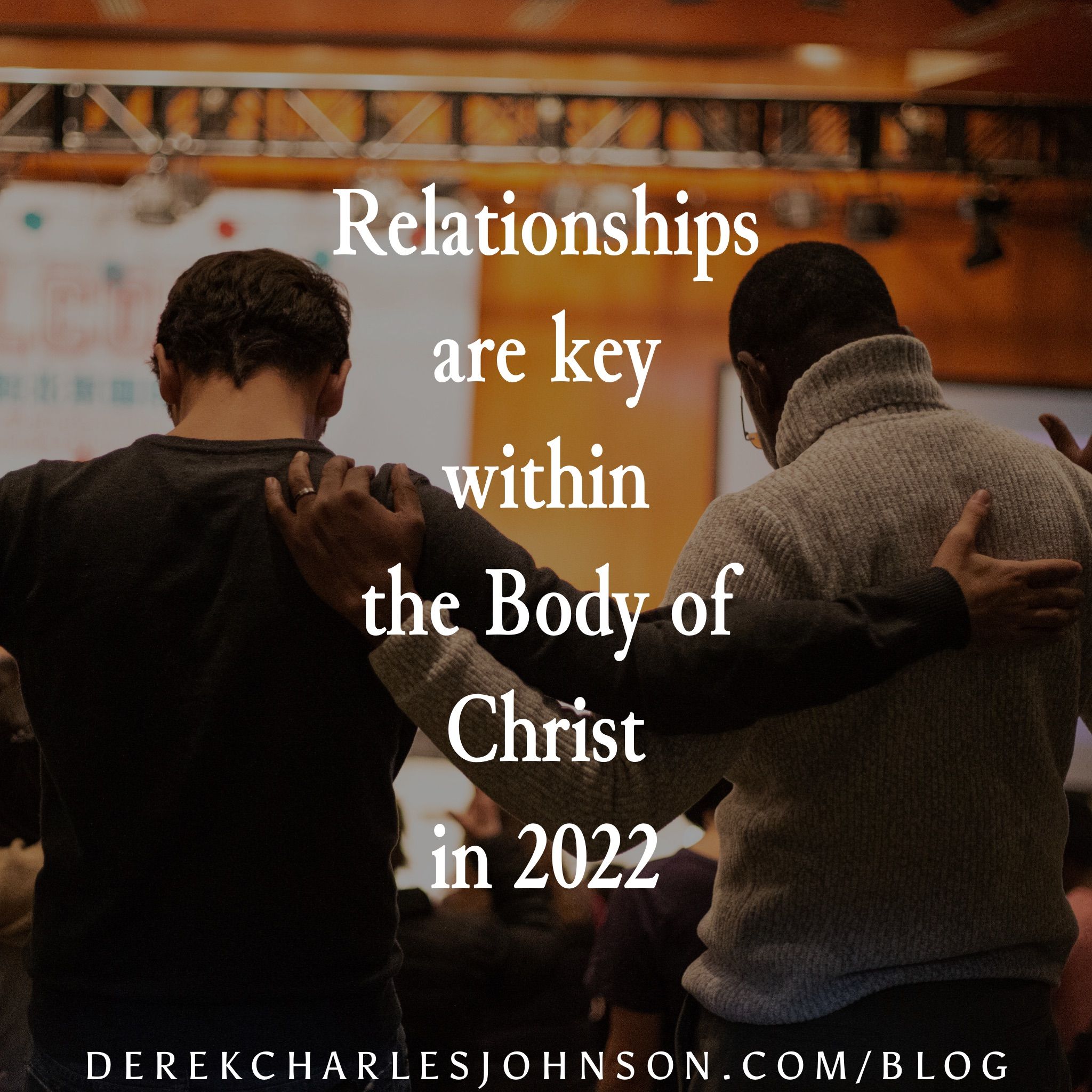 4. Limit negativity or noise 
For all that is in the world—the desires of the flesh and the desires of the eyes and pride of life—is not from the Father but is from the world. 1 John 2:16 
If I could go back over a year and examine the minutes, hours, even days that were spent on meaningless things it would probably overwhelm me.  There is a lot of negativity (within and without the Body) and we can get sucked into all the discussions around certain "hot topics."  But being "in the world, not of it" means rising above when we can and not allowing ourselves to be tarnished by the cares of this world.  When we have the opportunity to insert the Gospel, we should always do so.  When we can point someone to Christ via a conversation, an act of kindness, or some other deed we must do it.  Other conversations that do not somehow lead to that end goal are best avoided if possible.  Gossip, slander, and the like must be scorned.  True heart transformation starts to occur the more I desire the holiness of God and less and less the things of this life. 
5. Be challenged to go deeper in some aspect of faith 
Therefore, as you received Christ Jesus the Lord, so walk in him, rooted and built up in him and established in the faith, just as you were taught, abounding in thanksgiving. Colossians 2:6,7 
If there is one aspect of your life that you feel led to go deeper in, what would it be?  Is it trusting God with a certain dream?  Is it having a conservation with someone that you've been putting off for a long time?  Is it making a choice to start living "by faith and not by sight" because God wants you to know He is able to provide?  May I be so bold as to say the out-workings of your faith in 2022 will eventually meet up with this moment.  To go deeper, truly deeper in the new year means stepping out…getting out of your comfort zone and being willing to say "It's time to dream again."  If all we do in our walk leads us to a certain point but no further, what have we gained?  What have we accomplished?  As we grow our roots deeper and bear fruit, Jesus prunes us back in order to produce more fruit.  Yes the pruning process can be hard, but it's necessary.  He won't leave us in the same place He found us.  He is taking you and I on a journey into deeper and deeper trust.  Part of becoming a "new you" in a new year is taking His hand and walking into the unknown with confidence.  We have nothing to lose and everything to gain.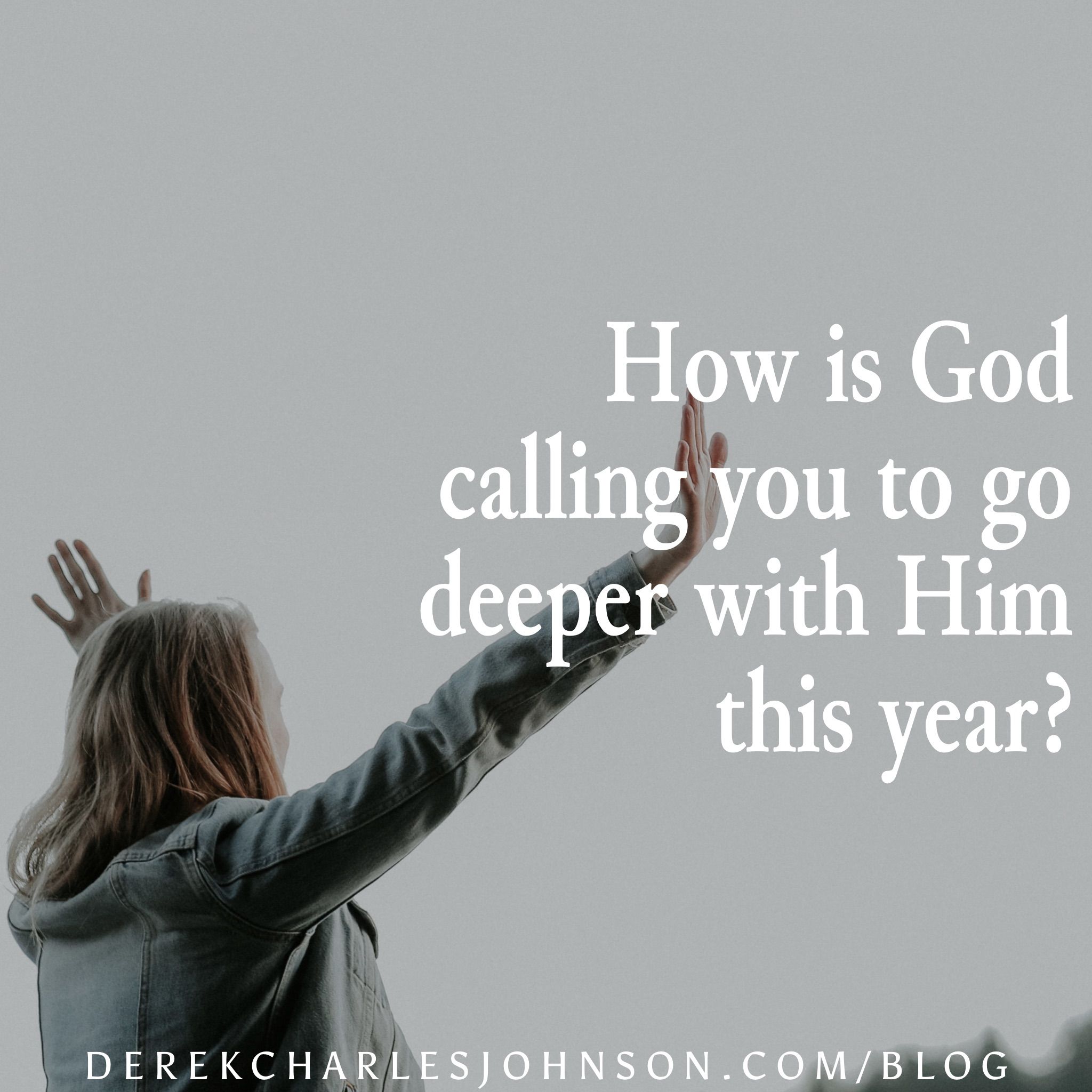 I'm not a huge fan of resolutions.  I know myself too well and know that certain habits will stick and others will simply fade in a matter of a few days.  Furthermore, I don't think the ambition to grow in Christ in a new year is something we chalk up as merely a "new year's resolution."  Our growth in Christ can change quite rapidly at times (within a year or months) or there can be moments of slower, sustained growth over multiple years, even decades.  None of that should dissuade us or cause us to avoid pursuing Him in anyway.  Day after day, month after month, year after year, He is doing a work in us.  The simple things outlined in this month's blog are means to see yourself in a different place than when you first met Jesus.  We are all works in progress.  January is a great time to consider making some changes but if not for anything else, it's a time to say "Here's what I want my life to be about this year.  This has lasting importance for me." 
I hope this blog finds you healthy and well as we move into 2022.  Pray you will continue to grow in your own walk and be challenged to share your faith this year as God grants opportunities.  God has someone He wants to minister to through you this year.  Will you allow Him to shine His light with your life?  Blessings on you as endeavor to see Him more clearly, love Him more dearly, and follow Him more nearly, day by day. 
Sign up to get these blogs delivered to your email inbox!  Visit http://derekcharlesjohnson.com/as-bold-as-lions 
Let's connect: 
Email:  info@derekcharlesjohnson.com 
Facebook:  https://www.facebook.com/derekcharlesjohnson1/ 
Instagram:  http://instagram.com/derekcharlesjohnson 
Be very careful, then, how you live—not as unwise but as wise, making the most of every opportunity, because the days are evil.  Therefore do not be foolish, but understand what the Lord's will is.  Ephesians 5:15-17