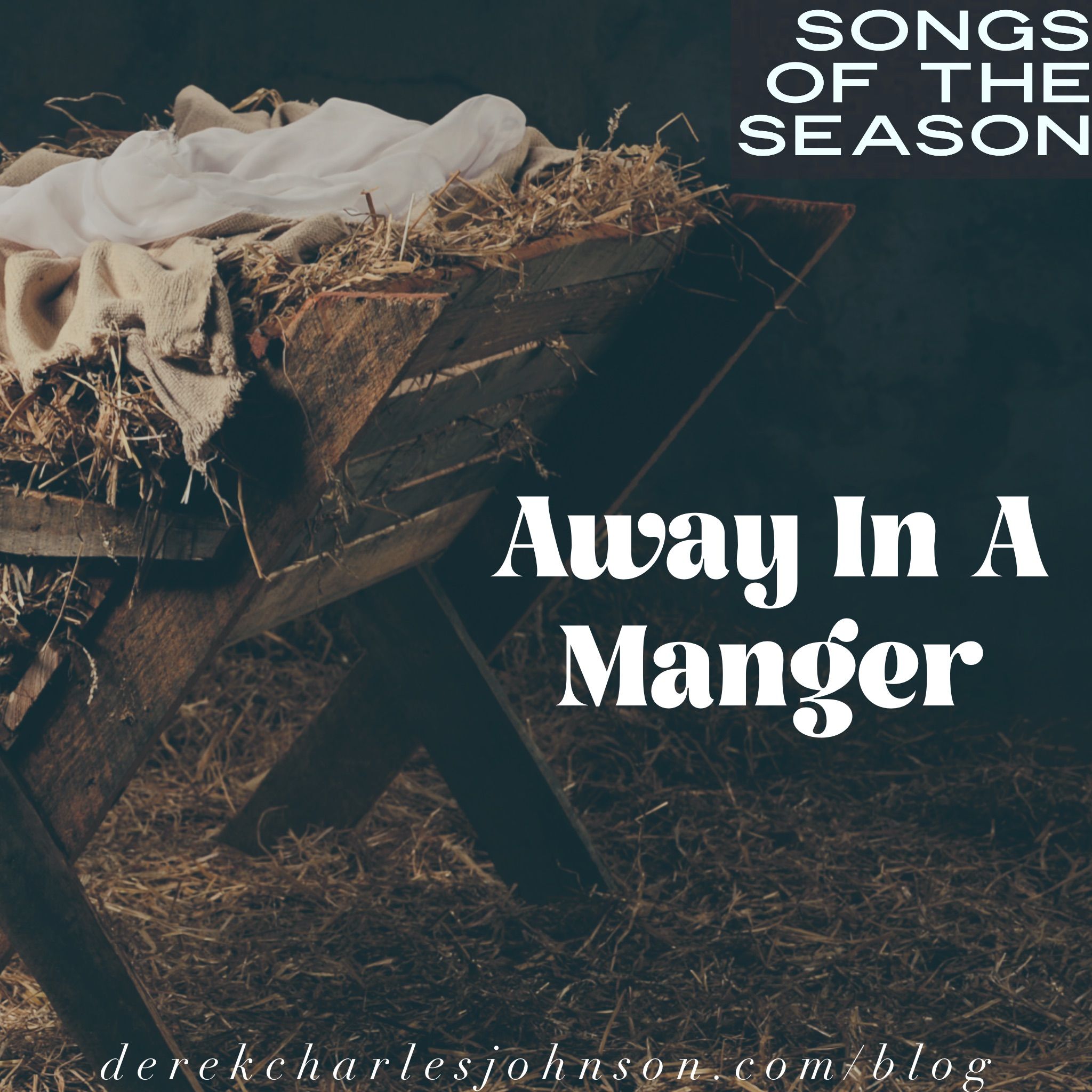 Away in a manger 
No crib for a bed, 
The little Lord Jesus 
Laid down his sweet head. 
The stars in the sky 
Looked down where he lay, 
The little Lord Jesus 
Asleep in the hay 
The cattle are lowing 
The baby awakes, 
But little Lord Jesus 
No crying he makes. 
I love Thee, Lord Jesus, 
Look down from the sky 
And stay by my cradle 
'Til morning is nigh. 
Be near me, Lord Jesus 
I ask Thee to stay 
Close by me forever 
And love me, I pray. 
Bless all the dear children 
In thy tender care, 
And take us to heaven 
To live with Thee there. 
Lyrics: James R. Murray, William Kirkpatricks 
Melody:  William Kirkpatrick 
Ending this Songs Of The Season series, we have one of my favorite Christmas tunes which in many ways is a lullaby.  Away In A Manger is one of those songs almost synonymous with yearly children's Christmas programs.  If you grew up in church, you can probably look back and imagine yourself singing this as a child.  Maybe it's there in the recesses of your brain!  I love the simplicity of the song and the verses.  In some ways, having a song like Away In A Manger to balance out a song like Hark! The Herald Angels Sing is a good thing.  There's truth in both; sometimes it's just nice to express worship in multiple ways!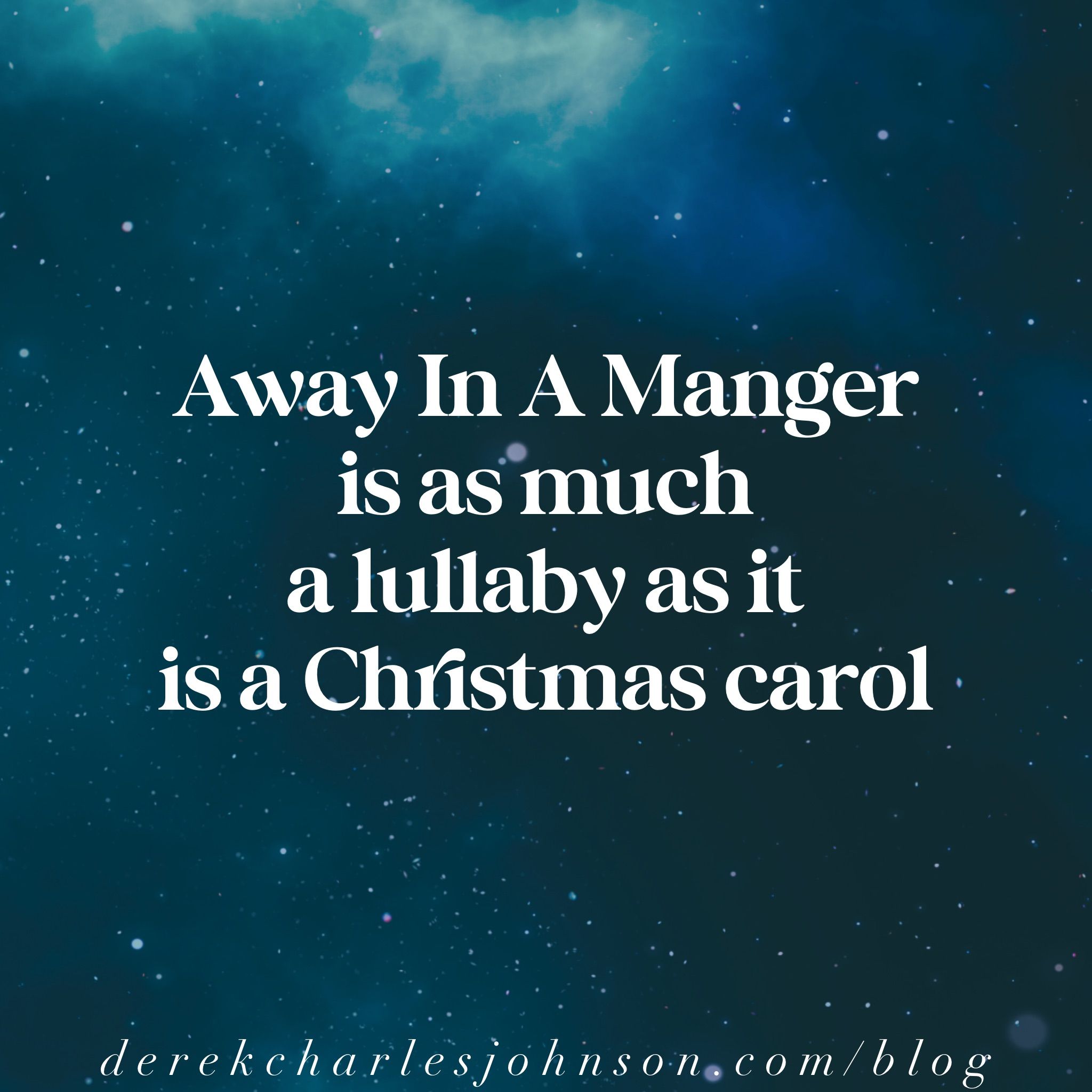 The history behind Away In A Manger is somewhat lengthy.  Although misattributed to Martin Luther, the song is actually the work of James R. Murray and included in his 1887 songbook Dainty Songs for Little Lads and Lasses.  The song was erroneously titled "Luther's Cradle Hymn," although there is very little evidence that ties the song to Luther.  Revisions appeared over the years (added and/or reworked verses, new titles, etc).  It was William Kirkpatrick who changed the last line of the second stanza "And stay by my cradle 'til morning is nigh," giving us the version we commonly sing now. 
It is helpful to use our imagination when singing a song like Away In A Manger.  Again there is the scene around the manger, fairly descriptive in actuality.  We might read these lyrics and think "well that's a stretch," especially as we consider "But little Lord Jesus no crying he makes."  But part of what makes the Christmas story real is to consider that there are certain things that actually happened.  No room for Mary and Joseph.  Only a cattle stall to use for a birth.  Jesus asleep on the hay and the stillness and serenity of this moment.  What was it like…if we could put ourselves in that moment, what would the sights, sounds, and smells be?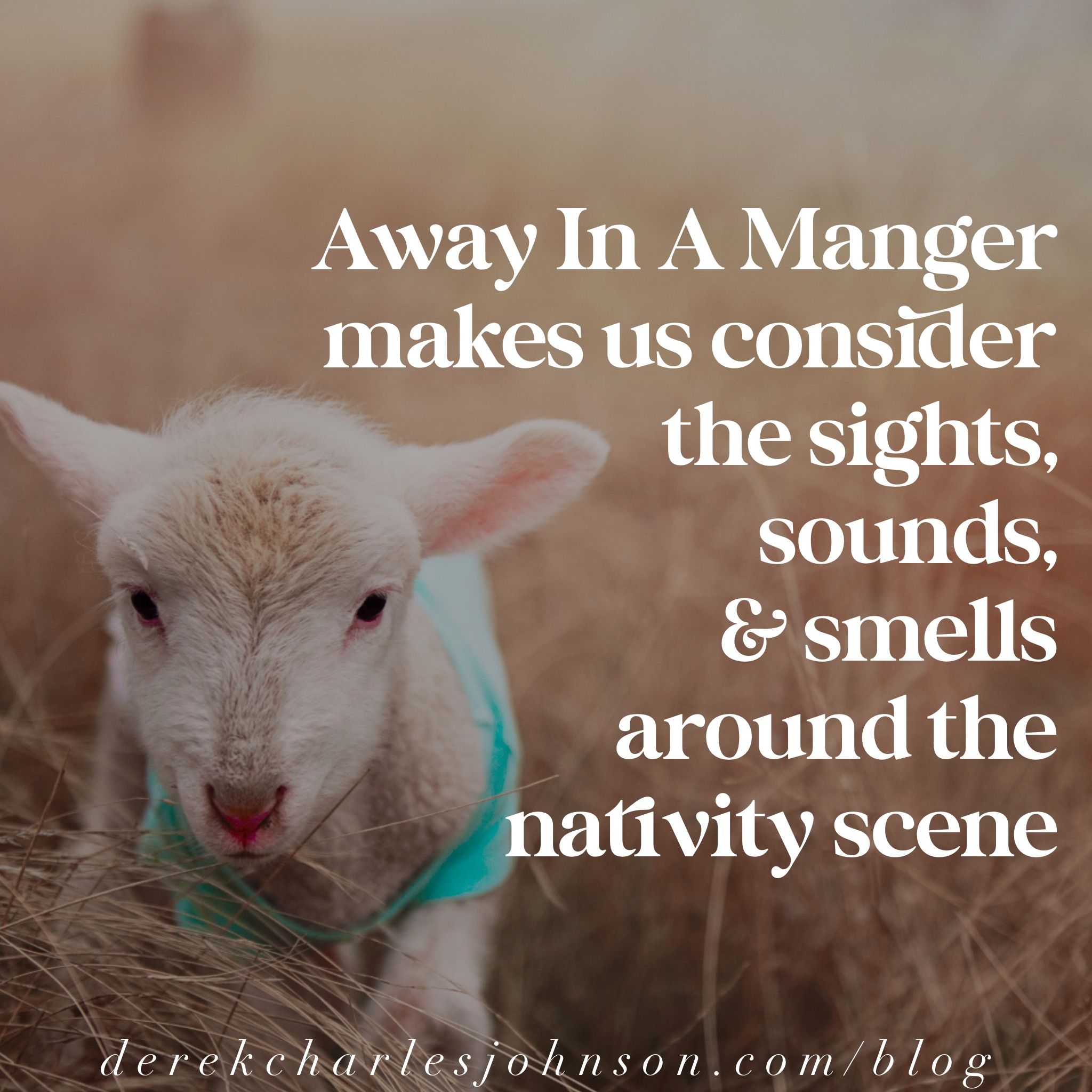 From about halfway through the second stanza to the completion of the song, a prayer takes place.  The desire to have Jesus "stay by my cradle" and protect us.  The third verse continues…Be near me, Lord Jesus I ask Thee to stay.  Our awareness is that Jesus is not this helpless, small baby but an all-powerful Savior.  We in fact are the helpless ones; the ones who need the closeness and proximity of Christ in our lives.  We need Him "close by [us] forever." 
The posture of this last stanza reminds me of 2 Timothy 4:18 which states "The Lord will rescue me from every evil deed and bring me safely into His heavenly kingdom. To Him be the glory forever and ever. Amen."  What is being asked for…the closeness of the Lord, His protection, to be taken up into Heaven…these are the longings of this simple Christmas tune.  A tune that is as easy to relate to as a child as it is an adult.  That simplicity, to know Jesus and to one day be with Him, is really what we long for; at Christmastime and throughout the year.  Away In A Manger offers a prayer that we need to ask and sing at Christmas.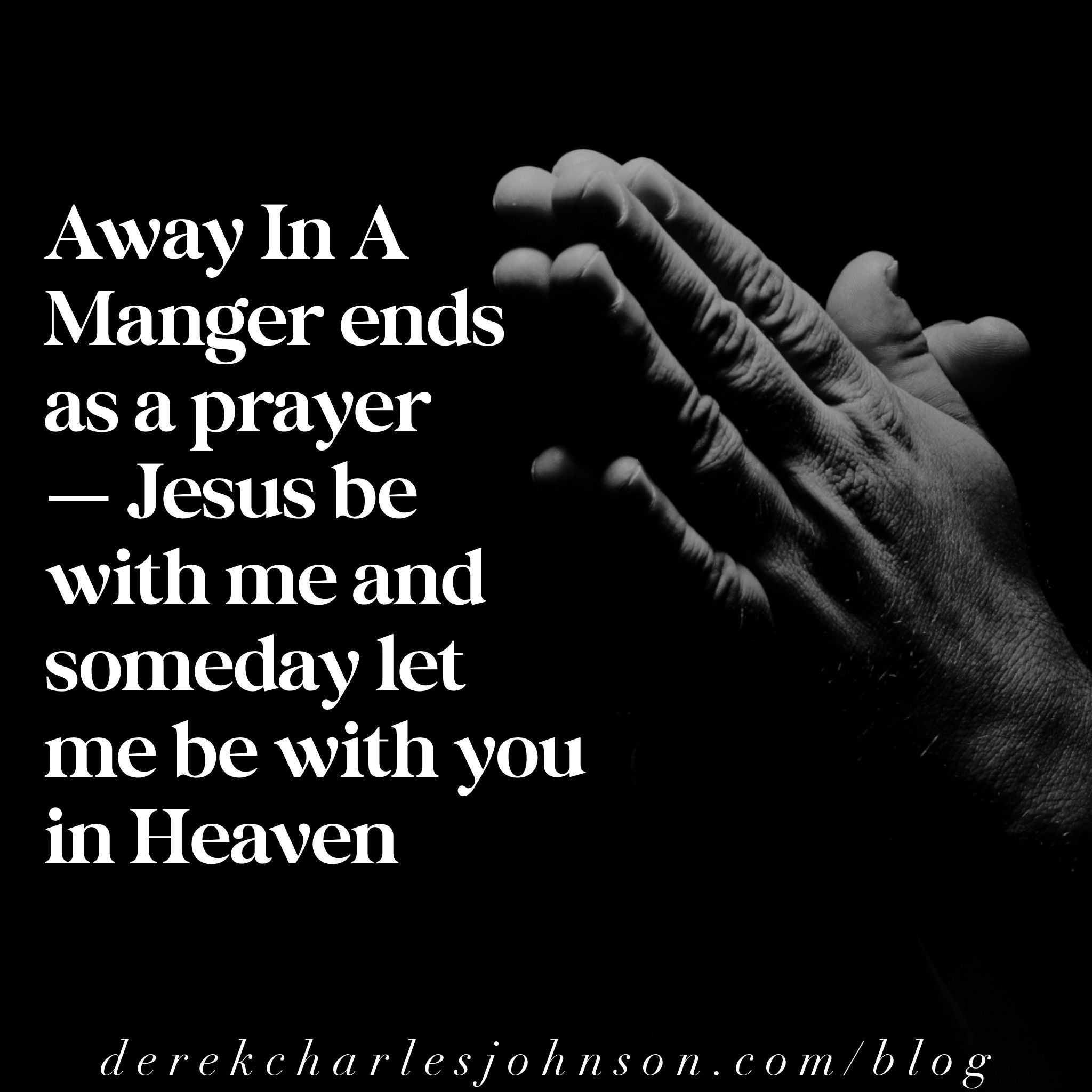 It has been a joy once again to share a few Christmas carols and allow them to speak for themselves over this past month.  I hope as you sing these and other songs this season, you are brought back to the true meaning of Christmas.  We can often lose sight of it; even while we just go through the motions of a song or a service.  But within them, if we take the time to look and ponder, the truth is in plain sight.  Christ, our Immanuel has come.  There is reason to have joy and to have hope once again! 
God bless you guys and Merry Christmas! 
Sign up to get these blogs delivered to your email inbox!  Visit http://derekcharlesjohnson.com/as-bold-as-lions 
Let's connect: 
Email:  info@derekcharlesjohnson.com 
Facebook:  https://www.facebook.com/derekcharlesjohnson1/ 
Instagram:  http://instagram.com/derekcharlesjohnson 
Be very careful, then, how you live—not as unwise but as wise, making the most of every opportunity, because the days are evil.  Therefore do not be foolish, but understand what the Lord's will is.  Ephesians 5:15-17

AWAY IN A MANGER//COVERS BY DEREK