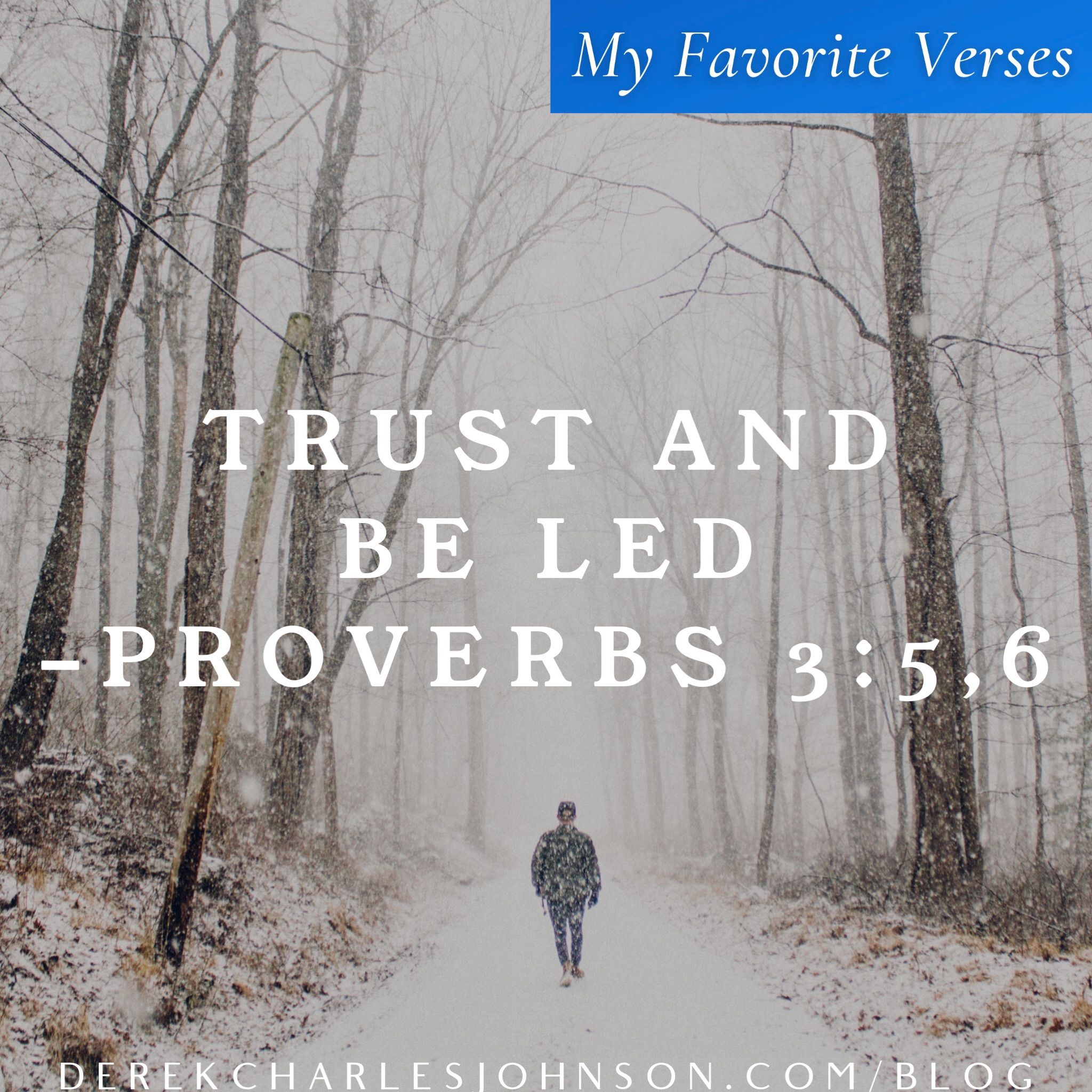 Trust in the Lord with all your heart, and do not lean on your own understanding.  In all your ways acknowledge Him, and He will make straight your paths.  Proverbs 3:5,6 
Going into this last month of the year before Christmas starts to hit, I wanted to do a blog series that covers a topic I've been meaning to write on for awhile:  my favorite verses from the Bible.  When it comes to favorite verses, it's hard to pick just a few.  I'm sure you feel the same way.  There's so much of Scripture that speaks and we all have certain verses we have taken to heart for our own personal lives.  Maybe it was a verse you learned as a child in Sunday school.  Maybe it was one that a pastor shared in a message.  Maybe it your own personal Bible study when a particular passage leapt off the page. 
These favorites are not exhaustive for me but they are some of the verses I have held onto throughout my life.  The older I get, the more I find myself needing to cling to the word.  To hide it in my heart.  To know it well enough that Bible (or phone) readily at hand or not, I can quote it and remind myself of it.  I believe when we hide God's word in our heart, our faith blossoms and grows.  Fruit is produced.  Lives are changed; certainly our own primarily but others around us as well. 
So as we dive in each week, treat these blogs much like a mini-Bible study because that is what they are.  This first week is on Proverbs 3:5,6; a couple of short verses with profound meaning.  Throughout these weeks I want to take passages from the Old and New Testaments.  Today's verse is from the Old and it comes to us from King Solomon; the wisest man who lived (probably worth listening to!).  Let's dive into the first of these "My Favorite Verses." 
1. Trust must be whole-hearted 
Trust in the Lord with all your heart 
There's a simplicity in Proverbs 3:5,6 that is easy to miss.  So often we look for the deeper meaning behind a passage; we may even read something into a verse that simply isn't there (context is key).  The command that begins this verse could not be more direct and to the point:  trust with all your heart.  Trust is not a half-hearted effort.  It's not an on-gain, off-again sort of thing.  No, it is an all-consuming, all-in level of faith that doesn't waver from moment to moment.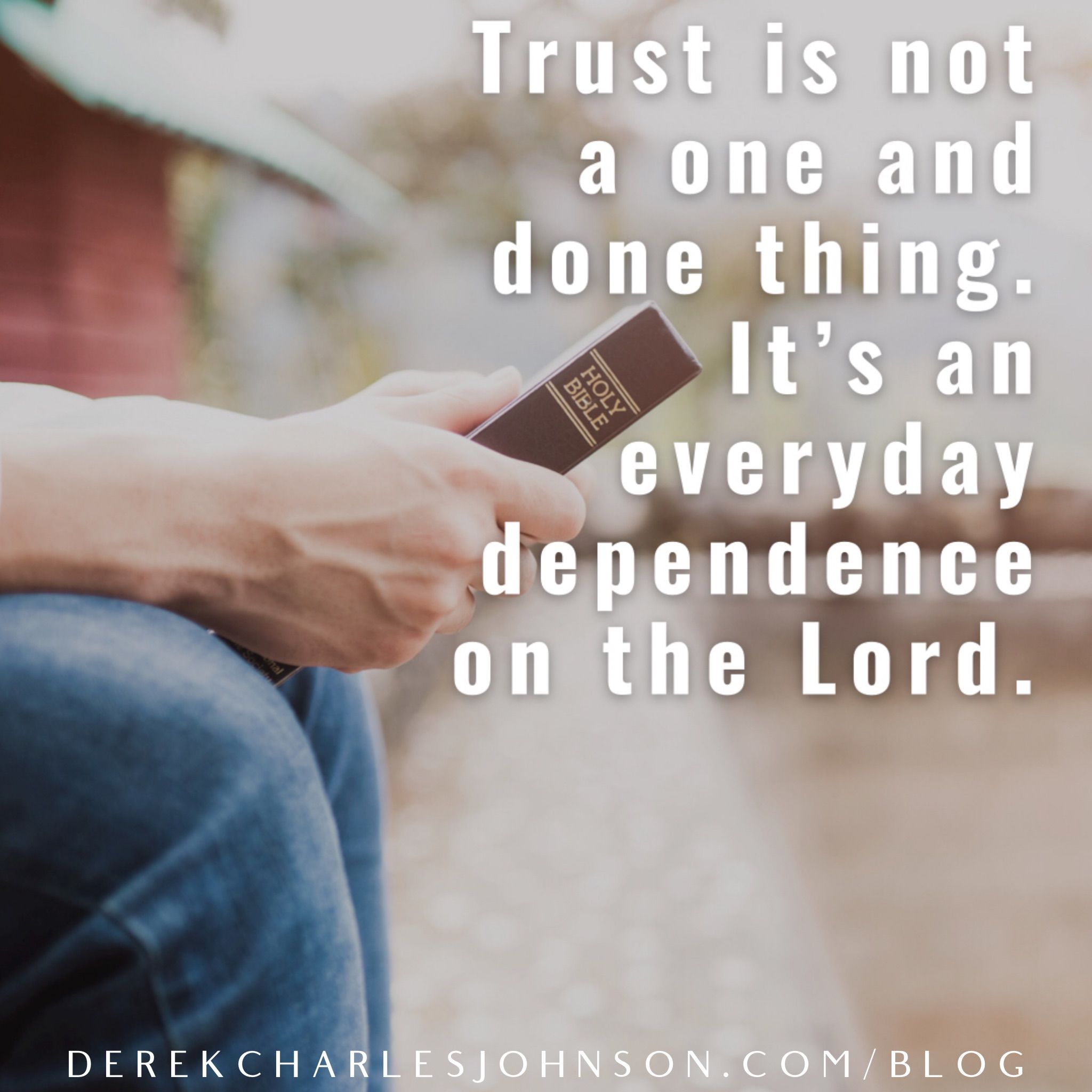 How is that lived out in a practical way?  For me, it simply means not closing God's word and ignoring what I just read.  I can go from reading the Bible to watching the news and go from a place of 100% trust to a place of 50% trust (or even less).  Circumstances can change my trust but they shouldn't.  If Solomon writes "all your heart," he knows the tendency is to give less.  From moment to moment, I must remind myself that my hope does not change no matter what I face.  My trust remains unchangeable despite what changes around me. 
2. Trust must not come from ourselves 
Do not lean on your own understanding 
Trusting in something outside of ourselves runs contrary to what the world says.  The world would say, "Trust this or that source…it has been fact-checked so it is reliable."  Or my favorite quote (insert sarcasm here) of the last year:  "Trust the science."  It is easy to want to rationalize everything that is taking place around us and from there, formulate our trust based upon what man says.  It is easy to look at statistics, studies, research, etc and assume "These are what the experts say and this is what I'm going with."  And this is with a whole host of things, not just the issues from over the past few months.  (***Please note, I am not disregarding science and research and the opportunity to learn and develop/innovate.  My point here is that much of our quest for knowledge has come from a place of man-centeredness and not God-centeredness.***)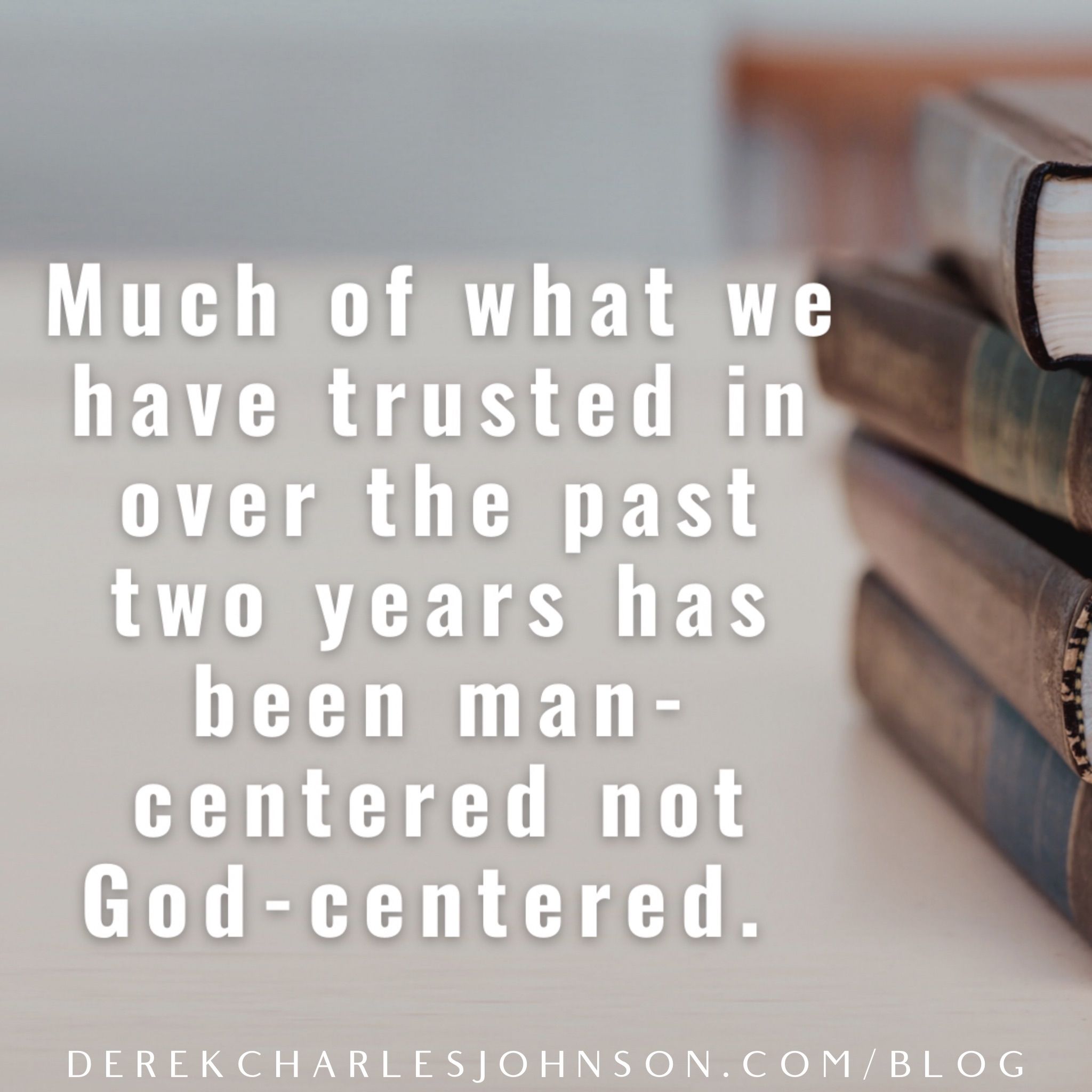 God says not to trust in our own wisdom.  1 Corinthians 3:19 simply states "For the wisdom of this world is folly with God."  Man apart from God, tries to find his own path.  This desire comes from a place of pride.  Following God's wisdom means laying down (i.e. a surrender) our own will and desires.  It means not trying to "figure it out on our own" but first appealing to God and asking His intervention in a situation.  It's been something we have missed to a great extent throughout the past two years.  We need to return to His ways and seek His will. 
3. Trust leads to a promise 
He will make straight your paths 
After this surrendering, after this trust and acknowledgement comes the best part (in my opinion):  the promise of God to lead us.  Solomon caps off this oft-quoted verse with this gem:  He will make your paths straight.  We know what the path of the wicked is.  We've seen the path of the unrighteous and know that it leads to ruin.  But the path of those who trust the Lord will be made straight.  The path is not some winding, meandering, futile journey.  It has purpose and it is guided by our Lord and Savior.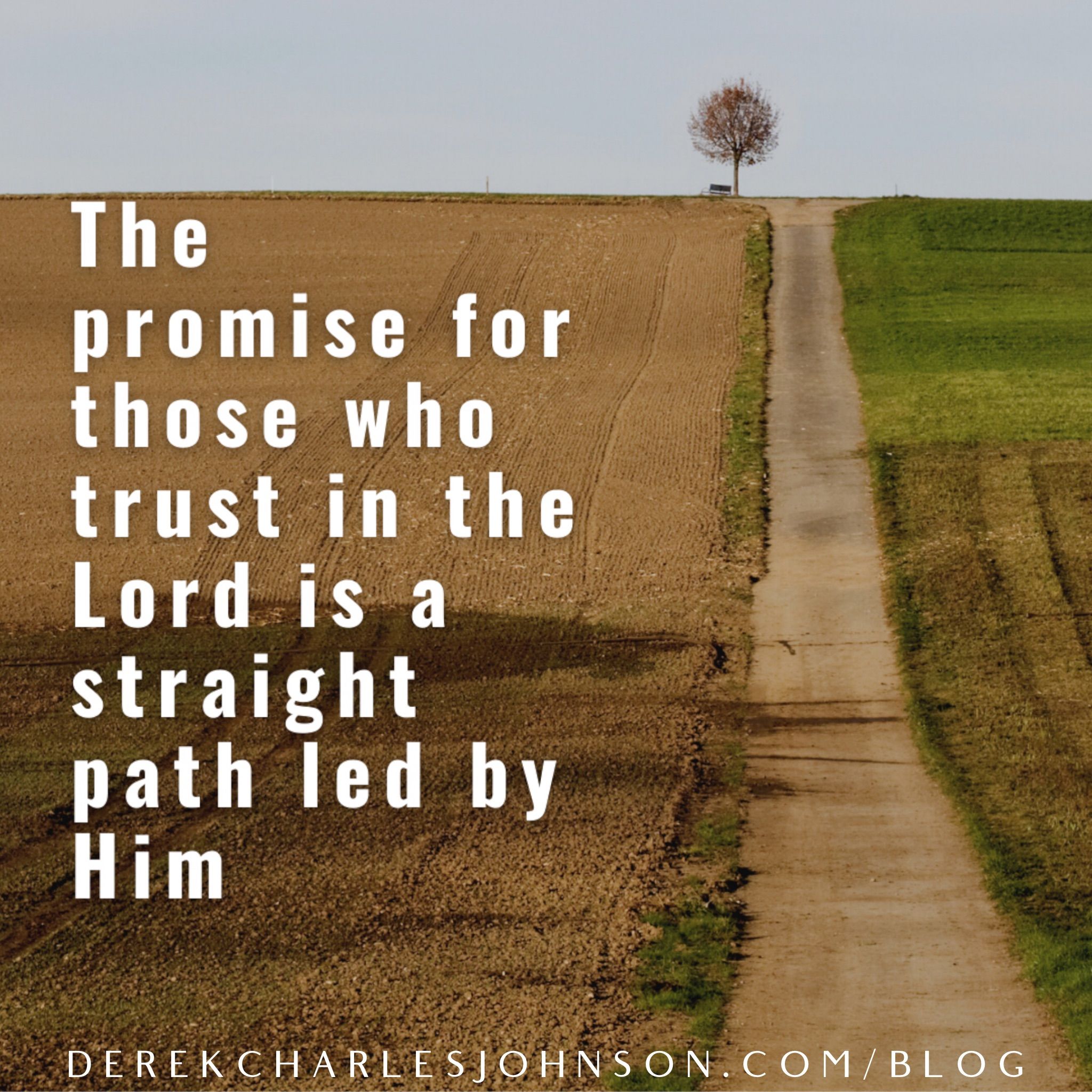 Again in practical terms we must understand our path doesn't reflect the world around us.  Some seek fame, money, power, sex and so on.  Their path is lead by the desire they have in their own heart.  But as we trade that selfish desire for the desires of our God, our path becomes clearer.  The things of earth truly become "strangely dim."  Our hearts no longer want the things of this world; they do not fulfill and they do not sustain.  Only God and His presence will suffice.  When we find that path, He leads us into deeper and deeper relationship with Him.
---
I hope this first blog in this series is an encouragement to you today.  I know many are on a tough journey and you may have wondered for awhile, "How can I keep going" or "When does it get easier?"  I don't know if it ever does get easier.  But I know God is with you and if you are doubting His presence, maybe Proverbs 3:5,6 is a reminder to fix your eyes once again on Him and not on your surroundings.  We all need those reminders from time to time.  We all are prone to forget because we are tempted to walk by what our own eyes can see.  But remember:  We walk by faith, not by sight (2 Corinthians 5:7). 
I love Proverbs 3:5,6 and it has always been a verse my wife and I have prayed over our marriage and home.  We even had a song based upon this verse ("Trust" by Sixpence None The Richer) sung at our wedding.  It's a powerful verse and it's a powerful Scripture when you truly incorporate it into your life.  It's short — I highly recommend memorizing it and writing it down.  Maybe put it on a bathroom mirror, in your Bible, or by the coffee pot.  Trust and be led by the Lord!  It's the best way to live! 
I love you guys and can't wait for next time!  Have a blessed day. 
Sign up to get these blogs delivered to your email inbox!  Visit http://derekcharlesjohnson.com/as-bold-as-lions 
Let's connect: 
Email:  info@derekcharlesjohnson.com 
Facebook:  https://www.facebook.com/derekcharlesjohnson1/ 
Instagram:  http://instagram.com/derekcharlesjohnson 
Be very careful, then, how you live—not as unwise but as wise, making the most of every opportunity, because the days are evil.  Therefore do not be foolish, but understand what the Lord's will is.  Ephesians 5:15-17