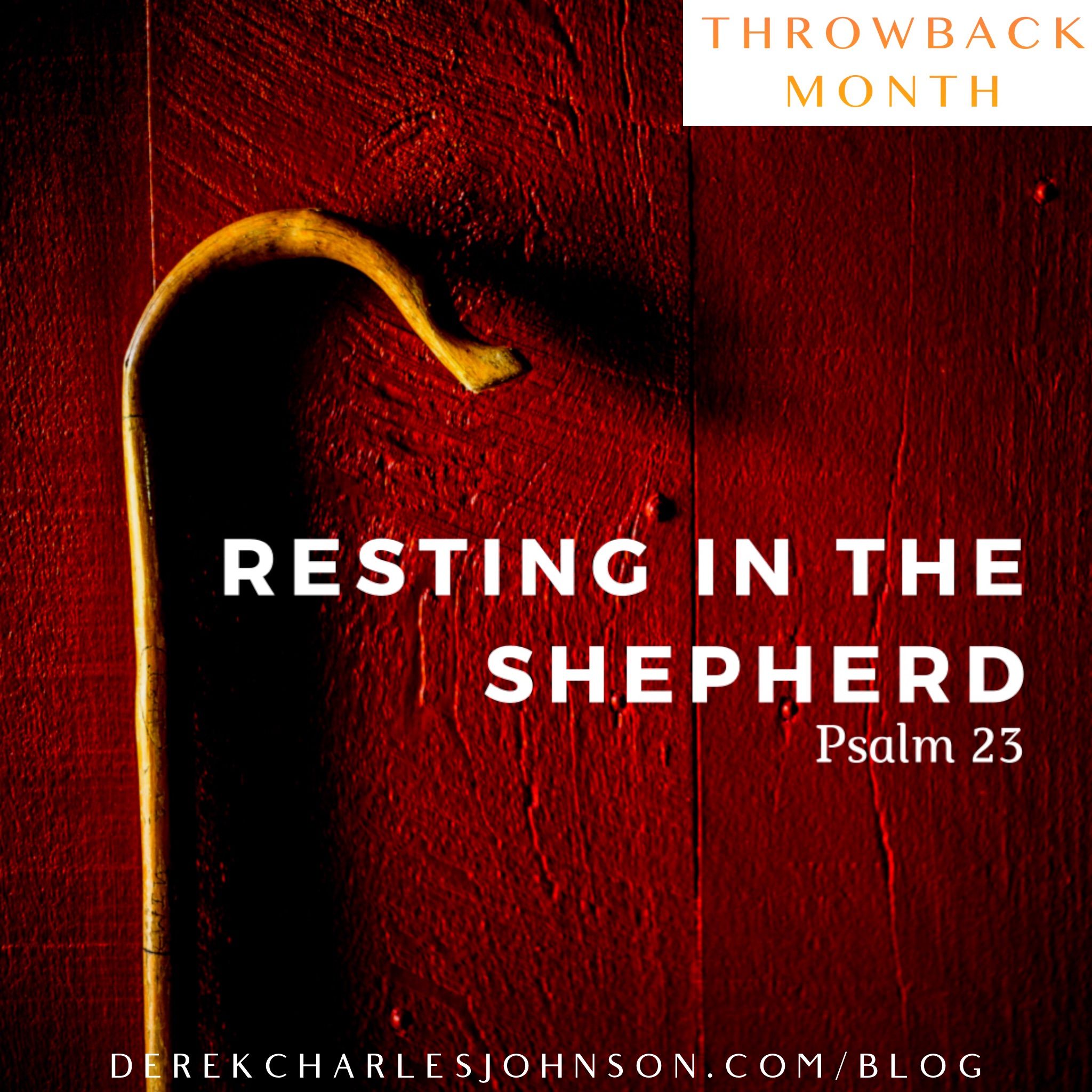 (Every year in October, I take some blogs from over the past few years that have resonated perhaps more deeply and repost them as the blog of the week.  Praying that this content will be a blessing to you -- whether it's the first time you've read it OR it's a refresher.  God bless!)

Psalm 23 
1 
The Lord is my shepherd; I shall not want. 
2 
    He makes me lie down in green pastures. 
He leads me beside still waters. 
3 
    He restores my soul. 
He leads me in paths of righteousness 
    for his name's sake. 
4 
Even though I walk through the valley of the shadow of death, 
    I will fear no evil, 
for you are with me; 
    your rod and your staff, 
    they comfort me. 
5 
You prepare a table before me 
    in the presence of my enemies; 
you anoint my head with oil; 
    my cup overflows. 
6 
Surely goodness and mercy shall follow me 
    all the days of my life, 
and I shall dwell in the house of the Lord 
    forever. 
The Psalms are one of my favorite books in all of Scripture.  When I think about the fact that they are basically songs in their original form, my worship leader heart becomes naturally drawn to them.  There are numerous emotions in the Psalms:  sadness, anger, frustration, joy, and so on.  They remind us that it is ok to share our feelings with the Lord.  Our hurts and disappointments.  Our highs and lows.  When all is well or when everything is falling apart, the Psalms remind us to praise and to trust. 
I've wanted to do a more concentrated series of blogs on some Psalms for quite awhile now.  I've done a couple here and there over the years (He Is Their Help And Shield Psalm 115, He Will Do It Again) For some reason taking a few weeks this past summer seemed like a natural fit.  This series is one you can go back to if you missed it (Summer of Psalms).  So much of the book reminds us to rest upon the Lord and to simply seek His face.  In the midst of a busy year, sometimes the need to do this is lost.  If that resonates with you in 2021, consider these blogs a moment to hit pause, reflect, and sense the Father's heart once again.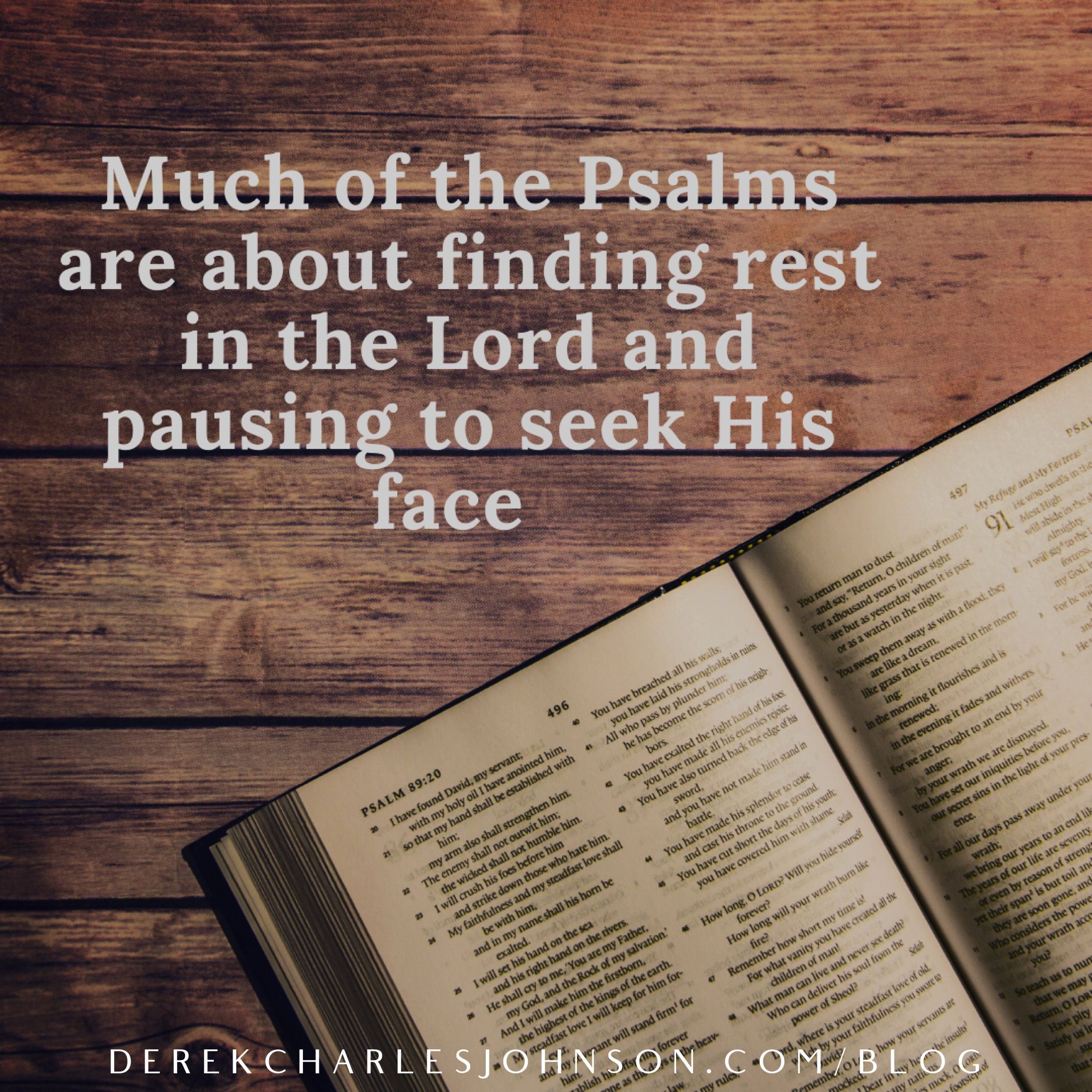 One of the most well-known and beloved Psalms is Psalm 23.  I've included it above in its entirety (from the ESV).  Consider today's blog just a mini Bible study of sorts; a few thoughts to examine and take with you throughout your day.  Let's dive in!
1. We lack nothing in the Lord 
Psalm 23 certainly has several themes but I think one of its most apparent truths is that God is enough…He is the shepherd and He provides for what we need.  The phrasing of "I shall not want" always confused me as a kid growing up.  I thought, "Why wouldn't I want the Lord?"  But it was when I understood the meaning (I will not lack anything) that this verse took on new meaning.  We lack nothing when we are in the shepherd.  When we abide in Him, we find fulfillment in Him.  When my heart strays away from Him, things get problematic.  I get restless.  I grow weary.  I am trying to fill up my own cup and find my own replenishment.  Apart from Him, I cannot do it.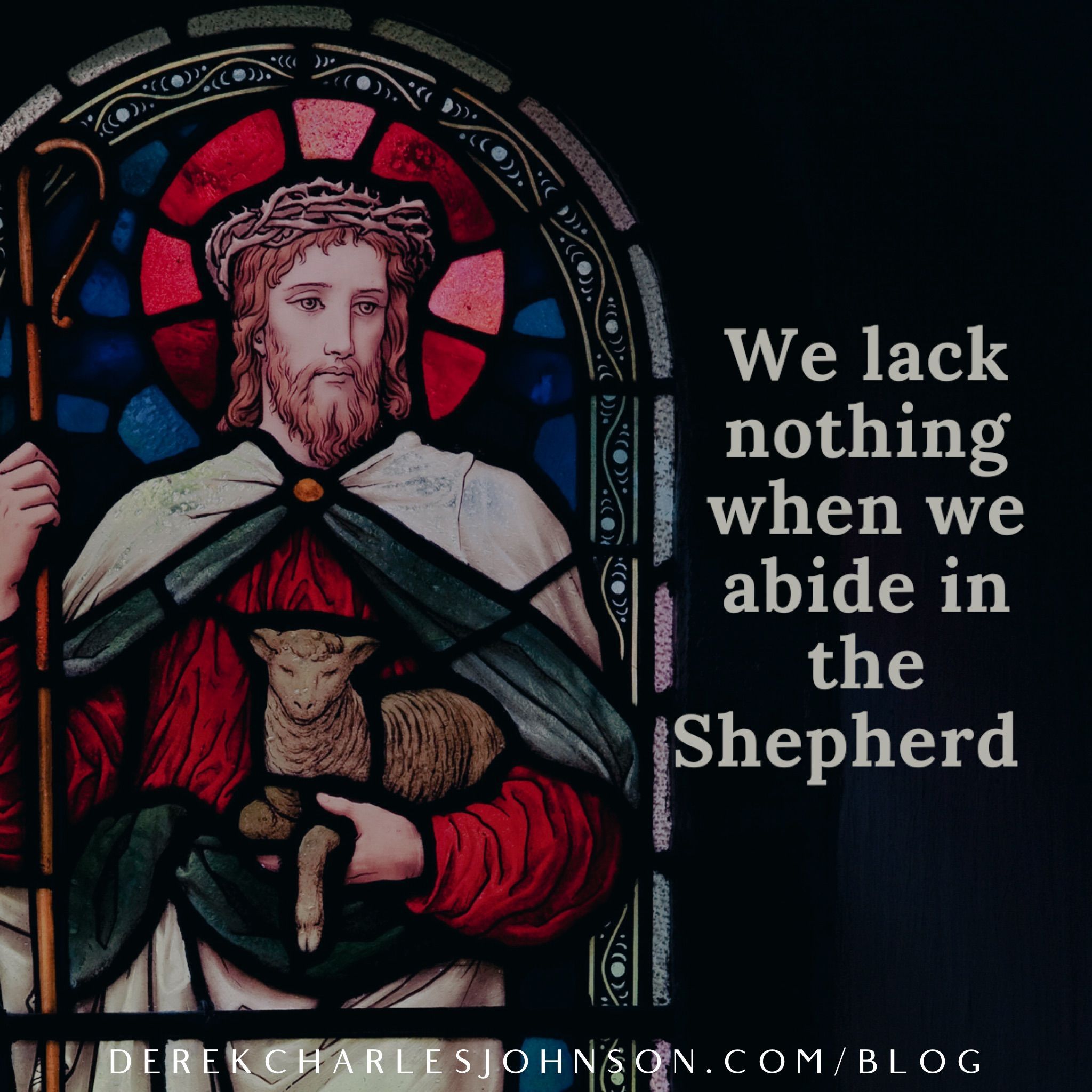 2. We find rest even when things are in turmoil 
This Psalm also reminds me that in Him there is rest and comfort.  He leads me beside still waters.  He restores my soul.  Coupled with this idea of fulfillment, it is resting in the presence of the Lord that restores us.  There can be nasty stuff going on (the shadow of death…evil) and we can still have peace.  Isn't that a great reminder for the days we are living in right now?  The world is bonkers.  We don't know what tomorrow might bring.  But the Shepherd is leading us.  Refreshing us.  And He walks alongside of us even as we brush up against the evil that surrounds.  What a relief. 
3. We are anointed — and then some! 
I love this imagery of the anointing coming from the Lord and it being to the point of overflowing.  Some scholars believe this is the presence of the Holy Spirit and I tend to agree.  The blessing of the Holy Spirit comes upon the believer in Christ to the point where our "cup overflows."  We believe God to be a generous God who gives good gifts when we ask Him.  To ask for and receive the Holy Spirit is a gift like no other…we can receive no greater blessing or joy to have the indwelling Spirit of God.  Amazingly, again this is amidst a world of evil and darkness (in the presence of my enemies).  What can the evil one do to us?  When we are covered by the Lord and resting in Him, He upholds and sustains us. 
4. We have a blessed hope and future 
Goodness.  Mercy.  Dwelling in the Father's house.  All of these things round out Psalm 23 and they are promises.  They are both here and now and for the life to come.  We experience the goodness of the Lord.  We know His mercy.  And we dwell in Him.  But we also look forward to the blessed hope.  The Shepherd is coming again and will bring us to be with Him.  This world and all of its darkness will pass away.  Life's "shadowy valleys" will be no more.  Beyond just knowing we have the Lord's presence in the day-to-day, the reminder that one day all will be made right helps keep us going.  We know there is an end to life's troubles and trials.  We know because we've read the end of the book and Jesus triumphs.  This is an amazing promise and we must cling to it!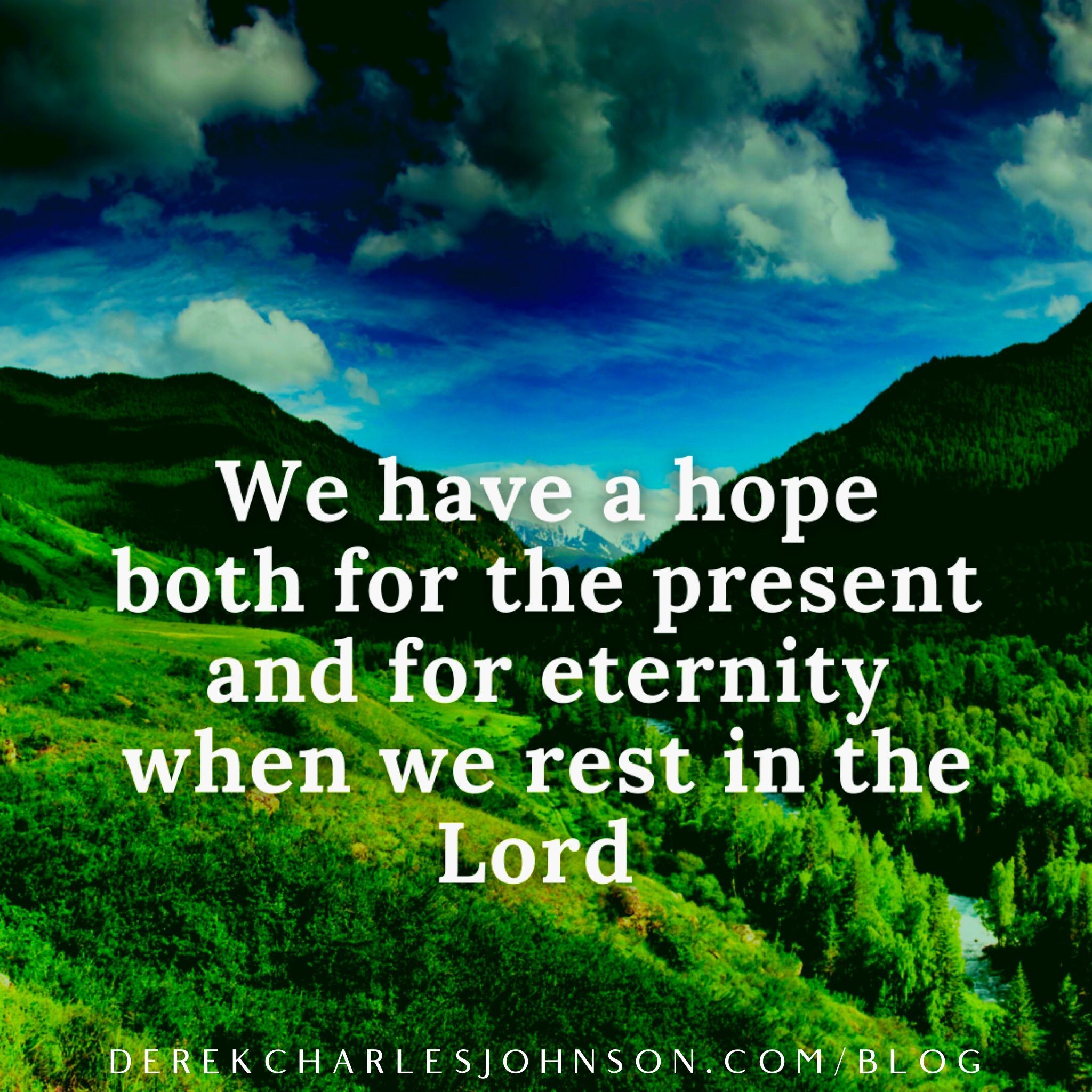 All in all, Psalm 23 is one of those passages we can (and perhaps should) memorize and read often.  It re-centers us upon what truly matters.  It acknowledges that we can do nothing apart from the Lord.  Sheep cannot lead themselves.  But the Shepherd in His graciousness, restores and refreshes us.  He goes with us and goes before us.  And He prepares a home for us one day in glory. 
---
Guys I hope this blog blesses you and encourages your spirit.  I'd encourage you to dig in further to the Psalms and perhaps even do further study.  God is speaking through these pages…His word is living and active.  He has something for you each time you open it.  God bless you.  
Sign up to get these blogs delivered to your email inbox!  Visit http://derekcharlesjohnson.com/as-bold-as-lions 
Let's connect: 
Email:  info@derekcharlesjohnson.com 
Facebook:  https://www.facebook.com/derekcharlesjohnson1/ 
Instagram:  http://instagram.com/derekcharlesjohnson 
Be very careful, then, how you live—not as unwise but as wise, making the most of every opportunity, because the days are evil.  Therefore do not be foolish, but understand what the Lord's will is.  Ephesians 5:15-17