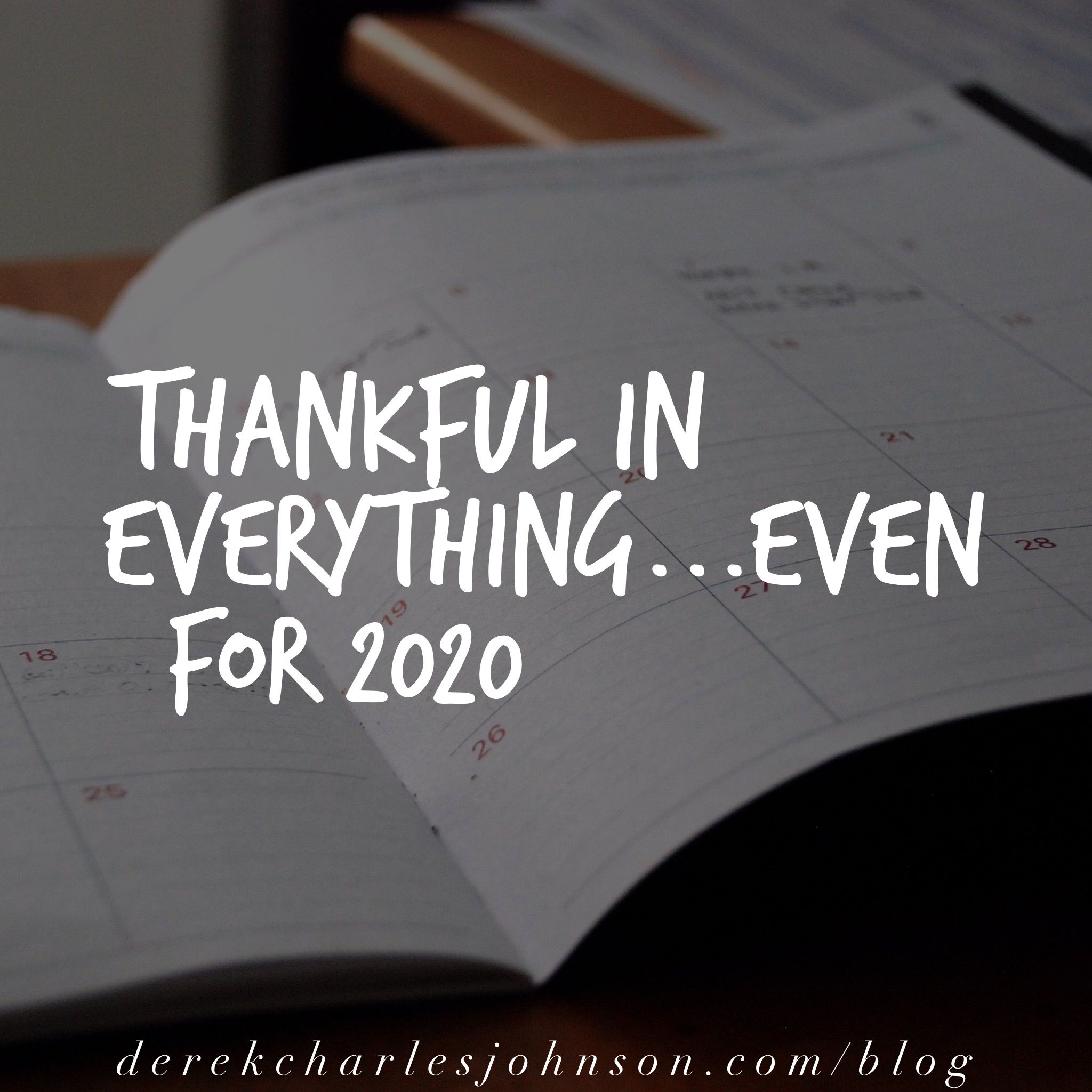 Rejoice always, pray without ceasing, give thanks in all circumstances; for this is the will of God in Christ Jesus for you. 1 Thessalonians 5:16-18 
We're in a month that centers around "thankfulness" as we celebrate Thanksgiving…one of my favorite holidays of the year.  But I must level with you.  It's not so much that I love being thankful and expressing that sentiment every 4th Thursday of November.  For me I really love Thanksgiving for one reason:  the food.  I'm all about eating light all day until we get to the BIG meal where we can pig out on the turkey and trimmings and finish things off with a slice of pie.  And if I have to unbutton the top button of my pants afterwards, it's a sign that the day was a success! 
OK so you may judge me a bit here and if you do, I understand.  I won't take it personal, haha!  But I do love food! 
Thanksgiving dinner aside, I'm impressed this year on November 26th to consider one question:  How am I still thankful for all I have in this life, despite what 2020 has brought?  It's been a year in which we've wanted to hurry up and get over with things.  I'm done with the pandemic.  I'm done with the masks.  I'm done with all the restrictions and precautions.  And I'm done with all the ripple effects this has had on my life and everyone else. 

With those thoughts in the front of my mind, it's hard to be thankful.  It's hard to say "I praise you God despite what 2020 has brought.  In fact, I'm even blessed because of it."  But that's a mindset that we must develop as Christians.  1 Thessalonians 5:16-18 reminds us that thankfulness isn't just meant for the times when it's easy to be grateful.  We are to be thankful in all circumstances.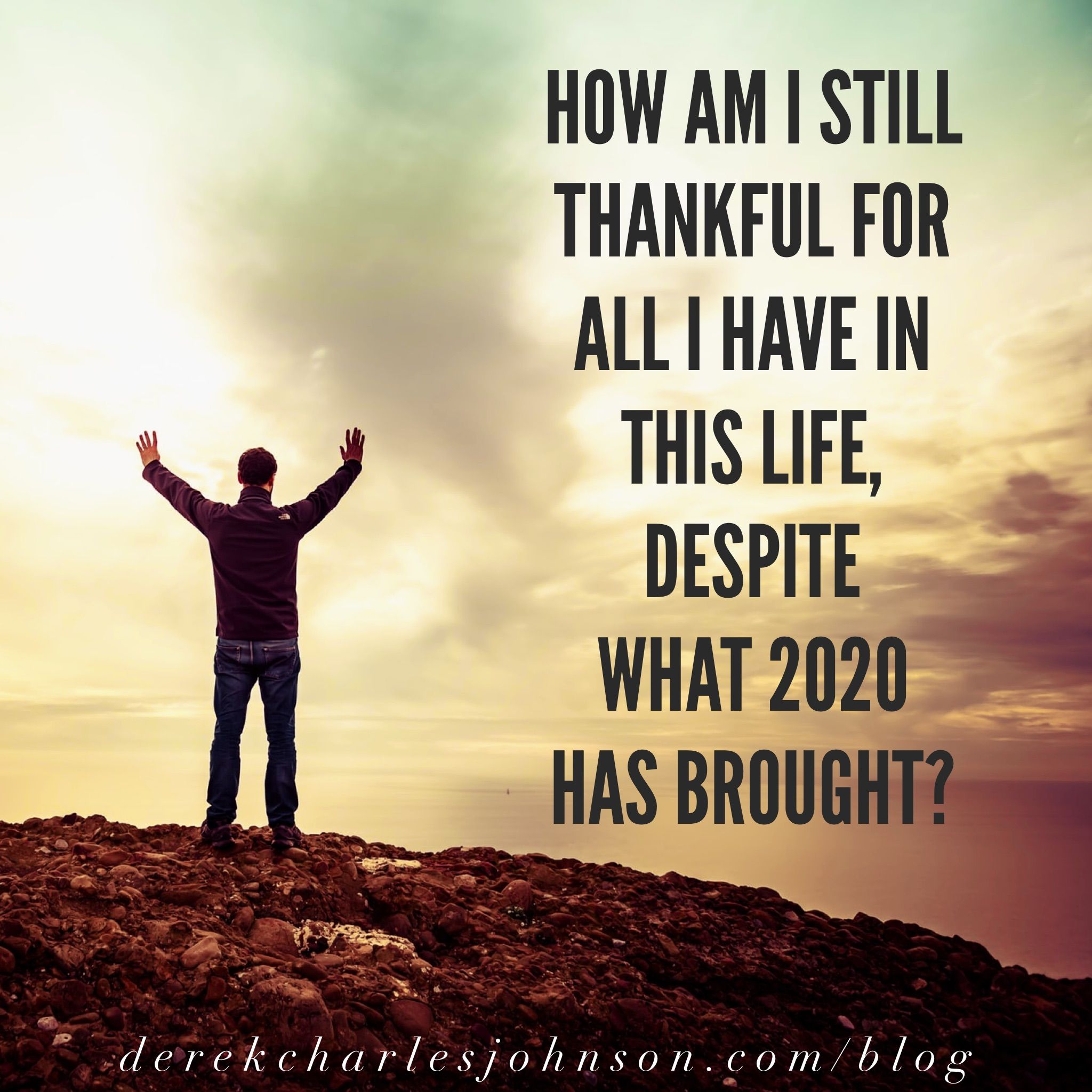 What I want to leave you with today are just some thoughts to consider as you look back over 2020 and think about how you reconcile all of it at Thanksgiving.  If we look at things through the world's eyes (i.e. a secular mindset), it will be hard to be thankful.  But if we have the mindset of Christ, we will be able to develop thankfulness as a daily attitude that spurs us on.  Consider this list of bullet points.  It may even be helpful to have these available as you celebrate this week: 
1. What is one good thing I would not have experienced this year if it were not for COVID-19? 
Rejoice in hope, be patient in tribulation, be constant in prayer. Romans 12:12 
Maybe the lockdown brought more family time and "forced" you and your spouse/kids to dialogue more frequently.  What was something positive that came out of all of that?  How are you still building on those conversations and growing deeper with each other in relationship?  Maybe the lockdown brought the need to be patient and to wait for God's timing in your life.  How has that been ultimately good and something that has deepened your walk with Him? 
2. What is one way you had to more fully rely on God throughout this year? 
Some trust in chariots and some in horses, but we trust in the name of the LORD our God.  Psalm 20:7 
It's interesting how the feeling of helplessness and even hopelessness can bring us to a place where we are emptied-out and abandoned to the Lord.  And maybe that's one of the good things that God did in your life at some point during 2020.  What was one aspect of control that you had to relinquish (and maybe are still relinquishing) as you went through these months?  Give thanks to God because letting go of control led you to trust Him more fully.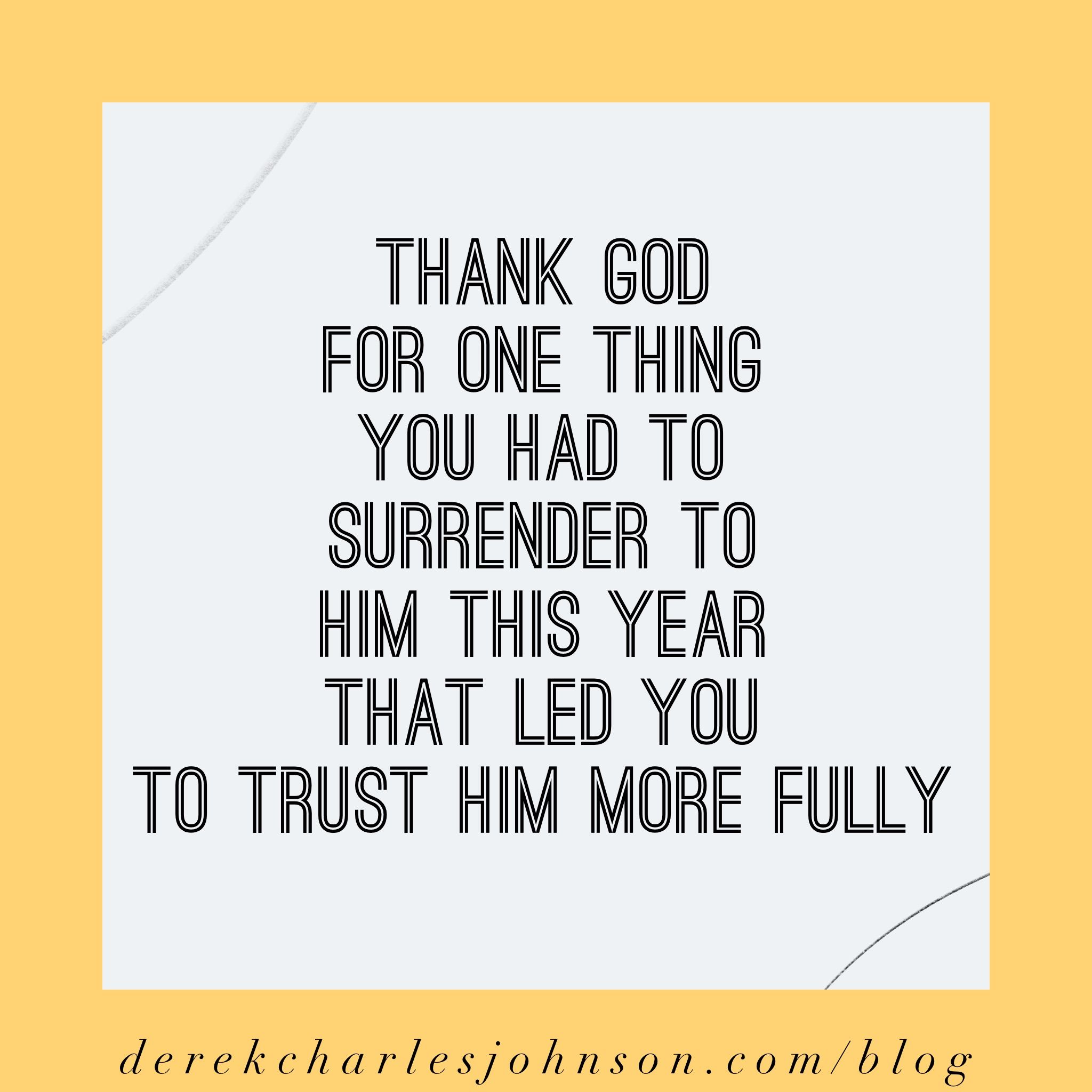 3. What is one way this year has forced you to "think outside of the box" and take a step of faith? 
Now faith is the assurance of things hoped for, the conviction of things not seen. Hebrews 11:1 
Without the coronavirus and all the craziness of 2020, there may have been some things you never experienced or tried before.  Faith-steps.  Going forward despite the unseen.  Did you take time to move in a new direction or pursue a new path because 2020 forced you to change in some aspect?  How can you be thankful even for that feeling of "uncomfortableness" because you learned to do something new and it ultimately benefited you?  Praise God for that. 
4. How can you look at what would otherwise be labeled "a bad year" and see that even 2020 is something that was good for you? 
And we know that for those who love God all things work together for good, for those who are called according to his purpose.  Romans 8:28 
This last point is perhaps the hardest as we look back and recap a year that most would like to forget entirely.  But in considering this, what if we had our wish and none of what we experienced (the bad stuff in 2020) never happened?  We might think it would leave us in a better place.  Some who lost loved ones would no doubt love to have them back again.  Others who lost jobs, finances, and other important things would also love to have the memory card of 2020 erased and start over with a clean slate.  But we don't get that chance do we?  We cannot go back to the past but we can take something from it that helps us as we move forward.  It's those things we take with us (i.e. the lessons we learned) that we can use for our ultimate good and benefit.  God has given us those things and wants us to use them for His glory.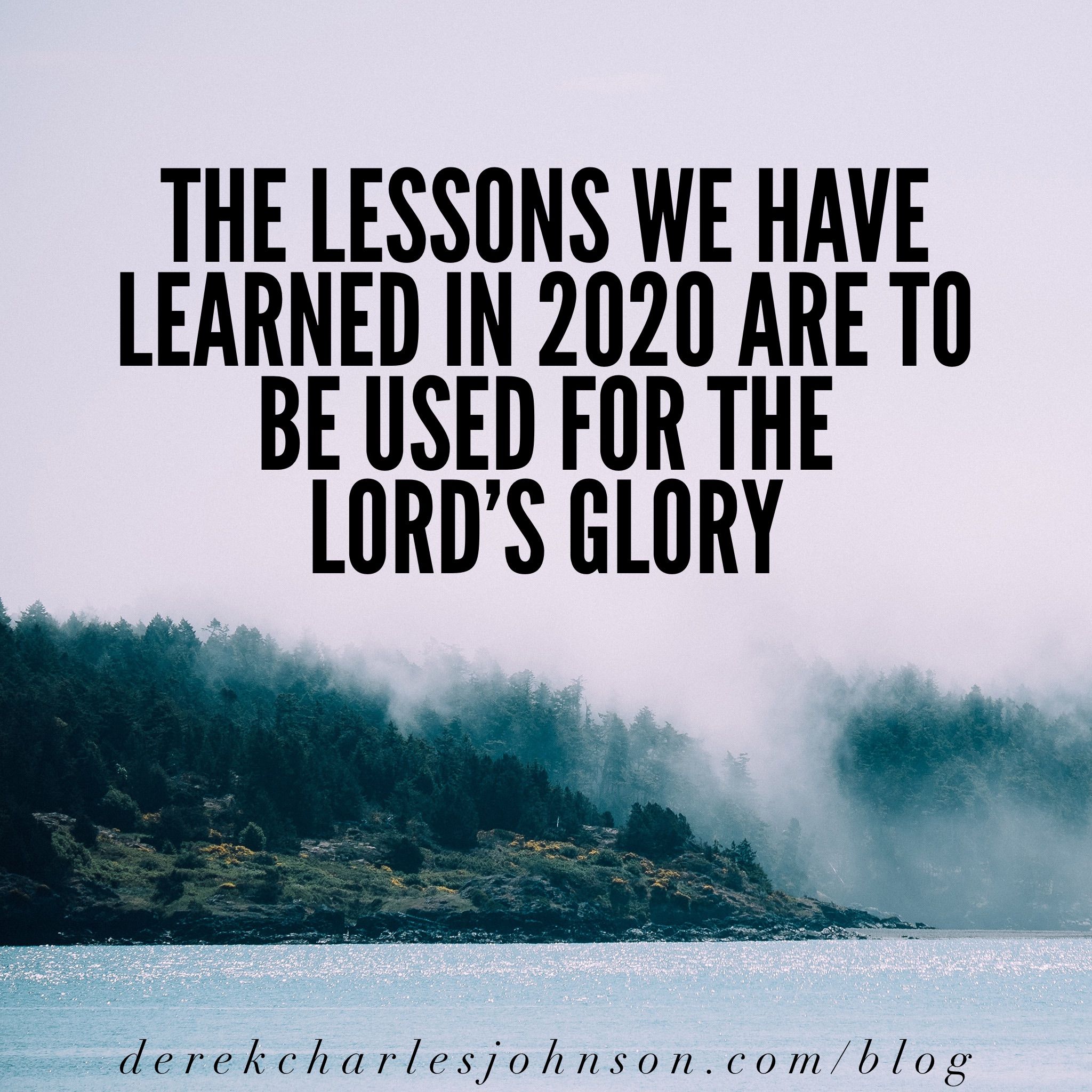 ---
As you gather around the Thanksgiving table, it may be hard to think about what you can truly be thankful for.  Sure there may be some things, but the amount of negative things may easily outweigh most of the positive.  But in Christ that is where you and I must not stay camped out.  Jesus knew the cross before Him meant pain, suffering, and the rejection of the Father.  But He went to the cross knowing "the joy set before Him"; that the cross was a necessary piece that would bring about something glorious by His persistence through it. 
Looking to Jesus, the founder and perfecter of our faith, who for the joy that was set before him endured the cross, despising the shame, and is seated at the right hand of the throne of God.  Hebrews 12:2 
Maybe in a way 2020 has been "a cross to bear" and you will not see the full joy for many years to come.  Perhaps not even this side of eternity.  But one thing you can do today is be thankful.  You can thank God for the tangible things you have (i.e. the blessings all around you) and the intangible things you have.  Some of the intangible might not manifest until later.  Still, what God has taken you through this year is preparing you for what He wants to do next.  For that reason alone, He is worthy of our thanks and gratitude.  Make sure you don't allow this time to pass without thanking Him…yes even for 2020. 
I love you guys and I love walking the journey with you!  Happy Thanksgiving! 
Sign up to get these blogs delivered to your email inbox!  Visit http://derekcharlesjohnson.com/as-bold-as-lions 
Let's connect: 
Email:  info@derekcharlesjohnson.com 
Facebook:  https://www.facebook.com/derekcharlesjohnson1/ 
Instagram:  http://instagram.com/derekcharlesjohnson 
Be very careful, then, how you live—not as unwise but as wise, making the most of every opportunity, because the days are evil.  Therefore do not be foolish, but understand what the Lord's will is.  Ephesians 5:15-17

Other blogs for further reading: