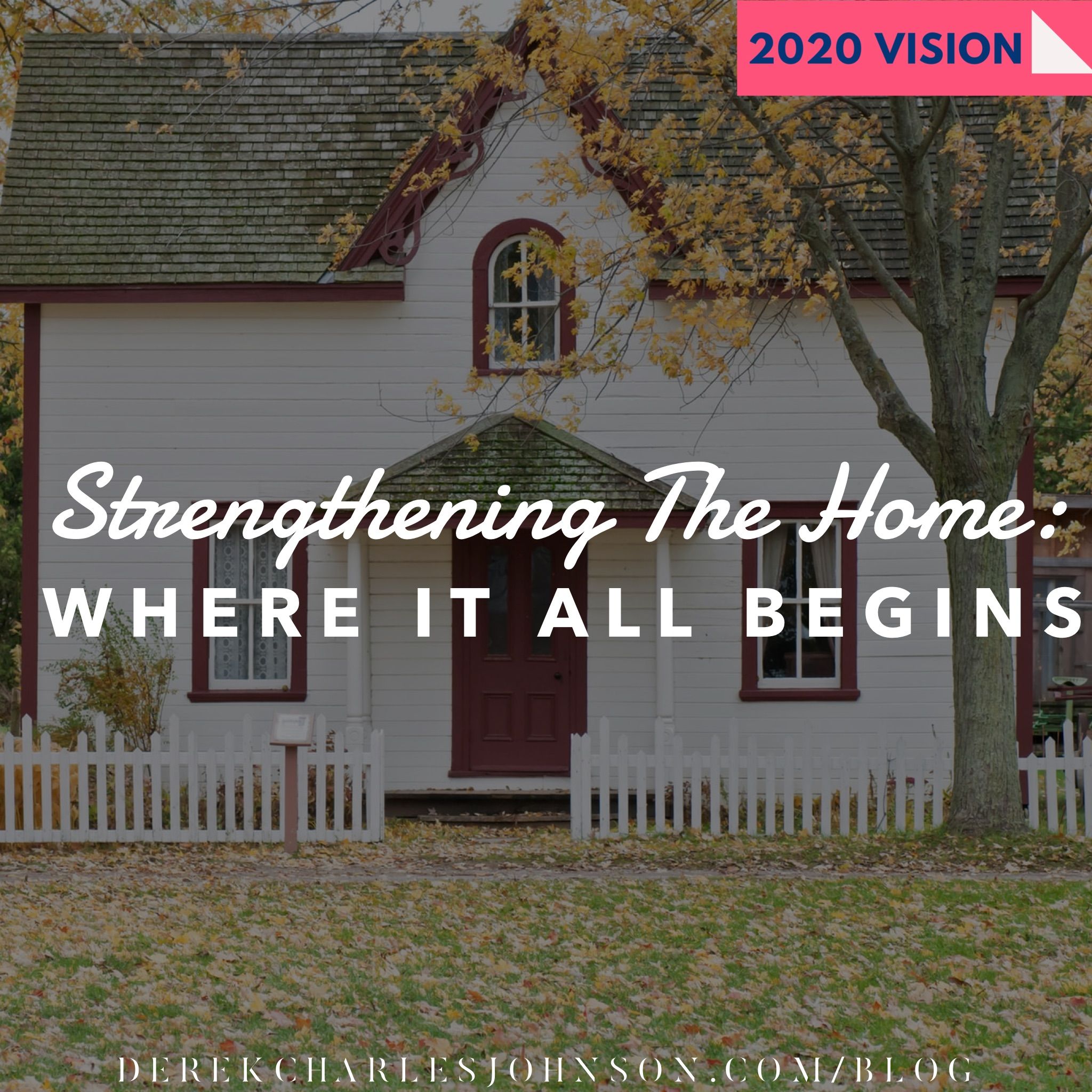 But if serving the LORD seems undesirable to you, then choose for yourselves this day whom you will serve, whether the gods your ancestors served beyond the Euphrates, or the gods of the Amorites, in whose land you are living. But as for me and my household, we will serve the LORD. Joshua 24:15 
I always preface any discussion on the home, marriage, parenting, dating, etc with this simple phrase:  I am not an expert.  For some reason, God keeps putting these areas on my heart and over the past few months and years, you've probably seen several blogs dealing with this subject matter (Homefires series, Single…But Ready To Mingle? series, and so on).  I always feel a bit unworthy to speak into any of this knowing that as a father and husband, I've made my share of dumb mistakes.  But I think God's grace is a tool that allows us to speak from experience.  To say, "This is what I've learned thus far and I just want to share it with you."  If these words help, great.  If they are not what you need, that's ok too.  But I offer what I write with the thought that somehow God is going to use this for someone. 
When I consider 2020 and all that God may have in store, I cannot move too far ahead without saying "What about the home?"  What is the state of my marriage and my family?  Are we ready and in a good place spiritually-speaking so that God can move? 
I spent last week introducing this series (2020 Vision) with the idea that personally, we must be ready for the seasons and transitions to come.  Personally we should be in a place of complete surrender and obedience realizing that at any moment, God can and will do the amazing and the unexpected.  But when we have a home, there is so much more added to the equation.  When the family is in line with God's word, some amazing things can happen.  But when it is broken and in disrepair, there is not much fruit that can be seen. 
This topic is one I will definitely come back to more in 2020 and perhaps not just in blog form but in some other avenues and media as well (more on that to come).  But today is a high-level view on some basic points that are enough to get us started.  God created the family.  He created marriage.  He sees these things as good and for our benefit.  How can we use them to bring Him glory and point others to Christ? 
1. Husband and wives—honor God with your marriage 
For husbands, this means love your wives, just as Christ loved the church. He gave up his life for her. Ephesians 5:25 
Though one may be overpowered, two can defend themselves. A cord of three strands is not quickly broken. Ecclesiastes 4:12 
There is a Biblical mandate for marriage which I believe is 1 man and 1 woman for life; until death separates.  Because of sin, we know certain effects of the Fall have tainted the original intent God had for marriage.  This definitely bleeds over into the church in which we see divorce rates as high as the rest of society.  We know God has a standard and we at times, have broken it.  But even in that brokenness, marriage is still a means to display Who God is.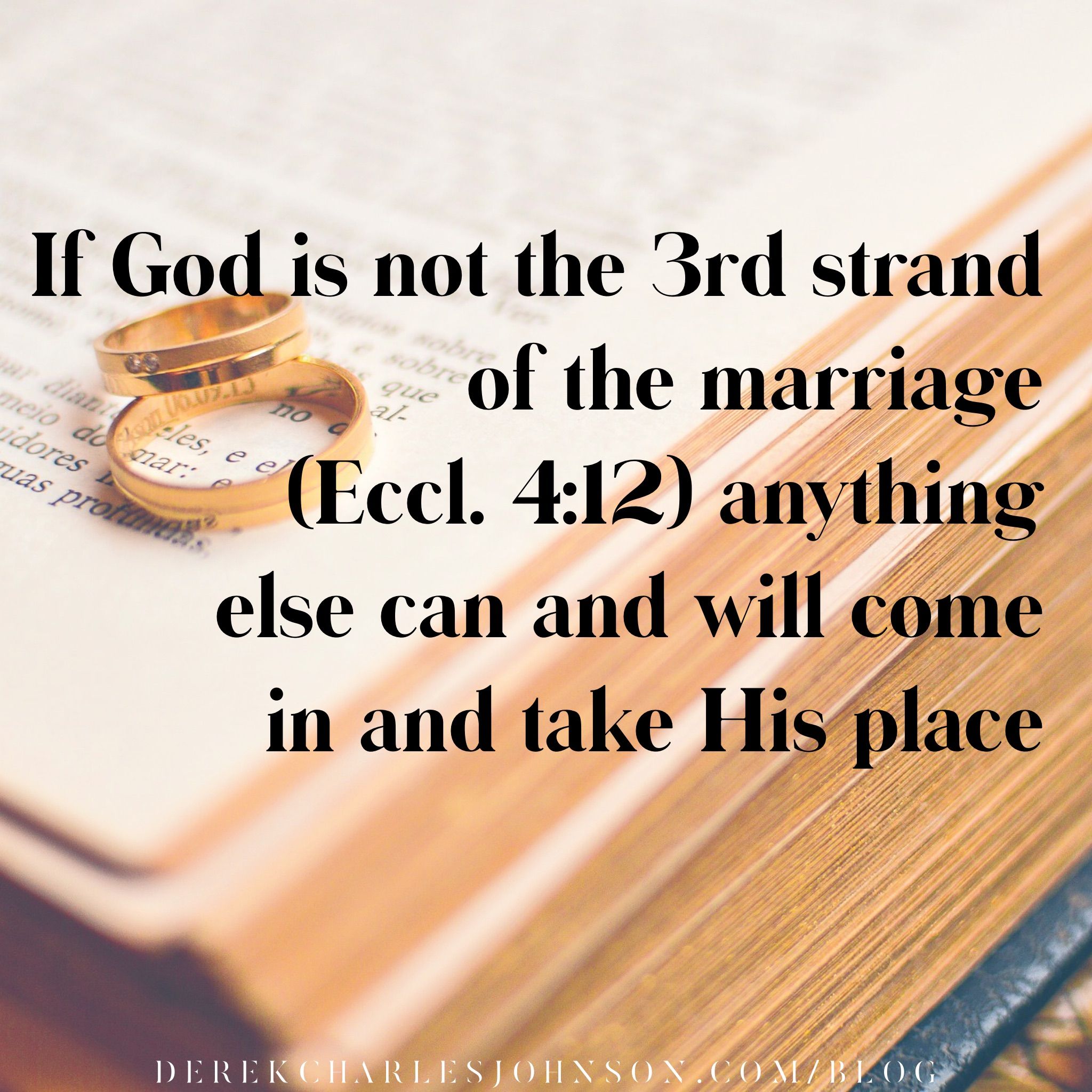 Honoring God with our marriages means we are faithful to one another.  We keep the marriage bed pure.  We eliminate any and all temptations—for guys, pornography and any sexual imagery; for women, other more subtle things like books (i.e. 50 Shades of Grey) and soap operas (just being real here).  The tendency for the marriage bed to be defiled is when something comes between the husband and wife.  If God is not that 3rd strand of the relationship (Eccl. 4:12), anything else can and will come in and take His place.  It's not a matter of if but when.  Guard your marriage; fight for unity with your spouse and the Lord.  In doing so, you are pointing each other, your kids, and the rest of the world to a place where your strength comes from—the Lord. 
2. Raising kids to follow Jesus doesn't happen by accident 
Train up a child in the way he should go; even when he is old he will not depart from it. Proverbs 22:6 
When we raise our kids, we have to think of the finite minutes we have while they are under our roof.  The moments we have to impart Godly wisdom and truth flow through our hands like water.  That is why it is so important to institute regular times of prayer and Scripture reading as a family.  Attending church together is great, but it should not be the primary means by which your kids encounter Christ.  Parents have a charge and a calling to lead by example.  Your kids should see you, mom and dad, regularly in the word.  In addition, the time of being together as a family doing a devotional or Bible study is time well spent.  I strongly 110% encourage you taking that step as a family in 2020 if you are not already doing it.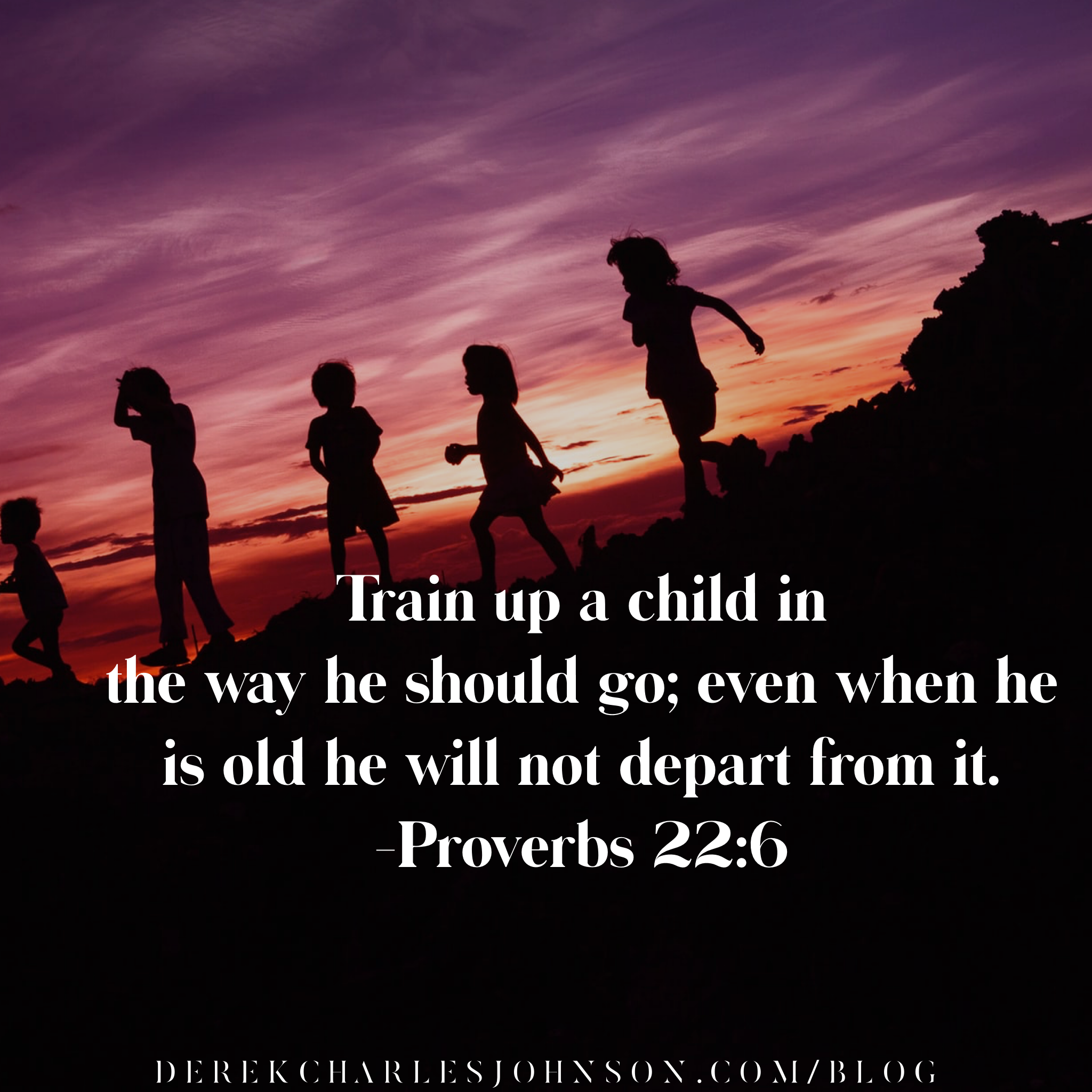 Even if you are starting late and your kids are older, there is still time to instill Godly truth into their hearts.  Take moments to simply pray with your kids; whether teens or young adults.  Be available to listen and be their strongest cheerleader as they navigate life.  Correct lovingly when necessary.  Pray continually over them.  Let your faith be an example to them.  Those moments on display over and over again are sowing seeds that God will bring to bear fruit in His timing. 
3. Allow your home to put Christ on display 
In the same way, let your light shine before others, that they may see your good deeds and glorify your Father in heaven. Matthew 5:16 
Around Christmastime each year, our family has a tradition of driving around certain neighborhoods to view light displays.  I'm sure we are not alone; many families do this and it's a fun activity.  I love finding the neighborhoods with those houses where you just "ooh and ahh" over the beautiful display and are amazed at what one family can do.  It's makes me marvel at their skill…perhaps there is a real Clark Griswold who lives in the home or maybe they just paid someone to do it all!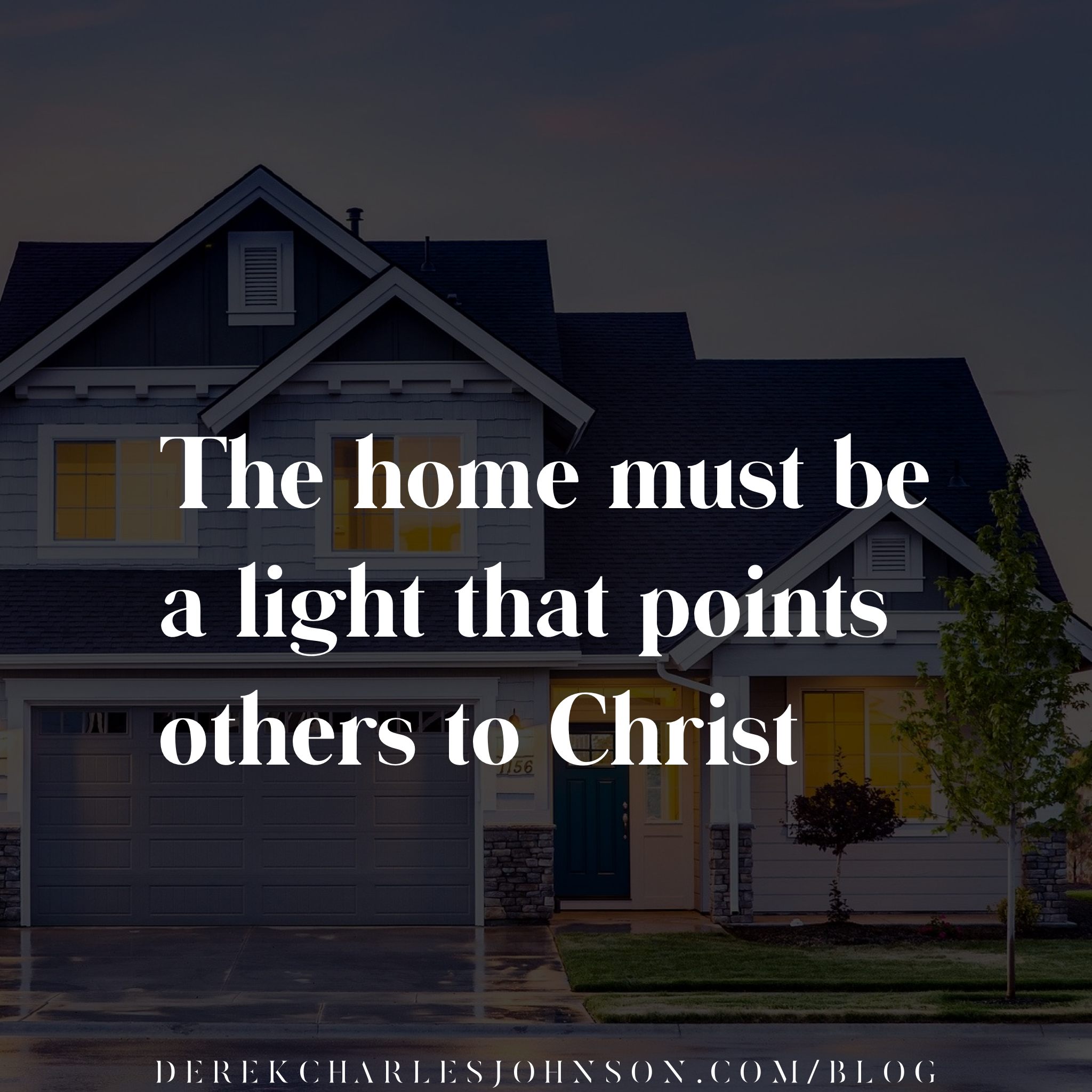 I had a revelation this past year when thinking about these homes with these spectacular lights:  What if our homes as Christian families put Christ on display in such a way that people couldn't help but "ooh and ahh" over how amazing He is?!  What if despite being fallible moms and dads, we made a great big deal out of an infallible, perfect God who loves us as we are?  You see, I think a lot of homes feel like they're just getting by; like life is a constant struggle.  But what if instead of looking inward, we started pointing one another up to the One Who knows our need and is ready to meet with us?  How much glory would He get in that process and how much potential would there be for our friends, families, and neighbors to come to Him in the process?  Glory, hallelujah! 
---
The idea of all of this wells up tears in my eyes as I think about just how fleeting life is.  With 5 kids across the spectrum of newborn to pre-high school, I know the minutes are flying by.  Will they really make this faith their own and will it sustain them over the course of their life?  Have their mother and I done enough?  Have we failed to do certain things while spending too much time on things that don't matter? 
One thing I know for sure is this:  God gives abundant grace.  Even in your marriage, if it's struggling.  If you're divorced.  If your kids have fallen away and no longer serve the Lord.  He gives grace.  And He's not done yet.  That's what this whole discussion is about and why I feel the need to camp out for a few weeks talking about vision.  God is not done and He has great things in store.  He is using you in the place you are at and He wants to use your home and your story as part of His story.  Believe it. 
I love you guys.  We move onto the subject of church next week and I hope you come prepared to be challenged once again.  It's been a lot of content but I trust and pray that God is using it to draw you closer to Him. 
Sign up to get these blogs delivered to your email inbox!  Visit http://derekcharlesjohnson.com/as-bold-as-lions 
Let's connect: 
Email:  info@derekcharlesjohnson.com 
Facebook:  https://www.facebook.com/derekcharlesjohnson1/ 
Instagram:  http://instagram.com/derekcharlesjohnson 
Be very careful, then, how you live—not as unwise but as wise, making the most of every opportunity, because the days are evil.  Therefore do not be foolish, but understand what the Lord's will is.  Ephesians 5:15-17

Other blogs in this series:

Moving Into A New Season:  Are You Ready?