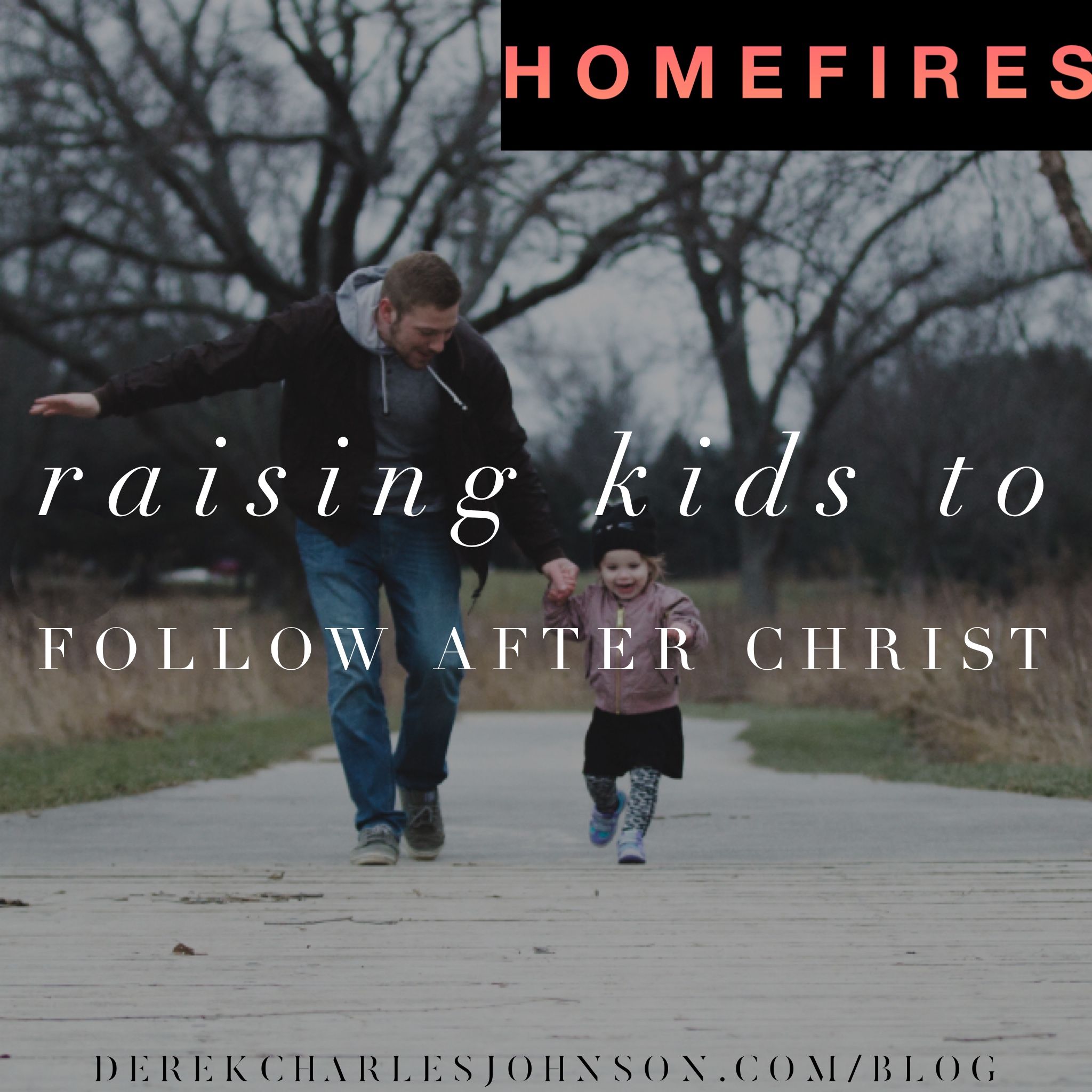 4 Listen, Israel: The Lord our God, the Lord is one. 5 Love the Lord your God with all your heart, with all your soul, and with all your strength. 6 These words that I am giving you today are to be in your heart. 7 Repeat them to your children. Talk about them when you sit in your house and when you walk along the road, when you lie down and when you get up. 8 Bind them as a sign on your hand and let them be a symbol on your forehead. 9 Write them on the doorposts of your house and on your city gates.  Deuteronomy 6:4-9 
The book of Deuteronomy is often considered Moses' farewell address to the Israelites.  Because of a disobedient act (see Numbers 20), Moses knows he will not enter the Promised Land.  However, he is committed to instructing the people in the ways in which they should pattern their lives.  I love his charge in Deuteronomy 6:4-9; it's really some of the best parenting advice we can get.  Moses knows the value of raising up children right.  They must be taught the truths of God's Word and it's an ongoing, everyday repetitive thing. 
I love the idea of taking Scripture and marking it all around the house…seeing it as we get up, as we go about our daily activities, pointing to it and recalling it especially at times where it can become a teachable moment.  My wife has a desire to fill several spaces of our new home with various verses from the Bible.  Having 4 boys and potentially a lot of tense moments (fighting, raised voices, and otherwise "boyish" behavior), Corrie thought the "love chapter" from 1 Corinthians 13 would be especially valuable in the heated times.  We now have this picture hanging up on the wall: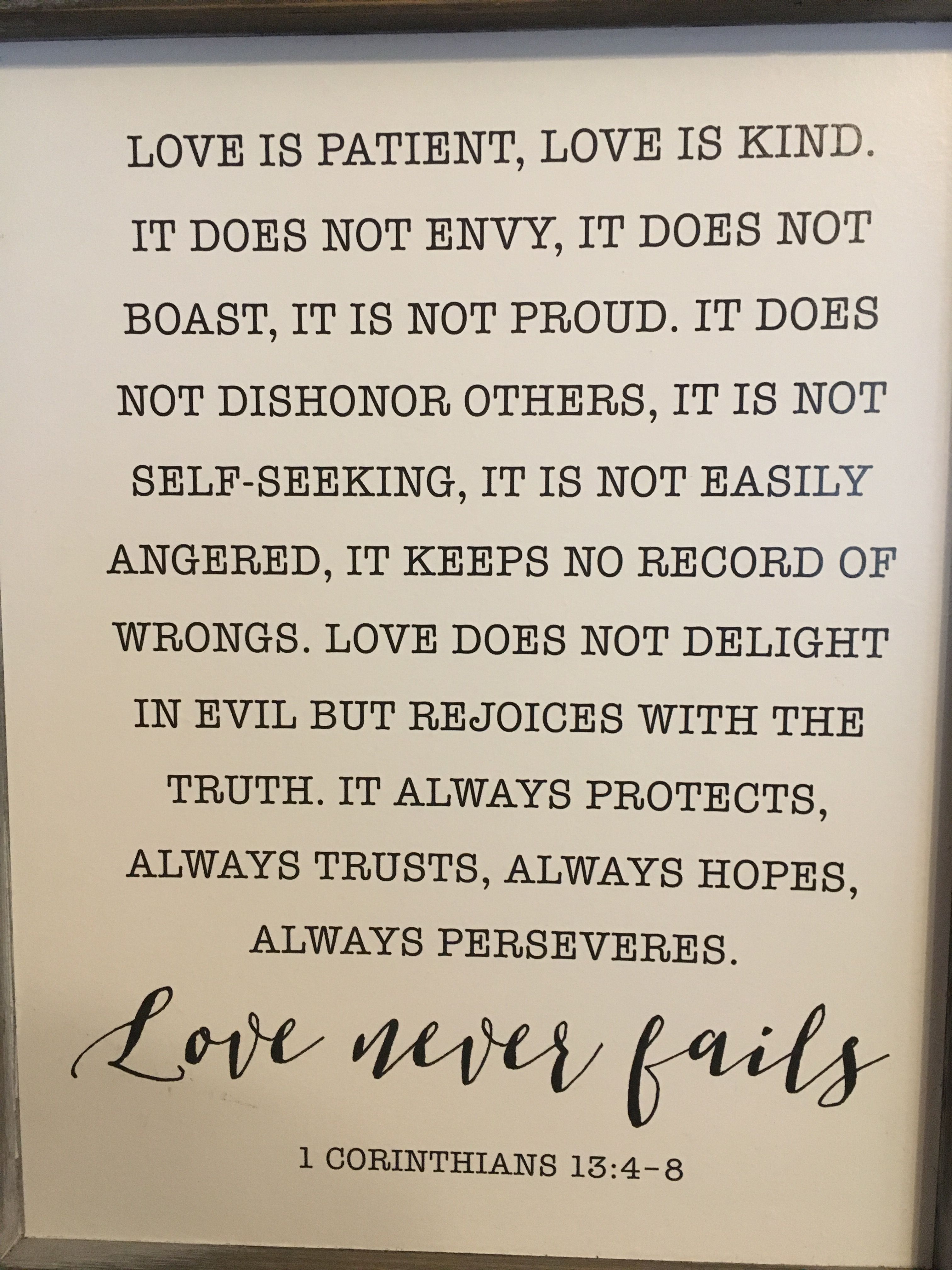 The ancient Israelites understood the importance of literally putting God's truth into their everyday lives.  It was a way of life; it wasn't an after thought.  They knew their children wouldn't pick up on God's ways by accident or happenstance.  No, there was an intentionality about it and it's the same deliberate attitude and practice we must have if we are to raise children who are going to follow the Lord.  There are many implications from Scripture when we consider how we are to do this.  Today's blog is again all about practicality and making the most of the time we have with our kids before they are grown up and no longer under our roof.  Let's dig in. 
1. Your kids are your primary mission field 
As I consider this first point, tears readily start to well up in my eyes (I'm an easily emotional guy ok!). Thinking and talking about my kids always gets me fired up about the Gospel and wanting them to understand just how much Jesus loves them.  And He loves them way more than I ever could.  I think as parents we see our relationship with our kids in the season of life that they are in.  I have a middle schooler, 2 elementary schoolers, and 1 at home and my wife and I are knee-deep in the activities and routines of the moment.  Thinking ahead and thinking long-term is not something we admittedly talk enough about.  But we need to.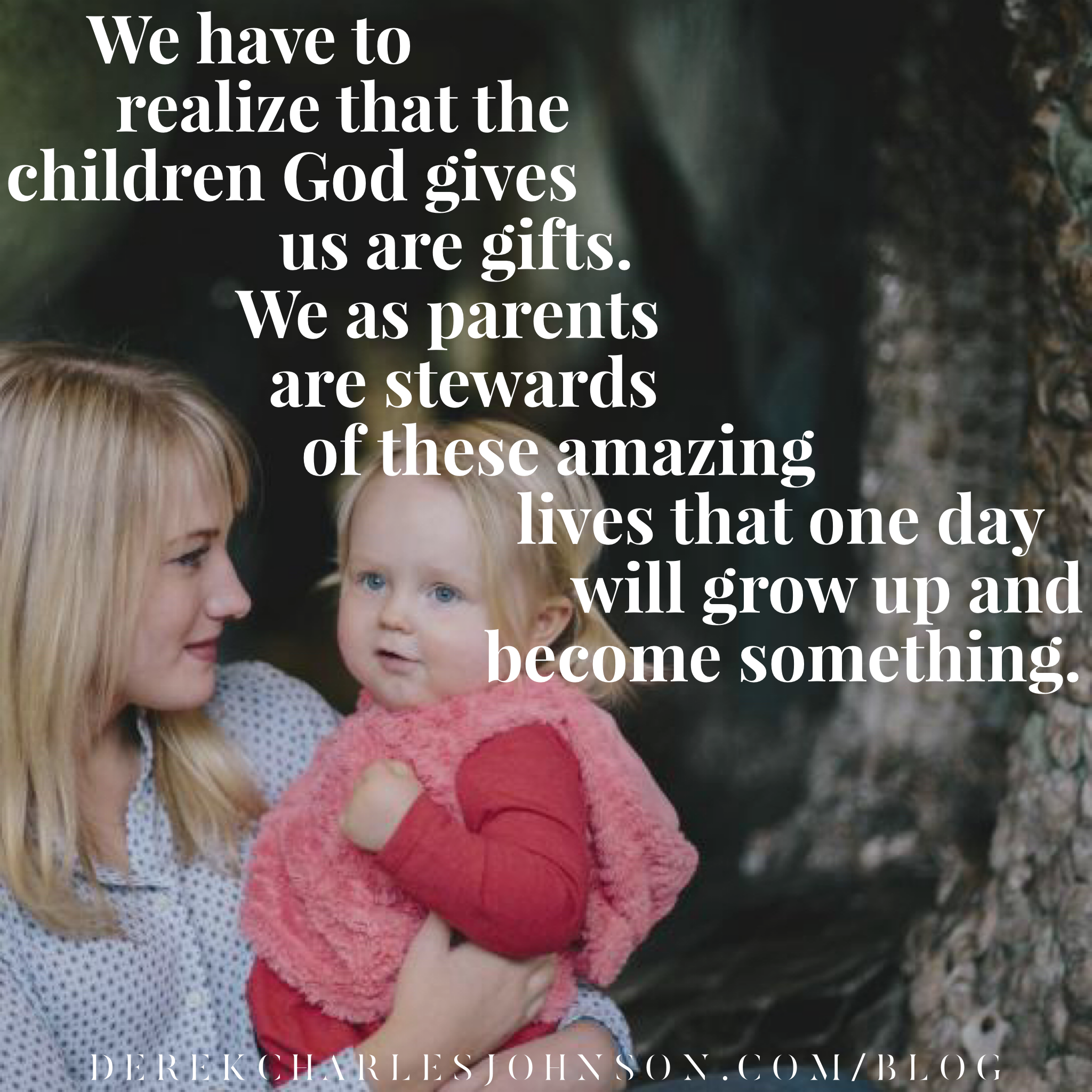 We have to realize that the children God gives us are gifts.  We as parents are stewards of these amazing lives that one day will grow up and become something.  Some day the diaper changes will end.  Some day the last ride to school will occur.  At some point the chapter of parenthood with kids all at home, sitting around the table, having meals, doing homework, going to this school activity or that friend's birthday party…some day it all will end.  Yes we will always be parents even as our kids grow up and have kids of their own.  But now is the chance we have to prepare them for godly success in their adulthood years. 
Start children off on the way they should go, and even when they are old they will not turn from it. Proverbs 22:6 
Your kids are your primary mission field.  I would be so bold to say even if you went to Africa and evangelized the entire continent, if your kids fell by the wayside and didn't follow Christ, it wouldn't matter.  As parents, the primary responsibility God lays before you is to your kids.  Train them up, teach them and be intentional about it.  Pray for them as the one who is their main source of spiritual guidance.  Pray also for their future spouse; that they would be a godly person and on an equal footing spiritually.  This person will have much more influence than you on them someday after your kids are grown up.  It's well worth covering them in prayer! 
2. The impressionable and formidable years are so key 
The church data is clear on this topic.  The percentage of people who come to Christ after leaving home, going to college, getting jobs and entering adulthood (i.e. 18 years and up) goes drastically down.  Overwhelmingly, those that accept Jesus as Lord and Savior do so as children or as teenagers.  It's not to say it can't happen as one is older, but it's less likely in many cases.  There is a tenderness and an openness to the Gospel that is so prevalent in kids and Jesus reminds us that a "childlike faith" is something we all must return to: 
Truly, I say to you, unless you turn and become like children, you will never enter the kingdom of heaven. Matthew 18:3 
The faith of a child is a faith that exhibits humility and openness to God's power and might.  To grasp those ideas at an early age is to allow salvation to root in and be unshakable.  Your children need to be exposed to the Gospel at regular and frequent intervals.  Attending church on Sundays as a family is a great start.  Beyond that, it's important for your children to see you mom and to see you dad in the Bible and in prayer.  And you need to be doing that with your kids on a regular basis; turning the TV off, removing the cell phones and distractions and being focused on studying God's Word together.  Guys, it's SO AWESOME when you start doing it and your kids start to want to read the Bible on their own and pray to God.  Nothing and I mean nothing, can take the place of this for a parent wanting to raise their kids to love and serve Jesus.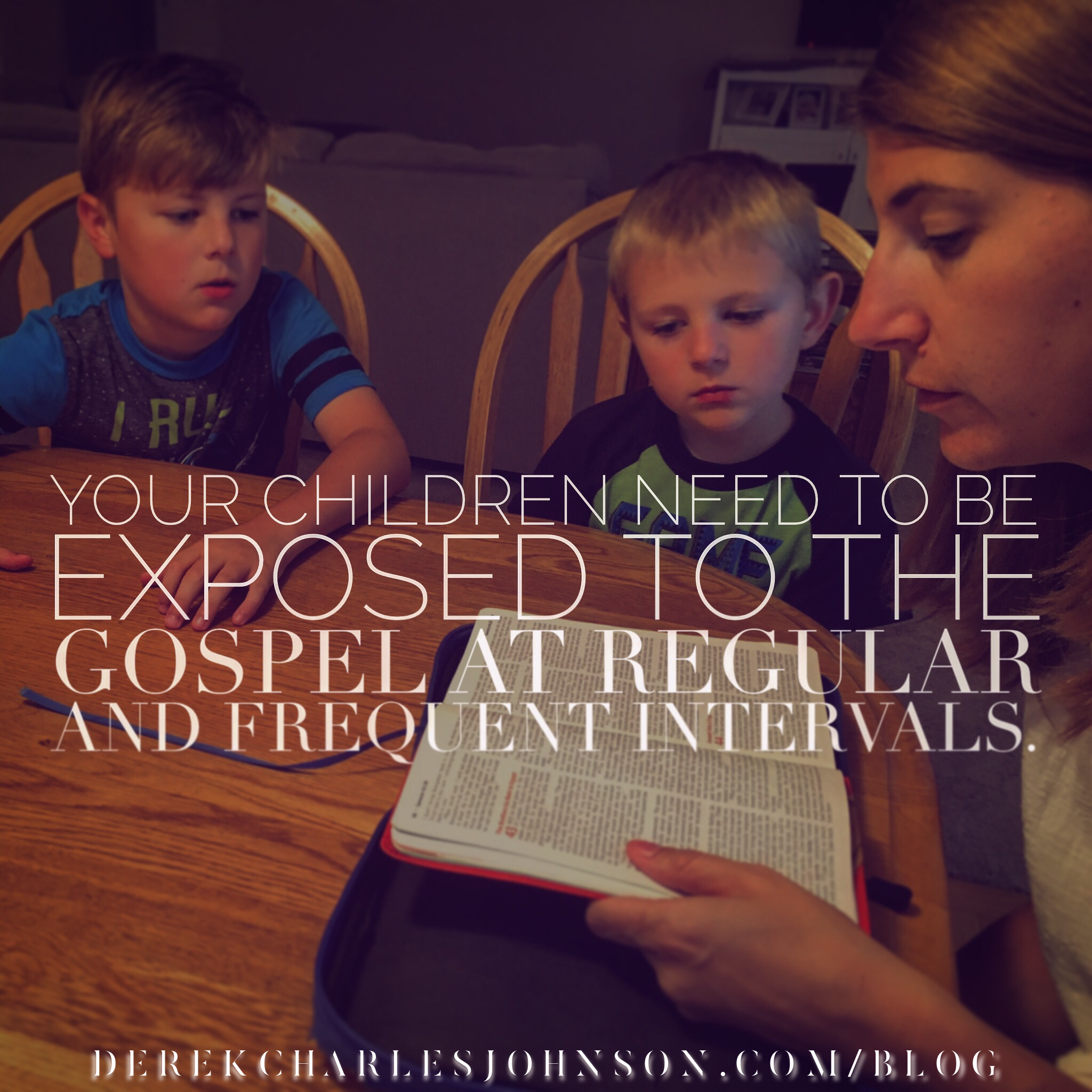 3. Lost sons and daughters are not forgotten by the Father 
I've been adding a weekly Facebook post on Mondays on my artist page:  I've been asking for people to submit prayer requests.  It's been overwhelming to see the response and to be allowed to partner with so many following that page; knowing that we are praying and agreeing together in the Lord for an answer to specific needs.  One need I see almost every week is the heartfelt petition of a mom or dad for their wayward son or daughter to return to Christ.  It breaks my heart (again welling up with the tears!) because I can only imagine the pain and hurt that a parent must feel when their child chooses not to follow Jesus.  I have no judgment on these parents nor these requests (how could I?).  They are well-meaning Christians who want to see their kids following the Lord; returning to Him as once before. 
I believe those who are lost are not forgotten by the Father.  I believe His heart beats for the prodigal and He wants restoration and reconciliation.  If we desire it as parents, how much more does He want it for our kids?  If we have prayed for our kids, brought them up hearing about Jesus, and living out a real faith before them, we have to allow that to be enough.  It's easy to lay guilt upon ourselves but we remember that we are not perfect.  As parents we will make mistakes but God in His unending grace and sovereignty can restore any broken situation.  Brother and sister, let this encourage and strengthen your spirit today if you are wresting with the pain of a wayward child.  God is still in control and He has not forgotten them! 
But while he was still a long way off, his father saw him and was filled with compassion for him; he ran to his son, threw his arms around him and kissed him.  Luke 15:20 
---
I know I've covered a lot here today and so much more could be said about this topic alone.  I do want to mention one final word and I believe it ties all of this together:  Your children must make the faith their own.  So often as Christian parents, we want our kids to know Jesus and grow in Him.  But as they leave the nest, an interesting thing happens:  the real world hits and "mom and dad are no longer there to tell me what to do."  Will your kids still attend church, read the Bible, pray, and see the need and purpose for it all?  Or will they put Jesus on the shelf because it no longer seems relevant?  One thing I've started to ask God for is that my boys would be set up for success spiritually speaking.  I'm praying that they identify with the Gospel someday with or without my direct influence.  I've asked God to make "my ceiling their floor", meaning that the highest place I can take them to would be the place where their faith starts.  From there, their relationship with Christ goes deeper, higher, and wider than what I could imagine.  To do that, they must understand and accept the Gospel as the ultimate truth for themselves.  Part of life is experiencing trials and failures and allowing God to test our faith to see if it really stands.  As parents, we must accept that God, even in His goodness, will allow those events to happen in the lives of our kids.  Will their foundation withstand the storm? 
I've loved tackling this topic with you!  I'm loving the conversations and feedback from this Homefires series.  Let's finish well next week as we fittingly talk about leaving legacies that matter.  Love you guys! 
Email:  info@derekcharlesjohnson.com 
Facebook:  https://www.facebook.com/derekcharlesjohnson1/ 
Instagram:  http://instagram.com/derekcharlesjohnson

Other "HOMEFIRES" blogs: 
HOMEFIRES - AN INTRODUCTION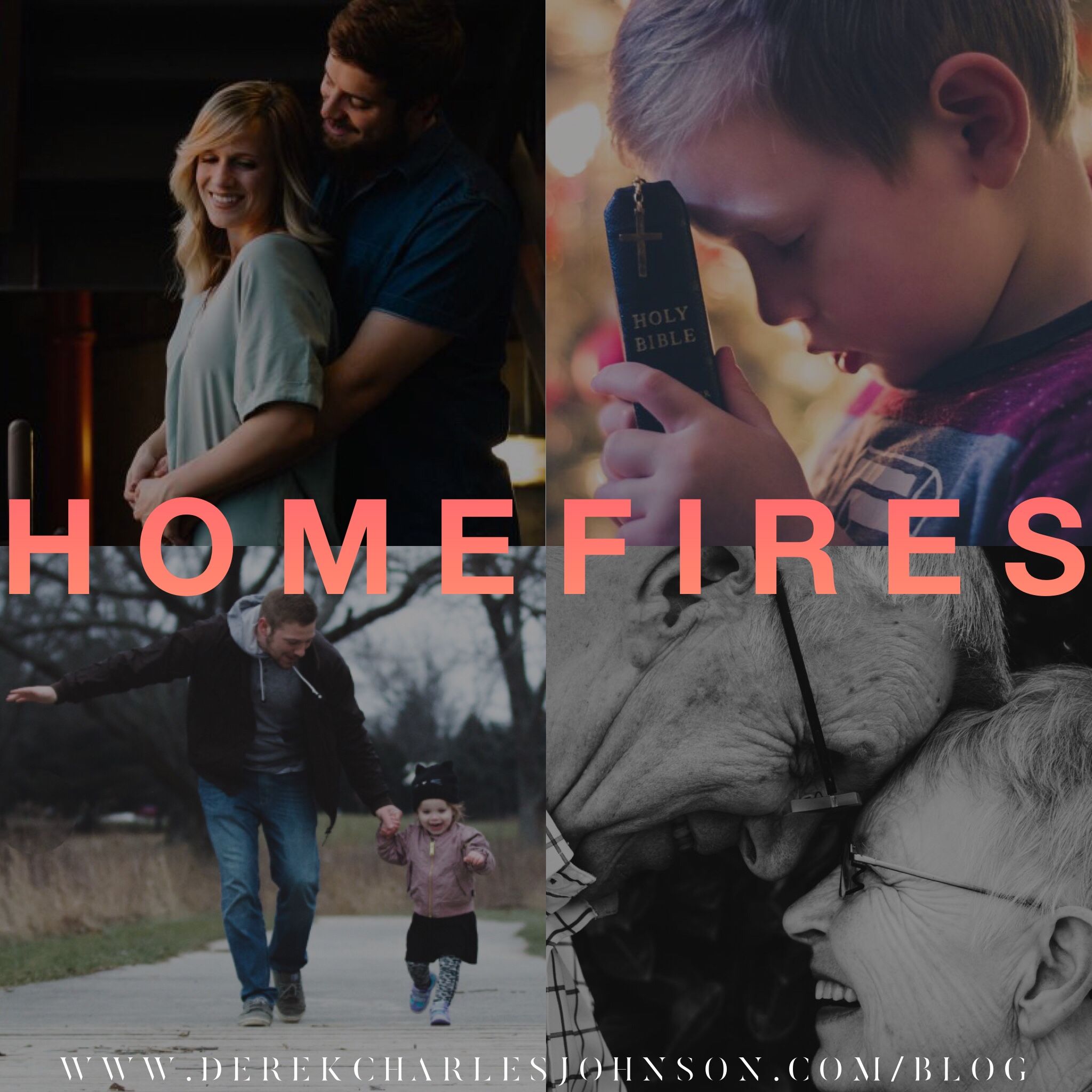 HOMEFIRES - DOING MARRIAGE GOD'S WAY