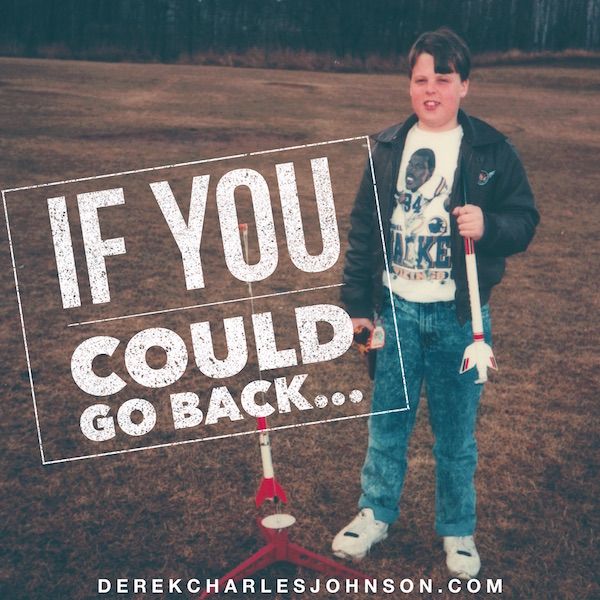 Attached to this entry today is a photo that I share with some hesitation, but knowing it (hopefully) will serve a point.  What you see is a picture of a middle schooler.  Late 1980s.  Stonewashed jeans.  Pilot jacket.  Minnesota Vikings sweatshirt depicting Herschel Walker.  Geeky haircut.   
That my friends is yours truly.   
Yup.  I stumbled across this photo a few weeks ago while editing on a video collection for my parent's 50th wedding anniversary.  I couldn't help but be taken aback and somewhat astonished: that was me!  A kid with a love for launching model rockets (as you can tell)…a love for sports…a desire for fun…a desire to fit in and just be a kid.  Certainly a little awkward as I was entering those pre-teen and teenage years.  I guess we've all been there. 
That picture and several others I worked with got me thinking and reminiscing.  Thinking about my life and where it's been and where it's headed.  You see a milestone birthday is upon me this year:  I turn the BIG 4-0.  I don't even know how that's possible but yet I do know at the same time.  Looking back and looking ahead.  It's been on my mind a lot. 
In contemplating life through this picture, I started to think about the things I would say to the younger version of me.  Maybe you've heard the MercyMe song, "Dear Younger Me".  It's basically a talk we would have with ourselves if we could go back.  What we would say.  What advice we would give.  How perhaps we'd do it differently if we got the chance.  And how much more fully we wish we'd have understood the cross and Christ's love for us.   
If I could go back, I'd tell myself several things.   
I would say "Allow God to be in control."  
Enjoy the journey of life; not always rushing to get to the next step.  Stop and smell the roses.  And know that God has a way of taking care of His own.  If you follow His plan, He will prove Himself faithful.  He always provides our every need:   
Are not two sparrows sold for a penny? Yet not one of them will fall to the ground outside your Father's care.  And even the very hairs of your head are all numbered.  So don't be afraid; you are worth more than many sparrows.  Matthew 10:29-31 
I would say "Be confident."   
Know who you are in Christ and that your identity is in Him.  Choose faith over fear…every time.  Looking back I know I lacked confidence and was soft-spoken.  And there is a time to be quiet but there is also a time to be outspoken; especially as it concerns our faith and the confidence of being a child of the living God.  Proclaim His love and truth.   
For God has not given us a spirit of fearfulness, but one of power, love,and sound judgment.  2 Timothy 1:7 
Finally, I would say "Be bold."   
Be a risk-taker.  Life is short and our time on earth is too brief to always be cautious and calculated.  There are times over and over again in Scripture where stepping out in radical faith and obedience is rewarded by God.  If God has given you dreams and desires to achieve, aim for them.  His timetable is not ours, but I believe He will bring things to pass that are in line with His will.  Jesus took special note to recognize bold faith:   
When Jesus heard this, he was amazed at him, and turning to the crowd following him, he said, "I tell you, I have not found such great faith even in Israel."  Luke 7:9 
---
In realizing that we cannot go back, there is solace in the fact that even now we can start making changes.  We can begin following the advice today that we would have given to ourselves way back when.  Yesterday cannot be changed and tomorrow is not promised.  But today…this moment…this hour…it's what we have and it's where we can make an impact. 
One last note:  If you have kids, grandkids, nieces, nephews, little ones you watch, or anyone younger on whom you have influence: you can start modeling to them the things you would've told yourself when you were their age.  You can leave a legacy that lasts beyond today.  A legacy that ultimately displays Christ.  I have 4 sons and one of them is just about the same age as I was in this picture.  And there are so many things I wish to tell him and his brothers.  Things that will help them succeed.  Things that really do matter in the grand scheme of life and things that really don't matter at all.  We all have life lessons we can share and pass on and I believe God calls us to sow seeds into the next generation.  
I hope this encourages you today and please know that I am praying for you!  If you know someone who needs to hear this message, would you be so kind as to share it with them?  Thank you so much! 
I can be reached at info@derekcharlesjohnson.com