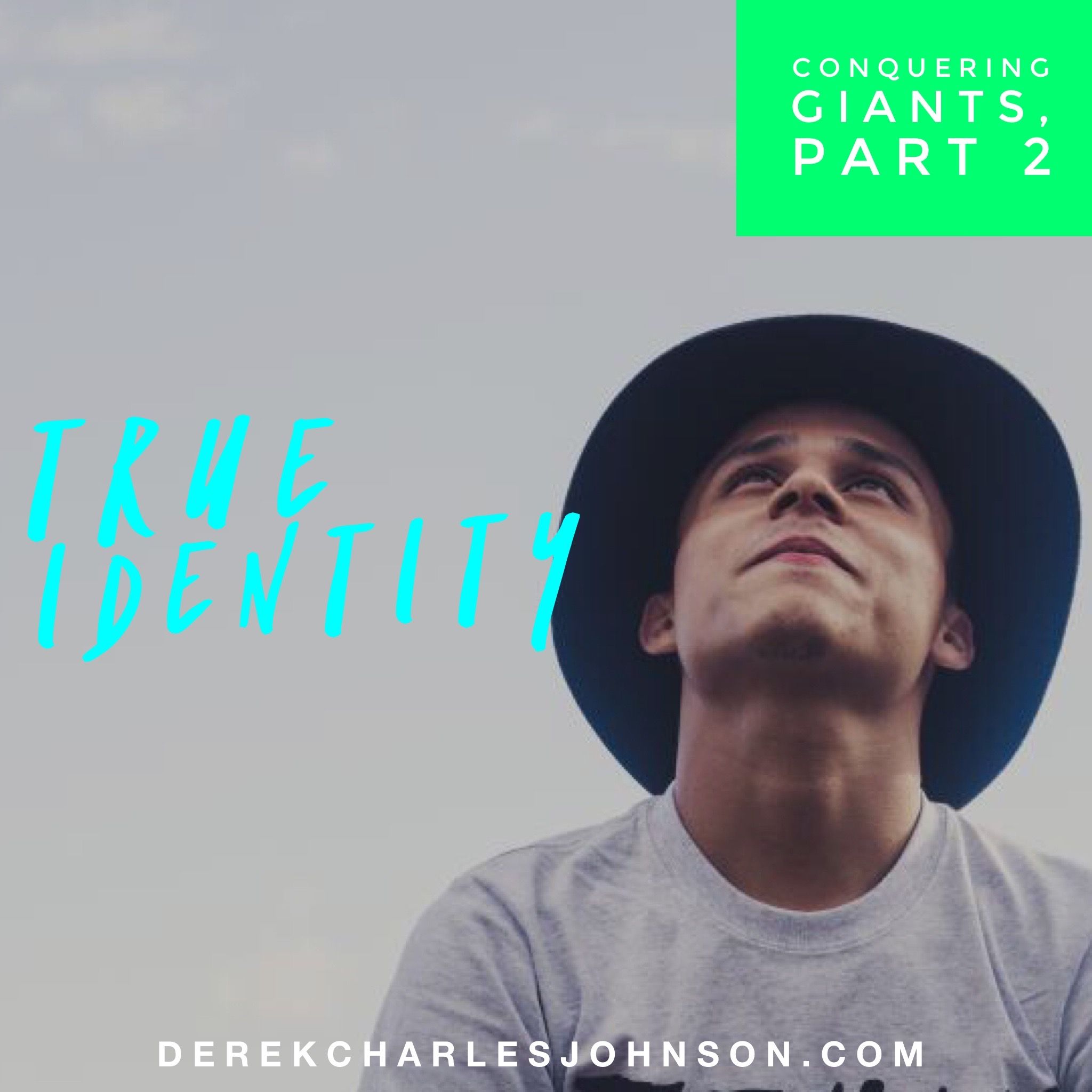 A real buzzword of today's culture is the word identity. It seems today more than ever, we spend time talking about identity and being able to be who we truly are meant to be. Of course in a broken world, the idea of identity gets skewed when sin and fallen man come into play. If God's original intent was relationship and closeness with mankind, that design was broken through the fall of Adam. Our hearts are still longing for identity and we still seek to fill the void of a God-shaped hole with something that gives us purpose and value.
I'll admit I didn't spend too much time growing up thinking about my identity in Christ. Even with being saved at a young age and attending church, my thoughts didn't first arrive in that place. I was often consumed by other motives. In America we are groomed to think about the goals and dreams we have for ourselves. "What will you be when you grow up?" School guidance counselors, career interest profiles, college entrance exams…I have to acknowledge that as I grew up I attached identity to the thing that I thought I was supposed to be. If what I do with my hands allows me to support myself, have a wife and raise a family, well then, that is what my identity would be.
I know many reading this will sympathize with the thought of identity being the thing you do, the status you have, or the place you occupy…and please know, I'm not saying these are bad things in and of themselves.
Son or daughter. Parent, grandparent. Teacher, lawyer, doctor, janitor. City-dweller or rural inhabitant.
On the flip side, others will find an identity based upon something negative they have experienced or dealt with.
Addict. Divorcee. Welfare recipient. Child of a broken home. Unemployed. Abused.
Identity is huge and it is a conversation we must have as Christians. If I can pull us back to a 30,000 foot view today, it's to see things from the perspective that I believe God has about all of this. We often forget that if we are in Christ, there is a higher and better path to follow that always supersedes the pattern that this world offers. Through a few Bible verses, I would like to remind us today that our identity is in Christ and in daily relationship with Him. He calls us His own and we are truly free to live when we place our trust in Him.
1. We are adopted into the Body of Christ
He predestined us to be adopted as sons through Jesus Christ for himself, according to the good pleasure of his will. Ephesians 1:5
There is a magnificent moment that happens when we choose to follow Christ: we are adopted into the family of God. We become part of the Body of Christ. Whether your own upbringing has been positive or negative, there is a new family that you enter into as a Christian. All families, all moms and dads and siblings will let us down in this life. They are human and prone to error and sin. But the family of God is a family built upon a nature that is perfect and has existed since the beginning of time. The Father, the Son, and the Holy Spirit have dwelt in perfect unity and offer the opportunity for sinful man to be restored and enter into that relationship as well. What a beautiful thing to consider and to really wrap our minds around: we are sons and daughters of the Most High God! By accepting Christ's invitation for adoption, we take on a new identity.
2. We are no longer who we once were
For we know that our old self was crucified with him so that the body ruled by sin might be done away with, that we should no longer be slaves to sin—Romans 6:6
One of my favorite worship songs sings out "I'm no longer a slave to fear, I am a child of God." (No Longer Slaves) When we are ruled by sin, we are ruled by fear. These are things that influence and shape the non-believing world around us. I've spend a lot of time talking about that concept within this blog but don't miss this point: if we are in Christ, we no longer think, talk, or act in a way that looks like the rest of the world. The simple reality is that once the Holy Spirit indwells our hearts, we become new people who think differently and act differently than we used to. If our identity used to be defined by what we did for a living, it's now become all Jesus. If our identity used to be that addiction we fell prey to, it's now covered under the blood of Christ and we are free. Too many Christians walk around still trying to be something else that they were before they followed Christ. Peter and the disciples left their fishing nets to follow Jesus. When they believed all hope was lost after the crucifixion, guess what they went back to? Fishing. It wasn't until Jesus appeared and restored them that they finally got it and had the ultimate "Aha" moment. Let your heart be fixed upon who you are now in the Lord and everything else will fade in significance.
3. Our identity calls us to praise God
But you are a chosen people, a royal priesthood, a holy nation, God's special possession, that you may declare the praises of him who called you out of darkness into his wonderful light. 1 Peter 2:9
When I think about identity as a Christ-follower, my mind always goes to 1 Peter 2:9. But I often stop half-way through, not considering what the whole verse is really saying. Yes we are a chosen people, God's royalty, a holy nation, and His special possession. But the second half of the verse completes why we have that identity: we are called to declare His praises; to speak of the One who brought us from darkness to light. Just reading that verse again for this blog has taken on a whole new meaning for me. I can easily get too comfortable in my new identity and forget that it's all about Jesus and what He did. He has taken a heart of stone and turned it into a heart of flesh. He's given me a living heart with the capacity to love and to show grace and mercy as it's been extended to me. The "that you may declare" part of 1 Peter 2:9 is the part I need to be convicted by and broken for once again. If we have this new identity, let it not be wasted upon ourselves. We have within us the words of life and hope for a world that knows no hope. If I keep to myself the praise and glory of His name, well then, even rocks and stones will cry out in praise (Luke 19:40).
If we look at identity through the lens of Christ, we come to see something that is a stark contrast to all that this world offers. This world will continue to say "Find your identity in whatever makes you happy. Find your path and be the best you, you can be." But no effort on our own will ever bring us any closer to finding the person we were truly created to be. Apart from Christ, we search for value and meaning in vain. Christ gives us the life and relationship our hearts long for and were designed for. In Him, we find true identity.
---
I hope this entry and last week's blog (see Relationship > Religion here) are helping the believer struggling with identity right now. Perhaps this brings some order to thoughts you've already had. If you are not a Christian, perhaps this gives you direction as you consider a life of faith in Jesus. We are taking these 3 weeks to further identify giants that must fall in our lives. We will spend next week looking at a final giant, the giant of comfort. (Spoiler alert: the topic does and should make you a bit uncomfortable.) But I can't shy away from the truth that a radical gospel must be lived out with a radical faith.
Looking forward to wrapping up this series with you next week. God bless!
Let's connect:
Other blogs in this series: